Sentry Safe Home Defense Center: The First Line of Defense is You
Sentry Safe Home Defense Center: The First Line of Defense is You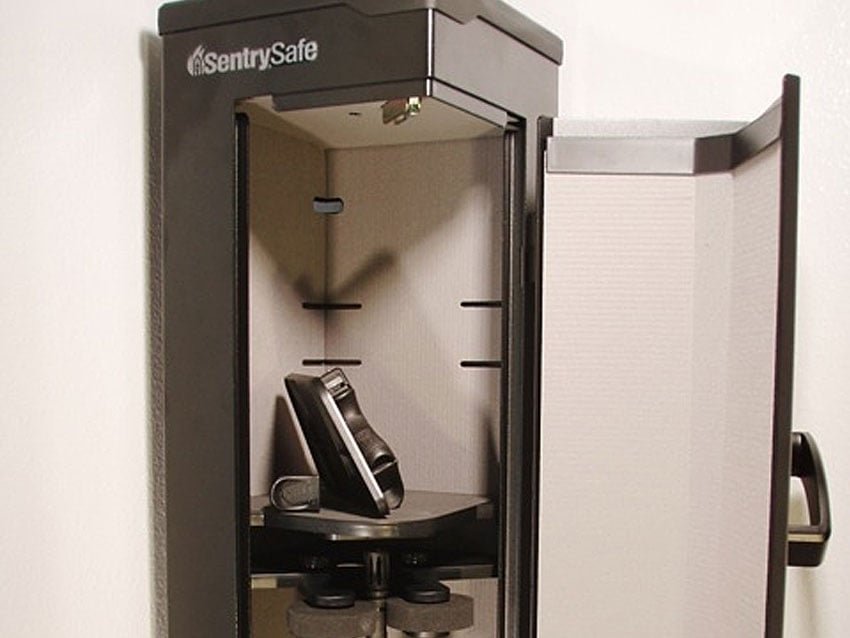 The history of "safes" goes back to the days of the caveman, when they attempted to keep their belongings safe from fire. Of course they didn't have secure containers or locking devices to keep out unscrupulous cave folks. Those weren't developed until the first "lock" that's credited to the Egyptians. The Romans and Chinese created warded locks and the rest is history.
We wont go too in depth on the history of safes, but if you're interested in early and mid 19th century American safes I found this website which has great information and some cool photos. For a entertaining read check out this blog post that talks about the "15 most impenetrable bank vaults".
The Home Defense Center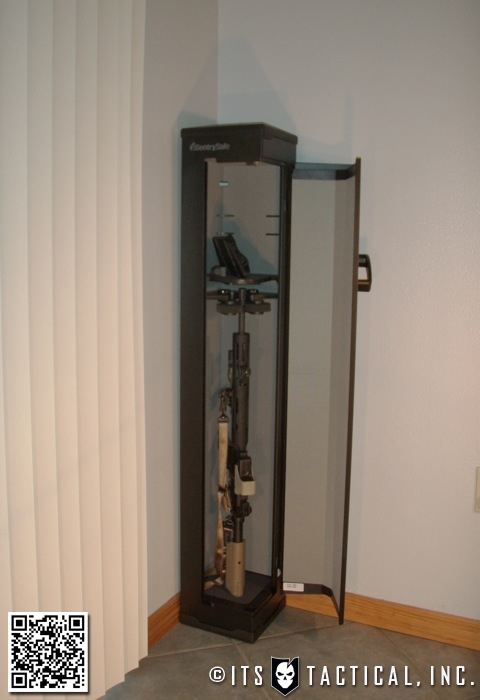 Fast forward to today as we take a look at the new Home Defense Center from Sentry Safe, where "the first line of defense is you." This quote is straight from the Sentry Safe homepage and it couldn't be more accurate. So what does this quote mean in the realm of gun safes?
Let's first look at the type of residential safe you might have at home right now. In my eyes home safes are divided into two categories. A safe to keep your documents and/or small to medium personal items secure and a gun safe(s) to store your firearms. If you have some type of fire rated gun vault built into a closet then more power to you, but for the majority of us that is not reality.
If you are like me, you have several safes at home and have your personal items in one and your guns in dedicated gun safes. Or you may have one big gun safe that you store everything in. Regardless of your setup, there's one thing that none of them do very well and that's allow you fast quiet access to your pistol AND rifle. You may have one of those small quiet pistol boxes next to your bed, but how do you access your long gun if needed? I don't want to get into the debate over a pistol vs. long gun for home defense because that boils down to personal preference. If you have the need to access your long gun or shotgun in the middle of the night, then read on.
So looking at the safe(s) you might own, you probably have issues accessing your weapons quickly and quietly in the middle of the night. This is where the Home Defense Center steps in. It's designed to give you that quick quiet access to your weapons in a crisis situation. It's also slim and can fit in a corner of your bedroom so you don't have to run to another room or a hallway closet.
Features
Lets look into the features that set this safe apart from the rest and really starts a new category of mixing firearm safety and home defense.
The first thing you notice about the Home Defense Center is how slim it is and the position of the door. The safe has a square 10 1/4" x 10 1/4″ base and is roughly 54 3/4" tall. I say roughly as it would fit at 54 1/4" but you wouldn't be able to access the top buttons to open it.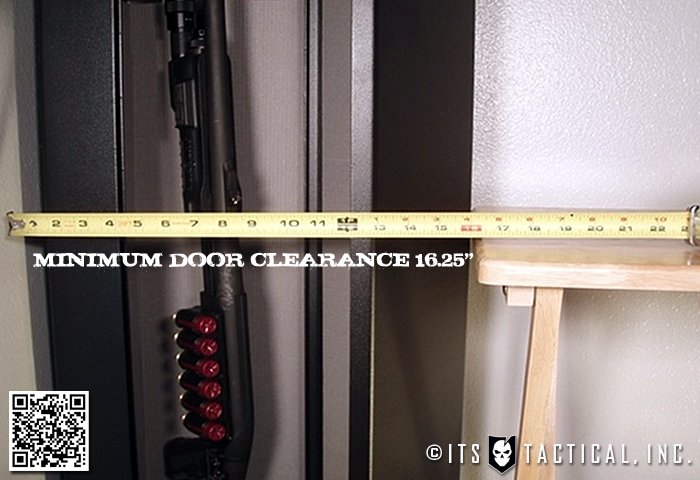 Since the door hinges are on the right corner, you'll need to keep in mind the out-swing to the right. If you were to put this next to a dresser or other item you will need about 20 1/2" overall clearance, however this is with the door fully opened to the right (see photos). You certainly don't need the door opened all the way to access the weapons and I would say 16 1/4" overall is the minimum space you would need.
The photos show a fold out table as the "furniture" and should give you an idea of what I'm talking about. This is something to consider and measurements you will not find listed on the product website.
Integrated Defense Tray
The next feature is the top of the safe which Sentry calls the Integrated Defense Tray. This is a padded area that allows you to keep your flashlight, cellphone or other personal items on. This is also where the backup lock, digital key pad and batteries are located. I really like the idea of having an area where you can keep your flashlight or other items at the ready. The "tray" is lowered so things wont roll off the top, a problem I have with my main weapons safe.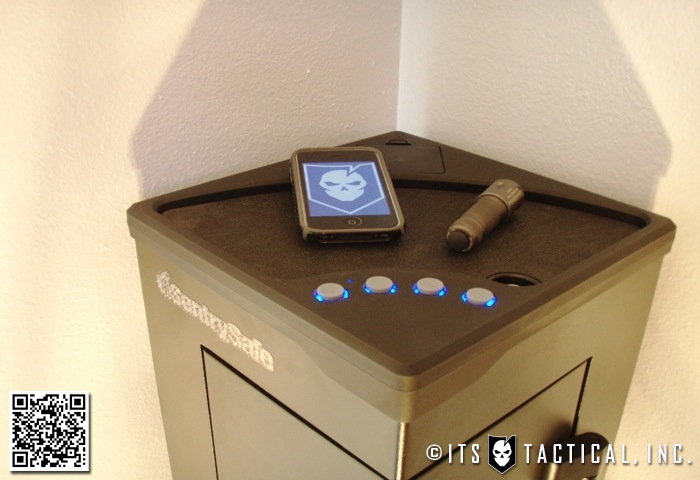 The safe uses four AA batteries and has a backup lock in case you forget your code (we will touch on muscle memory later) or the batteries go dead. I know I don't need to say it, but make sure you keep your backup keys in another safe.
Keys and Codes
The digital key pad uses four "buttons" which are not numbered. The first button has a raised bump on it for tactile feel, but other than that it's unmarked. However, there are four blue LED lights that form a halo around the buttons. This is a great feature for that o-dark-hundred glass break wake-up.
There's also a small green/red LED light that lets you know you entered the right (green) or wrong (red) code. You can run a four-to-six digit code and setup is easy. To start, you wake the keypad by hitting any button and then enter the correct code. The green LED will flash with each press of a button and will go green when entered correctly. If you enter the wrong code it will flash red letting you know the code was incorrect. Also, all buttons are silent with no audible feedback or "beeps."
I want to talk about the code you setup as this relates to the intended purpose of the safe. You should be able to get into the safe quickly the first time. I wouldn't make some crazy key combination that you can't remember or can't enter when you're scrambling to open it in the middle of the night. Think about it, are you going to be able to get this safe open when you think someone's in your house and half asleep?
This leads me to quickly throw this out there because I know you're thinking it. Why would you lock up your home defense weapons in the first place? Two things: one is kids and two is long guns. If you have kids in your home, you owe it to them to have your weapons secure. This safe is just one option for handgun storage. The second point is a long gun. If you believe that a long gun gives you a better tactical advantage than a handgun then this safe is by far the quickest way to access that rifle.
Muscle Memory
Now that you have your combination dialed in make sure you practice it and build that muscle memory. This is not the safe to lock your weapons into and then walk away from for months before trying to open it again. This is also the first safe I've had that has no "keypad" markings so I couldn't rely on remembering a certain number string to open it. That's why I mention something simple, something quick and something practiced.
Once you get the lock open the handle swings down to open the door. I really like this subtle feature, as it's simple to build muscle memory and you don't have to worry about which way the handle swings (right or left). A simple pull down and you are open. This also allow you to be stealthy if needed and not alert someone you're awake and opening a safe.
Pistol Tray
Now that the door is open, lets talk about the contents of the safe. Starting at the top you'll find an adjustable pistol tray. This is a padded tray with an angled plastic piece that allows you to store your pistol at the ready. It's adjustable for right and wrong (left) handed shooters.
I like the idea behind this concept, however I don't like the mounting design of the angled piece. I have to admit it took me several minutes of trying to configure the angled tray to get it right. The problem was that it's too simple and my tiny brain and big hammer weren't working. The angled tray just drops into place by placing the two teeth into the two holes on the floor of the tray. I know it sounds simple but that's the only thing simple about it.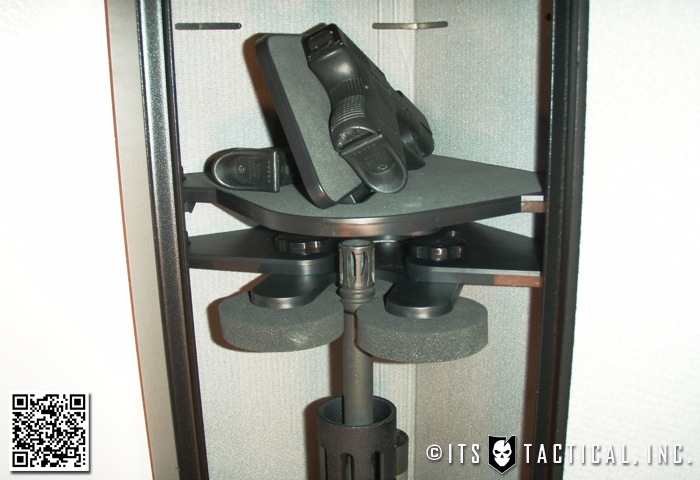 The issue I have is that while being simple, it's also not held in place by any type of hardware, connector, or snap. This allows it to roll back and forth in the tray and would most likely be knocked out if you were grabbing your pistol with force. And believe me if you are grabbing your pistol in the middle of the night its going to be with force.
A simple fix would be to set it for your preferred hand dominance and then secure it with glue or a foam insert. I don't see any way to use screws as there isn't enough material in the bottom. This is just something to consider and perhaps something for Sentry to look into updating.
Barrel Containment System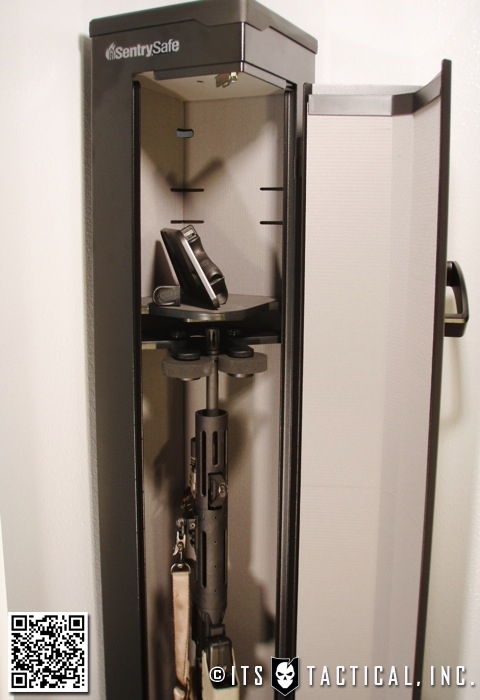 Going down to the next level is the Barrel Containment System. Now this is one of those things that you say "why didn't I think of that." While not being the only way to hold a barrel it defiantly works as intended.
The BCS is also on a adjustable tray so you can compensate for different barrel lengths. The minimum height would be about 32 1/2" (overall rifle length) which fits my 16" Colt with the butt stock fully closed with ease. The max length would be about 46 1/2" (overall rifle length). The max length is without the pistol tray in place.
The BCS uses foam rollers to hold the barrel and they're adjustable front to back so you can dial in your particular weapon. As an example I have to set it all the way out towards the door for my AR with a 30 round magazine inserted. For my 870 I can adjust it back in to better center it in the safe. The bottom line is that it's all adjustable and I think you'd be hard pressed to find something that wouldn't fit.
That being said, you may run into issues if you run a AR system with a 30 round mag and a tall optic system. I run a EOTech on a RRA Dominator 2 mount and Surefire Vertical Foregrip light. While I cant see into the safe when its closed I'm probably close to being topped out with the combo light and 30 round magazine. If you run a full scope you may not be able to run a 30 round mag.
Hidden Floor Plate and Mounting Considerations
Next we move down to the floor plate which has closed foam padding giving it a nice skid free area. It's removable to give you access to an location to store ammunition or other small items. In theory you could remove this to gain a few more inches for rifle height, but if you are running something that long you might want to reconsider your home defense rifle.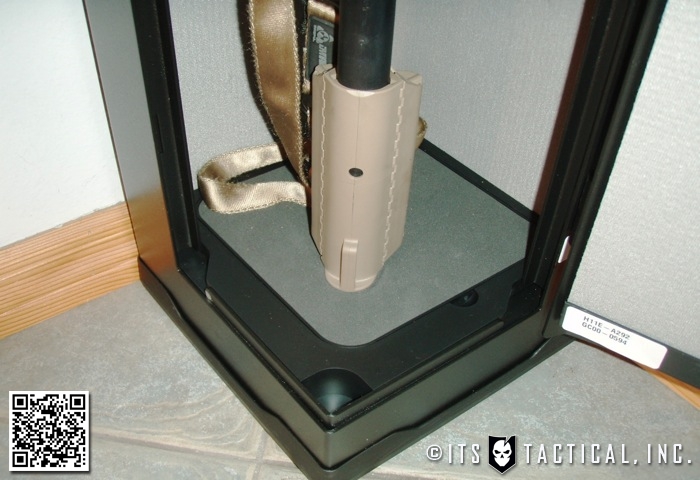 Included with the safe is mounting hardware which includes two long lag bolts and two plastic spacers. The spacers give you stand off from the corner of the wall if you have crown molding on your walls. This is a great forethought as not all of us can set the safe right up against the wall. There are no mounting options for the floor itself so you have to keep that in mind.
I like the option of a wall mount as you could secure it to a dresser or other piece of furniture if you live in an apartment where you cant (or shouldn't) drill into the walls. This would be a great safe for you single military guys/gals who like to do your own PCS moves. It's lightweight and won't break your buddy's back when he/she comes over to help you pack (even if you don't care because you're providing the beer).
That being said, this safe is small and light enough (110 pounds empty) to be carried by one person. Just make sure you mount it to something as a burglar could walk out with it.
What it's Not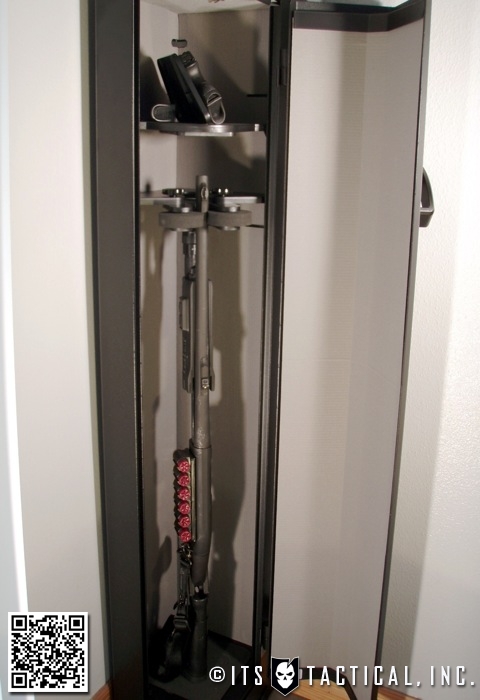 I also want to touch on the fact that the Home Defense Center is not UL rated against fire or water damage. Keep in mind the design of this safe and its intended use. Quick quiet access to your pistol and rifle. That is "one each" as the safe is not meant to store your gun collection or boxes of ammunition. If you own more than one rifle and perhaps more than two pistols you will need another dedicated gun safe.
If you go away on vacation or leave for an extended time you might want to consider storing your weapons in a main fire resistant safe. If the unthinkable happens at least your weapons will survive (hopefully unscathed). Sentry Safe makes several fire rated safes that are manufactured in Rochester, NY. Speaking of made in the USA, the Home Defense Center is also made in Rochester giving it a huge thumbs up from the ITS staff.
Just like the guns in your collection, one gun cant do it all. The Home Defense Center doesn't do it all, but it does give you that fast quiet access to your firearms to defend your home. Remember, "the first line of defense is you."
Video and Photos
We have two videos that are part of this article. Part One is the overall review and Part Two (coming soon) is a "highly scientific" decibel test. Ok, while maybe not "highly" scientific, it should give you an idea of how the HDC opening sounds stack up against other types of safes.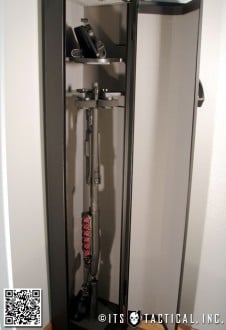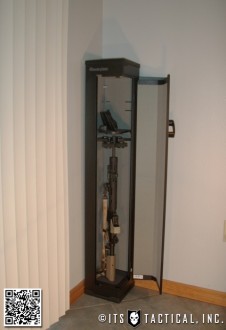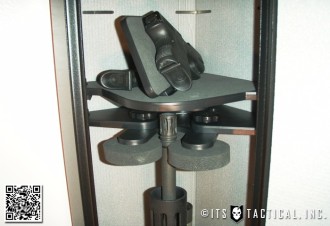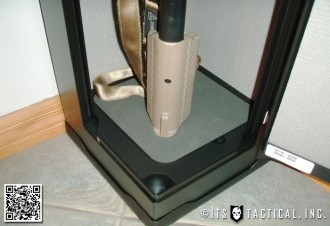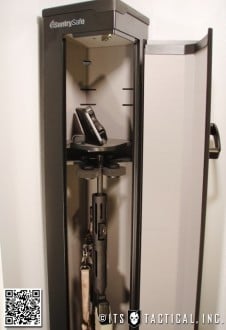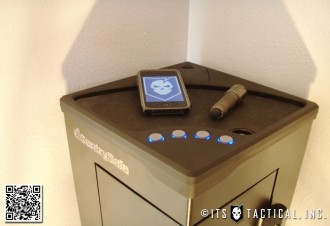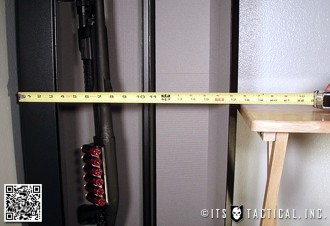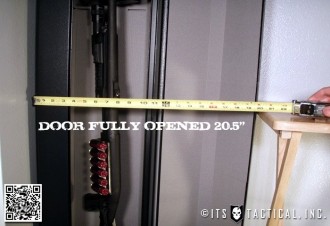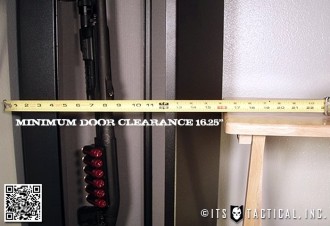 The price at the time of this article is $349.99 and found at Cabela's. For product info, visit SentrySafe.com.
Please leave any comments or questions you might have below and thanks again for checking out ITS Tactical! *All measurements are approximate, please contact Sentry Safe for exact measurements.*