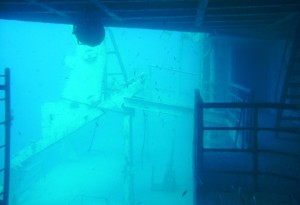 There's a sport, both recreational and professional, that goes unnoticed by many people every day. When a plane goes down in the Hudson River, when a ship meets disaster and sinks, when oil rigs needs to be built, and when SEALs need to get somewhere undetected, they turn to a skill that has continuously been in development since it's very inception.
SCUBA diving has evolved from the aqualung, to the Closed-Circuit Rebreather (CCR) through many years of trial-and-error, and extensive research. Originally developed as a stunt, SCUBA (Self Contained Underwater Breathing Apparatus) has brought a new twist to both civilian, and military operations.
So, I've gotten together with ITS Tactical to bring you a more in depth look at what SCUBA Diving is, and why it's important to every productive member of society.
Rescue Diving
There are styles of diving available for people from all walks of life, but the popular opinion here says the most important style is rescue diving. There are varying degrees of rescue diving that go beyond saving someone in an out-of-air situation. This particular flavor takes you into emergency first responder, dive rescue, and even search and recovery, depending on your class schedule.
You don't have to be an EMT, or a commercial diver to get that phone call requesting an immediate response to the trapped divers in the shipwreck off the coast of Key Largo. You do, however, have a certain path you must follow to get there.
The focus of this article is to help encourage everyone to get involved with their local diving community. There are a series of articles on diving getting fired up, and I personally want to make sure no one is lost when they start appearing on the homepage.
While it would be nice to list the ins and outs of diving, I'm not here to teach, nor am I licensed to teach. Instead, I want to give a few pointers on finding the right dive shop or certification agency for you.
Getting Certified
The first step you must take in SCUBA is "Open Water Diver" certification. A few of the more popular agencies are PADI, NAUI, SSI, and PDIC. Many people are particular to PADI since they will often make dive shops follow certain standards to maintain their insurance and licenses by labeling them "PADI 5 Star Certified." This DOES NOT mean that the other agencies are less strict. I personally chose the SSI route, and hold certifications in all four agencies listed as well as others.
Nowadays, most agencies offer online, and distance learning for most of your certification, leaving only the pool work and check-out dives to be completed in person. This certification teaches you the basic knowledge, skills, and habits to be a SCUBA Diver.
So now you're excited about getting started, right? Here are some things you should keep in mind while looking for a dive shop. Many instructors unfortunately use their training classes as a sales pitch. They will take the opportunity to lock you down and sell you the most expensive gear they stock because anything less is just blatant suicide.
I assure you, there is not one piece of diving equipment commercially available in the world that is unsafe or prone to failure, especially not for an open water diver. Bottom line is this, if it was unsafe, they would not sell it. Don't feel like you must have all of the latest and greatest gear. In fact, I don't even recommend the investment in a dive computer until you move to Advanced Open Water Diver. Fancy, expensive gear doesn't make you a better diver, it just gives you more to worry about while you're down there.
Next, ask around. If you work in an office, there is a good chance that someone working around you is secretly an avid diver. This will be your best bet for finding a shop that will not try to cut corners with your education. If you don't know anyone, a quick google search will show the shops in your area. Pay them a visit, but don't commit to anything unless you feel very good about the establishment.
The shop should be clean and well maintained, as well as have a friendly and knowledgeable staff. Make sure to ask what their safety record is. They should say 100%. If they don't, think very carefully about what you're getting into with that particular shop.
Don't stress the agency so much, since they generally all teach exactly the same things. The only real concern here is that you stick to one of the certifying agencies that have proven results, and a generally high satisfaction rate. Remember that dive instructors by their very nature are strange individuals. Don't let them scare you off before you finish your class.
Here is a list of the previously mentioned agencies and their website links:
Have a look at some of these sites, and feel free to post some others that you may be partial to. My experience with SCUBA certification does not extend beyond the borders of America. Keep your eyes peeled here for some upcoming discussions on old school diving and how you can learn sure fire ways to stay out of trouble on multi-level dives.
Disclaimer
ITS Tactical cannot be held responsible for any attempts at any form of diving without first seeking professional training and advice. The following article is not intended as a replacement for proper training and equipment used in any water sport activity. Diving is inherently dangerous, and introduces a unique set of risks not typically present in everyday life. We urge you to seek proper instruction from a qualified, and certified agency before attempting any sport requiring a life support system, namely: SCUBA. It is likewise very important that you contact your health care provider before attempting any training classes to ensure you are in good physical condition. Those with pre-existing medical conditions may be at a higher risk for certain complications that may become present while SCUBA Diving.