Ruggedizing Your Vehicle with Prep Tips from a US Rally Driver
Ruggedizing Your Vehicle with Prep Tips from a US Rally Driver
Having a break-down on the side of the road flat-out sucks. Maybe you're driving your lady home, honing your driving skills, or even overseas, the simple truth is that a little bit of car preparation can go a very long ways toward keeping the wheels turning and getting you where you need to go.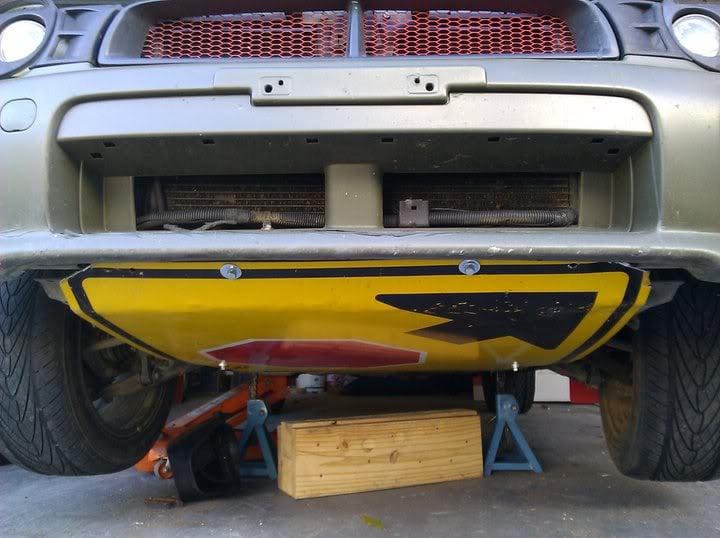 You don't have to be a trained mechanic to ruggedize your vehicle, all it takes is a little bit of time, basic tools and materials that you can find just about anywhere to turn a normal production vehicle into a high speed workhorse ready to tackle your driving adventures.
Battery
Your battery needs to be tied down very securely if you plan on operating at high speeds, over rough terrain, or both. A loose battery will arc its terminals on sheet metal, flex and break its connections, or shift from its location and interfere with other moving parts. Batteries can be tied down with ratchet straps, bungees, paracord, etc.
Take care not to bridge the terminals with metal or any other conductive material, even touching the terminals together with a tool tool can let the smoke out of the wires or ECU. Cover the battery or at least the hot terminal with scrap rubber or plastic, even wrapping with tape will help prevent a catastrophe.
Tires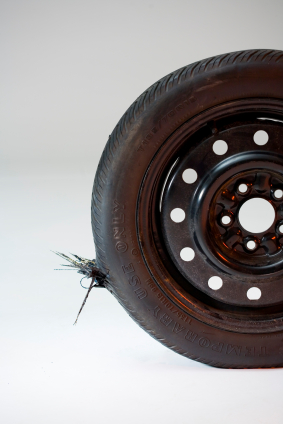 Standard equipment tires found on most sedans across the world are fairly thin, weak units. The sidewalls of the tires are especially prone to puncture, as the steel belts and other plies are typically found only in the tread section of the tire.
Over-inflating tires to 35-40 PSI will help to keep the sidewalls away from the terrain that you're driving over, this will also keep a better seal between the tire and the wheel. Do not slide the car overly sideways on rough terrain, as this exposes your sidewalls to rocks and debris.
Specific rally-racing tires are available in a variety of sizes to fit most vehicles, these tires are designed and reinforced to handle very abrasive surfaces and rough terrain. Whenever possible, carry a full size spare and tools. Secure all of these as well.
Lights
Standard white lights found on most cars leave much to be desired. Replace bulbs with higher wattage units when possible. Also, it is important to understand that your headlights were aimed at the factory with other driver's feelings in mind. In the States, left side headlights are aimed further inboard and down as a courtesy to other motorists, and headlights are in general aimed further down than is practical for expedient driving.
Find a level surface to align your lights against a large wall or even a deserted stretch of road. Rain-X not only works well on windshields but it keeps headlights clean too. Be sure to adjust your following distances on muddy roads.
Underbody
There are many vulnerable parts on the underside of your vehicle that will stop your trip in a hurry if they are compromised. Your radiator and oil pan typically sit fairly low, as well as fuel tanks, pumps and brake lines. With time and materials, you can do an excellent job of protecting these items, but we all know that there's often no time for this. Scrap metal, thick rubber, plastic or even a road sign can make an adequate skid plate underneath the engine or fuel tank. I have a Finnish friend that once cut a piece from the wing of an old military aircraft in Estonia to fashion a skid plate in a hurry.
Slice small diameter rubber hose lengthwise and use it to wrap fuel and brake lines then finish it off by affixing with hose clamps or flex ties. Secure the exhaust system firmly to the body with mechanics wire or hose clamps at all mounting points.
Drive Time
These few precautions should dramatically prolong the life of a standard vehicle. The more time that you have available, obviously the better you can prepare your vehicle for rough terrain, heavy loads or aggressive driving. Simply by going through these checks, you also make yourself more familiar with the vehicle and aware of its weak points, which will allow you to change your driving style and decisions accordingly. Good luck out there and keep it on the road.
Editor-in-Chief's Note: Please join us in welcoming Wyatt Knox  as a contributor on ITS Tactical. Wyatt was the 2011  2-Wheel Drive  US Rally Champion, former lead instructor at the Team O'Neil Rally School  and is now racing internationally as well as doing private instruction and coaching.