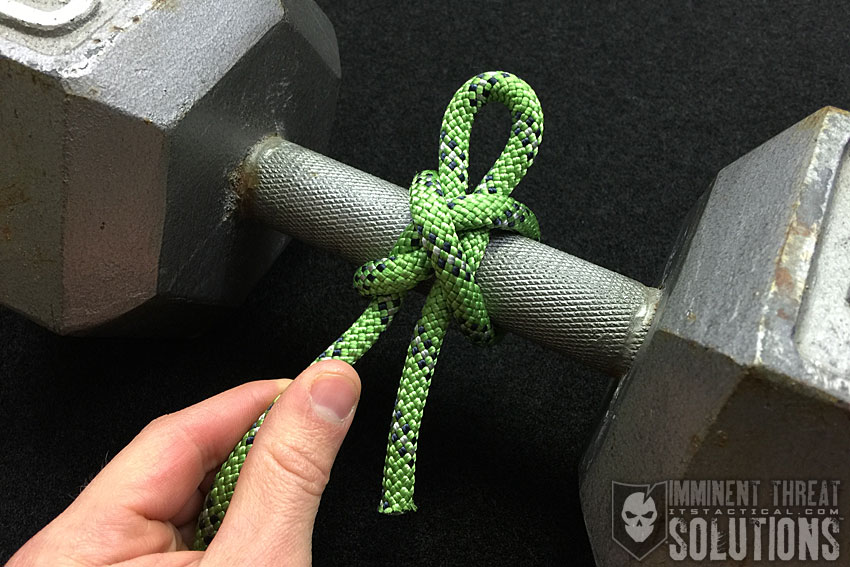 Our Knot of the Week in HD continues this week with a Hitch called the Constrictor Knot. Last week's Clove Hitch can leave a desire for something stronger to tie an object up with and the Constrictor Knot is a great option.
Whereas the Clove Hitch is quick to tie, it can be insecure under a heavy load. The Constrictor Knot is also quick to tie and can be a worthy alternative if security is your concern.
Constrictor Knot » Hitches
(Strength: 5/Security: 5/Stability: 4/Difficulty: 3) See below for what these ratings mean.
As you'll see in the video above, the Constrictor Knot has a slipped variation. The only thing that changes in the ratings above when adding the bight into your tie to created the slipped portion, is that strength increases by 1 and security decreases by 1. It can also be more difficult to untie in the slipped configuration, but overall the Constrictor Knot is harder to untie than say the Clove Hitch.
This means that by adding in the bight, you're giving the Constrictor Knot more surface area to "constrict," but you're decreasing it's security by adding more chance that the knot can slip out at an inopportune time.
Ratings
Strength/Security/Stability/Difficulty
Each knot will be assigned a rating from 1-5 (1 representing the lowest score) based on the following four properties:
Strength – All knots will weaken the strength of  a rope, however, there are knots that are stronger than others. The scale here will reflect how strong the rope remains with the specified knot.
Security – The security scale refers to how well the knot will stay tied, and resist coming loose under a normal load.
Stability – Stability refers to how easily the knot will come untied under an abnormal load (i.e. the knot being pulled in a direction it was not intended to) A lower score here represents instability.
Difficulty – The lower the number, the easier a knot is to tie.
Have you listened to our Podcast?

Do you enjoy witty banter and nostalgic geekdom all while sipping on a fine aged scotch? Then you'll love our podcast!