How To Make Your Own Pace Count Beads for Land Navigation
How To Make Your Own Pace Count Beads for Land Navigation
For this week's Knot of the Week, we'll be showing you how to create your own Pace Count Beads. This simple device will enable you to accurately keep track of your distance traveled by using a time-tested technique.
Pace Count Beads
The premise behind Pace Count Beads is to pull down a bead from the bottom stack of nine beads each time you hit your "Pace Count." Your Pace Count needs to be determined prior to setting off on your trek and we've got a great article here on ITS that explains how to determine your Pace Count.
The single bead pulled from the bottom represents 100 meters traveled. At each 100 meter increment another bead is pulled down. After the ninth bead is pulled down, the next 100 meters traveled (1000 meters total / 1 Kilometer total / 1 Klick total) resets the stack of nine beads and a single bead from the top stack of four is pulled down.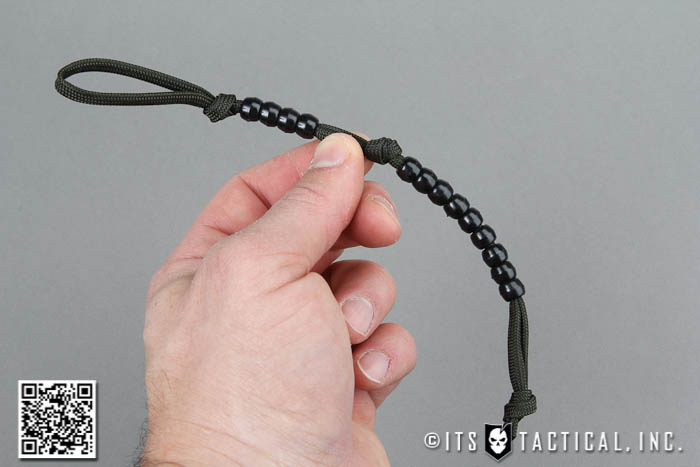 Once 5000 meters are traveled, the top and bottom stack of beads can be reset and the process can start all over again.
How to Make Your Pace Count Beads
For this project you'll need a 26″ length of Paracord and 13 beads. There's quite a few options available as far as what kind of beads to use. What's show here are simple plastic craft beads from the hobby store.
Through the video and photos below you should be able to follow along with the creation process for making your own Pace Count Beads. The use of one of the guts from your 26″ strand of Paracord will help tremendously when you go to thread them on.
Simply girth hitching the Pace Count Beads onto a backpack strap or belt loop will keep them readily accessible when you need to track your distance traveled.
*Update* All the supplies needed to create your own Pace Count Beads can be found in our new ITS Land Navigation Starter Pack!