Assemble Your Own Emergency Kit for Friends and Family
Assemble Your Own Emergency Kit for Friends and Family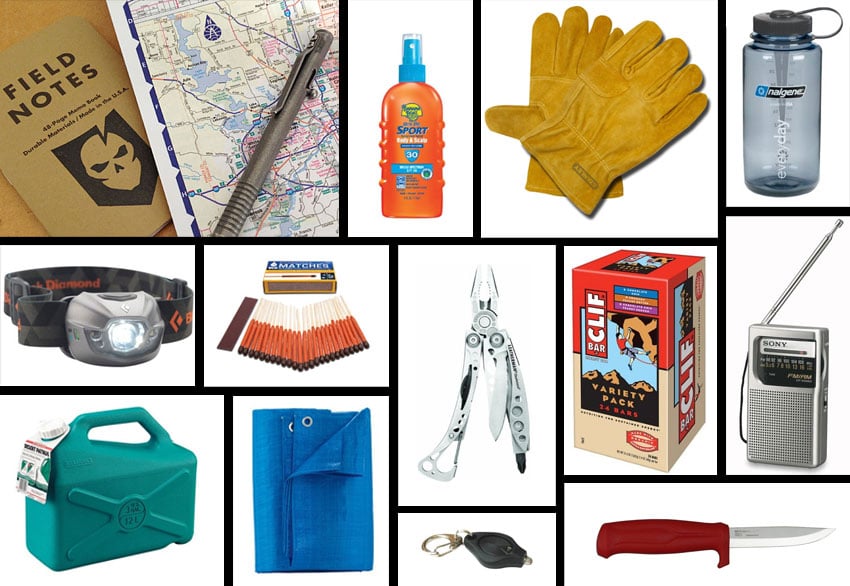 We all have friends and family we want to give a more practical gift to, as well as those who are interested in being more prepared, but don't know where to begin. Most commercial kits out there invariably seem to be junk.
For example, the $165 kit from my favorite and very popular outdoor retailer that normally sells high quality items, is filled with crap components. While I consider myself to be highly tactical, if I were to hold out for three days I 'd want more than the 10x 4.2 ounce packets of water in the prepackaged kits.
After poking around, here are some ideas to piecemeal an emergency kit together that would leave the recipient better off than a commercially built kit. We'll try to keep the same price point but have ample food and water to last two people for 72 hours.
That being said, most of us have items in our kit that we consider indispensable in the backcountry, while the average citizen with no outdoor training or experience might not have a clue what to do with it. While most of us wouldn't venture into the backcountry without a signal mirror or fire striker, chances are your loved ones have never used these items before, let alone in a stress-free and fair-weather environment. We'll try to keep things simple, but I can vouch for each of these items personally.
The Ten Essentials
I'm a fan of the ten essentials system, and will thusly go down the list.
1. Navigation – Pick up some street maps of their local area. These are also free if you're a AAA member. [$8]
2. Sun – It's not a life-saving item but disasters can mean compromised shelter, i.e. no roof over your head to shield you from the sun. Sunscreen is always a good idea.[$7]
3. Clothing – Chances are they have their clothing preferences, but if you are feeling especially generous, Patagucci always has something on sale. For an emergency kit, I would recommend a light and simple rain shell, as they probably already own a fleece. I also like to keep a large trash bag handy as an emergency poncho. While it's not as ninja as my Arc'teryx hardshell, it's certainly more compact. Rummage around your pantry for this one. Throw in a pair of work gloves. [$8]
4. Illumination – A headlamp like the $29.98 Black Diamond Spot. Petzl and Black Diamond both make good headlamps that countless mountaineers have relied on. While I don't like to recommend gear I personally haven't used, both companies have models in the $12-15 range based on the same technology. I am using the Spot and can vouch for it. Get 3 extra AAAs from your battery drawer (market price $0.33ea) and toss them in there. Most outdoor books recommend a headlamp, spare batteries and a spare bulb, but I advocate a backup light like a keychain Photon II. If you're on a budget, skip the headlamp. [$8-40]
5. First Aid – This is variable depending on their level of skill. Even if your family member is a world class surgeon, consider whether they have the mindset required to conduct more than basic first aid outside their workplace. At the bare minimum, I recommend a baggie of ibuprofen and some bandages. I'm confident most readers have this stuff laying around, which you can assemble from spares for $0. You could throw in a pre-packaged first aid kit, but we haven't found one out there we liked. [Update: ITS has assembled a great first aid kit that includes everything you'll need on a daily basis. Pick up the ITS Boo Boo Kit here.] I personally don't leave home without a tourniquet and hemostatic gauze, but would be reluctant to give them to someone without the proper training.
6. Fire – Matches and a butane lighter are simple and effective. We love our fire strikers, but everyone knows how to use a Bic lighter and strike a match. You can find a Bic at the impulse aisle for under a buck or even storm proof matches for a few dollars more. [$6]
7. Repair – Mora knife and duct tape. Yes, we sell a Mora knife with a fire striker in our store, but we need to consider the audience. If you have a few extra bucks to spare and you think the recipient would appreciate the quality, you can substitute the Mora for a Leatherman Skeletool which is a very handy yet modestly priced multitool. Wrap 10 feet of duct tape around the Mora sheath, empty Nalgene bottle (below) or a pen/pencil you have laying around and throw that in the kit. [$10-35]
8. Food – While I think the Mountain House variety pack is nice, I've gifted them in the past and I think they seem unpalatable and alien to normal people. Hell, people I take camping seem to not want to eat them (chicken a la king is the best flavor). I'm not a fan of energy bars, but a 24-pack of Clif Bars is often a safe bet. [$35]
9. Hydration – Water bottles are practically fashion accessories and almost everyone has one, but I recommend throwing an empty Nalgene [$7] into your gift kit. Give them a $17 7-gallon water container they can fill up in their bathtub on their own and store in their pantry, or you can fill it up for them if you're feeling like a jerk. If the recipient cannot lift it, you may want to consider a 3-gallon jug instead, but a word of warning, I have this one and it can leak when tipped over. I haven't found a more suitable alternative besides individual 1-gallon screw-top jugs. [$24]
10. Shelter – Throw in a 6′ x 8' blue tarp and some paracord if you think they know how to rig a shelter, otherwise just stick with the trash bag (see #3) [$4]
Other Stuff
Signals – Look for a decent but inexpensive compact am/fm radio. Rummage around your drawer of electronics for a spare USB charger and either a micro-USB or Apple cable, depending on their choice of cell phone. Tape a spare pair of AA batteries together and throw it in the kit. [$13]
Hygiene – Have an unused toothbrush and toothpaste from your last dentist visit? Grab those and (2) $1 packs of 15 baby wipes. [$2]
Backpack – Assemble the contents (minus food and water) in a backpack or duffel bag you have laying around, or just jam all the smaller components, i.e. everything but the food and water, into the Nalgene bottle.
With the above components, we're coming in around the price of the commercially assembled kit, but hopefully you find our recommendations to be of better quality than those in the prepackaged kits. If you have any related gifting ideas, please let us know in the comments and stay safe.
Editor-in-Chief's Note: Jeff lives in Los Angeles and serves as our resident Eastern Sierra correspondent. He likes things that say 9mm and f/2.8. He also sucks at rock climbing. Be sure to check out his website at skunkabilly.com.