Wind Zero Training Facility
Wind Zero Training Facility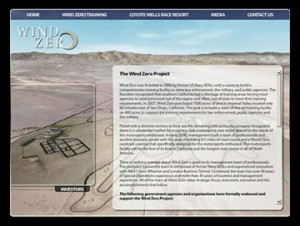 We've just found out about a new training facility in the works called Wind Zero. The 1000 acre facility is located in California's Imperial Valley, near to the Naval Special Warfare training facility in Niland, CA and Imperial County's  Salton Sea.
Rather than compete with existing training programs, Wind Zero seems to be an all-inclusive facility available for rent by various law enforcement, military and public agencies to allow them to run their respective training blocks in a state-of-the-art facility.
While 400 of the 1,000 acres will be dedicated to this training, the other 600 will be used for a country club motorsports race resort featuring 6.1 miles of road course. The motorsports facility will be the  first of its kind in California and the longest road course in all of North America.