The Best Way Out is Always Through: Lessons Learned On the Road
The Best Way Out is Always Through: Lessons Learned On the Road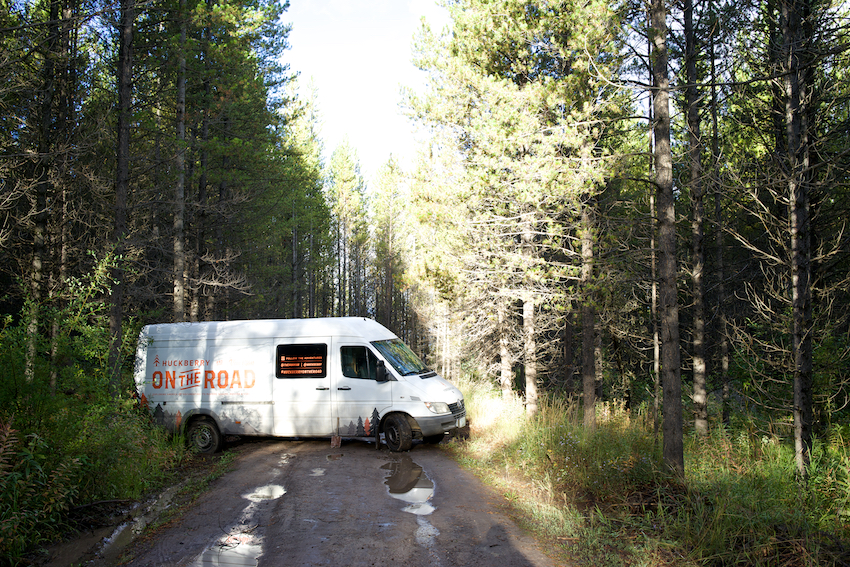 Operating on a recommendation from another couple that had recently passed through Jackson, WY we bouncily climbed dirt roads in the Bridger-Teton National Forest. We'd lost track of time in town, grabbing dinner and playing cards, which left us to search ill-labeled roads in the dark for the proper route to Shadow Mountain. A rain storm the previous morning had left mud of banana-peel slickness and puddles of indeterminate depths dotting the "roads" like a mine field.
At 21ft long and sporting rear wheel drive, the Sprinter isn't what you'd call an off-road vehicle. But a Platinum level AAA membership and a stubbornness not to miss out on stunning morning views of the Tetons, lent us the confidence to ignore the easy campsites and proceed upwards.
Avoiding puddles where possible and being mindful not to crack our rear differential, we finally found the access road to Shadow Mountain and were crawling our way up. Camp spots were few and dismissed for their lack of a view: we'd come this far, we were going to the top. Rounding a bend, our ascent came to an abrupt halt. The headlights played over a puddle that bordered on pond status. It flooded the entire road for 70ft. Short of wading out there was no way to know how deep it went, or whether its bottom was grippy rock or wheel-sucking mud. Backing down the trail would be dicey at best. The road was narrow, but wide enough to turn provided you nailed it perfectly.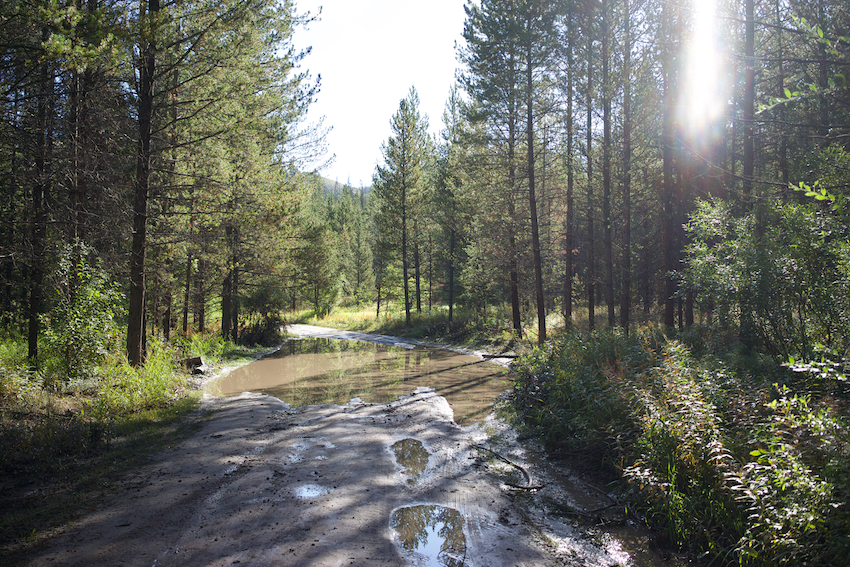 I began gingerly backing up for the multi-point turn. After inching back to the edge of the grated road, I stopped and went to shift into Drive. As I slipped the transmission into gear, the rear end of the van shifted and sank.
"What was that?" My girlfriend asked.
"We just went off the road."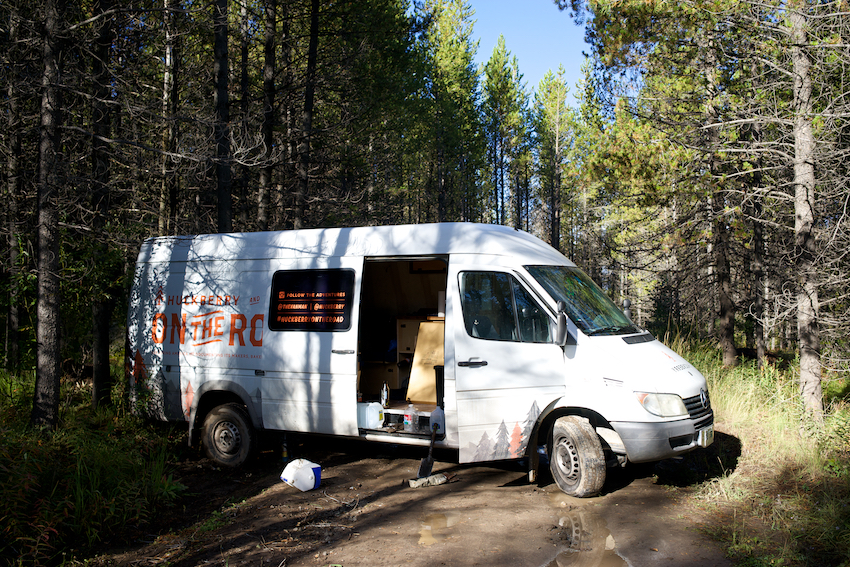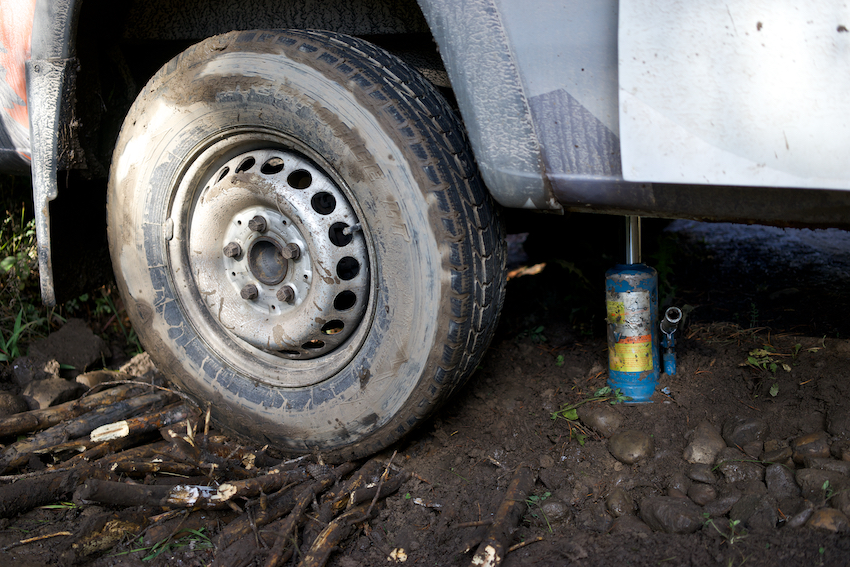 My breath hung in the air as I went to check the left rear tire. While I'd correctly judged the edge of the road, I'd misjudged how solid that edge was after the rain. The heavy rear end of the Sprinter had caused the wheel to slide down off the edge and into mud the consistency of pig slop. This was not optimal.
Livid and intent on extracting us, I went to the van and grabbed the shovel, a cooler (to carry rocks) and the bear spray. We were very much in grizzly country. I gathered three loads of rocks with the cooler, stuffing them strategically under the wheel in hopes of gaining traction. Using my hard earned snow escape tricks (courtesy of my New England background), I rocked the van between Reverse and Drive in futile hopes of escape.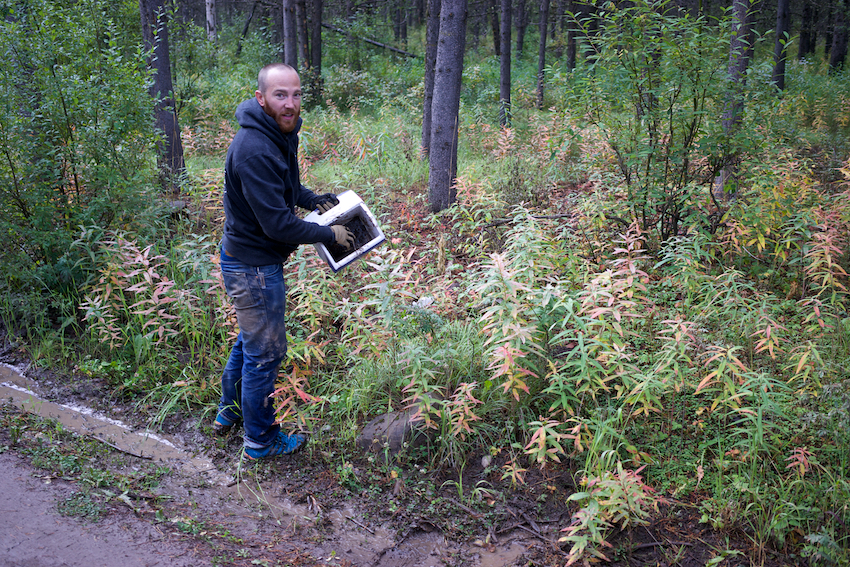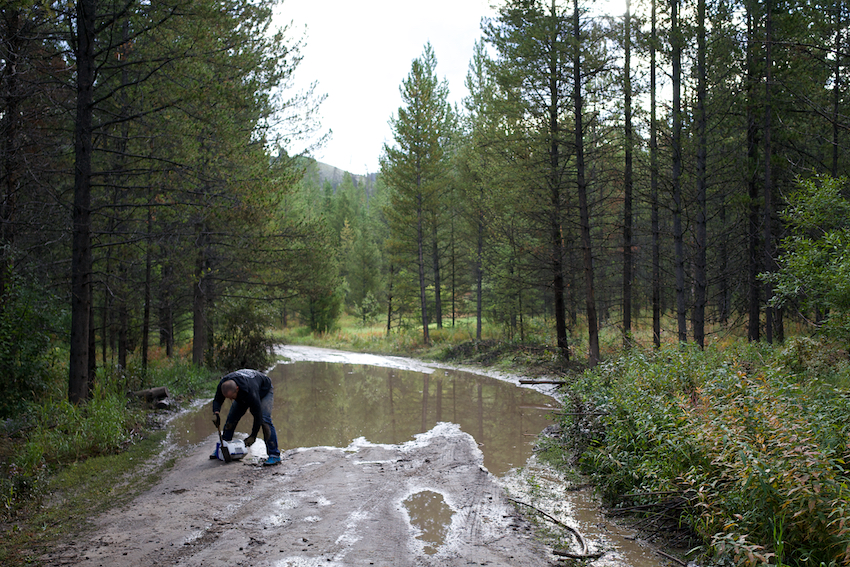 More rocks were gathered and curses uttered. This time, my girlfriend (@she_explores) drove and I pushed. The Sprinter crawled tantalizingly forward, only to slip and roll back. Frustration and embarrassment made me indifferent to time and temperature, intent to work on extracting the van all night if need be. Luckily my girlfriend's leveler head recommended (strongly) that we crash out on the inviting queen-size Casper bed in the back of the van. We would try again with daylight on our side.
As morning broke, I woke and pulled out the car jack. My hope was to laboriously jack the wheel up, build up sticks under the tire, lower it and repeat the process until I reached a level where we could drive out. Slowly, I got the wheel closer to level with the road, I just needed a second person to help push and we'd be free.
A Yamaha Rhino rounded the bend with two bow-hunters, dressed head to toe in camo.
"Sorry about this, we got stuck last night." I said
"We'll go around, don't worry." They didn't seem too concerned.
Without another word or offer of help, the bow hunters pulled around the van, sped through the puddle and zipped out of sight. So much for the vaunted middle-of-the-country hospitality.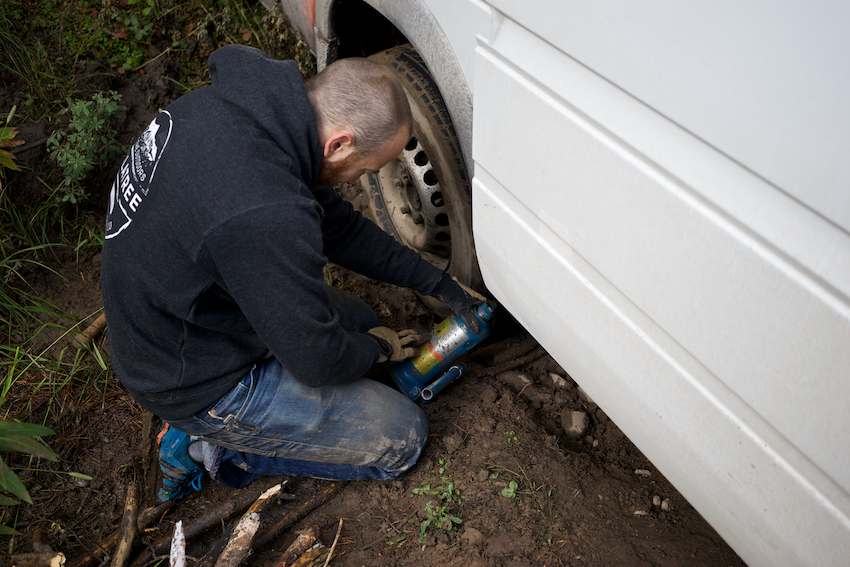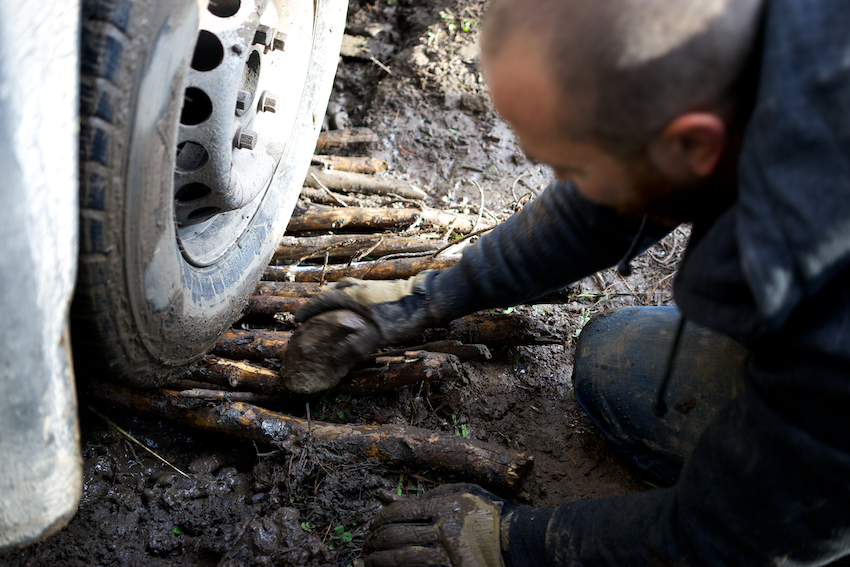 A half an hour later, a big pickup pulled up and two middle-aged guys hopped out.
"You know you could've gone right through that puddle, right?"
Clearly I had not, which I relayed. Mud was caked on most of my clothing from my adventures under the van.
"Don't mind getting dirty there do you Bear Grylls? Alright let's get this thing out here. We'll push, you drive."
Thankful for the help I smiled at the ribbing and climbed in to drive. Two big pushes and we were straightened back out on the road, pointing yet again at the puddle pond.
"Do you really think this van can make it through that? It's only rear wheel drive." I asked.
"Son, you might have to turn in those 'Live Free or Die' plates if you're gonna be a pu$$y about it."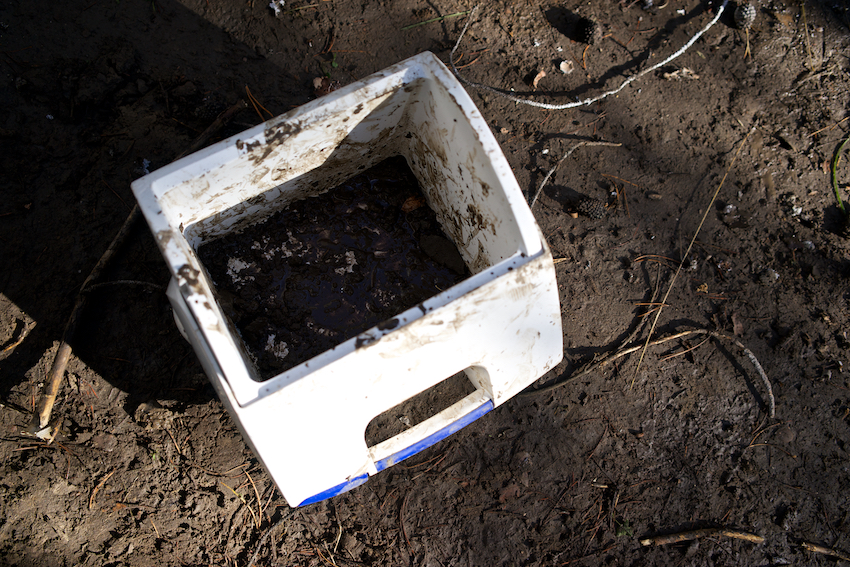 A smile twitched on his face as he adjusted his ball cap. I climbed back in the van.
"Are we going through it?" my girlfriend inquired dubiously.
I put the van in drive and punched the accelerator. We crashed into the puddle, water shooting up 5 ft in the air off each side. In seconds we were safely on the other side and climbing to the top of Shadow Mountain. Frost's advice held true "The best way out is always through."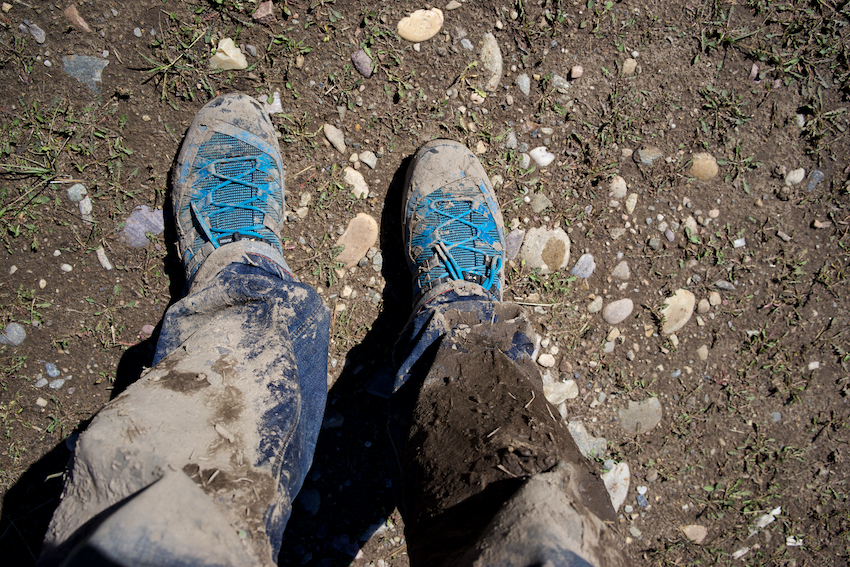 Photos © Jon Gaffney and Gale Straub
Editor-in-Chief's Note: Jon currently lives a semi-nomadic life with his girlfriend traveling North America in a camper van of their own design. If he's not hiking, climbing, waterskiing, or attempting to surf you'll probably find him playing with a camera. You can follow along with his antics on Instagram.