Comfortable, Tuckable, and Concealed: The Crossbreed SuperTuck Deluxe Holster
Comfortable, Tuckable, and Concealed: The Crossbreed SuperTuck Deluxe Holster
Like most of us, I am constantly on the hunt for the "best" gear. Recently I've been going down that road in search of a good holster for every day concealed carry. I started with an outside-the-waistband (OWB) Phantom holster from Raven Concealment Holsters and carried it for years.
It's a fabulous OWB holster, but, once I ordered the tuckable soft loops to convert it to an inside-the-waistband (IWB) holster, I found it less than satisfying. The rigid, all kydex, holster was fairly uncomfortable to carry IWB, especially when sitting for long periods of time, such as driving. I needed something different.
The next stop on my holster journey was the Crossbreed SuperTuck Deluxe. The SuperTuck is a dedicated IWB holster. It is a hybrid (or crossbeed) holster, consisting of a kydex holster shell attached to a large leather backer with two spring steel belt clips.
Options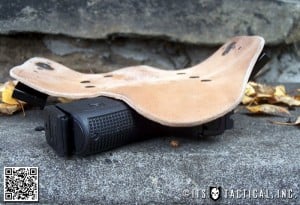 The holsters are offered in both a black cowhide and a natural horsehide. The horsehide is more moisture resistant, which makes it better for humid climates and folks who sweat a lot — like me. As of this writing it looks like they can make these holsters for around 100 different handguns.
The other major option they offer is what they call the Combat Cut. This option is a cut down version of the leather backer. It can possibly increase the speed of your draw, at the cost of sacrificing some comfort.
Ordering
After some research I decided to go ahead and order a SuperTuck for my Glock 19. I ordered mine with the horsehide backer because I tend to sweat a little more than the average person. I elected not to get the Combat Cut, figuring that I could trim the leather later if I decided it needed it.
One of the bonuses of ordering it for the Glock 19 is that the kydex holster section is open on the bottom. This allows the holster to work with any of the 9mm or 40 caliber Glock frames, from the little 26/27 all the way up to the large 34/35.
When I ordered my holster there was a four to six week wait. Crossbreed is a small shop and each holster is custom made by hand.
Evaluation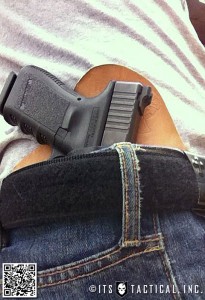 My first thought when I got the holster in the mail was "Man, this is an ugly holster." It really is just half a kydex holster attached to a big freaking slab of leather with some belt clips on it.
At first it just felt different. Not bad, not good, just different. Over the next several days I kept wearing the holster to give it a fair shake. It began to break in and mold itself to my body. Finally, after about a week of wear, the holster became exceptionally comfortable. I also found it to be excellent at concealing the firearm. During my all too brief time enjoying the Alaskan summer I spent several weeks in shorts and a t-shirt. My wife usually could not tell that I was carrying until she bumped into me just right and felt the gun.
Obviously, walking around with the holster was comfortable but I figured I would try the holster in a few other situations to see how it fared. I spend a lot of time with my family riding our bikes around town and figured this would be another good test of the SuperTuck. I also spent a lot of time driving around with the holster on.
The only issue I noticed was that occasionally when my torso was bent over (such as when getting in and out of the car, or riding the bike) the back clip would slip off of my belt. This isn't catastrophic; the holster has always stayed in place. I just had to reach back and give it a small push back down onto my belt. Part of this could be caused by me wearing a fairly thick 1 1/2" riggers belt. When I wear it with a leather belt I never have this issue.
Tuckable
The Crossbreed Supertuck is also a tuckable holster, as indicated by its name. What this means is that you can actually tuck a shirt in around the holster. I regularly wear it with a tucked-in button-up shirt and it is nearly invisible. You do have to blouse you shirt just a little extra around the gun, but not enough to look unnatural.
Remember that tucking your shirt in over the holster will slow your draw down by a good bit and is going to take a little extra dry fire practice to get used to grabbing your shirt and pulling it up enough to untuck it from around your gun.
Comfort
The only thing I would change about my holster is that I might trim some of the excess leather off of the backer. The way it comes from the factory it holds the gun so close to your body that it can be slightly difficult to get your hand in between the leather backer and the gun to establish your grip. If I was to order another one I might go ahead and order it that way with the Combat Cut. As it stands, I do feel like mine has a little too much leather.
I think my trim job will be somewhere between the standard holster and the Combat Cut. One of the best features about the holster is the comfort, which allows it to be worn every day. I want to trim as much of the leather as possible without sacrificing any of this comfort I've grown accustom to.
Overall I'm very happy with my holster. I'm still wearing it every day, except for the occasional days when I feel like wearing my cowboy boots and my 1911. If you're looking for a very comfortable, very concealable holster for your carry gun take a look at the Crossbreed SuperTuck Deluxe.
Editor's Note: Rob is Active-Duty Air Force stationed in Alaska, a fellow Texan and ITS Plank Owner. Be sure to check out his blog at tacticaltexan.wordpress.com