Method Burn: Professional Grade Stippling for Your Polymer Firearm Accessories
Method Burn: Professional Grade Stippling for Your Polymer Firearm Accessories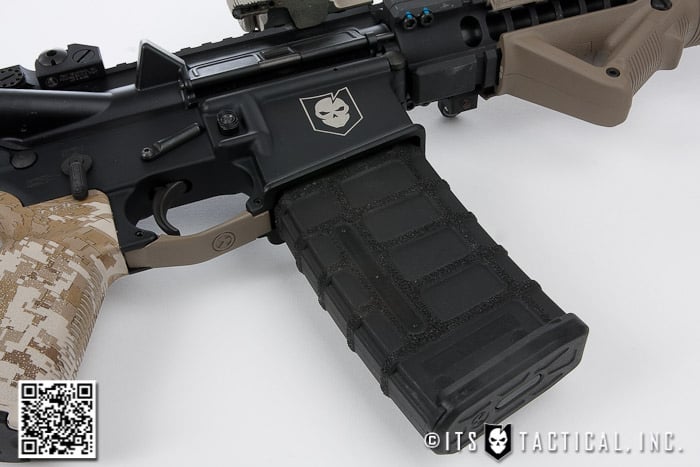 We first heard about Method Burn prior to the SHOT Show this year and were able to catch up with them there to get hands on with their quality craftsmanship.
We've been kicking around a Method Burn stippled PMAG for the last few months and wanted to share our thoughts on the intense attention to detail that they deliver to the industry.
Stippling
Method Burn prides themselves on "burning tiny dots into things you love." Who doesn't love a cool company slogan like that? If you've never heard of polymer stippling before, it's a newer technique to the industry where a soldering gun or wood burner is used to "burn" a pattern into the places your hands go on your firearm and firearm accessories.
The theory is that this gives you a better purchase on these high traffic areas and increase your ability to grip. Many swear by stippling and it's definitely catching on with all the new firearms utilizing polymer frames.
This technique has been around longer in the industry in the 1911 world. From what we can tell, Gunsmiths have been custom stippling the metal frames of 1911's with punches for much longer than the polymer stippling craze has been around.
Method Burn PMAG
We've been rotating in the Magpul PMAG we received from Method Burn into our range time for the past few months and can definitely tell that it provides a benefit in grip retention. Not only does it help the grip in the Texas heat with sweaty hands, it shines when using gloves. As you can imagine, leather gloves really create a nice purchase on the stippling during mag changes.
We like the location of the stippling on this PMAG as well, as it's just on the raised rib areas of the polymer pattern. It's just enough stippling, but not too much to be overbearing. The stippling can be done in numerous patterns, but this one in particular looks to be one of the best.
The most impressive part about the stippling that Method Burn churns out is the attention to detail, each dot almost seems to have been precisely positioned next to the prior one and you almost forget that the work is all done by hand!
Specialization
Method Burn provides texture for a wide range of weapon accessories, rail panels, vertical grips, magazines, shotgun forends, firearms and even custom work. Check out their impressive gallery online!
As of this article, their Website states that they don't have their FFL yet, so if you need firearm stippling you'll need to be local to Dallas, TX. Method Burn also offers a 10% discount for Military.