Today is K9 Veterans Day, Please Support our Working Dogs!
Today is K9 Veterans Day, Please Support our Working Dogs!
I'll admit that before today, I hadn't heard of K9 Veterans Day. In my research efforts to learn more about this, I discovered that Joe White, the founder of the movement to nationally adopt March 13th as K9 Veterans Day, is no longer with us.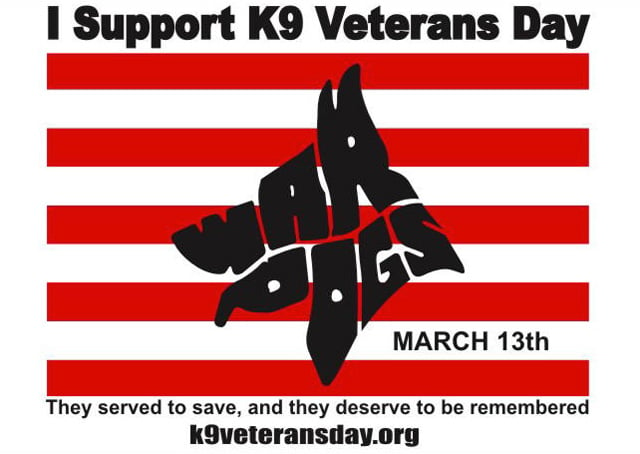 Since 2009, Joe's wife Sally has continued the effort to get nationwide recognition for this holiday and I'd like to help her spread the word here on ITS. It appears that in 2010 New Jersey officially recognized the date for K9 Veterans Day, but I couldn't find that any other states had done the same.
I feel that the mission statement from k9veteransday.org best sums up why we need to have national recognition for K9 Veterans Day:
Welcome to the national effort to make March 13 K9 Veterans Day. March 13, 1942 is the official birthday of the United States K9 Corps, and so it seems only right to annually honor their service on that date. They served to save, and they deserve to be remembered.

Because of the attacks on our homeland, many more dogs than are normally associated with the term "war dogs" are in the fight, and this campaign will not discriminate against them. The war came to us, and so it has become seriously important to us as a Nation to have our borders, transportation centers, ports, bases, fuel dumps, energy compounds, and many more places, as well guarded as is possible, and for the most part they are guarded by dogs that are not in the military. Police K9s, Customs K9s, Border Patrol K9s, Secret Service K9s, Airport Police K9s, F.B.I. K9s, and others are working daily to protect the homeland, and they should be honored accordingly. Some of those very dogs died at Ground Zero. They have all served to save, and they all deserve to be remembered.

Privately handled dogs are also a part of the war effort in ways that have never been done before. Search and Rescue dog teams worked tirelessly at Ground Zero, and at the Pentagon. Private bomb dog and security dog teams are in Iraq and Afghanistan, and other sites as needed; and they are very much needed, and sincerely appreciated by our troops. And private Therapy dogs are in the hospitals both here and abroad, helping to heal our hero's. Service dogs are now assisting those who are handicapped by the war to have a more meaningful life. And may we never forget as well the service of those privately handled dogs who search for the remains that are so important to their families. And of course many of our troops will readily tell you of how an unofficial war dog, a mascot, helped in keeping one's spirits high as the horrors of war worked to depress them.

First and foremost are the military dogs of all our wars, as their service and sacrifice paved the way for the creation of all the other uses for dogs. And we are certainly honored to have current handlers voicing their support for this campaign. Dogs have bled, suffered, and died while serving in all our wars, to include this war on terror, and they have done so in ways that do us all proud. Dogs were there in the trenches of France in WW I, and the slopes of Iwo Jima in WW II, and though many were pure breeds, some others were mixed breeds, and our troops didn't care either way. They were simply grateful to have one, and they treated them with respect as a fellow soldier. Of course dogs also served with honor in Korea, and Vietnam, and wherever our Country has called them to serve. And unlike other so called weapons, dogs served not to take a life, but to save them. They served to save, and they deserve to be remembered.
Joe has put together a great list of ideas here, on how we can help with this movement. Those include writing your state, local working dog demonstrations, parades, etc. I think if we all try to spread the word as much as possible, we could make K9 Veterans Day in 2014 better recognized.
From this point forward I'll be doing what I can to help support the national adoption of K9 Veterans Day and I'd encourage each and every one of you to do the same.