Outdoor or EDC? Why the GiantMouse ACE Biblio Fits Both Roles
Outdoor or EDC? Why the GiantMouse ACE Biblio Fits Both Roles
It's not easy to categorize the new GiantMouse ACE Biblio folder, which combines practical elements from different segments to create a small, but stout utility knife. The Biblio could be used as a beefy EDC knife or even a compact outdoor companion.
I'm a big fan of GiantMouse knives and I've had the chance to play with a couple of their great models in the past. I was extremely happy in May when their designer Jesper Voxnaes asked me if I'd like to test drive a new folder, which would be introduced at Blade Show 2018. Would you have said no? Me either! The following is my evaluation of the ACE Biblio.
In a nutshell, it's a slicer!
When I finally got the ACE Biblio in my hands I was a bit surprised, as I was expecting a liner lock variant of the GM1. However, the Biblio is a totally different animal! First of all, it's a good bit smaller (3.25″ blade vs. 3.6″ on the GM1) but at the same time, it's much beefier thanks to 3D contoured Micarta (or G10) scales. It has a nice heft, but at that compact size, it's a pleasant thing that gives it a feeling of sturdiness rather than excess weight.
The Biblio isn't an entirely new design, but it's a good one. It's based on a custom collab between Danish knife making superstars Jens Anso and Jesper Voxnaes, made years ago for the "12 Blades of Brooklyn" custom knife event. The Biblio is much closer to that original custom knife's size than the GM1 is.
Form and Function
The ACE Biblio is compact but fills the palm well. Its grip design offers safety and comfort, especially with the porous surface of the Micarta variant. It also features an anatomically sculptured handle with a flipper (which forms a front guard when opened), very pronounced jimpings here and there, as well as pinky support on the back. With all that combined, you'd be hard-pressed to find a folder of this size with a safer grip.
Blade characteristics of the Biblio feature a broad and leaf-shaped design, with almost full height grinds and a fine thin cutting edge. In a nutshell, it's a slicer! It cuts well, whittles well and the point is sharp. I've used it for general cutting, making feather sticks, as well as rope cutting and I must say the M390 steel keeps a great edge. I'm glad Jens and Jesper didn't cheap out in the steel department. It's the same top class blade material that's found in other GiantMouse knives.
While more of an everyday utility folder than a cooking companion, the Biblio can be used also for occasional camp (or office) kitchen us. However if needed, with the slicer's cutting characteristics, it can be used for virtually any cutting job. With such a good steel and so much belly on the cutting edge, I have no doubt it could even skin a whitetail deer.
Opening and Operating the Biblio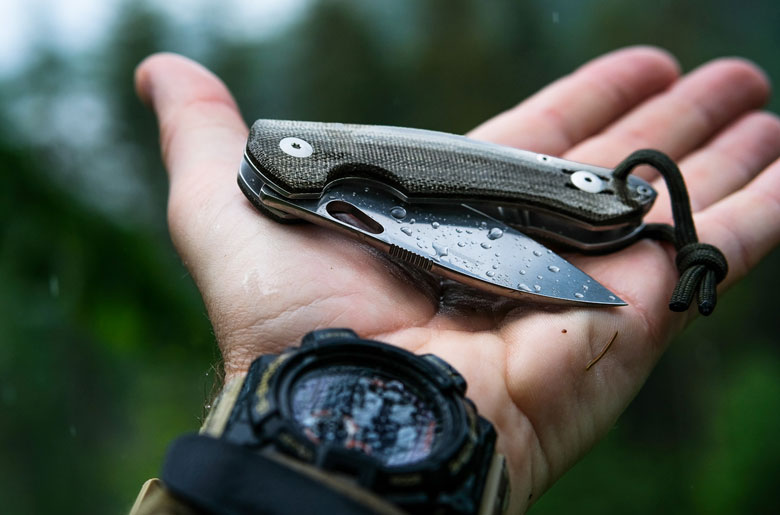 Just like the original custom "12 Blades of Brooklyn" version, the Biblio can be opened via a thumb hole in a slow and silent mode, or via the flipper with a distinctive "clack" sound. The flipping action is fast and the blade rotates on ball bearings, so if you give it a good kick you'll enjoy that dynamic kind of opening, which I must say is very satisfying. On my knife, the detent was quite strong, which is safer for pocket carry but requires a bit more pressure to actuate via the flipper. It's a personal choice, but I actually like it that way as I feel it's a bit safer.
The fit and finish of stainless liners in the Biblio are great and there's even a laser marking inside, just like any other GiantMouse folder. The liners are thick enough to give the Biblio a very good locking action. I've never had even the slightest issue in last 2 months of using it; it's a very reliable lock.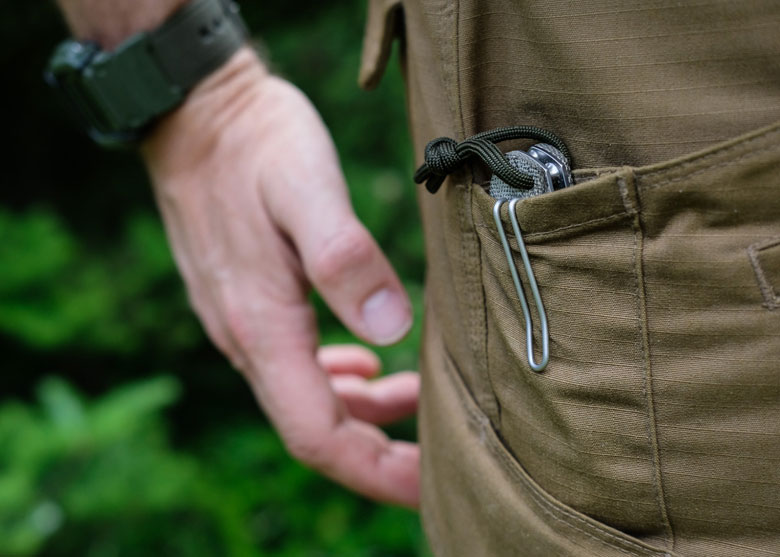 Of course there's still a never-ending debate on whether stainless or titanium liners are best. My personal preference is titanium, but I can't deny that a stainless liner has its benefits, like sturdiness and longevity. However this comes at a cost of a higher weight. However, one of the biggest benefits to a stainless frame is that it's a considerably less expensive material, which results in a $175 retail price for ACE Biblio. So this is clearly more wallet-friendly than Ti handled knives from the GM stable.
You can put a lot of force behind that sharp edge
The Biblio's pocket clip is a standard mid-deep carry wire clip. It works great, is fairly discreet (if worn with untucked t-shirt etc.) but it's still easy to draw from a pocket. I put a small leash on mine to make it even easier to draw, especially while sitting. Additionally, it's easily convertible to left hand carry.
What I like about the Biblio as an outdoor knife is the easy maintenance. The non-rusting materials, open back construction with stand-offs and polished stonewashed blade make it easy to wash and keep clean in the field.
Outdoor or EDC?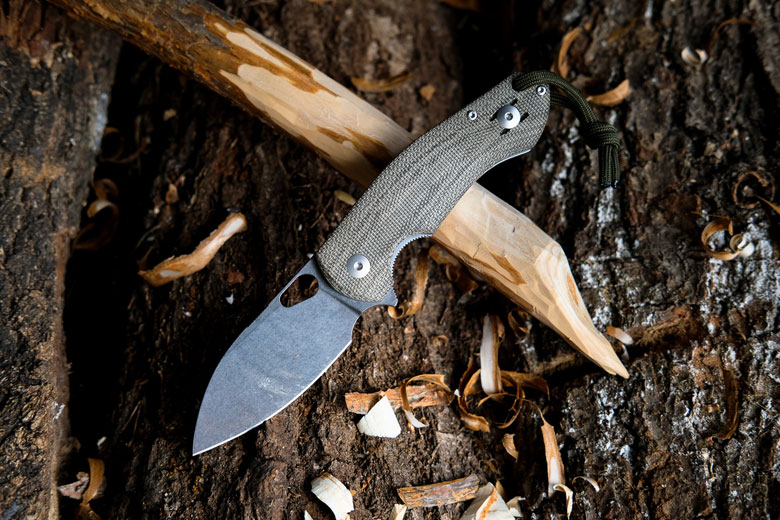 With everything I've mentioned thus far, is the Biblio an outdoor knife or an EDC? To me, it's like a crossover in the knife world. It's great for city use, but in the field, it performs much better than other lightweight EDC folders. It can take more abuse and thanks to the handle design, you can put a lot of force behind that sharp edge.
It's like the Toyota RAV-4 in the car world, in that it can do much more than a city-oriented Prius, but I probably wouldn't take it too far off the trails. Yet for most of us "mere mortals," it's all we need. (Don't confuse that with "we want.") However, for the real wild backcountry adventure, I'd just pair the Biblio with a decent fixed blade like the GMF2 or Mora Garberg. Alternatively, you could pair it with a mid-sized hatchet like the Gransfors Bruks Small Forest Axe, which has a legendary reputation among bushcrafters.
Conclusion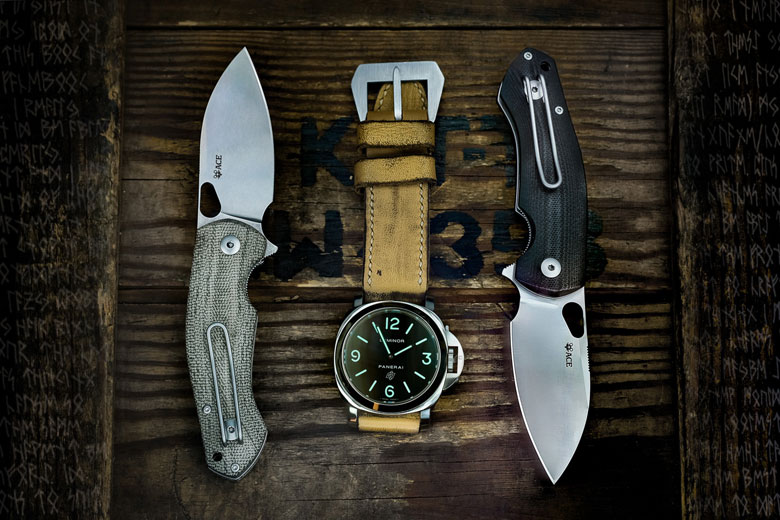 Bottom line, I really like the GiantMouse ACE Biblio, especially the Micarta variant. G10 is more elegant and more city oriented to me, but it's just aesthetics. Practically, it's one and the same knife. The Micarta is maybe a bit more grippy when wet and the scale surface of the G10 is a bit more durable. Overall, the real difference is minimal, so the choice is yours. Either way, you can't go wrong with this pocket-sized powerhouse of a knife!
Editor's Note: Piotr Ma is an avid outdoorsman, adventurer, mountaineer and certified open sea sailor. As an enthusiast of quality gear, he's always seeking the most un-compromised and best-performing gear available worldwide. He's also known as an edged tools specialist. Piotr was introduced to his adventurous lifestyle when he was 10 by his father, a certified sailor and alpine-style climber. Now he continues his family tradition and shows his kids how to live a full life in the great outdoors; teaching them survival skills, shooting and archery. These days, he gladly shares his 30+ years of outdoor experience with people around the globe from his current location: Poland, European Union.