SKD's PIG Plate Carrier: A Versatile Solution for Diverse Threats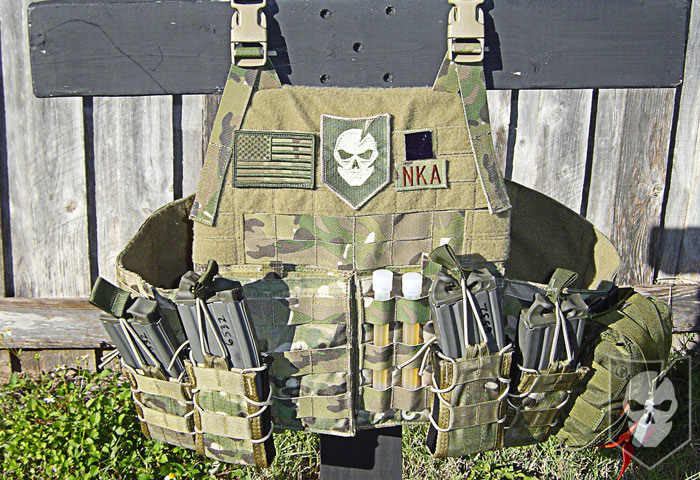 Anyone who has ordered anything from SKD Tactical knows that they have some of the best customer service in the business. They also have super fast and inexpensive shipping. When shopping online, they only show what items they have in actual stock so there is never a backorder.
Along with great business practices, they also work with top gear makers to have custom gear designed and sold under the SKD brand. Their newest endeavor is a research and development shop with a full computer assisted design capability.
The Patrol Incident Gear (or PIG) plate carrier is the latest in plate carrier design. It is made 100% in the USA by Eagle Industries so you know you are getting a quality product. You also have to love a product line with a motto like this: "Help the Good Guys Break Things & Kill Bad Guys".
History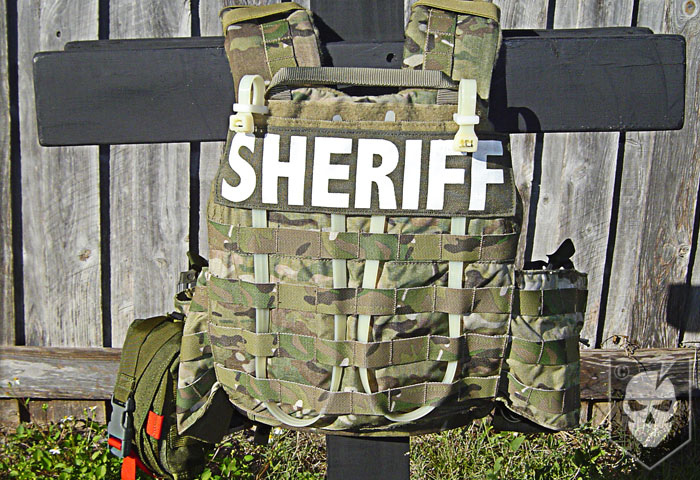 The PIG plate carrier started life around 2006 as a modified Eagle Industries plate carrier. SKD re-routed the shoulder straps so that they no longer engaged the side release buckles. This gave more room for taking the vest on and off. It also let the plates ride higher. A new internal plate hanger was developed to force the plates to the top of the vest. The pre-production model debuted at the 2007 SHOT Show and was a baseline for what SKD wanted to fix with the current plate carriers, based on customer input. The final version was available for purchase on Christmas Day 2009.
Pre-Production Model
In 2007 I was running a HGSI Woosatch plate carrier. I wasn't really happy with it. The front always seemed to sag and the fit was pretty loose. No matter what I did, it just didn't fit right for me. I ordered the pre-production PIG once the MultiCam model came out. As stated, this was a modified Eagle Industries carrier; it had front or rear Velcro sewn on the PALS and the back panel was modified at the bottom to keep the rear plate from digging into your back when seated in a vehicle.
SKD offered some nice perks for those who ordered the pre-production model. You were able to give feedback on what you liked and didn't like and you also got a very nice discount once the final model was done.
After getting user feedback, SKD wasn't content with modifying the Eagle Industries carrier over and over, so they completely threw the design out the window.
Custom Solutions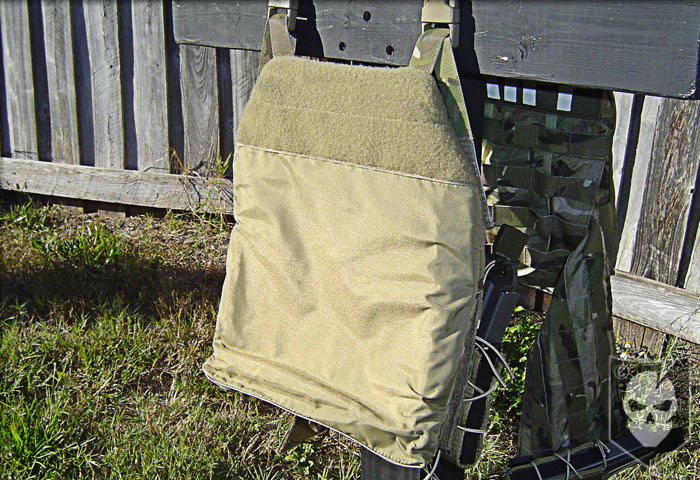 The final production carrier is completely custom built from the ground up. It is by far the most customizable plate carrier on the market. It's designed to have a low profile and carry any size Small Arms Protective Insert (SAPI) plates (or similar corner cut plates) in the correct location to cover your vital organs. There are separate pockets for NIJ (National Institute of Justice III-A) soft armor backers which are made by Velocity Systems and available through SKD. One of the many cummerbund options is a side plate carrier. You can pick and choose your armor levels based on how you wear the vest.
The PIG has the highest degree of adjustability of any plate carrier I've seen. It achieves this by using a ladder system for the shoulder straps. SKD also thought about how and what you carry on the vest, and came up with a Load Integration Kit.
A Plethora of Options
What's so great about the multiple options is that you can buy the vest to suit your needs right from the start. In my case this vest is used in a LEO capacity for high-risk and active shooter work. Since my anticipated threat level is lower than those overseas I didn't need the side plate carriers. I also didn't need the ballistic backers as I would be throwing this vest over my concealable armor. I still wanted to have a MOLLE option on the cummerbund and opted for that over the slick sides.
As you will see, there are plenty of options to choose from. You can dial in the vest to suit your needs right online.
Plate Profile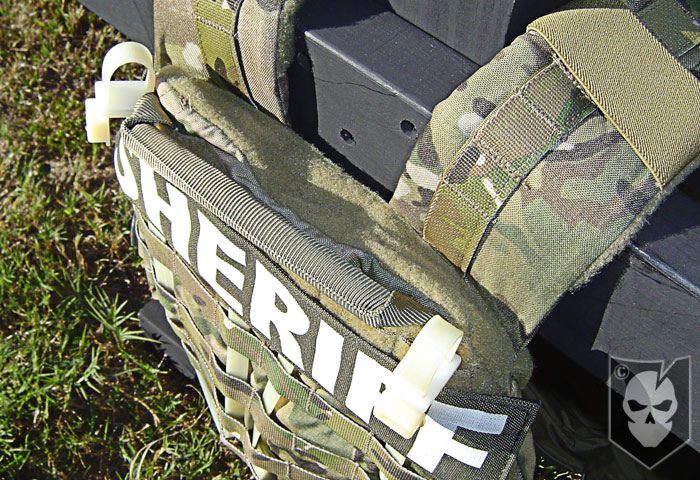 What I really like about this vest is that the plates ride nice and high. This is in comparison to my HSGI Woosatch carrier, which had the plates much lower. If I adjusted the Woosatch to ride high the whole vest went with it and I would feel like it was choking me out when I sat down in a vehicle.
The PIG will accept SAPI plates ranging from small through extra-large, or any corner cut plate. In my case, I use CPC 10×12 plates. The adjustable plate system pushes the plates to the top of the carrier and holds them securely so that they don't swim around in the vest. The rear panel holds the plate above the shoulder strap connecting points. This puts it in a optimal position. On my Woosatch the rear plate was always very low.
Weight
The first thing you notice is the weight, or lack thereof. The panels are made of a mix of 500 denier Cordura and pack nylon. This allows the vest to be light but abrasion resistant in the areas that need it. While the weight of the entire vest depends on what you load it down with, it's definitely lighter than the Woosatch I used to run.
Cummerbund Options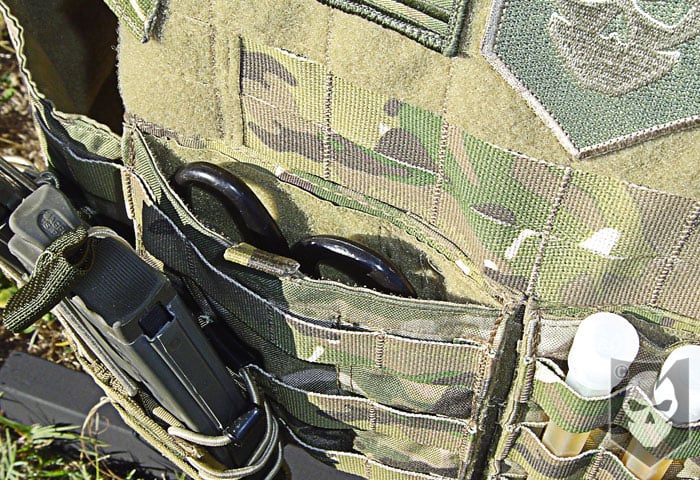 There are four options for the cummerbund, two of which are for 6×6 or 6×8 plates. You can go for a low profile with slick elastic or a MOLLE system with 10 columns and 3 rows of PALS. The MOLLE system has a rear shock cord setup which can be adjusted with the cummerbund attached in the vest. This is a great feature as you can make adjustments without having to take the vest apart.
No matter which cummerbund option you pick you still have the split bib at the front. This option is awesome. You don't have to unhook the entire front bib to take the vest on and off. In my case I leave the left side of the vest attached and only have to take apart the right side to put the vest on. When I take it off it's even quicker as I only have to take apart the right side and then unhook the right shoulder strap.
There are small pockets built into the flaps for small items.
This is by far the quickest vest I've owned when talking about speed of donning and ditching the entire vest. While it's not a "releasable" vest, it is very quick to ditch if needed.
Rear Padding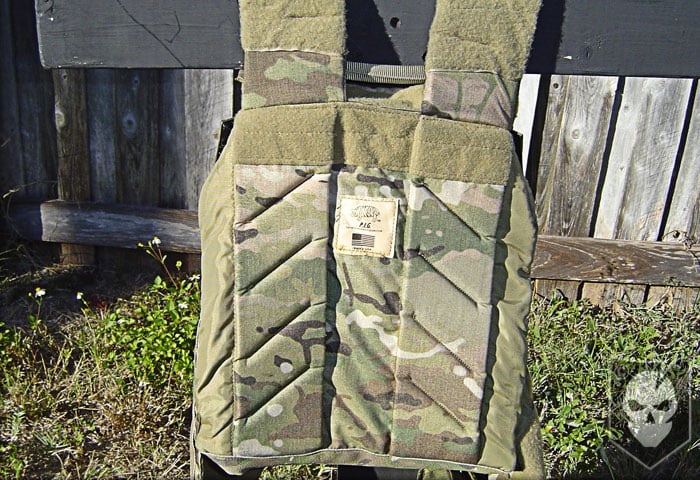 If you run the vest without concealable body armor there is a channel in the back of the vest to help with cooling and comfort. Even with all the padding in the back, the vest does not feel bulky when worn with concealable body armor.
G-Hook Shoulder Pads
I think one of the most unique things about the PIG are the G-Hooks. You have two shoulder pad attachment options when you order the vest. The first is a double D-ring and the second is a side release buckle. What's nice is that you can mix and match each side if needed.
Both of these systems attach to the shoulder straps via G-Hooks. These are removable hooks which attach to a webbing ladder which runs the full length of the shoulder straps. Along with the front pull buckle it gives you an almost unlimited shoulder strap adjustment.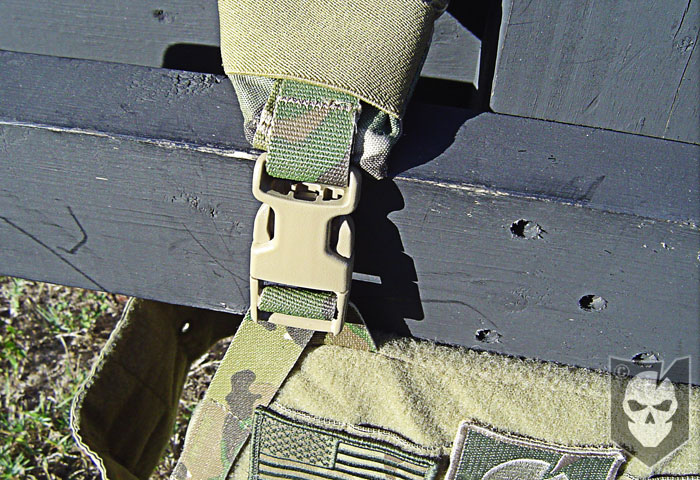 As I stated above, the side buckle release at the shoulder straps are a huge improvement on the Eagle Industries and HSGI carriers. You can now leave your helmet, headgear, communications or hearing protection, and eyewear on when taking the vest off. Plus, my ears always seemed to take a beating from the shoulder straps with the old vests. Anyone who has worn a loaded down plate carrier knows what I'm talking about.
SKD is continuing to develop the Load Integration Kit which also uses the G-Hooks to attach things like slings and hydration systems.
Final Thoughts
Since the PIG came out there have been several reviews on forums such as AR15.com and M4Carbine.net. These have been written by everyone from civilians to military and police officers. I have yet to see one bad review. I think that shows SKD really put a lot of thought into the development of the PIG.
SKD has several videos which show how to set up the PIG with the various options. This is a nice feature that really helped me make sure I had everything installed as intended.
<----- scroll or drag ----->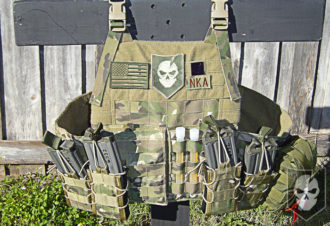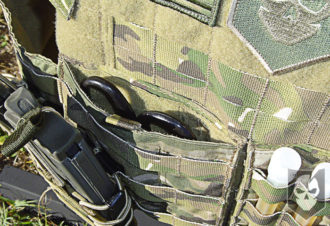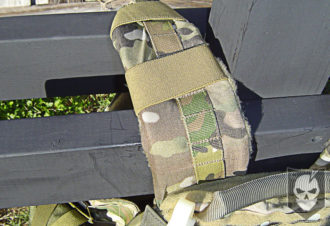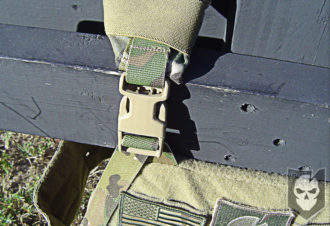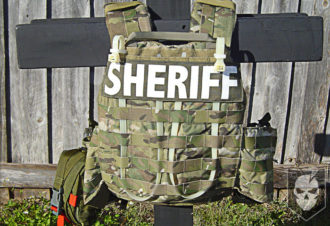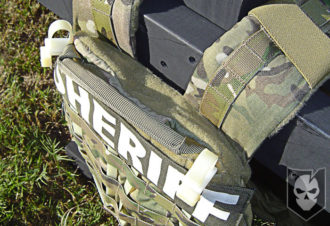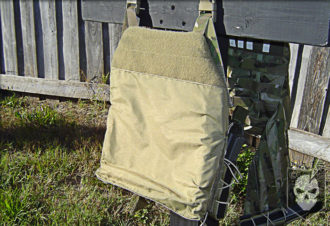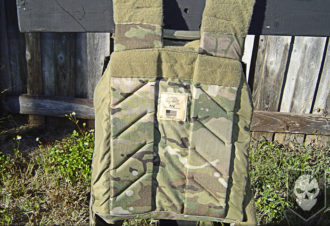 <----- scroll or drag ----->
Are you getting more than 14¢ of value per day from ITS Tactical?
Please consider joining our Crew Leader Membership and our growing community of supporters.
At ITS Tactical we're working hard every day to provide different methods, ideas and knowledge that could one day save your life. Instead of simply asking for your support with donations, we've developed a membership to allow our readers to support what we do and allow us to give you back something in return.
For less than 14¢ a day you can help contribute directly to our content, and join our growing community of supporters who have directly influenced what we've been able to accomplish and where we're headed.