We got lucky during one of Tactical Assault Gear's sales about six months back, and picked up the Advanced Load-Out Bag for 50% off of the $599.95 retail price. We noticed that TAG no longer includes this bag on their Web site during sales, so we feel pretty lucky to have picked one up at a great price.
We've been beating this bag up for the past six months and as you can see from the pictures, the only wear spots are around the back wheels from humping it up concrete stairs a few times. This bag has been bombproof so far and exceeded our expectations.
External Frame
The solid frame construction is what drew us to the bag in the first place… Its made of 6061 aircraft-grade aluminum, fully welded and powder coated. Ball-bearing wheels, similar to rollerblade wheels, ride on a one-piece axle with welded ends which prevent wheel wobble. It also features wheel guards to prevent the bag material from getting stuck in the wheels and causing wear.

There is a permanently attached 2″ webbing pull handle to the top frame bar which provides a solid pull by the frame rather than the bag. The pull handle is also extended to prevent the bag from hitting you in the leg while you're dragging it behind you.
TAG mentioned in an ad that the axle C-Clips from other manufacturers rolling frame bags are flimsy and add to wheel wobble. We've personally seen C-Clips come off of the Kelty-made frame on the Eagle Industries Travel Rolling Equipment Cargo Bag and cause a wheel to come off.
The downside to an axle with welded ends, is that there's no way to replace the wheels or bearings if they go bad. You'd have to cut and re-weld the axle to fix any problems. TAG does have a "no questions asked" lifetime guarantee, so hopefully they'd fix any problems for free, but you'd be out the frame while it was being repaired.
Frame measurements: 38″ tall x 16.25 wide x 10″ deep
Frame weight:  5.4 lbs.
Bag Exterior
The bag is made from 1000D Cordura with the main compartment measuring a whopping 37″ tall x 17.25″ wide x 12.5″ deep, making it one of the largest bags of it's kind on the market today. It features a fully-zippered lid allowing complete access to the bag's interior. All zippers throughout the bag feature 550 cord pulls.
Four large 14.5″ x 10.5″ x 2.5″ side pockets line the bag's exterior (two on each side), with zippered openings that extend 1/3 of the way down each side of the pockets.
Riding on the lid and the top of the bag are clear vinyl document pockets with velcro closures. The lid vinyl pocket measures 11.5″ long x 8.5″ and the top vinyl pocket is 8.5″ x 5.5″
Two large 2″ webbing straps span the distance of the lid of the bag and velcro together to make a carrying handle. There are also three 2″ webbing handle loops on the top, bottom and lid of the bag.
The bag is contoured where it meets up with the wheel guards to allow it to ride over the wheels, without having extra material bunching up. There are also sewn-in plastic stiffeners on each side of the bottom walls of the bag to prevent sagging.
On the underside of the bag, a full-length sleeve houses the external frame, which is backed up by two 2″ webbing compression straps near the wheels to further secure the bag. The compression straps are covered by large velcro flaps that open to allow access to tighten or remove the straps.
Bag weight: 9.2 lbs. (sans frame)  14.6 lbs. (with frame)
Bag Interior
The interior of the bag is what we feel sets the Advanced Load-Out Bag apart from all bags in it's category. It features two removable 15″ long x 9″ wide x 5″ tall pouches that Velcro into the interior floor of the bag, and three 11″ long x 7.5″ wide x 3″ tall pouches that velcro to one sidewall. The pouches all feature a mesh lid with full zipper and individual 1″ webbing carrying handles.
It's built very nicely inside, with a full nylon lining and taped seams in the main interior, side pockets and even in the removable mesh pouches. Other than the 2″ loop Velcro strips that line the interior floor and sidewall for the pouches to attach to, the interior has nothing getting in the way of as much gear as you can stuff into it!
Notes
Some things we would have liked to see with this bag is the option to sacrifice two of the exterior pockets for one long padded-pocket to store a rifle. A Blue Force Gear DAP Discreet Case thrown inside alleviates most of our gripe though. An option for removable compression straps would be nice too, but from what we've used this bag for, we've never felt we HAD to have them.
While expensive, the TAG Advanced Load-Out Bag is by far the best load-out bag any of us here have ever purchased or been issued.
Available direct from TAG in Coyote Tan, Multicam, Ranger Green, ACU and Black www.theoperatorschoice.com
Are you getting more than 14¢ of value per day from ITS Tactical?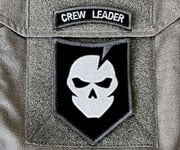 Please consider joining our Crew Leader Membership and our growing community of supporters.
At ITS Tactical we're working hard every day to provide different methods, ideas and knowledge that could one day save your life. Instead of simply asking for your support with donations, we've developed a membership to allow our readers to support what we do and allow us to give you back something in return.
For less than 14¢ a day you can help contribute directly to our content, and join our growing community of supporters who have directly influenced what we've been able to accomplish and where we're headed.