Evaluating the Geronimo Plate Carrier from T3 Gear
Evaluating the Geronimo Plate Carrier from T3 Gear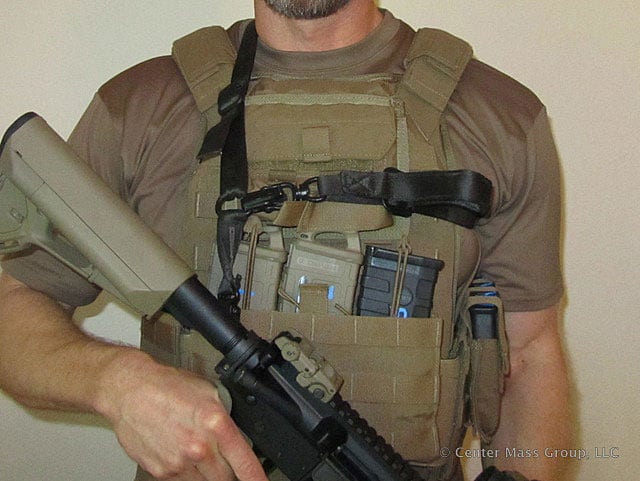 Editor-in-Chief's Note: ITS contributor Chris Sajnog is a former Navy SEAL and current Director of Training at Center Mass Group. 
A few months back my good friends and Fellow Former Frogmen (F3?) over at T3 Gear were kind enough let me try out some of their gear. The gear was free, but I was asked to give them honest feedback on what I liked, and what I didn't.
It took a few months to put their gear through the paces; gear evaluation takes longer outside of a combat zone. The first piece that I can provide an honest assessment of is the centerpiece of your warrior-wear: the plate carrier.
T3 calls this model the Geronimo Plate Carrier. I'm guessing they named it this as tribute to Operation Geronimo (later changed to Operation Neptune Spear), in which a few of my SEAL brothers paid a little visit to Osama bin Laden.
What T3 Says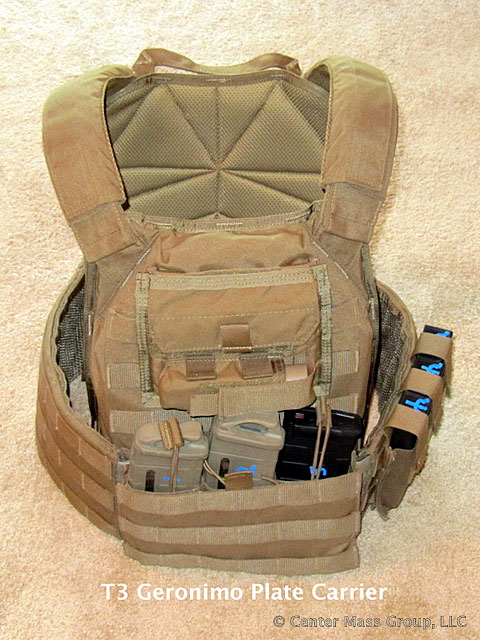 Let's start out with the basic info from the T3 Gear website.
[The] only fully scalable plate carrier in the world: can be changed to 7.62 version including different cummerbunds in less than 2 minutes.

Geronimo plate carrier size is based on your hard armor plate size, not body size
Fully adjustable shoulder strap
Fully adjustable cummerbund adjusts with Velcro ® to fit almost anyone
Will work with SAPI, ESAPI, XSAPI and Swimmer Cut armor plates
Cummerbund designed to carry 6″ x 6″ side plates internally
Removable shoulder pads
Removable side buckle kit
Comes with triple 5.56 magazine front flap (removable)
Removable front flap can be replaced with a triple 7.62 front flap (sold separately)
Cummerbund comes with a 5″ x 10″ pocket to accommodate optional soft armor inserts (sold separately)

Price: $299.99
Made in the USA
Lifetime Warranty
After Two Months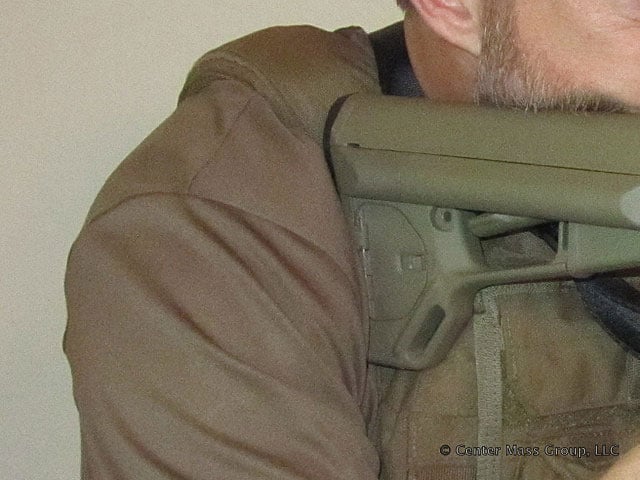 I've got to say, T3 didn't disappoint with the Geronimo Plate Carrier.  It's easily the lightest, most comfortable plate carrier I've used. The thing that I like most is that there is plenty of room for me to mount my rifle deep in my shoulder. It covers the vital parts without a lot of extra material to get in the way.
With the last carrier that I used, I had a special technique to mount the rifle by wedging it in-between the side of the carrier and my shoulder. It was stable if I got it right, but if I missed, the buttstock was either too high, too far out, or on my plates. This isn't an issue with the Geronimo and I can quickly mount the gun right where I want.
I'm not a fan of the cummerbund so it was nice that I could just take it off. I know a lot of guys like it, but it just annoys me and normally I cut it off.
The mag pouches that came with it were pretty good and they should work for you unless you only like a certain type or brand of pouch. They're low-profile and keep your ammo in place until you want it out. They use small bungee cords instead of Velcro closures, which I like better, but might just be a personal preference. All the adjustments are extremely easy and intuitive. If you've ever adjusted the shoulder straps on some plate carriers, you know they can be a real pain in the ass. It's nice to just open it, adjust and close.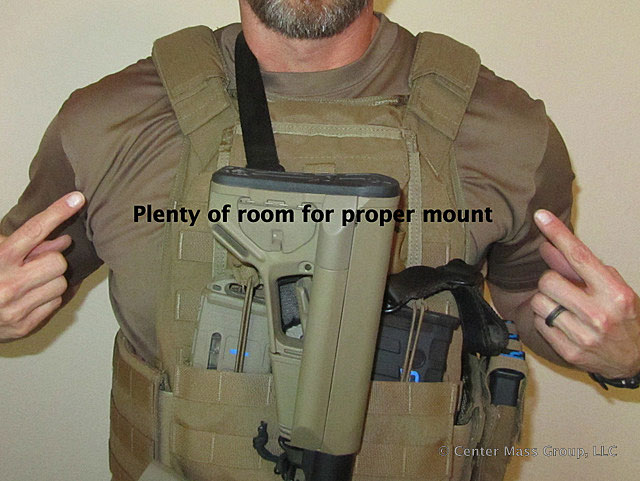 I noticed that I didn't seem to get as hot wearing this plate carrier compared to others. I'm not sure if it's because of the design, mesh lining or just that it's a smaller cut. Whatever the reason, it's nice. I guess this is to be expected from a group of SEALs with a store on the same base as BUD/S and all the West Coast SEAL Teams. I'm guessing they get a steady stream of Team-guys coming back from deployment and letting them know how to make their kit better.
Final Assessment
I would definitely recommend this plate carrier to anyone going into harm's way. The only negative I see is the higher price compared to other manufacturers, but, like anything else, you get what you pay for. You need to ask how much your life is worth. Luckily I didn't have to pay for this, thanks to T3.
This is the first time I was given gear from a company to T&E (while not in the Navy) and I've always wondered just how honest reviewers of free gear have been. I can't speak for them, but if anyone thinks this may be a paid advertisement, wait for my next review of T3 Gear. You'll learn why my favorite sling is still made by Magpul!
Editor-in-Chief's Note: ITS contributor Chris Sajnog is a former Navy SEAL and the Director of Training for Center Mass Group, started by two retired Navy SEAL Instructors. Giving people the experience of being trained by the most elite combat unit in the world, Chris is currently a Maritime-Counter-Terrorism and advanced marksmanship Instructor who has trained DOD, DHS, FBI, CIA and multiple foreign allies in all aspects of combat weapons handling, marksmanship and Maritime Operations.