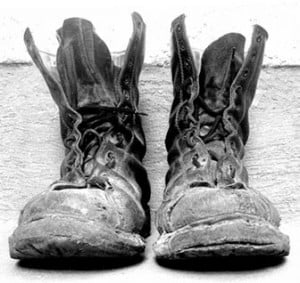 Militaryboots.com is holding a "Free Boots for Life" photo contest to find the oldest, most worn-out set of boots.
The winning pair will score a lifetime supply of boots, which equates to one pair of Converse Military Boots each year for 20 years.
Not a bad deal for just submitting a photo and a brief story of what your boots have been through.
All photos must be submitted by January 31, 2010 (Midnight CST) and is only open to US and Canadian residents.
On a side note, the Military Boots blog recently had an excellent write up on military iPhone applications, check it out!
We'd love to hear your boot stories too, throw up a comment!
Are you getting more than 14¢ of value per day from ITS Tactical?
Please consider joining our Crew Leader Membership and our growing community of supporters.
At ITS Tactical we're working hard every day to provide different methods, ideas and knowledge that could one day save your life. Instead of simply asking for your support with donations, we've developed a membership to allow our readers to support what we do and allow us to give you back something in return.
For less than 14¢ a day you can help contribute directly to our content, and join our growing community of supporters who have directly influenced what we've been able to accomplish and where we're headed.