Sand Storm Tactical HooDoo Boots: Quality meets Affordability
Sand Storm Tactical HooDoo Boots: Quality meets Affordability
I recently had the opportunity to put a pair of HooDoo boots from Sand Storm Footwear through some long-term wear and I've been very impressed with them. Not only was I able to test these locally, but I also deployed with these boots and had the chance to test them in a multitude of environments.
The HooDoo boots are specifically designed to be worn in hot climates and were built to keep your feet dry and comfortable. During my evaluation, I really got a feel for how they handled a dynamic environment. First and foremost, I must say that these are very comfortable boots!
Introduction
While getting a feel for these stateside, the average temperature was in the 90's as I tested these in my local terrain. I wanted to both break them in and gain some initial thoughts before going overseas where the average temperature was already in excess of 100 degrees Fahrenheit.
My approach was to wear them for daily walking and see how they feel for everyday use, as well as take them in the local foothills to test their grip and their ability to be comfortable in hot weather.
Features
Flesh-out cow suede upper
Interior non metal mesh drainage ports
High abrasion outside mesh
Open mesh linings
Non-shine rust-proof lace hardware
550 paracord laces
Ortholite breathable PU footbed
Composite shank
High abrasion rubber outsole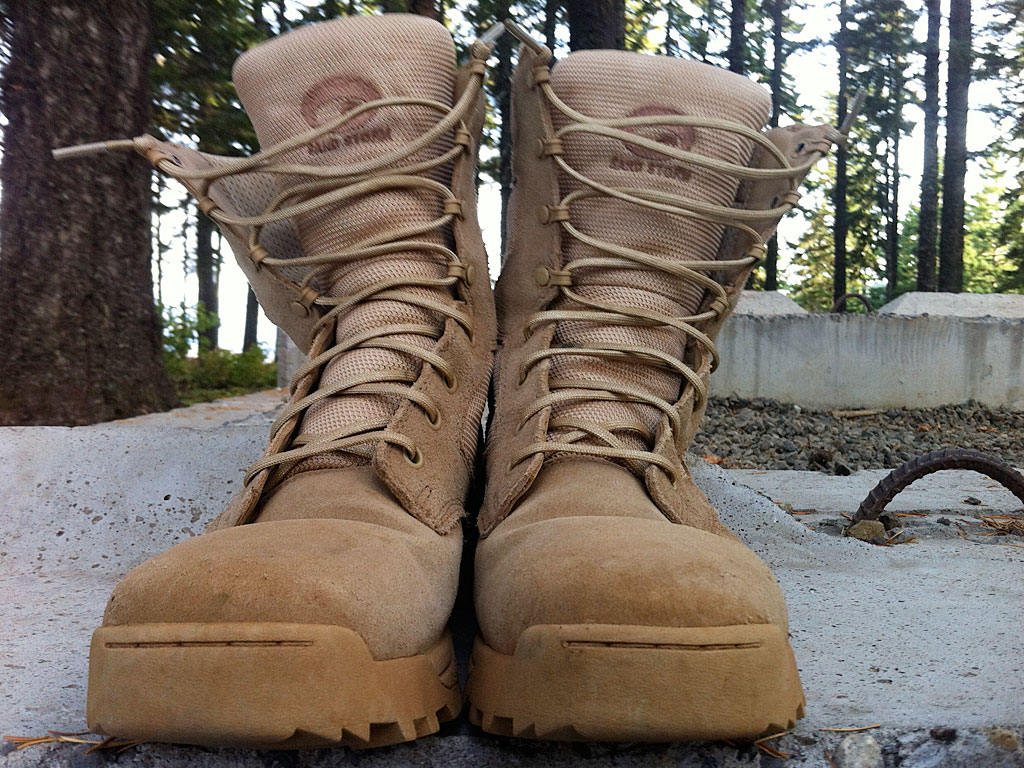 They felt extremely comfortable after logging multiple hours walking through my daily routine. Wearing them off road, I decided to not only hike on some well worn local trails but also explore areas that presented multiple terrain features and a variety of conditions.
Note: I did not wear any load bearing equipment during these hikes.
During the CONUS miles I logged on the HooDoo, I walked trails, loose dirt, rock gardens and even up and over larger rock formations. After reading the manufacturers statement on how well they perform, I was a tad apprehensive on the underneath foot protection that these "lightweight" boots actually offer.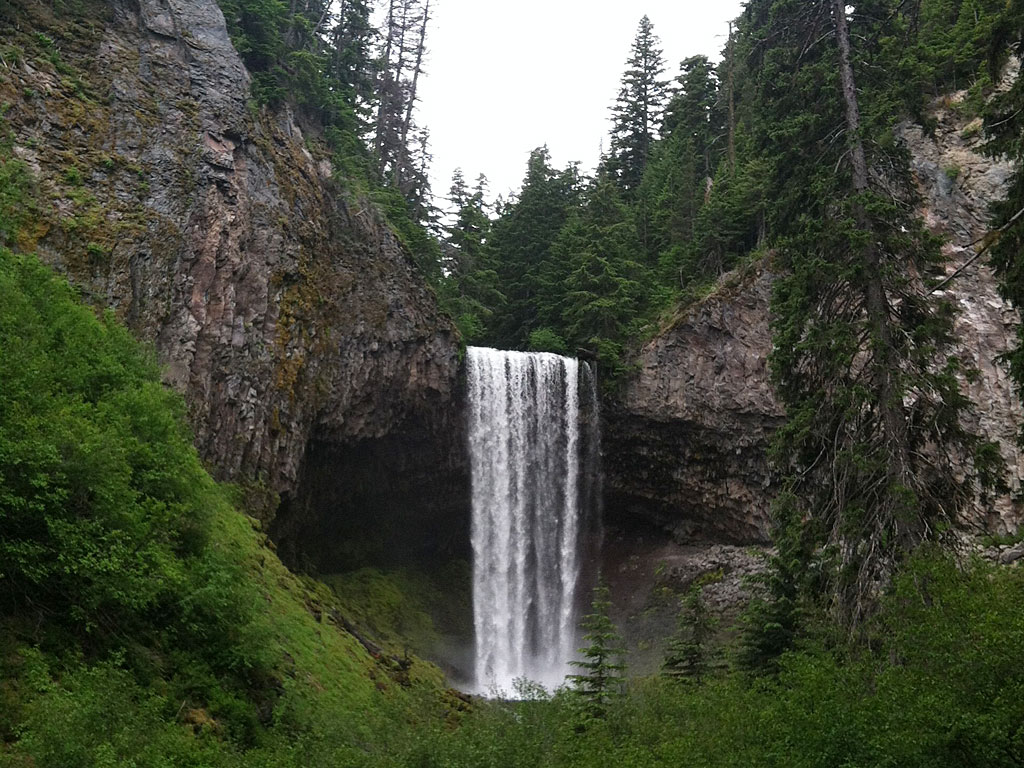 Several manufacturers make lightweight options, but when you step on anything that isn't perfect cement, the bottom of your foot get's rocked; literally. I found some fairly large rocks and boulders to bounce around on and really test the grip, but I also found loads of smaller rocks and rock gardens to walk though too. Long story short, I had no issues whatsoever. I never felt the rocks that were under my feet.
It felt as if the footpad actually took the shape and dimension of my foot and I attribute this to the overall comfort. After several iterations of this, it was noticeable that the boot didn't take any length of time to break in. They were nearly as comfortable right out the box as they were during testing. I also didn't feel any increased temperature while logging miles in the hills.
Deployment Tested
For OCONUS testing, I wore these boots in every environment I could; inside multiple airplane decks, dirt, mud, pavement, rocks and the famous "moon-dust." Each environment yielded the same feel; comfort. The only thing I didn't really get to test was wearing them in the local rainstorms or deep water spots, so I can't honestly say what the water replacement level is for these specific boots.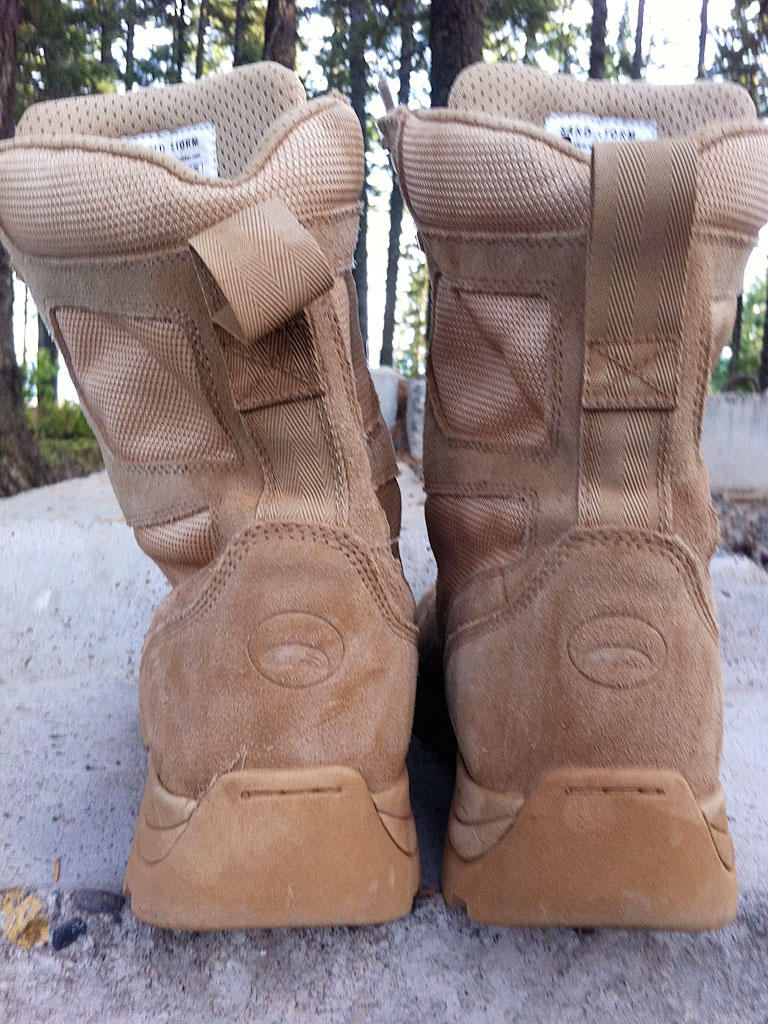 Regarding testing, I will say that I wore several different type of socks to see if any type of issues were noticeable, or which ones would work better then others. They ranged from anti-friction socks, to thick wool hiking socks. There was one thing that I should mention, as crazy as it sounds, the more I wore these, the more I could feel my heel geting a hot spot. It's hard to confirm though if that was just my feet getting used to newer boots, or if it was the boot itself.
It almost felt like the rigidity would break down in the heel area, which resulted in the friction. But like I said, it could have been the wrong socks or possibly not the right size. To give you an example, I normally wear a 10 regular in boots, but a 9.5 in Salomon Footwear.
My advice on ordering these would be to order the size that you normally wear, but to also take a look at the sizing to ensure a proper fit. My description of what I felt in the heel isn't meant to be a knock on the boot, because they're super comfortable, I just wanted to mention it.
Overall, the HooDoo is a great boot! It was lightweight, handled hot temperatures perfectly and could be worn in multiple environments. If you're looking for a comfortable, breathable, sock-like feel boot, I would definitely recommend the Sand Storm line.
Looking to buy a pair of Sand Storm boots? Click Here to shop the Sand Storm Boot line on U.S. Cavalry.
Update: U.S. Cavalry has recently filed for Ch. 11 Bankruptcy and while they're not going out of business, they are restructuring their company. Due to this, it's best to call first to ensure what you'd like to order is in stock.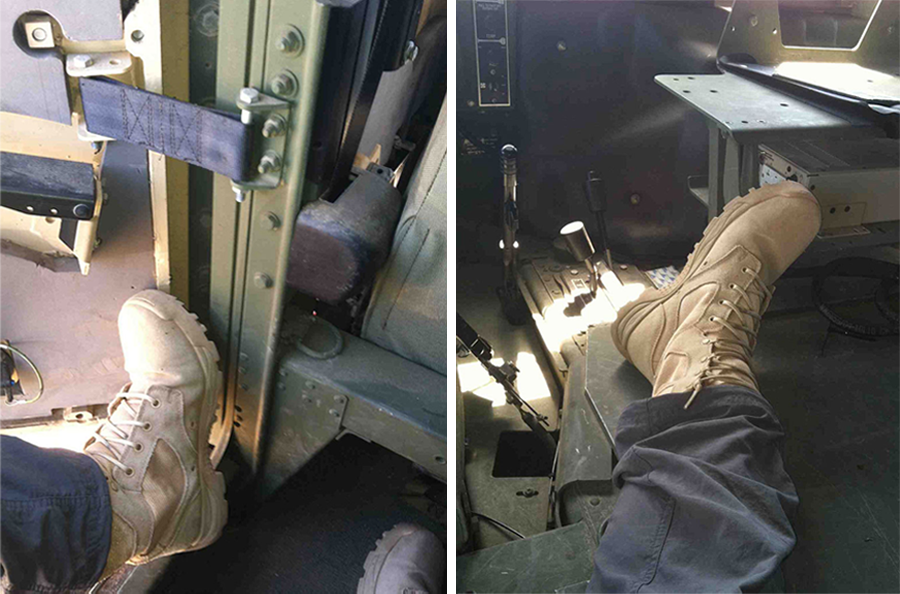 Editor-in-Chief's Note: Please join us in welcoming Marc Z. as a contributor on ITS Tactical. After serving 6 years in the military, Marc transitioned into working for a defense contractor who focuses on the aerospace industry. He's had the opportunity to work in operations and rolls that insight into engineering and technology integration. Even though most of his work focuses on airborne platforms, he still enjoys getting his boots dirty. A self-described outdoor junkie, he'd rather be outside camping and mountain biking any day of the week, though his passion revolves around technology and digital capability.