Knot of the Week: Rigging a Tarp Shelter, Part 1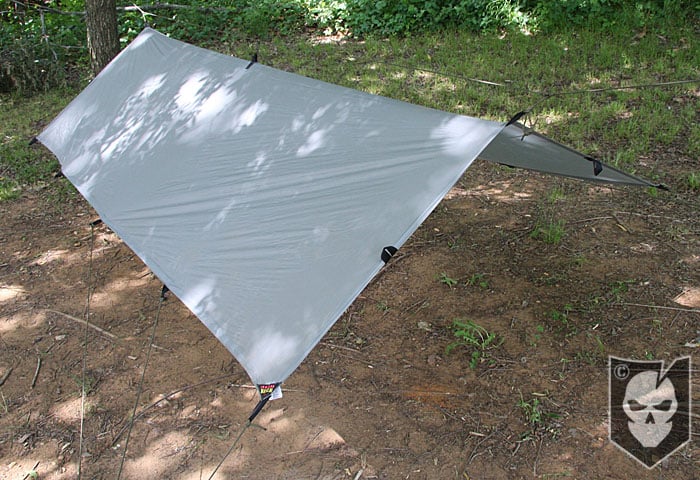 I'd like to introduce a small mini-series on our Knot of the Week, where I'll be running through the steps of rigging a tarp shelter using a few knots.
In this first part, I'll demonstrate using a Slipped Half-Hitch and a Power Cinch Knot to tie a trunk line between two trees, which will form the backbone of the shelter system.
The trunk line provides a tight line to tie in your tarp and create the shelter. What's great about the entire way we'll show to rig this tarp shelter, is that using our knot techniques the entire system will have a "quick-disconnect" like feature, yet remain incredibly strong.
A trunk line can also be used to hang clothes to dry, or really anything that you'd like to drape over it.
Slipped Half-Hitch » Hitches
(Strength: 3/Secure: 3/Stability: 3/Difficulty: 2)
Power Cinch » Hitches
(Strength: 3/Secure: 4/Stability: 2/Difficulty: 4)
Please refer to our Knot of the Week introduction post for a description of what these ratings mean.
Uses:
Creating a Trunk Line using both knots
Slipped Half-Hitch can be used for numerous applications where a quick-release knot is desired
Power Cinch can be used for creating tension or a pulley
Tying Instructions:
Please view the gallery or YouTube video below for instructions on tying these knots and creating a trunk line.
Check out part 2 and part 3 in this series!
Are you getting more than 14¢ of value per day from ITS Tactical?
Please consider joining our Crew Leader Membership and our growing community of supporters.
At ITS Tactical we're working hard every day to provide different methods, ideas and knowledge that could one day save your life. Instead of simply asking for your support with donations, we've developed a membership to allow our readers to support what we do and allow us to give you back something in return.
For less than 14¢ a day you can help contribute directly to our content, and join our growing community of supporters who have directly influenced what we've been able to accomplish and where we're headed.