Magpul B.A.D Lever Update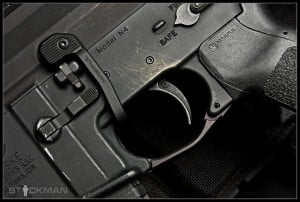 Just announced by Travis Haley in the comments of our post, "Magpul BAD vs. Phase 5 EBR," the Magpul B.A.D Lever has officially been  listed on the Magpul Web site.
A big thanks to Travis for throwing up a link and letting our readers know about the release!
From the Magpul Web site:
Developed from the operational experience of the Magpul ®Dynamics team, the B.A.D. Leverâ"¢ (Battery Assist Device) is designed to considerably improve the speed and efficiency of the AR15/M16 bolt catch. The B.A.D. Leverâ"¢ quickly addresses reloading and malfunction clearance shortcomings of AR15/M16 platforms by extending a paddle to the right side of the weapon, allowing manipulation of the bolt stop from the fire control/ready position with the right-hand trigger finger.
Are you getting more than 14¢ of value per day from ITS Tactical?
Please consider joining our Crew Leader Membership and our growing community of supporters.
At ITS Tactical we're working hard every day to provide different methods, ideas and knowledge that could one day save your life. Instead of simply asking for your support with donations, we've developed a membership to allow our readers to support what we do and allow us to give you back something in return.
For less than 14¢ a day you can help contribute directly to our content, and join our growing community of supporters who have directly influenced what we've been able to accomplish and where we're headed.