Meet the Maker: Behind the Scenes with Jake Hoback of Hoback Knives
Meet the Maker: Behind the Scenes with Jake Hoback of Hoback Knives
Like many of you out there, we're blade geeks. Whether it's a folding knife for Every Day Carry or a solid fixed blade for bushcraft adventures, we're always on the lookout for good quality knives. Recently, we had an opportunity to take a look at a couple knives from Jake Hoback and also ask him a few questions to get a behind the scenes look at his blades and their manufacturing process.
The following are Jake's answers to our questions, as well as some great photos of his shop. We covered questions on everything from how Jake got into making knives, to why metallurgy plays such an integral role in knife making. We've also included some photos of the knives we were sent to check out in person, all of which we found to be both durable and well designed.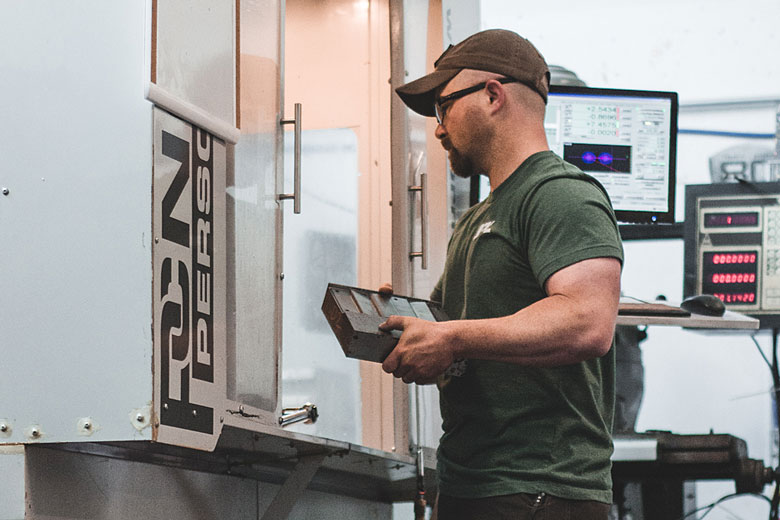 How did you get started making knives and what was the first knife you ever made? 
I started making knives in the 90's in my backyard, then working as a blacksmith in Virginia City, Nevada in the summers. The first knife I ever made was a 12" blade backswept Persian style from some unknown type of stainless steel. Made it with a framing hammer and rocks.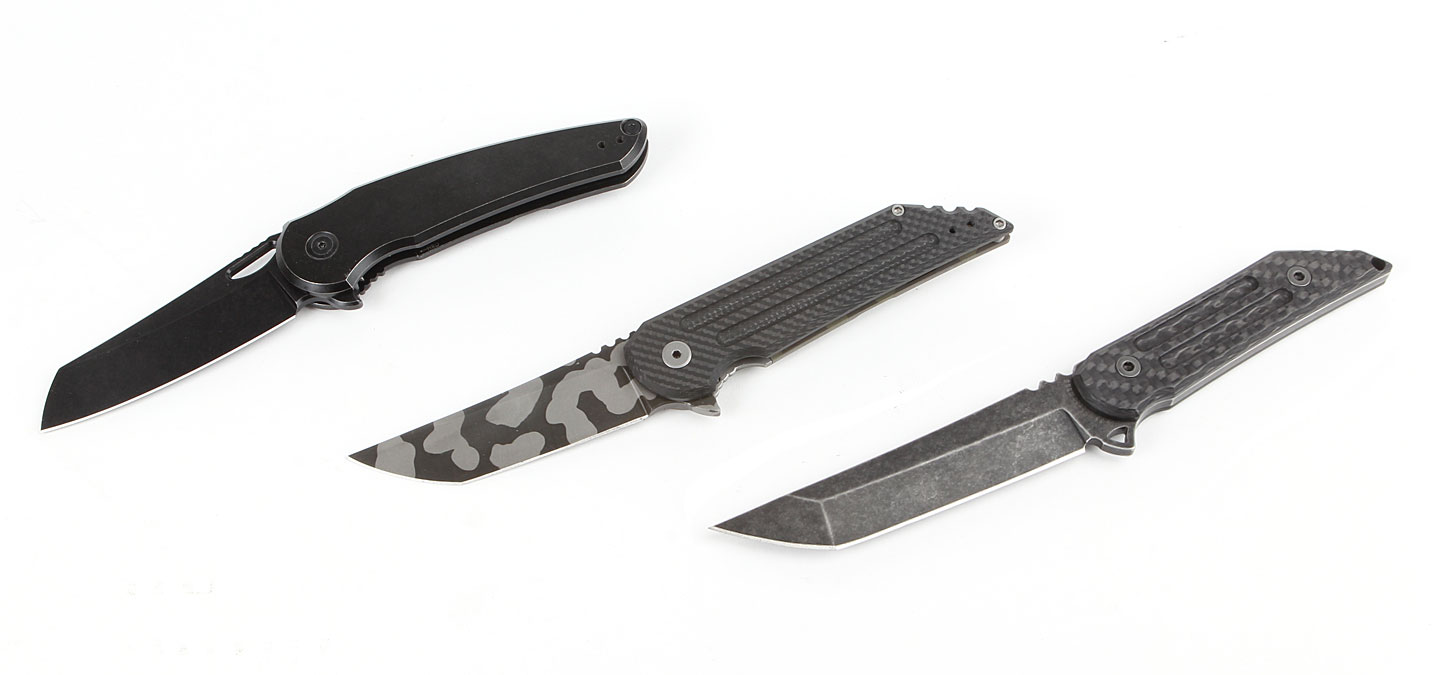 Why are your tag lines "Made for Hard Work" and "Tools, Not Just Trophies" important to you? 
First and foremost, I consider myself a tool maker. Being a tool maker, I see the need for high quality tools that hold up to hard use and the test of time. These tag lines mean a lot to me, as many people nowadays don't understand the value of hard work or what it takes to make something.
The goal with the tag lines is to tell people right off the bat that these knives are not meant to sit on a shelf and collect dust, but are meant to be used.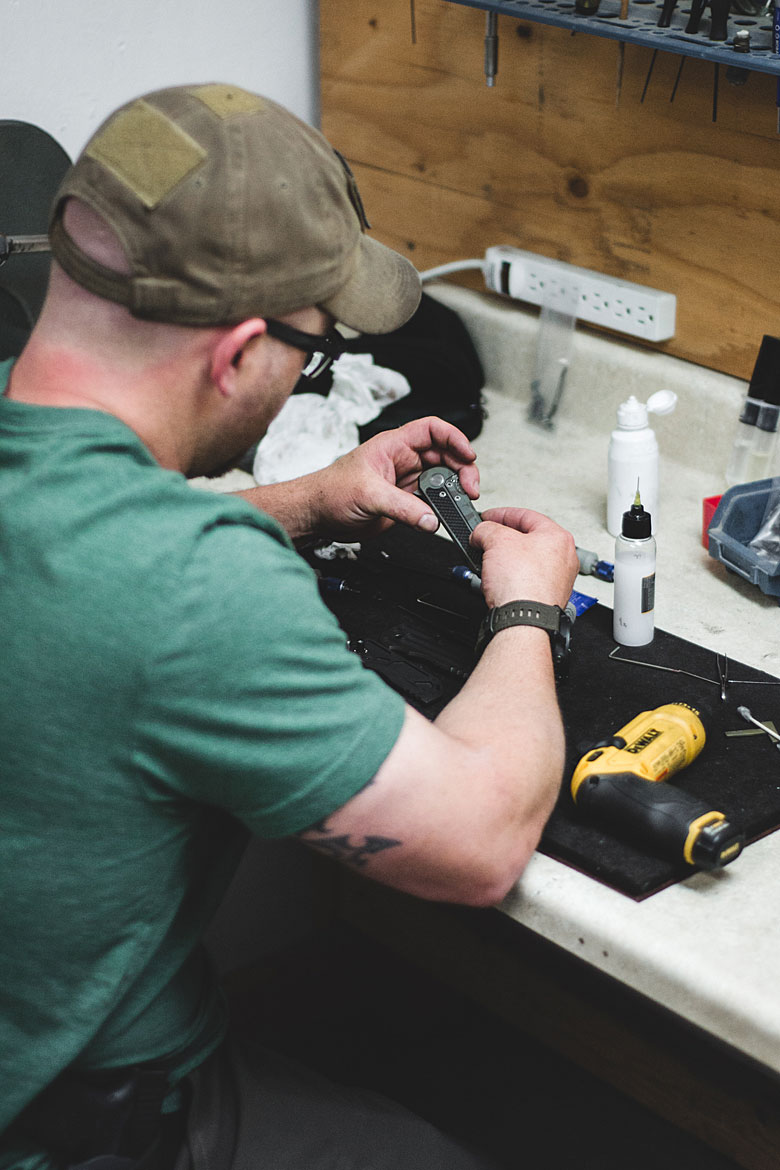 What makes you different from the other knife makers out there?
My ruggedly handsome looks? Or the fact that I never ever say it's good enough. To me, just because it sells doesn't mean that it's as good as it can be; everything can be made better.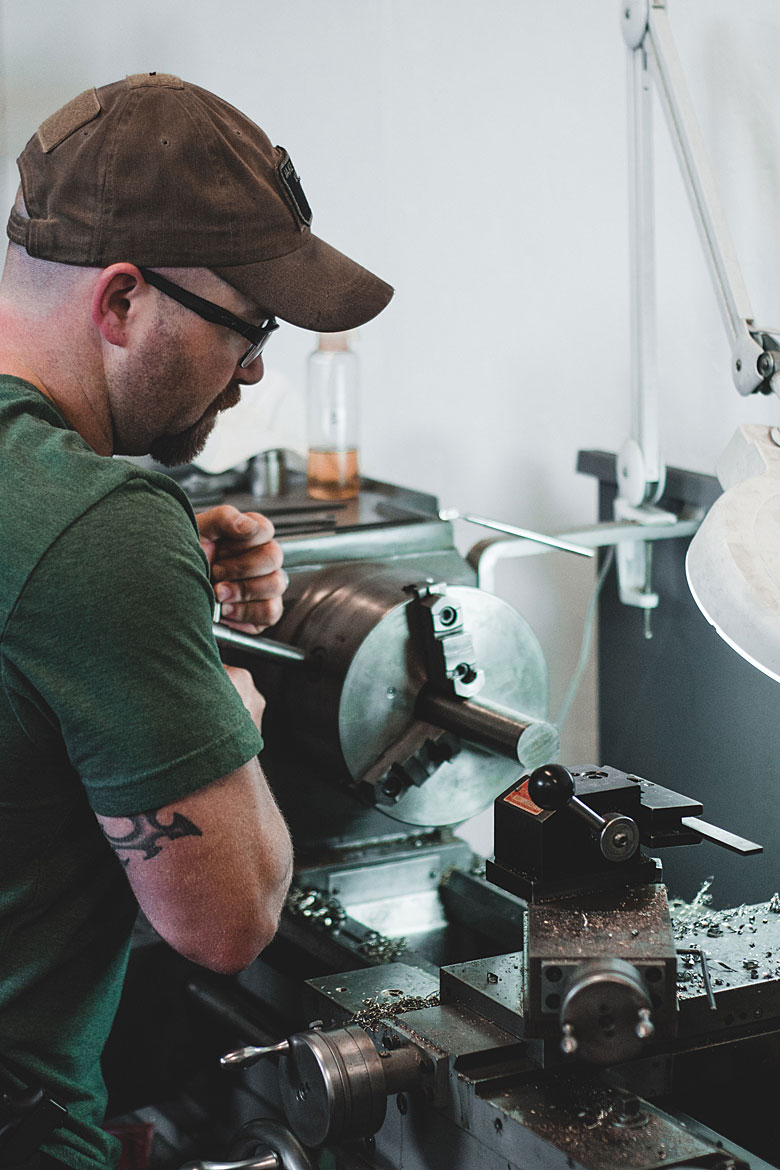 Why do you refer to yourself as a "machinist?" 
Being a machinist is different than being a machine operator. I'm not sure how to properly explain how I'm a machinist, other than to tell you I do the following for my businesses: Design, solid model, blueprint, program, run machines, tolerance check, measure, build my own machines, buy and install machines and even clean the floors.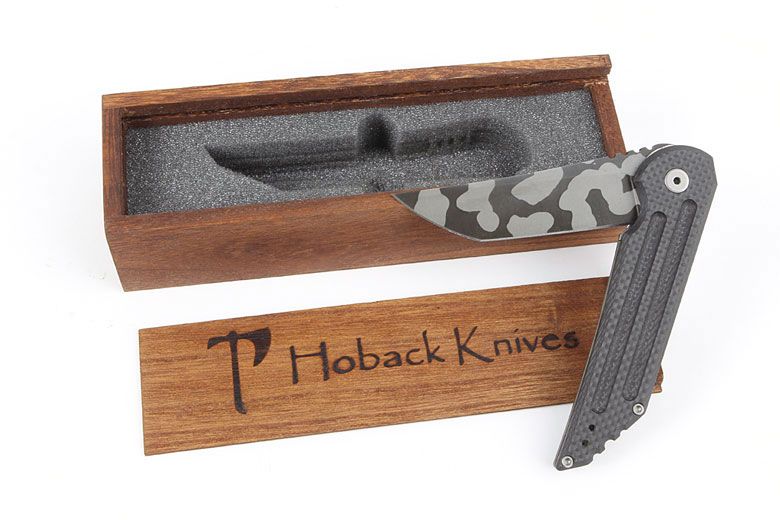 Why is an understanding of metallurgy important to a knife maker and why should that understanding matter to a customer? 
If you don't know what you're working with down to a finite level, then you'll never truly understand your mistakes. You'll just troubleshoot until you get it right. It should matter to my customers, because when you buy one of our knives, you know that I've done exhaustive research on why it's the best for the particular application.
What makes a knife worth $700 and more? 
What makes a Ferrari worth $300,000? Value is all in the person holding it. However, when it comes down to brass tacks, it's about the quality, craftsmanship and R&D that goes into the item that gives it value in the eyes of others.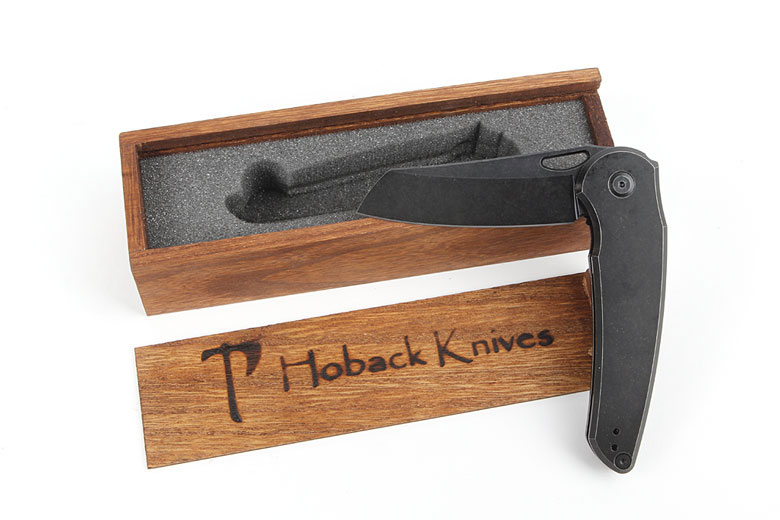 How do you design knives suitable for Military and Law Enforcement officers?  
I think that if you're having to think long and hard about how to design a knife for MIL/LEO, then you're not meeting the full potential of being a tool maker. A tool designed for MIL/LEO should be no different than any other model you make, less of course some non-glare finishes.
MIL/LEO gravitate to properly designed tools that have proper materials application. I design everything to that end, so nothing I make is made specifically for MIL/LEO. I have found that MIL/LEO related gear is the same stuff that any true outdoorsman would need and use. There's a reason the top high-speed meat eaters bring in specialized civilian masters to teach them the tools of the trade.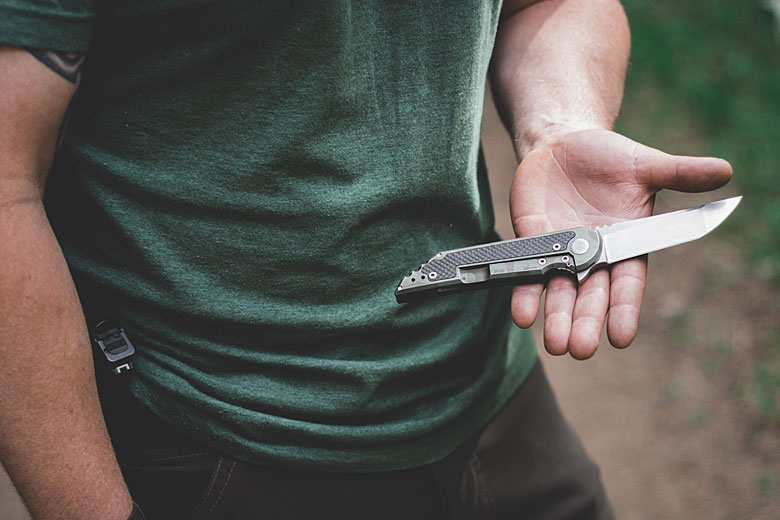 What kind of warranty comes with a Hoback Knife? 
Our knives are built to last. However, if for some reason your knife is defective due to materials or workmanship, you can return it to us for repair. We'll repair your knife, including parts and labor, or replace it with a new knife at our discretion.
Repair isn't always possible or practical. If necessary, we'll replace your knife with the same knife or one that's comparable (if the same knife is no longer available).

What do you like most about collaborations?
It's a fun experience to do collaborations. I know that I can't design every cool thing and there are many people who can design cool stuff but might not have the means to bring it to market like we do.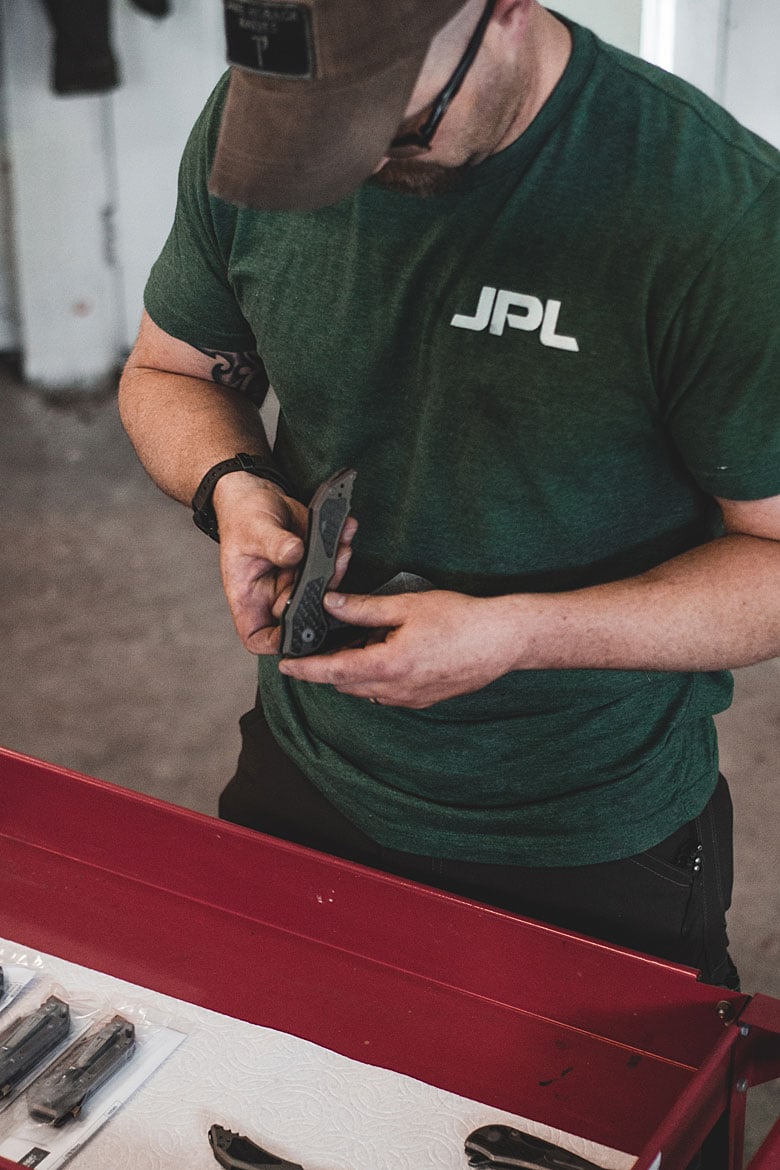 What are your aspirations for Jake Hoback Knives? 
To leave a legacy that cannot be argued with.
We'd like to thank Jake for taking the time to answer our questions on his knives and the philosophy behind them. Be sure to check out jakehobackknives.com for more information on these durable, quality blades!