Enter to Win 300 Rounds of Terminal Shock 9mm from DRT Ammo! *UPDATE!*
Enter to Win 300 Rounds of Terminal Shock 9mm from DRT Ammo! *UPDATE!*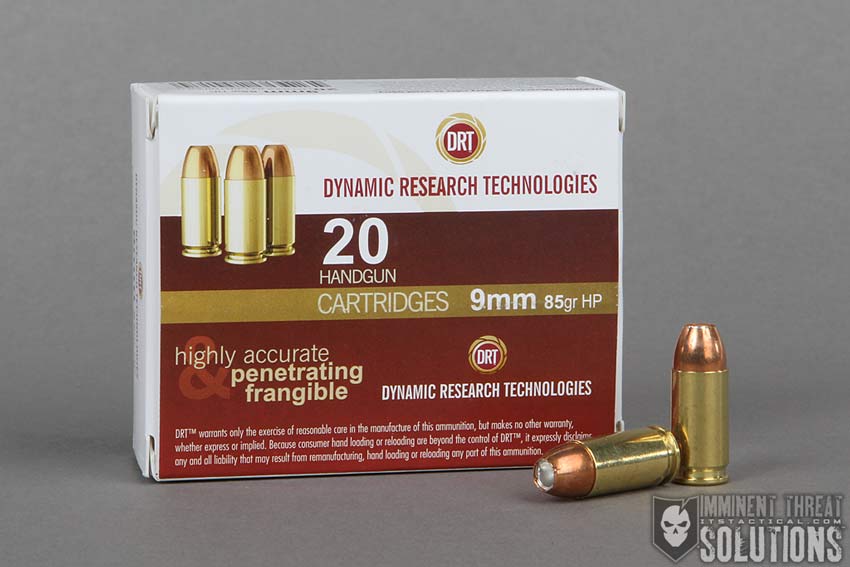 Update: The contest is over. Congrats to David L. on winning 300 rounds of DRT Ammo and thanks to everyone who entered!
Bryan recently attended a hog hunt organized by Dynamic Research Technologies to get a hands-on look at what makes their ammo so effective. While not out hunting, DRT shot a few different rounds into ballistic gel to illustrate what the permanent wound cavity would look like. It was very impressive to see such a wide distribution inside of the ballistic gelatin. DRT Ammunition has kindly offered to ship out 300 rounds of their lead free, penetrating frangible 9mm ammo to one lucky ITS reader.
Here's what DRT has to say about their Terminal Shock Ammunition:
Reliability. In both function and performance, 9mm 85 grain DRT ammo will function in all 9mm weapons reliably and is the staple of the DRT line of projectiles and ammunition. Very light felt recoil and standard pressures allow the shooter to have faster follow up shots as well as better accuracy. You simply don't need heavier bullets to inflict catastrophic damage to the target when 100% of the energy is absorbed by that target. In tests, the DRT 85 grain 9mm bullet penetrates semi-hard barriers like sheetrock, plywood, car doors, bone and most glass, then still performing well passing through clothing and into the gelatin test block. Utilizing a Hollow Point Flat Based (HPFB) design, the bullet is engineered to delay its expansion 1-2 inches before the jacket begins to peel back exposing the core. Penetration is 11-12" in ballistic gelatin with a wound cavity is typically 3" in diameter with complete fragmentation of the core.
What's Included In The Prize Pack?
15 boxes of 20 count 9mm 85 grain Terminal Shock ammo (300 rounds total)
According to DRT Ammunition, they can only ship within the United States, excluding Alaska, Beverly Hills (CA), Marin County (CA), Sacramento (CA), San Francisco (CA), Oakland (CA), Los Angeles (CA), Chicago (IL), Massachusetts, New York City (NY) and Washington (DC). Winner must be at least 21 years old.
Click here if contest widget doesn't load.
As you can see, you have multiple ways to enter this contest and we've also enabled the "Refer a Friend" feature for a chance to gain up to 10 more entries. It's probably a good idea to tell the friend you're referring that you'll split the winnings but that's up to you.
Here's how it works: After one of your entry options has been completed, a box will appear that will provide a unique URL that you can share with your friends. For each friend that enters the giveaway, you will receive +1 entry into the giveaway. This is good for up to 10 people.
Good luck!
Fine Print:
One winner will be selected at random and will receive one prize pack with the contents listed above.
Winner must be at least 21 years old.
According to DRT Ammunition, they can only ship within the United States, excluding Alaska, Beverly Hills (CA), Marin County (CA), Sacramento (CA), San Francisco (CA), Oakland (CA), Los Angeles (CA), Chicago (IL), Massachusetts, New York City (NY) and Washington (DC).
Winner will be notified by email. Once contacted, they have 24 hours to claim their prize. If we do not receive a response from them within 24 hours, we will select a new winner.
Contest ends at 11:59 PM CST on 2/26/14