Membership Sale at ITS Tactical and Memorial Day Deals Around the Web
Membership Sale at ITS Tactical and Memorial Day Deals Around the Web
Before we get into all the awesomeness going on around the Internet this weekend, we'd like to humbly mention that we're running a Crew Leader Membership Sale here on ITS Tactical!
If you've been considering joining as a Crew Leader, now is the time! Until 11:59 p.m. Central Time on Monday, May 30th you can snag an annual $50 membership for just $35 and help support all that we do here at ITS Tactical! Just enter MEMORIALDAYCL upon checkout!
Not only will you be supporting all we do, but we'll give you back plenty of awesomeness in return with all the benefits, discounts and the exclusive free Crew Leader rocker patch that you'll get in the mail! Check out this link for all that you'll receive with your membership!
Memorial Day Sales
Here's the deals we found out there while scouring the net! Be sure to post up any sales we missed in the comments!
Tactical Distributors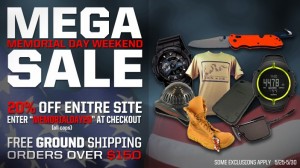 If you caught the G-Shock review yesterday, you've hopefully read that Tactical Distributors is having a 20% off mega sale now thru Monday with nearly everything on sale! Tactical Distributors is one of our awesome sponsors that also give our Plank Owners and Crew Leaders a regular 10% off discount, so show them your support if you're shopping online this weekend.
Also be sure to check out the great American Heritage Series collaboration T-Shirts between Tactical Distributors and our friends at Soldier Systems!
Shellback Tactical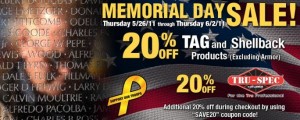 Be sure to also stop by Shellback Tactical this weekend and take advantage of both Shellback Tactical products and Tactical Assault Gear products at a 20% off discount! Only armor is excluded and their already discount TRU-SPEC apparel qualifies as well. There's also free shipping too!
Shellback Tactical continues to support our Plank Owners and Crew Leaders with a regular 10% off discount too, so be sure to check them out this weekend!
React Gear
Another ITS Tactical sponsor ReactGear is also having a Memorial Day Sale offering 10% off their entire store with the discount code memdy10! ReactGear has always supported our Plank Owners and Crew Leaders with a 10% off discount, so stop by their store this weekend and see all the awesomeness they have to offer!
Crew Leader and Plank Owner Discounts
Along with the discounts we've mentioned here, Plank Owners and Crew Leaders save 15% at our store here on ITS Tactical 24/7/365! Check out all the other great discounts you'll get as a supporting member of ITS Tactical!
Also don't forget that Plank Owners and Crew Leaders have the awesome chance to get in on purchasing a Spike's Tactical ITS Logo Engraved Lower Receiver for $99! Click here to read more!
Remember, just enter MEMORIALDAYCL upon checkout to get the first year of your Crew Leader Membership for just $35!
Be safe as you celebrate Memorial Day weekend and don't lose sight of why we're able to enjoy the freedoms that we have as Americans! Go out of your way this weekend to thank as many Soldiers and Veterans as you can; take some time to truly appreciate their sacrifice to our great nation!