New Hand Signed and Numbered Limited Edition ITS Snow Goon Print Available
New Hand Signed and Numbered Limited Edition ITS Snow Goon Print Available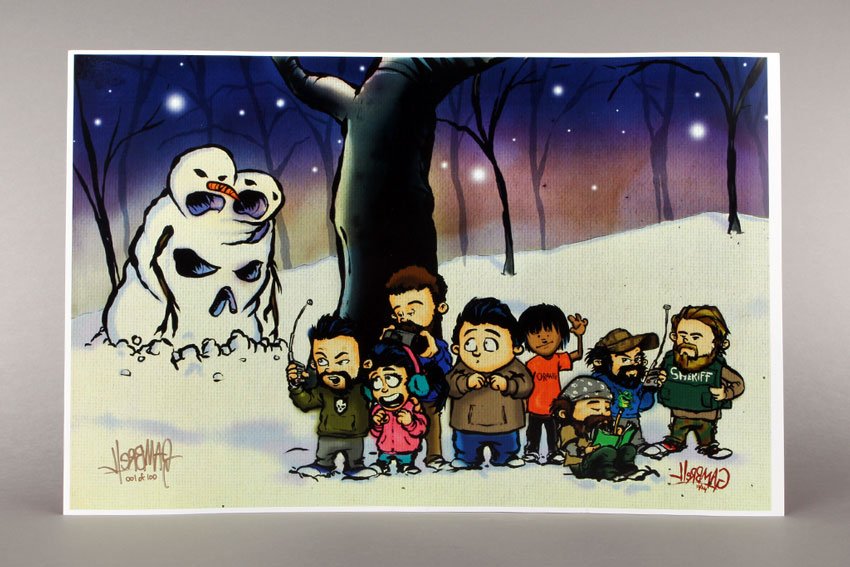 For this year's Christmas holiday patch, we went with an ode to Calvin & Hobbes and the great Bill Watterson, producing a limited edition design. While those patches sold out quickly, we wanted to offer something a little different by featuring the same great design but in a print form that's perfect for displaying in a frame or simply on your wall. Only 100 of these prints are available and are all hand signed and numbered by our artist, Matt Gambrell.
Overall Size: 11″ x 17″
Printed Area: 10.75″ x 16.5″
Numbered prints are assigned by order purchased.
We're also offering free domestic shipping if you're purchasing only this print. International customers, please feel free to purchase and we'll contact you with a shipping quote. Adding anything else to your cart for International or Domestic customers will require the addition of our standard shipping rates.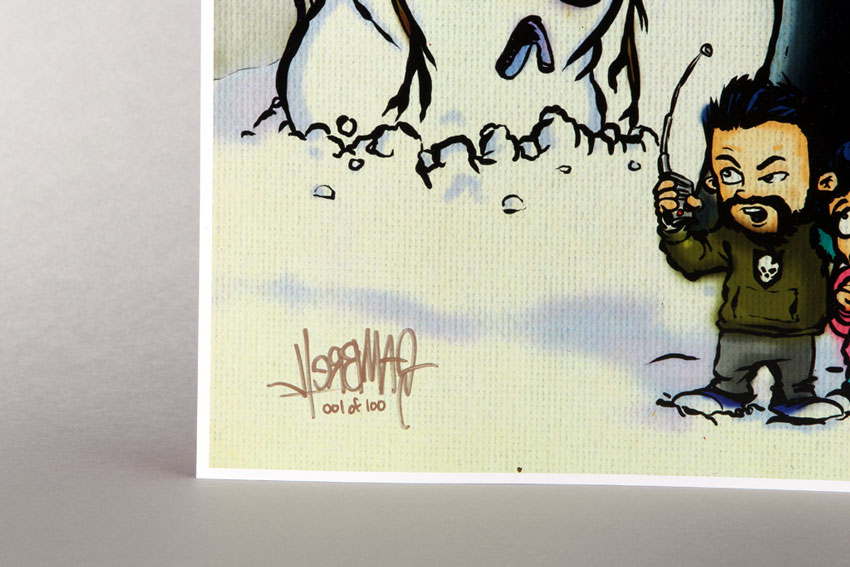 Click here to order the new Limited Edition ITS Snow Goon Print (11×17)
Matt's thought process behind our Snow Goon Artwork:
"Many of us at ITS are fans of the beloved Calvin and Hobbes and being so, wanted to pay homage to Bill Watterson and his incredible talent. This isn't just ANY snowman, but one that our inner child could see us creating.
When Bryan and I were discussing it, I could almost see the completed project in my mind, but that wouldn't be enough. You can't have a Snow Goon without "someone" creating it. I knew what I wanted to do, which was to make all of the ITS Crew "kid sized" with the likeness and features unique to each of us, but just "kid size" versions of ourselves. I think the outcome is a good representation of who we are as individuals.
We're all kids at heart as each of us prove, if not during our podcast, then through mannerisms, our humor and our mindset overall. When creating each character, I remembered what made each of us these characters in our own world, what made the laughter bellow from our own traits, our own mannerisms and our own individual personalities. From there, I created what I saw in each of us. It's probably the single most personal illustration I've ever developed, not just the overall illustration, but each character study in my sketchbook as well. My heart and soul were poured into this design and this is how I see each of us.
Watterson is one of the GREATEST inspirations in not only my life, but into my world of illustration. I can't help but be reminded of what Norman Rockwell said, "When an artist is no longer a child, he is no longer an artist." I truly believe Bill Watterson lives by that quote, as do I. When I started full-time with ITS, I posted Watterson's final Calvin and Hobbes strip, which I never fully understood until that moment."