SOFIC 2011 Coverage: The Best of Day Two
SOFIC 2011 Coverage: The Best of Day Two
Today was day two of the three-day 2011 SOFIC Conference and Expo, which allows the  industry to look at and discuss new products designed  for the Special Operations community.
While there were many companies present that were also at SHOT Show, a lot of things here are strictly for military applications and still very hush hush in terms of technology. While I'm trying to cover as much as I can, to check everything out at a SOFIC expo you really have to be there in person.
This was my first year to SOFIC, so I dont have a base line from previous years. Walking into the show you can tell the expo is for a niche group of people as everything looks expensive! Technology was the name of the game with everything from  miniaturized  UAV's to  virtual  reality training simulators.
Vehicles
[flickr id="5733752537″ thumbnail="small" overlay="true" size="medium" group="" align="right"] Specialized vehicles were in full force. What caught my attention were the smaller land vehicles that really took technology from the desert pre-runner and rock crawling industry. While it seems each new military vehicle you see is bigger than the last, it's apparent the smaller vehicles are in high demand by the SOF community. There were several Side x Side type vehicles that looked like Rhino's on  steroids. I will definitely get more coverage of vehicles tomorrow.
Wing Inflatables, Inc. had their new P-4.7 CRRC (Combat Rubber Raiding Craft) which is direct competition for Zodiac and their popular F-470. Made with composite materials, it weighs in at 293 pounds bare bones. The SF model has rollup floors and takes a smaller fill tank than the Zodiac. The guys at Wing Inflatables were great and really have a passion for what they do.
Tomorrow I'll be heading out to the boat docks to check out the rest of the watercraft on display.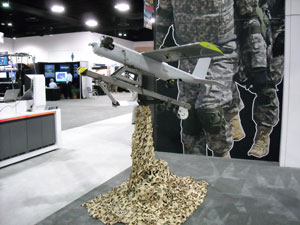 It seemed almost everyone has some type of  unmanned aerial vehicle. AV Aerovironment had several small UAV's that I could definitely see Law Enforcement  benefitting  from. BAE Systems had their gas/electric powered Silver Fox UAV on display too (see photo on right).
Also  rumored, but not confirmed, is the FAA lifting the restrictions on using UAV's in our airspace. If true this should bring more Law Enforcement applications into the field. The long range cost savings of launching a UAV  vs. helicopter  cant be ignored.
Technology mixes with gear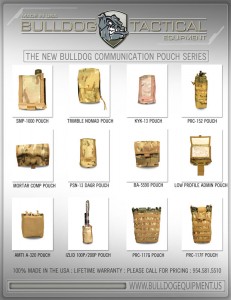 With all the technology that's going on the backs of our warfighters comes the need for batteries to run everything. There were numerous companies that have  miniaturized  batteries and electronic components. BAE Systems has taken a battery that was the size and shape of a SAPI plate and cut it almost in half while maintaing the same charge life.
Mixed in with all that were manufactures who are designing equipment for warriors to carry the technology into the battlefield. Granite Gear and Bulldog Tactical Equipment stood out as gear companies that have designed pouches and backpacks to carry all that electronic gear.
Bulldog had an entire section showcasing pouches made for all the new radio and tactical electronics. They have all the right cut outs for knobs, antennas, and wiring.
Granite Gear showed me their Chief Flatbed which is a  versatile  backpack load carrying system. It will carry everything from a large Pelican case to a set of Jaws of Life. It features a composite frame with fully adjustable shoulder straps.
London Bridge Trading recently came out with a new Mortar Backpack, while there  isn't  much technology  involved  in blasting bad guys with mortars, LBT has designed a backpack that allows comfortable man portage of the M224 60MM mortar system.
Armor Systems
I spoke to several armor  companies  and while the armor manufactures  aren't  advancing as fast as the electronics community, they are taking steps to  develop  new lightweight armor. From what I gathered there's a very tight line you walk when pushing the envelope on lighter armor. What I found reassuring  was no one is willing to  sacrifice  safety for the sake of weight.
New lightweight helmet and armor plate technology is also on the way. As one vendor described it, its a slow trickle but it's coming.
Lighting
[flickr id="5734070835″ thumbnail="small" overlay="true" size="medium" group="" align="right"] Lighting systems have really come a long way in the past few years. Two new products caught my eye were from Petzl and Adventure Lights.
Petzl has two new lights that have a "core" which you can take out. This allows you to charge the battery normally or through a USB port and program the light profile you need. Two examples were running a trail where you knew you were going to be out for an hour.  You can set the light to go full blast for that hour and then fall off if the battery runs down. The next was a campfire setting where you only need low light. All profiles can be custom programmed by you for whatever setting you need. They also have a red LED for tactical operations.
Adventure Lights has the VIP Police Strobe. This light has the most features of any small light I've seen. Its also  programable  by simply flipping the battery. It features red, blue, and IR lighting which can go from steady on to a police strobe. Turning the lights on and off can be done in several ways; with the switch, with a trip wire, and by remote control.
Another neat feature is a glass mount which allows you to stick it on the window of a "bad guy's" vehicle. This illuminates the interior and could be used as a distraction or as a ruse making it seem like another officer is shining his light through the window. It really shows that Adventure Lights is thinking outside the box, which is great to see.
Closing
[flickr id="5734651050″ thumbnail="small" overlay="true" size="medium" group="" align="right"] Glock donated $100,000.00 dollars to the Special Operators Warrior Foundation! It's great to see a company give back to the community and reinforces my love for Glock (I have three of them).
I want to thank all those that I spoke to and look forward to tomorrow! I'll do my best to get more photos but I know everyone understands the restrictions.
Best of Day Two
BAE Systems Photos © 2011 via Flickr