SOFIC 2011 Coverage: The Best of Day Three
SOFIC 2011 Coverage: The Best of Day Three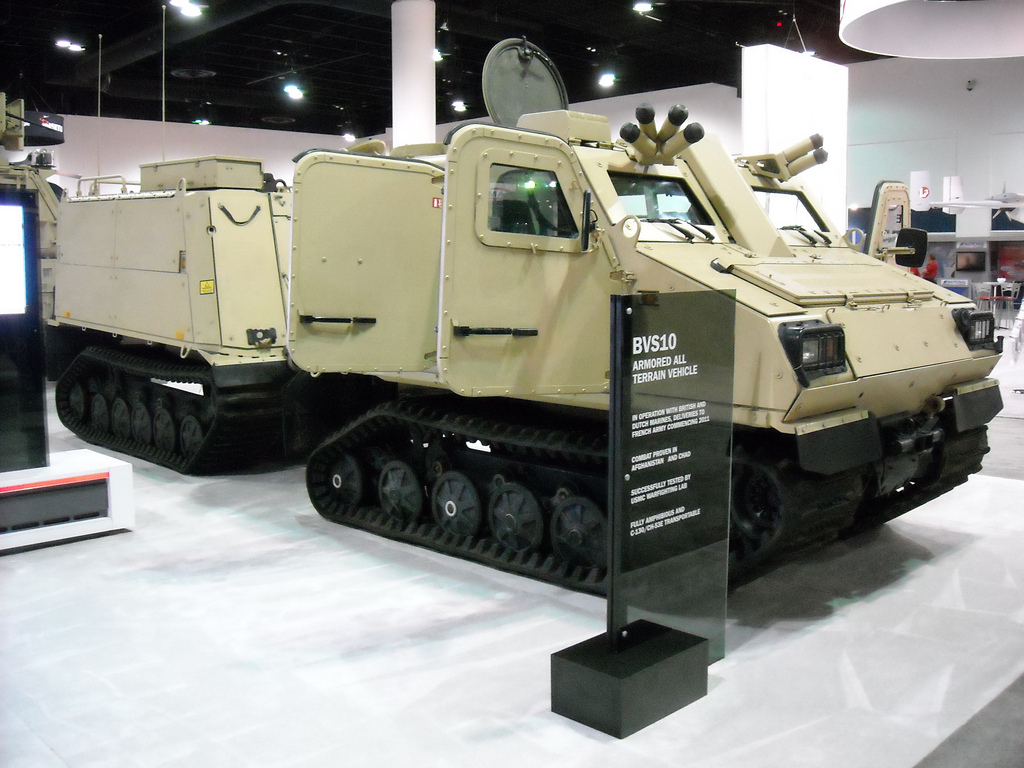 Day three started with a great conversation with "Mr. C," the VP of Grey Aviation. It seems our article on How to Escape Zip Ties had become a hot topic with some of his colleagues. He expressed his appreciation for putting the info out there for those who haven't been to SERE school and mentioned that he even shared the article with his sons.
We talked about US citizens going to hot spots around the world doing noble things like teaching and missionary work, and how they need this type of training also. It was great to get feedback on what we're putting out, good or bad. It was a positive start to the day!
The amount of people on day three was much lower than the previous day, but it was nice as I was able to weave my way through the isles a little easier.
Tactroncis Rock Crawler and Rescue Boat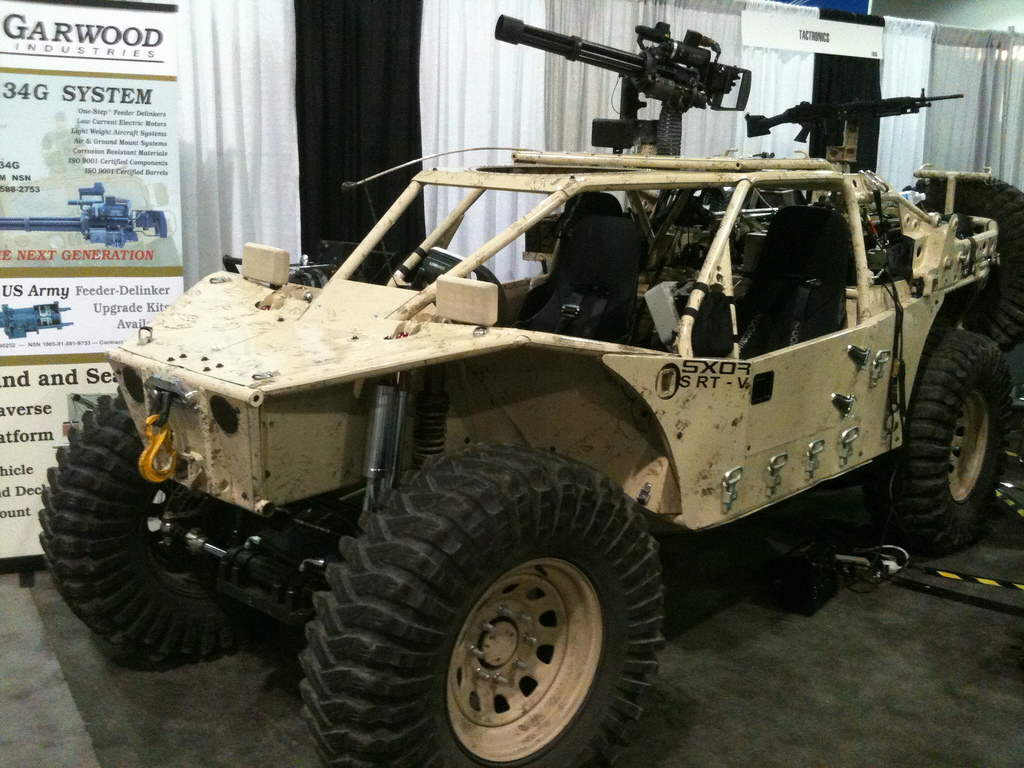 My first stop was at the Tactronics booth which displayed the SXOR SRT-V mobility vehicle and the Rapid Response Technology GARC rescue boat. The SRT-V was designed straight from the rock crawling industry. In fact SXOR used to make civilian rock crawlers before getting a government contract.
The GARC also has origins from rescue crafts built in Australia. It's now designed to be used by Air Force PJs and SOF personal for waterborne operations. The Tactronics electronics package is state of the art and ruggedized for air drops and any other abuse it might see.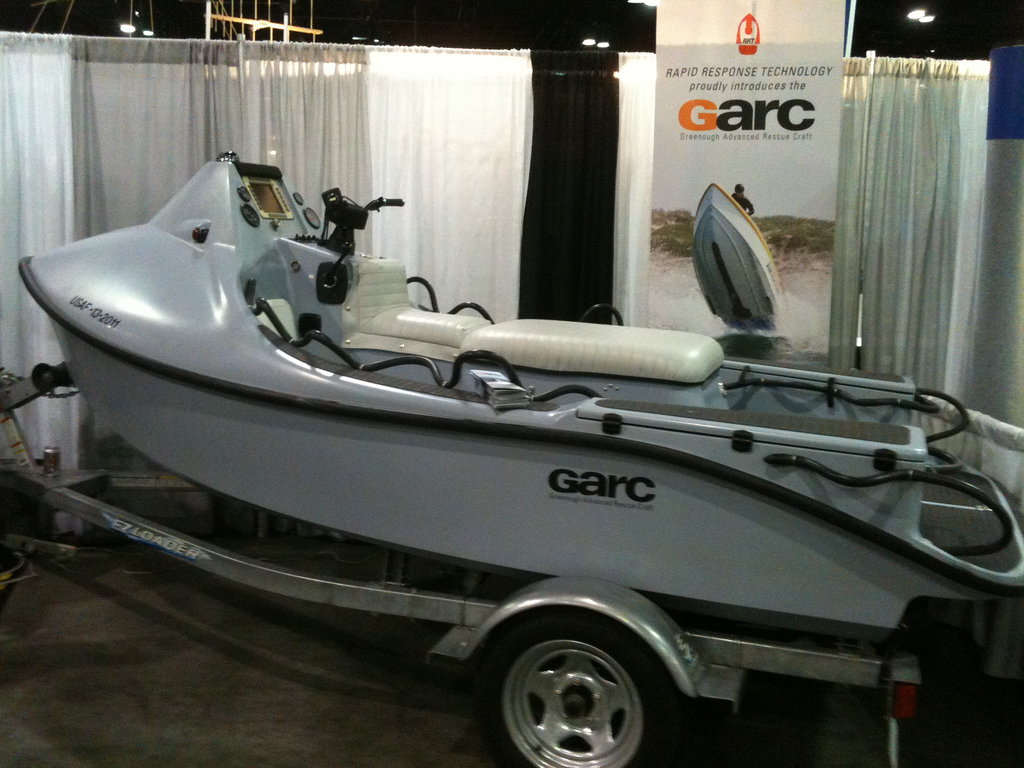 ITS will be doing a full article on the GARC as my uncle works for RRT. TC Phillips is the president of RRT and has given us permission to write the article which I think our readers will really enjoy. Like the Rokon Motortractor article we are always trying to expand the content we put out.
Prowler
I was still in vehicle mode so I stopped by the Prowler Light Tactical All Terrain Vehicle and spoke to Jeff. The Prowler is made by ATVCorps which falls under Phoenix International.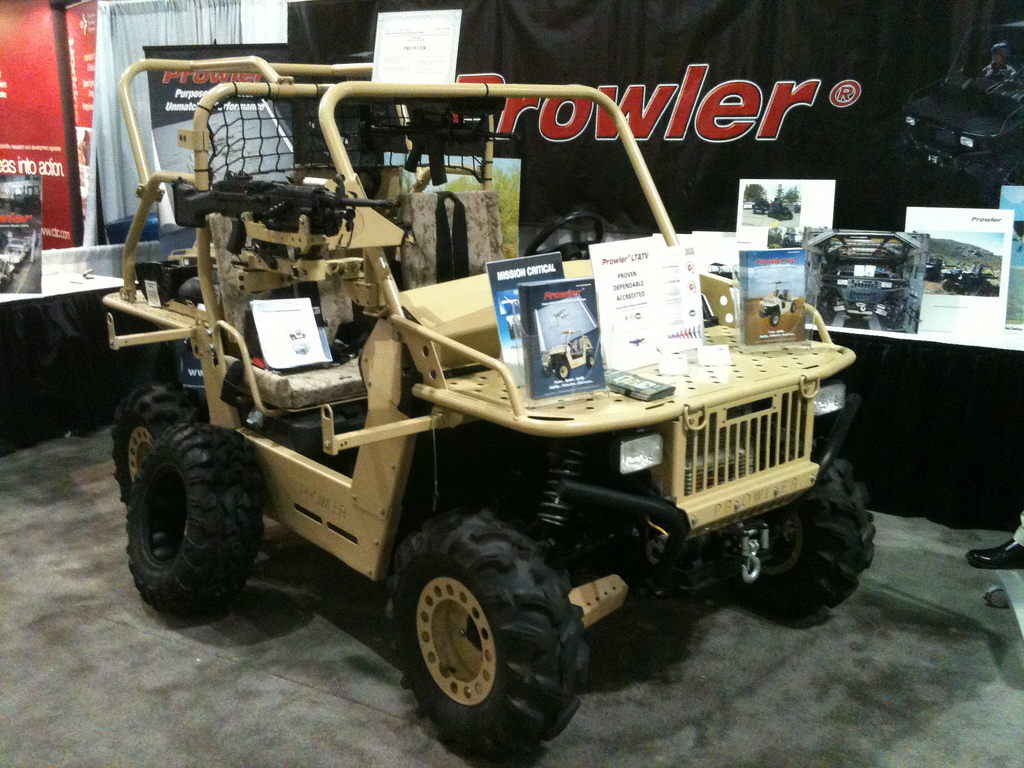 The Prowler was designed for the SOF community to be easily configurable using COTS (Commercial Off the Shelf) platforms. This particular model has a third seat in the rear and gun mounts set up for a SEAL Team. Jeff had a cool video showing the capabilities of the Prowler plus some footage of it being air dropped from a C130 with the driver in it. Once on the ground the parachute was released and it drove off.
Make sure to check out ATVCorps website for the video and other photos.
Princeton Tec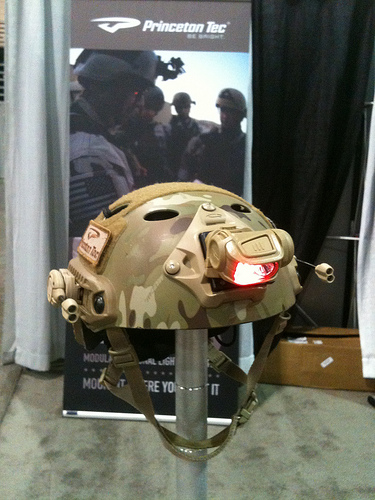 I know I wrote about tactical lights from the first day but I have to talk about Princeton Tec as they have two new lighting systems on the market. One should start shipping today so these are defiantly fresh.
I met with Hal who walked me through the new Switch-MPLS and the Remix-Pro. He said the days of using filters over the lights are gone and with new color LED technology. The LEDs keep getting smaller and more powerful.
The Switch is a second generation multitasking light which has two LEDs on the head. It comes in 5 LED color combinations two of which are IR. The flexi-arm allows for adjustment to get the lighting right where you want it. The flexi-arm is a bit shorter than the POINT model.
The REMIX Pro has a 70 Lumen spot lamp and three LEDs. It uses a CR123 battery and I was surprised how light weight it was. I would dare say you could mount it to the brim of a hat. It comes in 7 light combinations (two are a mix of LEDs with the Remix Pro 2.0 model) and I was pleased to see green as that color works best for me at night. There are 4 light modes and it has a burn time of about 40 hours.
The head is adjustable and it flips back to cover the switch when its not in use. This makes sure you wont accidentally turn it on.
Both the SWITCH and Remix can be mounted to helmet rails, helmet mount, MOLLE/PALS, and Picatinny rails. The REMIX can be mounted on a NVG adapter plate so it sits right up front on your helmet. They both start on a low light setting as they are designed to be used in a tactical setting.
GSS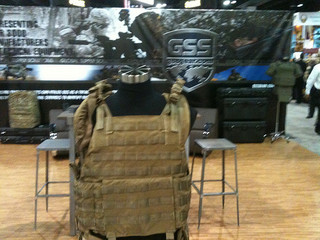 While I was at the Princeton Tec booth I was approached by Wil of GSS Gear. Wil saw the ITS patches on my backpack and it turns out he is a huge fan of the site. It was great to meet one of our readers and I was able to hook him up with some ITS swag.
Wil said he really liked the article on DIY Alcohol Stoves and the soda can worked best for him. He did do some modifications with chicken wire so we need to pick his brain on that one.
I later met Wil at the GSS booth and he went over some of the new items GSS has to offer. A new item is the Internal Frame Load Bearing System (IFLBS) vest made by Archangel Armor. Its designed to keep the weight off the shoulders and uses a "war belt" attached to a composite backer much like some of the new backpacks on the market.
Some of the other features include leg straps using Cobra buckles which can be configured in loops to carry a litter. You hook the litter handles into the loops and your now hands free. Wil said they tested this against other carries and the Archangel vest carry won every time.
Wil also wanted everyone to mark their calendars for the GSS Gear New Breed of Warrior 2011~ Honoring Those Who Serve and Defend in Virginia Beach on September 9-10, 2011. Check out the website for more details.
Toughstake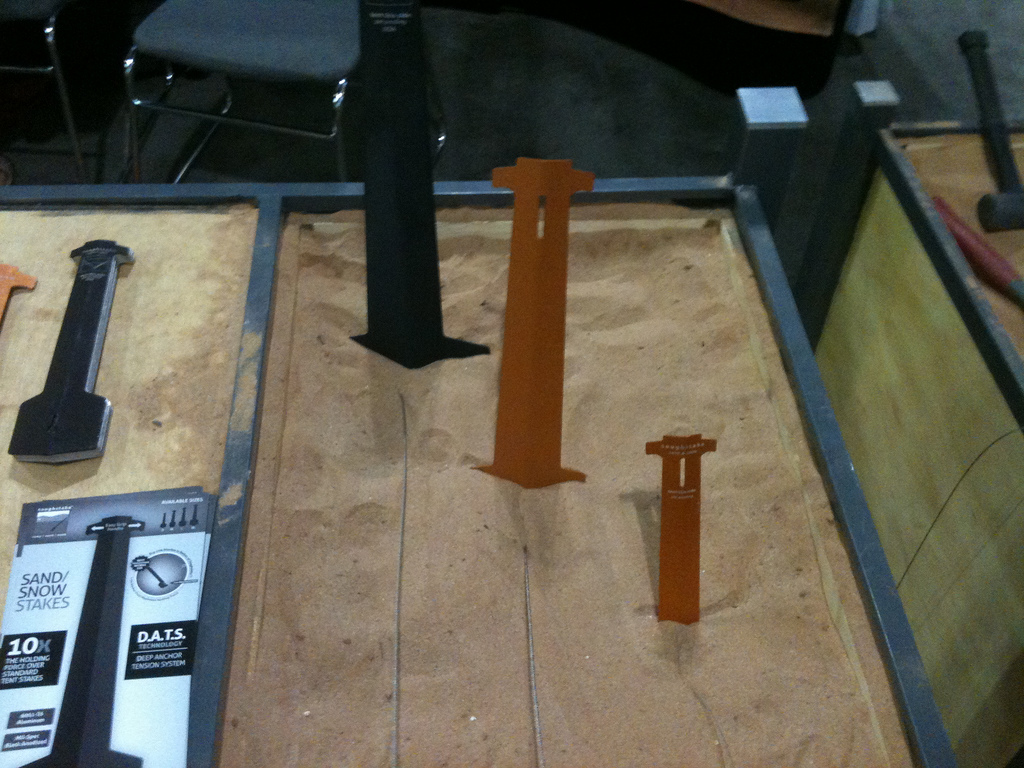 I almost walked passed the Toughstake booth as I was on my way to the restroom, but I'm sure glad I didn't. Matt was on hand to give a demonstration of the stakes in two sand tables. This is one of those ideas we all wished we thought of.
The Toughstakes are designed to hold in sand and snow and use a guy wire at the bottom of the stake for a low anchor point. With traditional stakes the tension and constant motion from wind will eventually loosen or even pull the stake out of the ground. The Toughstake eliminates this problem using the guy wire.
There are numerous uses besides holding down your tent. Hitting the beach or sandbar this summer in your boat? Toughstake has you covered as they make four sizes in 6061 T6 aluminum and two in stainless steel.
I could talk about it all day long but go over to the Toughstake homepage and check out the video demonstration as it shows you how awesome these stakes are. I wish I had these when I was in the Army as those issued orange stakes were horrible.
Also stay tuned for a ITS article on the Toughstake.
BAE Systems: The Game Changer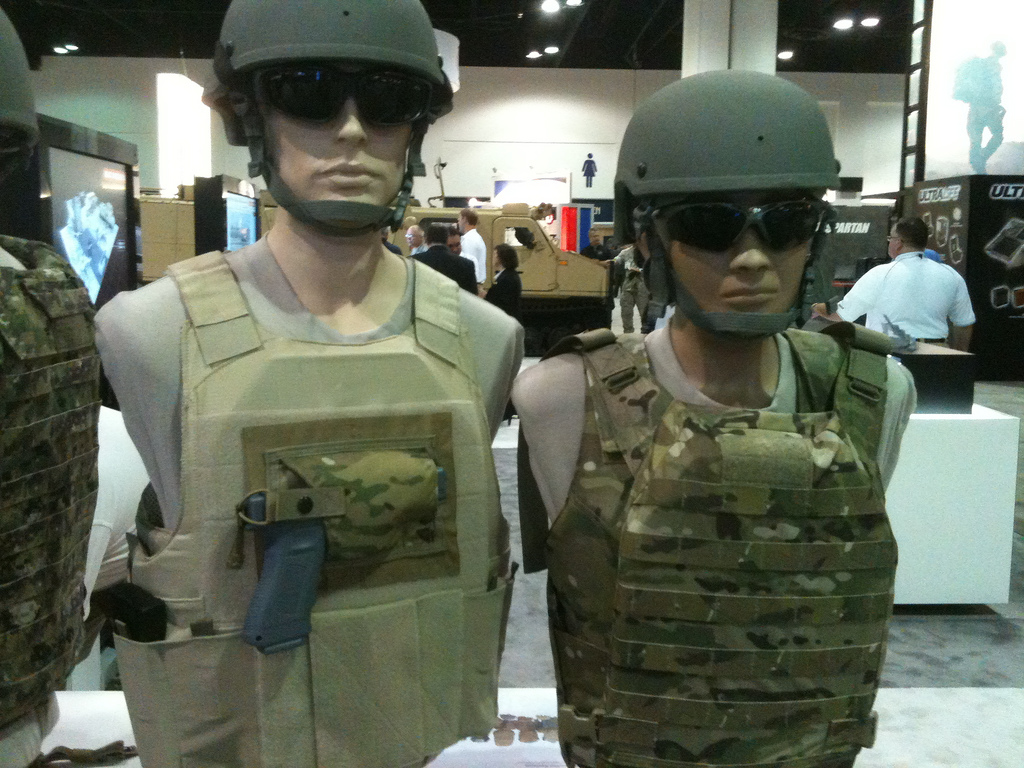 BAE Systems had a huge display with everything from armored vehicles to thermal imaging systems. What caught my eye was the new ECLiPSE Performance Gear line of tactical vests, MOLLE accessories, backpacks, body armor (plates) and helmets.
I met with Michael who is the manager for Security and Survivability and Heather who works as BAE's communications manager. Michael was really proud of the ECLiPSE line and it showed in his presentation.
The heart of the ECLiPSE line is the Modular Vest Program. It's an adaptable system that allows the user to scale the vests to the mission. The key here is user flexibility. This is why I think the ECLiPSE is going to be a game changer in the armor carrier industry. There are so many configurations and other details that BAE has put into these vests.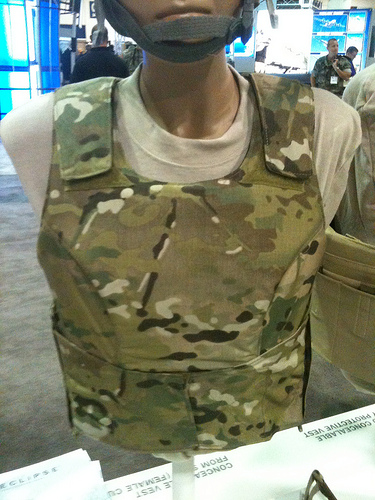 There are six vests in the series and one which is designed directly for females (shown on right). Three are releasable and they are available in seven colors. All vests will accept SPEAR cut soft armor and most military and commercial armor plates. The LEO versions have hook and loop for ID panels. They're also made in the USA and are Berry Compliant.
Supplemental armor is offered in the form of deltoid, collar, and groin protection. Add the line of pockets, pouches, and accessories and you have everything you need to put together a flexible vest package.
The first in the MVP lineup is the RBAV-SF (Releasable Body Armor Vest-Special Forces). As with all the releasable vests the release mechanism is ambidextrous and is easy to reassemble. The release is right at the top front collar under a velcro flap. The SF is a lightweight design with integrated pockets for hard armor, radios and other accessories.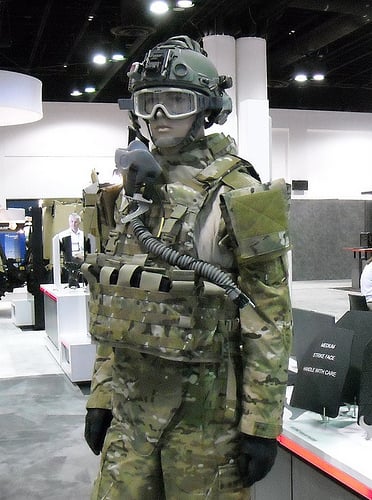 The RBAV-AF was developed for PJs and has one of those features that every vest I've owned didn't: An internal cable management system for all your comms wiring. This is a awesome feature and shows the forward thinking BAE is putting into its products. With all the electronics that are being carried into the battlefield this is almost a must.
Along with the other features the RBAV line up has the AF has a built in hydration pocket, extended MOLLE panels for greater load carrying ability, admin pocket on the cummerbund flap, removable D-rings for parachutes or weapons slings, enhanced side pocket to carry large items and improved access to the cummerbund side pockets for ammo and radios. Looking over the vest it would be great for SWAT or other LEO tactical use (hint, hint, BAE. Throw some hook and loop on there).
The RBAV-HS is a Homeland Security version which is almost identical to the SF vest but has the addition of hook and loop on the front and back for ID panels. The TBAV (Tactical Body Armor Vest) is non-releasable and is designed to be lightweight and trim for CQB work.
The next vest is the big game changer and is the most flexible vest I've ever seen. Let me explain why.
MSPV
In my case I have two vests I use at work. My "TAC vest" is setup for plain clothes and has everything mounted on the vest itself as I don't wear a web belt. It has soft body armor in it and I simply throw it on and I'm ready to go.
My other vest is a plate carrier which I use when I deploy my rifle. I have my M4 magazines and other "active shooter" equipment mounted to it. This is used in conjunction with my concealable soft armor when I'm in uniform.
The problem that rears its ugly head is trying to run my rifle with my TAC vest as there is no way my plate carrier will fit over it. I do have a BFG Ten Speed that I can throw over the TAC vest to carry my M4 mags, but the extra protection of the plates are lost.
Meet the MSPV (Modular Scalable Protective Vest). It's six vest configurations in one, which is truly amazing. Michael did a outstanding job talking about this vest as they didn't have one on display. He had to walk me through it while looking at the catalog which is no easy feat.
The platform starts out as the base vest. It will accept SPEAR cut soft armor and most military and civilian plates. The base configuration has a slick cummerbund with integrated side pockets for plates, ammo, comms, OC spray or an ASP. The material on the side pockets is like the BFG Ten Speed and will conform to what ever you put in it.
The next steps you can do in any order you need, as the MOLLE panels attach with huge panels of hook and loop. MOLLE side panels are added which go over the side pockets for things like a blow out kit or rifle magazine pouches.
After the MOLLE side panels you can add the removable upper and lower MOLLE panels which gets you into a traditional MOLLE vest. They are still separate panels so you could just run the lower panel and leave the upper hook and loop exposed for LEO ID panels or other Velcro mounted accessories.
So in my case this would get me to where I have my current TAC vest set up. Soft armor with everything mounted on the vest. If using the MSPV I could have my radio, Taser and other small items in the side pockets freeing up real estate at the front.
If you like to run something like Down Range Gear's Raider direct to armor chest rig you certainly can. The options are almost limitless.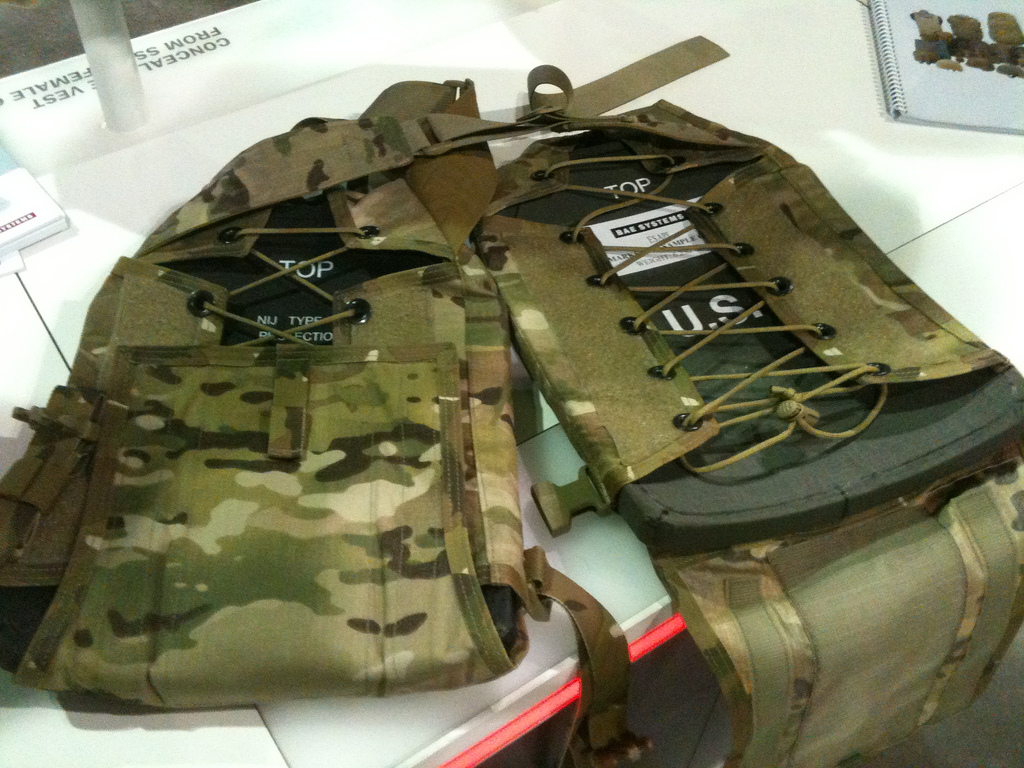 The next option is where the MSPV leaves everything else in the dust. The addition of a external plate carrier which connects to the base vest. This carrier has MOLLE webbing front and back. The way the plates are held in the panels is forward thinking also as they are adjustable to different sized plates using a shock cord system. This means you can run swimmer cut plates or full size SAPI plates.
So in my case if I needed to run the plates I would rip off the front panels and throw the plate carrier on. Sure I would loose some of the items I had attached to the front MOLLE, but I wouldn't have to switch out vests completely. The plate carrier has small side straps so you can retain your MOLLE side panels if you had them attached. Or you could go with a QASM setup on the MOLLE side panels.
The ECMPV (Enhanced Concealable Military Protective Vest). This is a low profile armor carrier designed for low visibility and maximum mobility. The shoulder straps can be quickly accessed for medical treatment and the cummerbund has ten pockets with the same material that allows it to conform to items placed inside.
I would have loved to have the ECMPV when I was at CENTCOM as the plate carriers we had were not designed for low profile wear.
As you can see the MSPV is six vests in one and really stands to change the way vests are designed. I'd really like to check one out in person and if your at a expo where BAE has a display make sure to ask about it.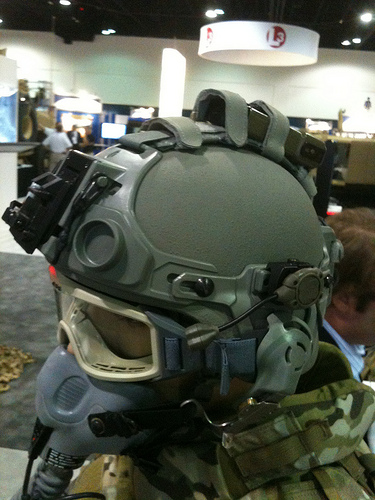 ECLiPSE also has a new helmet accessory kit that allows the user flexibility in how to set up their helmet.
With the ongoing technology in lighting and identification systems all kinds of things are being mounted to helmets.
This system allows the bean counters who are buying the equipment to issue everyone a standard kit but also allow the user to adjust it to their liking. The one pictured to the right is set up for a PJ.
Michael and I laughed at the days of modifying kit and uniforms to your liking only to cringe at the thought of turning it back in when you leave the unit. I want to again thank Michael for taking the time to talk to ITS about the new ECLiPSE series.
iNSITU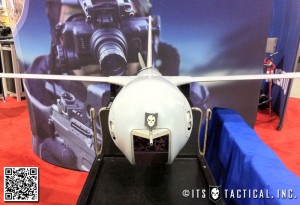 I was able to meet with one of Bryan's good friends at the iNSITU booth. The UAV's on display were pretty incredible and light years ahead of the UAVs I saw in Bosnia years ago.
The way in which they are deployed and recovered is very ingenious. The payloads and electronics systems really show America is the leader in UAV technology. I'd like to talk more about what I saw at the booth, but I cant.
Bryan's friend did grab a photo with one of our Mini PVC Patches sitting on their NightEagle UAV that he was able to send us.
In closing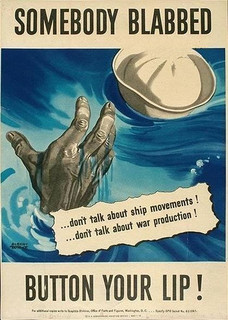 I hope you liked our coverage of the SOFIC show, even though we were limited in the photos and information we could put out. That's the nature of the beast but it looks like we were the only ones putting information out directly from the expo floor.
I will be the first one to tell you I did get a few cold shoulders when people saw my press pass, but there are no hard feelings as OPSEC is a major concern. I'd HIGHLY recommend you check out next years SOFIC expo and see for yourself the technology and gear that companies are making so our warriors can take the fight to the enemy.
I'd like to thank the vendors and others that took the time to talk to us, so we could report back to our readers and a special thanks to Dino and Meredith from the National Defense Industrial Association for allowing ITS Tactical to report as press. While we may not be a main stream media outlet, I believe our readers appreciate the up to the minute coverage through different social media outlets.
BAE Systems Photos © 2011 via Flickr