Vote for the next ITS Tactical Patch!
Vote for the next ITS Tactical Patch!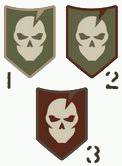 It only took a few short weeks to completly sell out of our first batch of ITS Patches! We've had such a great response that we've decided to order up some patches in a Multicam color scheme.
Our friend MilSpecMonkey came up with three variants for the color scheme as shown in the image to the right, and we'd like YOU to decide which you like the best! Vote below!!
Place your vote below by Sunday, August 9th at 11:59 p.m. CT, and the winning color scheme will be ordered and available soon!
We're also curious if there's enough interest in getting more Tan/Grey and Black/White/Grey made up as well.
Let us know in the comments or with an email if you're interested.
Stay tuned for an update!
[polldaddy poll=1842534]