We're Changing the Game with the TraumaQuick™ Rapid Access System
We're Changing the Game with the TraumaQuick™ Rapid Access System
The TraumaQuick™ Rapid Access System keeps your vacuum-sealed ETA Trauma Kit™ ready to retrieve at a moment's notice. The system's dual-handled KitRetainer™ is securely stored inside the retention sleeve, but with a quick pull on either of the ambidextrous KitRetainer™ handles, the medical kit is in your hands and ready to toss to someone who needs it, or work from it yourself.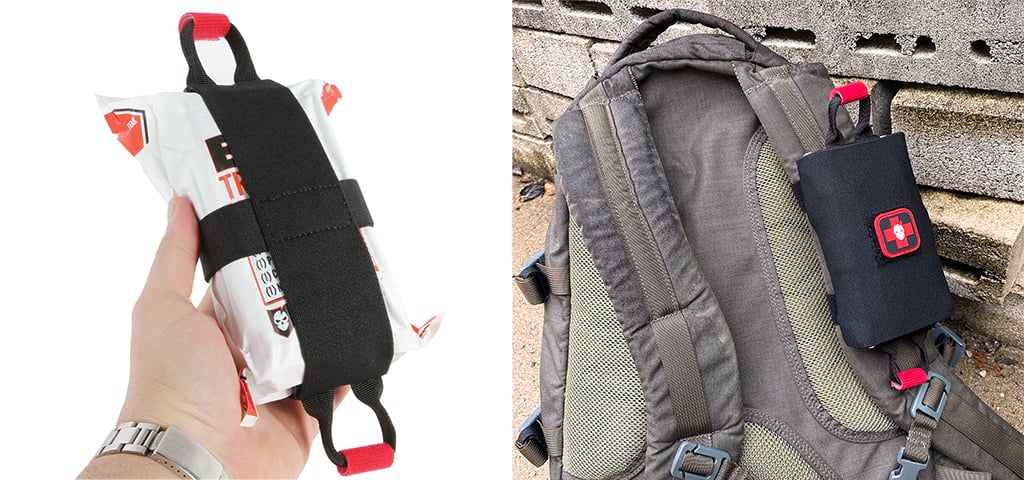 The TraumaQuick™ also features our popular (and patent-pending) 4-Way Mounting System™. This enables mounting it to virtually anything, including backpack straps, vertically on duty belts, vertically or horizontally on standard belts, MOLLE / PALS (MALICE Clips available separately), plate carriers, or even to the back of a headrest using our Universal Vehicle Mounting Platform (available separately as an add-on.)
Don't forget we're still offering FREE Domestic Shipping on all orders in the ITS Store until the end of the month!
For larger belts (like padded battle belts) you can use the same VELCRO® Brand ONEWRAP® mounting straps to adhere to those that feature an inner loop liner. Yet another mounting option is to utilize these same straps to adhere to the hook and loop field of plate carrier cummerbunds.
For fast identification and rapid acquisition, the TraumaQuick™ includes an ITS Medical PVC Square Patch that adheres to a 1.5" x 1.5" loop field on the retention sleeve. Additionally, each pull-handle on the KitRetainer™ includes a small section of red VELCRO® Brand ONEWRAP® Fastener.