Win a Free Plank Owner Membership!
Win a Free Plank Owner Membership!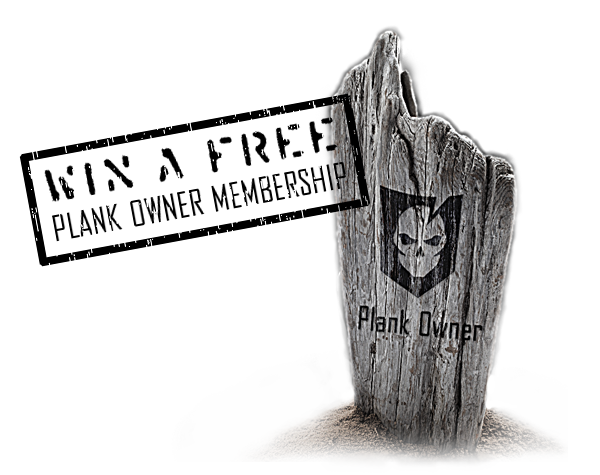 Read the details and find out why your last chance to become a Plank Owner ends April 1st!
Contest Details
We've decided to give the Plank Owner Membership level one last Hooyah! with a chance to Win one (1) Free Year of membership. Before we get into the details, this contest is open to everyone! Even existing Plank Owners! If you win and you're already a Plank Owner, you'll either get next year free or we'll even send you a refund for this year!
Don't wait for the winner to be announced to sign up! We've only got 25 spots left, and if you win we'll refund your money!
How to Win
All that's required to win is to simply follow us on Twitter and Tweet This! You can enter once per day until 11:59 p.m. March 31st (central time) and we'll announce the winner April 1st!
We're ending the Plank Owner Membership Level option on April 1st so we can round up everyone's Free Plank Owner T-Shirt sizes and decide on a final Plank Owner Patch to be made. So no matter if we reach our 250 Plank Owner goal or not, come April 1st the option of being a Plank Owner and getting exclusive Plank Owner Merchandise will be gone forever! (we're getting Plank Owner Challenge Coins done btw!)
Here are the awesome benefits of being a Plank Owner
"Tactical" Discount Buyers Club
We're adding more and more vendors to our discount list everyday, and already have 10 for you!
Even More Benefits!
Access to the Members only Forum with Plank Owner distinction
Participate in our Round Table discussions to cast your vote in how we handle our operations
Your name on our virtual Plank Owner Plaque showing our original 250
Free Exclusive Plank Owner T-Shirt
Free Exclusive Plank Owner Patch
Free Copy of our  Knot of the Week DVD (Coming Soon!)
Free copies of all eBooks we release on ITS Tactical
Discount codes from vendors exclusively for ITS Tactical paid members
Discounted ITS Tactical merchandise
Downloadable iPod ready versions of our YouTube videos
Downloadable Plank Owner Desktop Background
Subscription to the ITS Tactical Newsletter (unless you're already receiving the newsletter)
Exclusive Members only giveaways and contests
Exclusive Members only videos
Help us grow ITS Tactical, we need your support!