Fair Winds and Following Seas Chief Kyle, We are Truly Diminished
Fair Winds and Following Seas Chief Kyle, We are Truly Diminished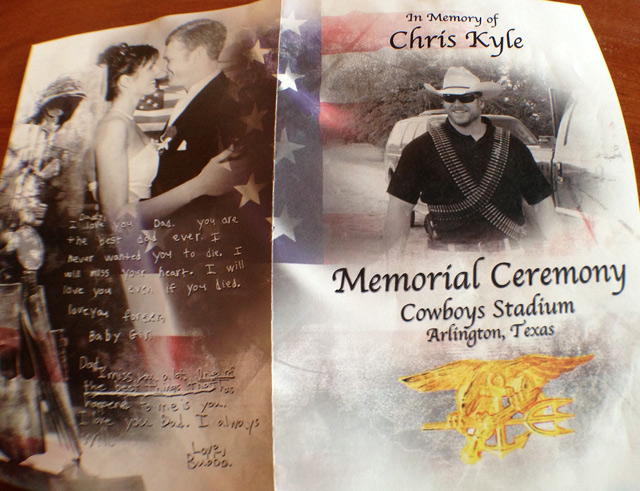 Bryan, Kelly and Rob are at the Dallas Cowboys Stadium today for the memorial service of Chris Kyle. You can show your support by attending the memorial service or donating to a trust for the families of Chris Kyle and Chad Littlefield on the Craft International web page.  These trusts will provide for the general welfare of the families as well as the education of their young children. One hundred percent (100%) of the donations will go to the respective families.
Thousands of supporters are expected to attend the memorial service today. If you are unable to attend but wish to show your support for this American hero, The Dallas News has information on the memorial service:
The service will be held at Cowboys Stadium on Monday, Feb. 11 at 1 p.m.
Arrive early. Doors will open at 11:30 a.m.
Parking is free. Use Lots 1, 2 and 10, which are closest to Randol Mill and N. Collins.
Enter through Gates A and K on the north side of the stadium.
No cameras, bags, purses or substantial handheld items will be allowed in the stadium.
No photos. Kyle's family has asked the public to give the memorial service the reverence it deserves and refrain from taking pictures.
The Dallas CBS  affiliate should have a live stream of the service available online.
Fair Winds and Following Seas Chief, your loss impacts us all and you'll never be forgotten for what you've done for our country and its Veterans.