Today is Welcome Home Vietnam Veterans Day, What will You do to Honor Them?
Today is Welcome Home Vietnam Veterans Day, What will You do to Honor Them?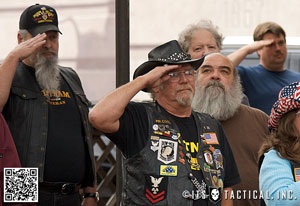 Congress recently passed a resolution making March 30th Welcome Home Vietnam Veterans Day. The day is to honor Veterans who served during Vietnam and is much needed in my opinion.
When these brave men who sacrificed so much returned from duty, they were often met by protesters and anti-war clowns that belittled them and attempted to dishonor all that they stood for.
The significance of March 30th marks the anniversary of the day the last combat and combat support units completely withdrew from South Vietnam.
The image shown above is a photo I took during a Veteran's Day parade a few years ago in Fort Worth. I thought it really captured the moment well and showed a true example of Vietnam Veteran's pride in all they did to ensure our way of life here.
Please use this day to call, write, or personally thank a Vietnam Veteran for their service. Buy them a cup of coffee, turn your brain off and listen to their memories. One of these days their won't be many of these Veterans left, much like our WWII Veterans and the few allies still living from WWI.
The absolute best way you can thank a Veteran though, is to live each day to its fullest and never let their sacrifice go in vain.
Welcome Home Vietnam Veterans Day Video
The video below is a great tribute to Vietnam Veterans and features some closing remarks by Debbie Lee, the mother of Marc Lee. Lee was the first SEAL killed in action during the Iraq war and fought bravely in Ramadi.
I was in BUD/s with Marc in class 251 and have worn a KIA bracelet with his name on for many years to honor his sacrifice. Please head over and visit Debbie's Website, America's Mighty Warriors, to learn how you can help honor and support America's military heroes.
What will you do today to honor our country's Vietnam Veterans?