We'd like to wrap up our coverage of the 2010 SHOT Show with a review of what we feel to be the most innovative products we came across.
First, if you were following along with our SHOT Show Twitter updates then you'll already know about our next reader appreciation contest we'll be launching shortly.
We'll be giving away a knife autographed (etched) by Pete Gerber of Gerber Knives and some other show schwag. Details on the contest will be posted this week.
Without further delay, here are our picks in no particular order…
Crye Precision StKSS and JPC
The Structural Kinetic Support System from Crye Precision looks to be a great way to isolate the weight of armor plates and gear on the lower back.
We'll reserve our thoughts for when we actually get a chance to get hands-on with the product, as our concern now is whether the stays on the sides will push the chest rig up too far when seated.
Weighing in at under 1 lb., the Jumpable Plate Carrier features an Integrated Attachment System which is MOLLE without any backing material.
We've scanned a photo from the catalog so you'll have some kind of visual reference of what we're trying to describe, as Caleb asked us not to photograph the unit on display.
We feel the IAS offers an excellent solution for lightweight MOLLE attachment.
Blue Force Gear
Blue Force Gear continues to impress with their DAP (Denied Area Pattern) and Ten-Speed lines.
While elastic and velcro are nothing new in the tactical industry, we feel BFG has truly pushed the boundaries of what's possible with these materials.
A-TACS Camouflage
The A-TACS Camouflage pattern is impressive in person, and sitting down with designer Philip Duke and director Steve Hanks revealed the astounding innovation that has gone into the development of this pattern.
We'll have more information coming soon, and are looking forward to integrating it into our next camouflage comparison.
London Bridge Trading Company CASS
The Comfort Armor Support System from London Bridge uses what appeared to be a contoured acrylic back-sized plate integrated into a padded MOLLE waist belt.
When donned, the unit distributes the weight to the hips much like a hiking pack.
We got a chance to get hands-on with the CASS loaded with front, back and side armor plates. The system definitely worked as advertised.
Wearing it through our entire conversation at the LBT booth was not only comfortable, but it honestly didn't feel like plates were even being worn.
The CASS is being marketed to those on patrol or standing watch, as the back-sized acrylic unit seems to offer decreased range of motion. As with the Crye StKSS, we're unsure how the unit will push a chest rig up while seated.
Outdoor Research Wallcreeper Cover
The Wallcreeper Cover from Outdoor Research is a product that offers weather protection and easily adapts to offer multiple shelter and active-coverage configurations
Weighing in at just 4.4 oz. it features GORE military fabric, taped seams and water-resistant zippers.
Better than the traditional snap closure with Military Parkas, the Wallcreeper Cover converts from jacket/poncho to full bivy and even to a mini-shelter/tarp.
Beyond Clothing FR Cotton
Beyond Clothing had an impressive video at the SHOT Show simulating the flash fire from an IED on their WTX FR Cotton Coverall.
Their FR Cotton offers the comfort of cotton, but with fire resistant properties.
Mystery Ranch King Cab Pack
Innovative packs are nothing new for Mystery Ranch, but the King Cab really stood out to us as an easy way to expand existing NICE Frame packs, particularly for medics.
Essentially the King Cab is an intermediary, connecting a NICE Frame and any NICE Pack.
The adjustable mid section allows extra weight, like ammo cans, to be carried where it will be evenly distributed to the hips and not interfere with your center of gravity.
Typically when a pack is loaded down the weight is on the hips no matter were it is in the pack, but your center of gravity can be thrown off. The King Cab design seems to have alleviated that problem.
Ops-Core Manta Strobe
The Ops-Core Manta Strobe features a vibrating alert to indicate IR illumination and can also be activated in white light mode.
It's very small in size, mounts to helmets with velcro, and runs on a single CR123 Battery.
Princeton Tec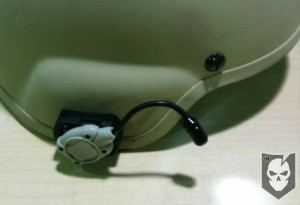 Princeton Tec brought their A-Game to the SHOT show with some impressive lights for the tactical market.
In particular, the MPLS caught our eye due to its low signature, multiple mounting options and fail safe switching system.
Look for more from Princeton Tec on ITS Tactical soon.
Modern Arms MPSS
Here's a brief video overview we shot of the Modern Arms MPSS (Multi-Purpose Selector Switch)during SHOT
Gerber Knife Retention System
Gerber Knives had a noteworthy new retention system on their L.H.R. Tactical Knife (Matt Larsen / William W. Harsey Jr. / Chris Reeve)
Surefire M720V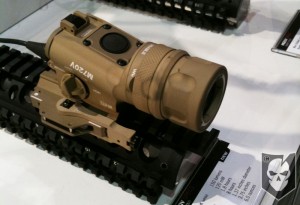 The Surefire M720V variable output LED Weaponlight offers a dual-spectrum TIR white/IR LED assembly.
It generates either 150 lumens of white light or, with a twist of the selector ring, 120 milliwatts of IR light.
There's also a light head available in the same technology to adapt to existing lights.
Safariland Military Tactical Holster
The Safariland MTH is an innovation which we feel has enormous potential for a holster.
First, you don't have to buy a new holster for every weapon light upgrade you make.
Second, if you don't run your weapon light, you can adjust the amount of play in the holster. The inherent problem with traditional molded holsters is that if you decide not to run your weapon light you have to deal with unwanted play in the holster.
An adjustable holster such as the MTH seems to solve that problem from what we could tell, but without extensive hands-on experience it's hard to tell from the limited interaction we had with it.
Hopefully Safariland will start producing the holsters for other handguns other than the Beretta M9, and come up with a better name for the technology.
Special Mention: Tactical Chucks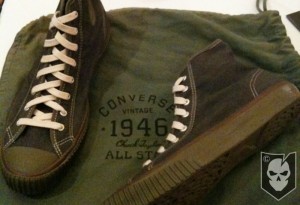 We didn't find out much about these Converse shoes other than they're coming soon. We'll keep you posted on any new developments on the Tactical Chuck front.
We made some great contacts here at the show, and finally got to put faces with names. Thank you to everyone for your support, we hope that you enjoyed the coverage!
Don't forget to check out our Flickr photos from SHOT Show 2010!