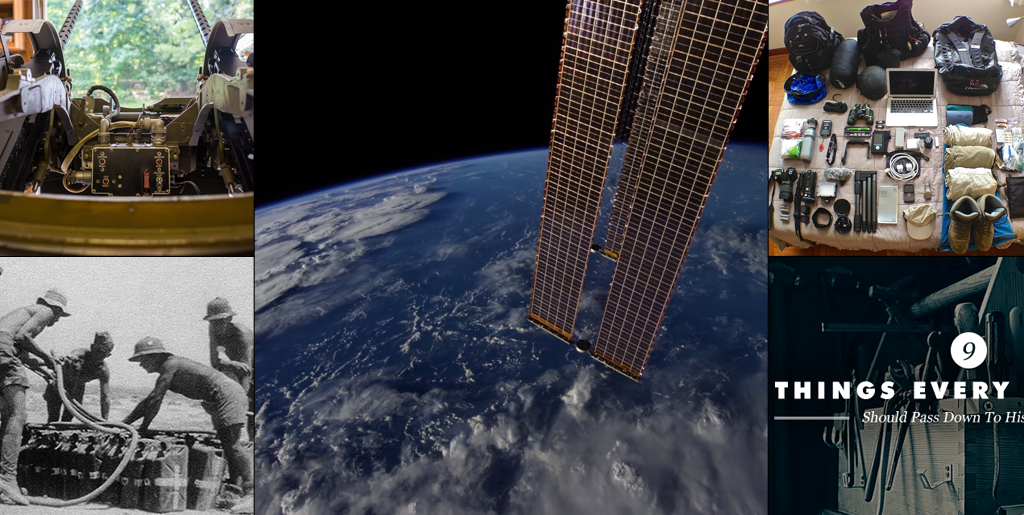 The Squawk Box Broadcast aims to highlight a few of the stories that have caught our attention recently. It's also a way to broaden your horizons and explore new ideas.
The World Outside My Window >> David Peterson
Sometimes a little perspective is required. This incredible time lapse takes you all around the world (and over) in an awe inspiring trip aboard the International Space Station. A little tip to fully experience this video, put it in HD, turn up the volume and turn down the lights.
World War II Airplane Turret Restoration >> Tested
While other guys his age may restore old cars, Fred Bieser restores something completely different, WWII turrets. After the war, many aircraft were scrapped, especially their turrets. It's simply impressive to see someone take scraps of rusty metal and transform them into fully functional (yet non-firing) turrets.
Carry History :: The WWII Jerrycan >> Carryology
Carryology goes back in time to explore the creation of what we call, the "Jerrycan," developed in 1930's Germany. The Allied Forces had their own way of transporting fuel but it wasn't nearly half as good what the Germans came up with.
Proto-warblogger Kevin Sites returns to Afghanistan. Here's the reporting gear he's packing. >> Boing Boing
Want to see what a seasoned reporter takes with him when he goes downrange? "I pack and repack dozens of times, sometimes adding things, but since I have to carry and manage it all, mostly trying to subtract weight–opting for only the absolute essentials."
9 Things Every Father Should Pass Down To His Son >> Cool Material
While we advocate passing down life skills and sharing useful knowledge learned, a few physical tokens can go a long way. Breaking in a pocket knife and adding unique patina to a watch will mean a lot after a lifetime of use. Invest in quality.
Like these posts? Stay up to date by following the Squawk Box daily.