Will Magpul be Forced to Move with the Colorado Magazine Ban Passing 34-31?
Will Magpul be Forced to Move with the Colorado Magazine Ban Passing 34-31?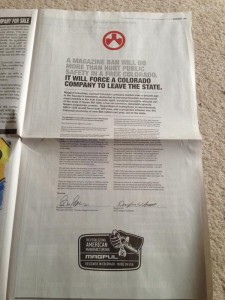 Colorado House Bill 1224, a  measure that bans the possession, sale, or transfer of magazines over 10 round capacity,  passed today with a 34-31 vote. With that, Magpul Industries is now one step closer to being forced to relocate. Magpul had taken out an ad in the Sunday Denver Post saying that "A Magazine Ban will do more than hurt public safety in a free Colorado. It will force a Colorado company to leave the state."
"Magpul Industries, a proud Colorado company started over a decade ago in the founder's basement, dedicated to personal freedom and personal responsibility in the true Colorado spirit, would be forced to relocate out of the state if House Bill 1224, a ban on common, standard capacity firearm magazines, passes. Regardless of exemptions or amendments, HB13-1224 would force over 600 jobs and a protected infusion into the Colorado economy of over $85 million per year, out of the state"
Only three Democrats voted against HB13-1224, which is important, as the bill now heads to a Democratically controlled Senate with a 20-15 majority before appearing on Democratic Governor John Hickenlooper's desk. There are three others that are still on the block for the Colorado House. HB13-1229 requires background checks on all firearm transactions, HB13-226 is on concealed carry permits on campuses and HB13-228 is a fee for gun buyers to cover the cost of background checks.
Richard Fitzpatrick, Founder, President, and CEO of Magpul Industries, said that regardless of any amendments that may be worked into the bill, he will no longer be able to continue to do business in Colorado if his core product is made illegal.
"Our company could not, in good conscience, continue to manufacture our products in a state where law-abiding citizens are prohibited from purchasing and owning them. " Fitzpatrick said. "The passage of this bill will do nothing to enhance public safety, but will force us to immediately begin taking our business to another state."
Magpul had recently asked residents to contact their state legislators and members of the Judiciary Committee and urge them to kill the measures on the floor, but they're obviously past that point. Magpul is still urging everyone to contact Gov. Hickenlooper and the direct link to do so is here: http://www.colorado.gov/govhdir/requests/opinion-leg.html
No one wants to see Magpul have to uproot their business out of Colorado, but the reality of that happening seems to be coming true. We wish Magpul the best with their continued battle and hope for a good resolution. Please do what you can to help support their fight against the Colorado Legislature.
Update: HB13-1229 passed on a 36-29 vote with one Democrat voting against it.