Protect Your Mail from Identity Theft
Protect Your Mail from Identity Theft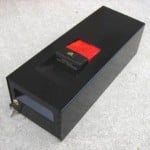 An interesting news segment rolled across the local news here today on a simple device that can be installed to make it difficult for thieves to steal your mail. Not impossible, but difficult.
The product had no contact  information for the man that produces these devices, but here's a link to a similar product called a  Locking Mailbox Insert
.
This Locking Mailbox Insert appears to be more advanced than the product on the news. Rather than being just a locking steel door, it's a self contained 16 gauge steel box proving increased tamper resistance
A smart thief can bypass most security devices if they truly want to. These devices simply makes them opening your mailbox and taking your mail not as likely.
The video linked below states that the product designer's mother had her checks stolen by a thief that was watching the mailman with binoculars. The thief saw the mailman put the checks into the designer's mother's mailbox and easily grabbed them.
We all get many important letters, movies, packages and yes… even bills in our mailboxes. Why not spend a bit of money on security and protect sticky fingers from swiping your mail.