Securing Your Digital Life: Simple Tips for Your Devices in Public
Securing Your Digital Life
Securing Your Digital Life: Simple Tips for Your Devices in Public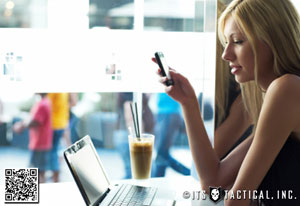 In today's society, our devices are constantly connecting to one another through multiple formats. These devices contain a multitude of different methods to ensure that we're able to connect whenever and wherever we are.
Most smart phones contain connection abilities for X, EV and 3G/4G Cellular Networks, WiFi, Bluetooth and GPS. A simple device like a cell phone can have the ability to connect using all these six different methods!
These public connections are great for sharing and receiving information on the go, but unfortunately this means our devices are open to even more threats than ever before.   For example, your cell phone may be connecting to different devices and networks in public without your knowledge. It's very important to understand how to secure your devices against unwanted intrusion in order to keep your information safe while in public.
Wi-Fi
Wi-Fi is one of the most popular connections that devices use and public Wi-Fi is becoming more and more popular. Wherever we happen to be, we usually have access to a Wi-Fi network. Identity thieves and malicious users favor public Wi-Fi networks because the security on these networks is usually next to nothing. These users can access files and other information that your computer is sharing without your knowledge.
A good step you can take to secure your device on a public network is to ensure you have an up to date firewall installed that will monitor your connection. Users may want to consider upgrading to a different firewall program other than the default offered by the manufacturer.
Changing your sharing permissions is an important way to keep your information secure. Many computers share information by default in order to allow sharing of files on a home network. We recommend disabling all file and folder sharing when you're in public to avoid any unwanted access to your device.
Bluetooth
Bluetooth devices have the ability to exchange data over short distances from fixed and mobile devices, creating personal area networks (PANs.) Bluetooth is great for quickly sharing a file between two devices or printing a document wirelessly, it can also be used to pair accessories to your devices such as earpieces or external speakers.
Having Bluetooth active can become a security risk if your device doesn't have the correct settings. Many devices have Bluetooth enabled by default and some are even enabled to allow other devices to connect. Malicious users can access your device through the Bluetooth connection and copy files or gain access to another device attached to your Bluetooth device.
The good news is that most phones have the capability to turn Bluetooth on and off fairly easily. Bluetooth isn't necessary for any functions other than pairing another device to yours, so you will not be limiting the functions of your device.
Location Services
Many smartphones and other devices utilize GPS and radio technology to allow programs and apps to run things like navigation and location check-ins. However, many of these services are running all the time and not just when you're accessing that program or app.
Most smartphones give you the option to disable location services and many of them can be turned on and off with ease for times when you want to utilize features like navigation. Check out Data Leaks: Location Based Services and Why You Should be Concerned, for more about the security risks that location based services can carry with them.
Staying Secure
Keeping your devices secure while utilizing public connections is relatively simple as long as you keep track of the connections your device is using. Some companies offer physical devices that will disable the ability to connect if you need to absolutely make sure that your device stays disconnected.
The best method to ensure a device doesn't connect to anything is obviously to power down that device. However, there are situations when the device may need to be utilized immediately and you may not have time to wait for it to power up. With the right knowledge of how your devices operate and how to maintain its connections, you can keep your information safe and private when using it in public.