Fitbit Flex Review: Tracking Your Activity for a Comprehensive Fitness Picture
Fitbit Flex Review: Tracking Your Activity for a Comprehensive Fitness Picture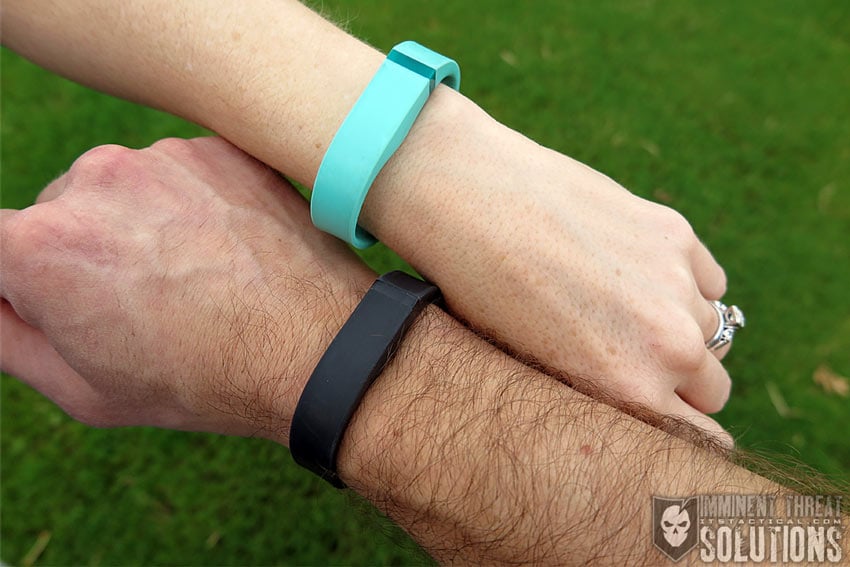 Kelly and I have each been wearing a Fitbit Flex for a few months and we've been really happy with not only the view it's given us of our overall fitness, but that it's also been like a silent coach, pushing us further.
While there's no auditory feedback of a coach yelling at you to do more, the Fitbit somehow manages to do that on its own through the results that it provides. You'll read more of what I'm getting at here as Kelly and I go through our individual thoughts on the Flex, but suffice to say, visual feedback is a powerful motivator.
Fitbit Flex Features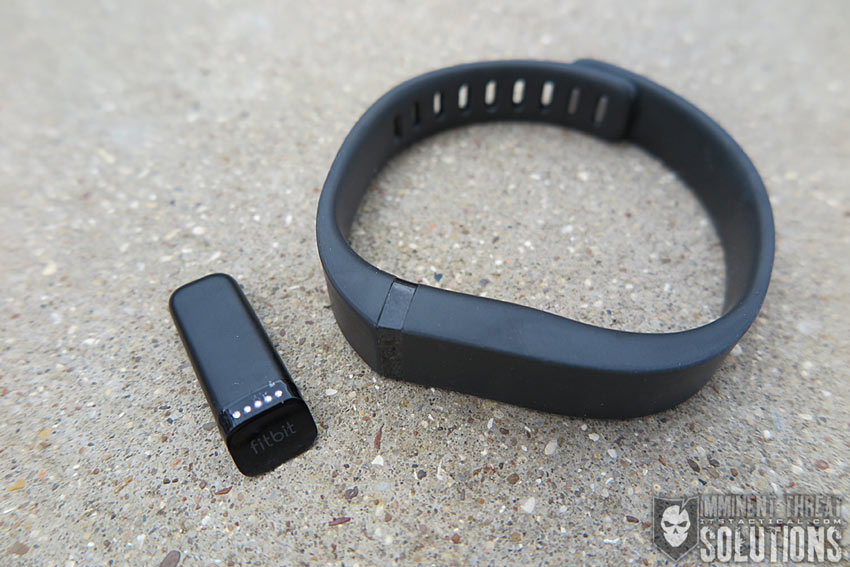 The Flex is a small device that almost looks like something that would get implanted during a spy movie to track someone's whereabouts. It produces a visual readout when double tapped and fits snugly into the included rubberized wristband.
The visual readout is a set of 5 small LED lights that each represent 20% of your personal goal (steps, calories or distance). At any time you can double tap the Flex to see how you're progressing towards your goal. When it's 100% met, the Flex vibrates to indicate the achievement.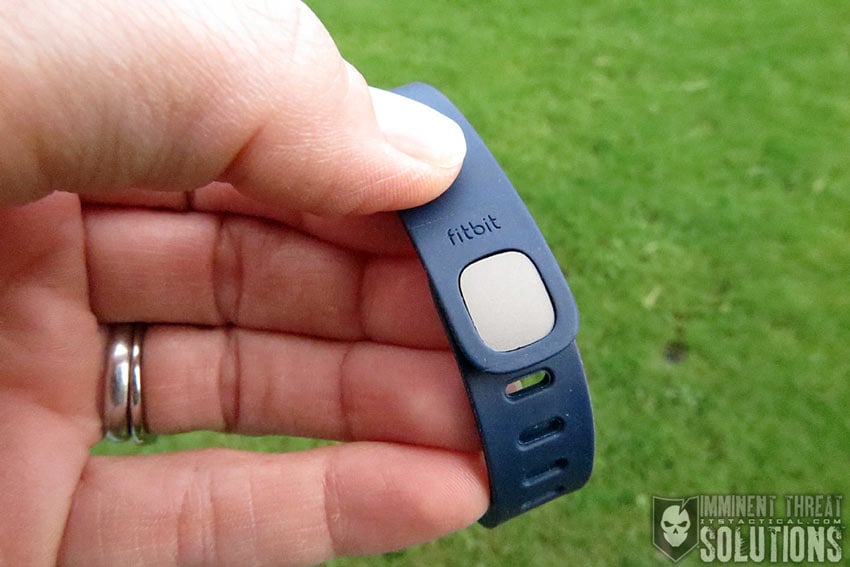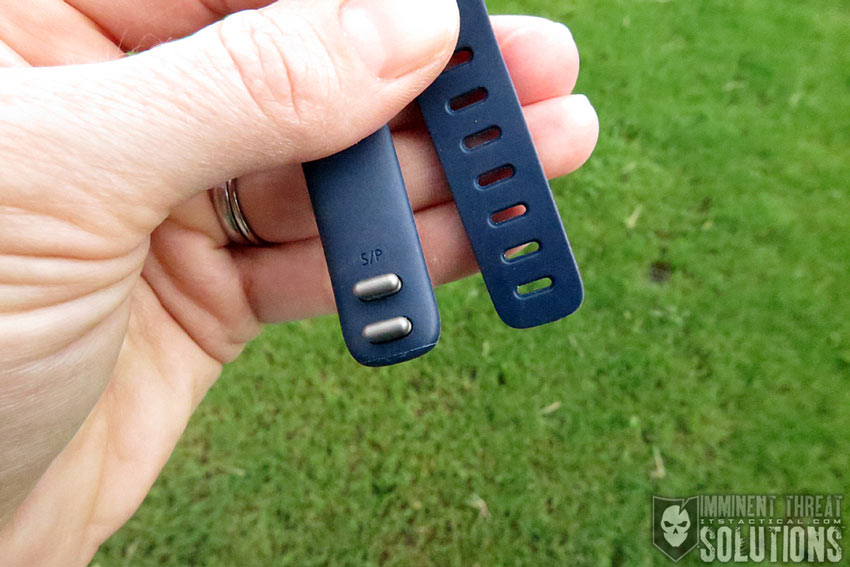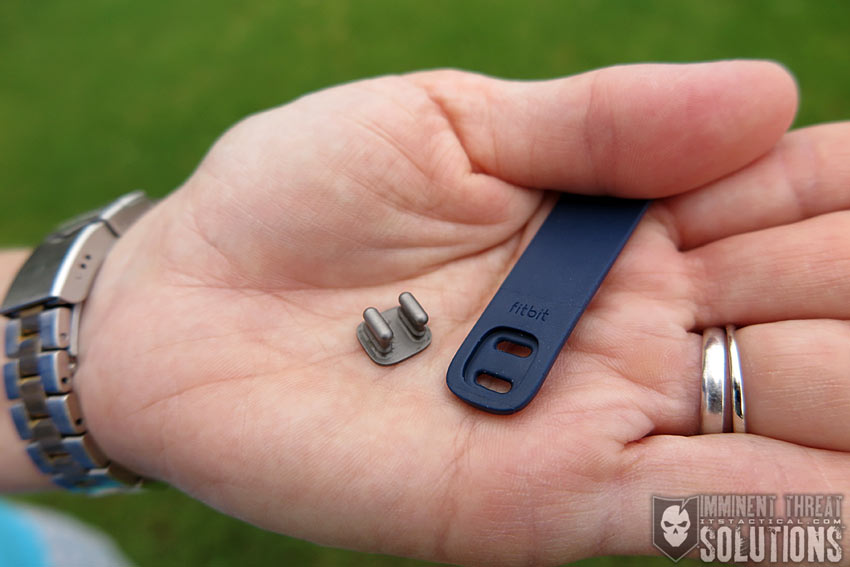 Within the wristband is an opaque plastic window that displays the readout. A metal clasp creates the closure on the wristband and allows it to be removed easily, but still holds snugly enough to prevent it from falling off during activity and daily movement.
The clasp can also be removed and transferred to a different wristband. Right now, Fitbit offers 10 different color options for the wristband. When you first purchase the Flex, you'll receive both a large and a small wristband, but just one clasp.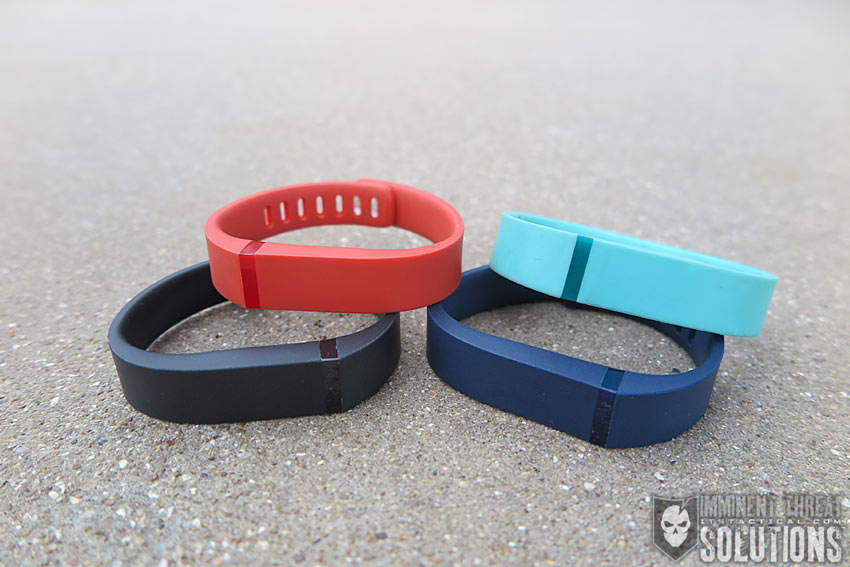 Kelly uses the small sized wristband and I use the large. By my measurements, the interior dimension of the small can adjust from 5 inches to 6.5 inches and the large from 6 inches to 8 inches.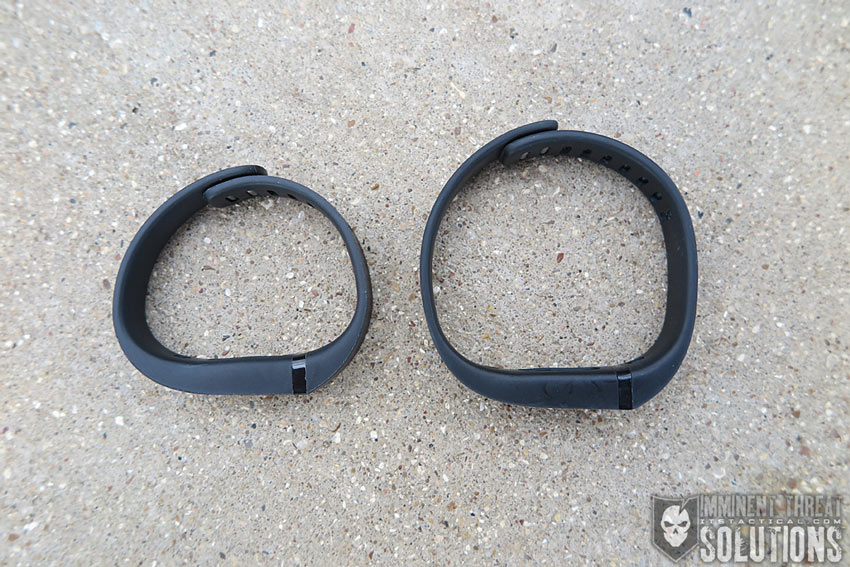 The charge on the Fitbit Flex lasts for around 5 days, before having to remove it from the bracelet and place it into a USB battery charging cable. While you can plug the charger into a computer, Kelly and I have found that it works well with our iPhone chargers; just unplug the iPhone USB cable and plug in the Fitbit charger. A few people I've talked to have mentioned theirs aren't holding a charge like they used to, but we haven't noticed a decrease in ours.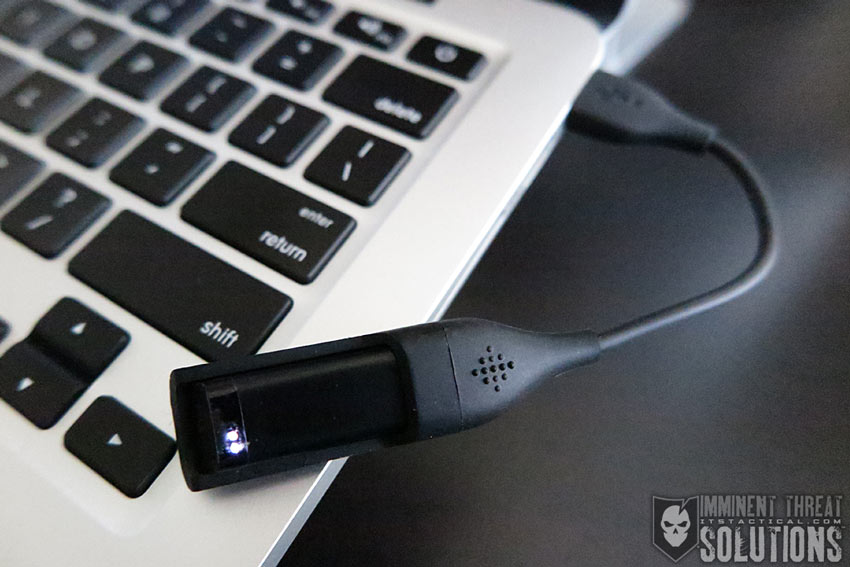 Fitbit Flex Functionality
The Fitbit's core functionality is a modernized pace counter, which is actually an accelerometer that does much more than track your steps, although many of these additional features require manual input. It can also track sleep, weight, distance traveled, calories burned, food eaten, water consumed, exercise performed and calories available to consume.
Unfortunately, we don't live in a world that's technologically advanced enough to allow Fitbit to automate all of these things yet. For instance, you'll need to "multi-tap" it to let it know you're going to sleep and then do the same when you wake up. Optionally you can use the app to to record when you're going to sleep, too. During the night, it will automatically log your restlessness and detects whether or not you've actually woken up during that sleep period too. Other manual processes are inputing your weight, food, water and exercise into either the smartphone app (iPhone or Android) or the online dashboard.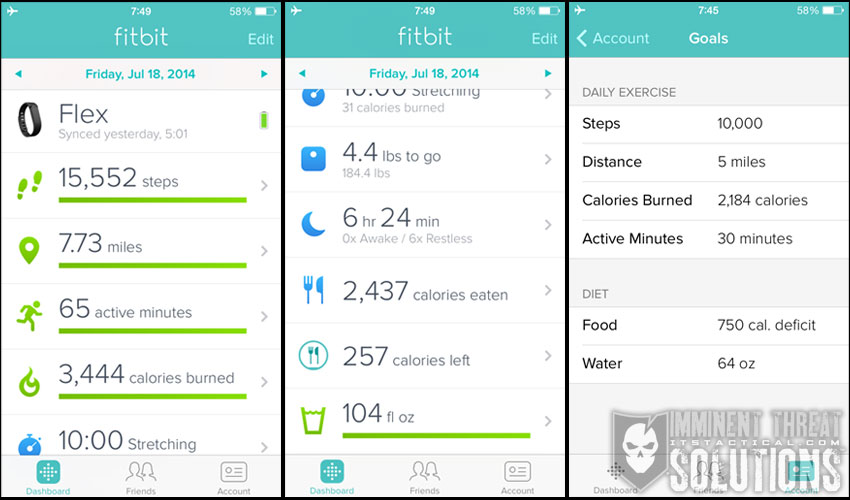 While there are things the Fitbit can't do automatically, when you start the process of manually logging specific data, Fitbit is smart enough to track and analyze it. It also learns which foods you eat regularly and exercises you do frequently, so it's easier to input them when you need to. What's great is that calculations like "calories burned" come from your personal profile, which is established when you register a Fitbit account. This contains things like age, height, weight and gender. None of these are mandatory, but they are necessary to properly track certain aspects of your overall fitness.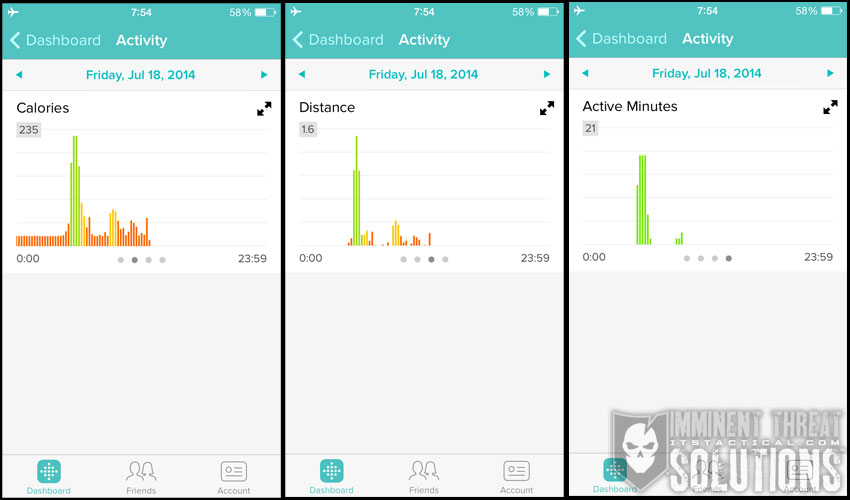 The power of the Fitbit comes from the reporting too, it's impressive to see the results of all the work you've done logging and tracking your life. The reports are colorful and provide graphs and charts showing your progress either on the app or via the Fitbit website. Though time consuming to input all the manual data needed to give you an accurate overall picture, I'll admit to geeking out on how cool the results are.
Goals are another big feature of the Fitbit and as mentioned earlier, you can change what the visual indicator lights are progressing towards and even set goals for other things like water to drink, calories to eat, etc. There's even a silent alarm that can be set with the vibrate feature of the Flex. It can be used to wake you up in the morning if you're not a heavy sleeper and need an annoying alarm to wake up. No? That's just me I guess.
I've been trying out a few other features of the Fitbit as well, like exercise tracking via GPS. This allows you to "start" a run, walk or hike via GPS tracking and automatically log the results. There are voice cues that can be enabled as well, but I'm really not into needing vocal motivation during exercise.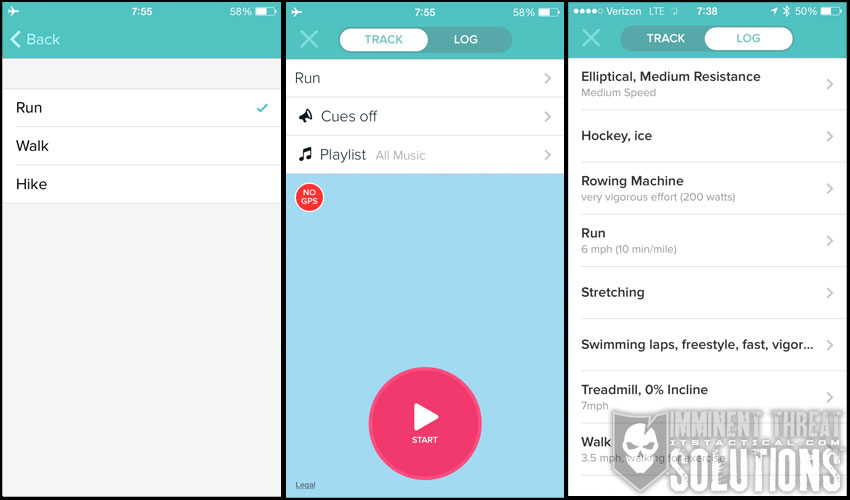 Another feature I've been using is the weight loss goal and what's neat about this feature is that it ties in a few other areas of focus for Fitbit. Let's say you want to lose 5 lbs., which is what I experimented with as a goal. Based on my personal profile, continual daily logging of food eaten and ensuring my exercise is noted too, Fitbit will provide a "real-time" calculation of calories left that I can consume and theoretically hit my goal. This is based on a calorie deficit calculation determined by Fitbit. I don't necessarily feel this is a complete solution or calculation for weight loss, but it's been interesting to use.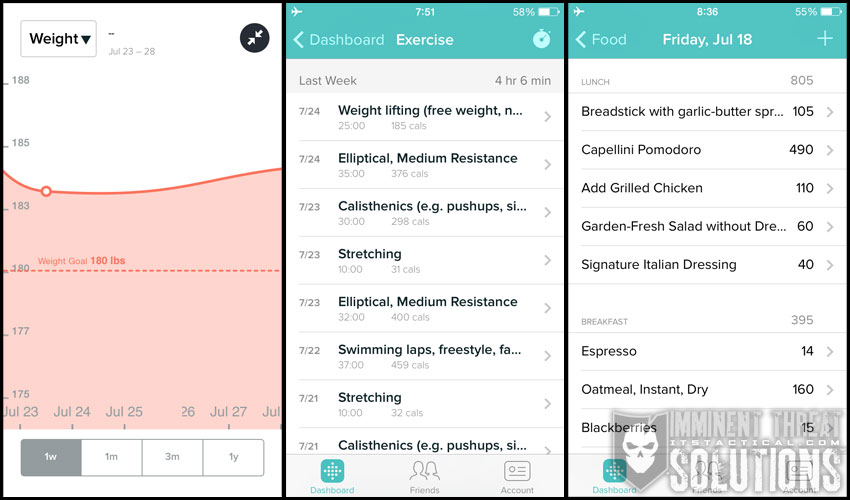 While neither Kelly or I have used the feature to connect with friends, it's available to kick in some extra motivation if you need it or just to provide some friendly competition.
The Fitbit syncs via Bluetooth on smartphones using the iPhone or Android app (free download) or Wirelessly using the included dongle that plugs into a USB port on your computer.
Kelly's Fitbit Flex Experience
Personal fitness is one of those topics that everyone has an opinion on. Most people are pretty particular about what they will and won't do to improve their fitness level, I know that's how I am. I'm a firm believer that if I eat healthy foods, stay away from sugary drinks and don't overeat, then half the battle is won.
That said, I understand why we have "healthy" ads, products, infomercials and fitness gurus for hire any which way we turn. Our society has evolved into a more sedentary way of life and we consume a lot more unhealthy, processed food than our grandparents did. Heart disease, cancer and other devastating diseases effect many people directly or indirectly and we've got to take preventative measures to stay healthy.
I've told myself for a long time that I'm "active" and "healthy" and that's good enough. Now that I'm getting older and reality is setting in, each day brings more evidence that that diet alone will not keep me moving fluidly. Just eating healthy, drinking water and taking the stairs when they're around, simply isn't enough to keep my body feeling strong and ready to move when I need it to. Like it or not I have to incorporate some type of regular physical activity if I want to feel my best and move without "hitches in my get-along," so to speak.
Waking Up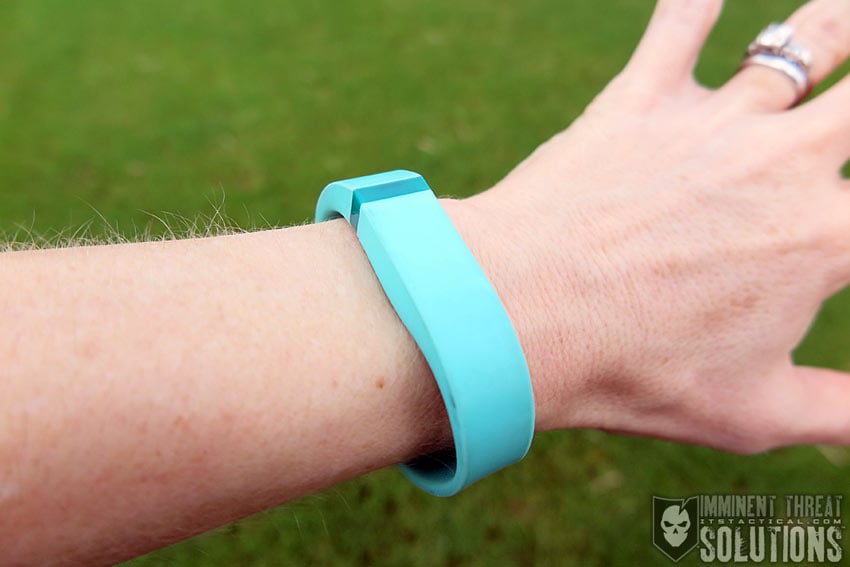 Over the last year I've heard several people talk about the Fitbit. I had it in my head that it was just a pedometer and I really wasn't interested in keeping up with the number of steps I take each day. Sure, there were specific times when I'd wondered how far I'd walked if I was out playing tourist or covering a lot of ground at a conference. For the most part, I wasn't interested in what I thought the Fitbit had to offer.
Recently we spent a weekend with friends and I noticed one of them was wearing a rubber bracelet that looked pretty cool. I don't remember who asked about the bracelet while we were sitting around, but we found out that it was the Fitbit Flex and that it synced to an iPhone and was used to track not only steps, but activity levels each day. The idea of wearing one began to intrigue me.
After a little research, I ordered a Fitbit Flex that next week from Amazon and set up my account as soon as it arrived. Amazingly, the next day when I put it on I felt an immediate need to begin tracking myself. There was an instantaneous urge to prove that I could walk 10,000 steps in no time and that I probably did it every day and didn't even notice. I was in for a rude awakening.
That first day I wore the Flex I walked our dog before work and later became acutely aware of how much I sit on my butt while I'm at work. I then felt quite disappointed when I checked my total number of steps and activity level at the end of the day. Even with my regular morning fast paced walk and moving what I thought was a decent amount throughout the rest of the day, I'd only managed to walk 5,418 steps or 2.17 miles and had just 23 "active" minutes. I knew exactly when I'd accrued those active minutes too, it was when I was walking the dog. The rest of the day had been consumed by sitting at my desk, walking to and from the car, driving to and from work, walking around the house doing chores or just relaxing at home.
The next few days weren't much different. I began to realize that 23 minutes of active movement (walking the dog) was better than nothing, but not exactly anything to be proud of. So, by the end of the week I was determined to work harder. By the fourth day I'd added more walking time in the evening and managed to log 40 minutes of active time and walked 7,174 steps or 2.91 miles. The fifth day I logged 61 active minutes and walked 13,502 steps or 5.37 miles.
After the first few weeks of wearing the Fitbit Flex, I settled in with just having it on and not thinking about my movements too much. I could see that my "active minutes" were consistently about 25 minutes each day, some days I'd rack up more time depending on my activities, but on average that's where I stayed. I kept finding myself thinking that I'm awake an average of 16 hours each day and that I'm capable of being more active during that time. Even though it took me a month or so to take more action, I finally mapped out a new route for my morning walks where I'm active for at least 30 minutes every morning. I still try to add to that as the day wears on with more fast-paced walking, yoga or going for a bike ride. I do have days that can be very sedentary, but I'm more aware when those days hit and try to compensate by doing something by the end of the day to make up for it.
"I Like to Move It, Move It"
I've found extra motivation to work harder when I check my progress through the Fitbit App on my iPhone. The Flex bracelet shares little rewards through vibrations and the program sends an email when you reach specific goals (if you want them sent), but I really don't pay attention to those. Both the app and the website have a dashboard to access daily progress and as Bryan noted, you can also log the food you've eaten, extra activities, blood pressure and glucose levels if you want to monitor more than just active minutes; it can be as versatile of a tool as you need it to be.
For me, the Fitbit Flex provides an easy way to check how active I am throughout the day or provide a visual nudge if I need to get my butt moving. It's good to know that there are lots of other features available to me if I want to track more, but even at this most basic level of functionality, I feel the Flex has really shown me that a big part of my lifestyle (having a desk job and commuting by car to and from work) really doesn't provide me with an active outlet for good health. Carving out small chunks of time each day for purposeful activity, along with healthy eating habits, will carry me much farther down the road than by diet alone. Wearing the Fitbit Flex gives me proof of when I'm moving with a purpose or helps me see when I need to be.
Bryan's Fitbit Flex Experience
I certainly wasn't sold on a Fitbit when Kelly first told me about hers and didn't think I could benefit from wearing something around on my wrist to track my movement. After all, I have a stubborn reputation to uphold and got myself in shape and ready for BUD/s back in the day without any fancy devices.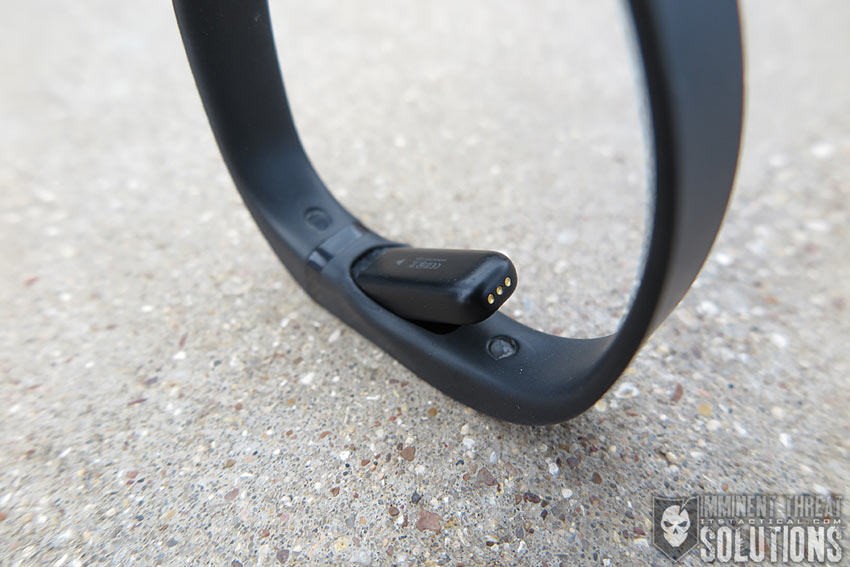 Times have changed and I'm not in total BUD/s shape anymore, nor do I really want to be. What I do want to have is a good baseline of fitness and be able to physically save my own life and the lives of those around me if the need arises. I'm certainly not going to get that by eating anything I want and sitting around all day.
I've always tried to watch what I eat and maintain my fitness level, but I'll admit that within the last year it's been even harder. I don't know if it's because I'm 35 now or if I'm just sitting here at the keyboard making excuses. Either way, my point of all this is that the Fitbit has given me an extra kick in the pants to eat even better and workout even more.
As I wrote the other day, motivation comes from within and the mind controls the body, the Fitbit is just a device that lets you see how all that motivation is working out. That and providing you with a customizable goal to meet each day.
It wasn't until I actually got online to see what all the hype was about, that I found out about everything the Fitbit could do. While I'd talked to Kelly about hers when she first got it, she admitted it could do much more than she was using it for. When I saw the ability to track food and calories burned with in-depth reporting, I decided to give it a shot. After owning one for awhile, I'm still finding out about new features I didn't previously know about.
I've always been interested in tracking my food consumption, because I know consumption and exercise are the magic ingredients to weight. I don't feel like everyone quite gets the whole input vs. output equation surrounding weight. To lose weight, it's as easy as reducing input and increasing output. Burning more calories than you're consuming. Sure there's other things to consider, like the quality of calories you're consuming and the quality of exercise, but honestly there's not much more to it than that.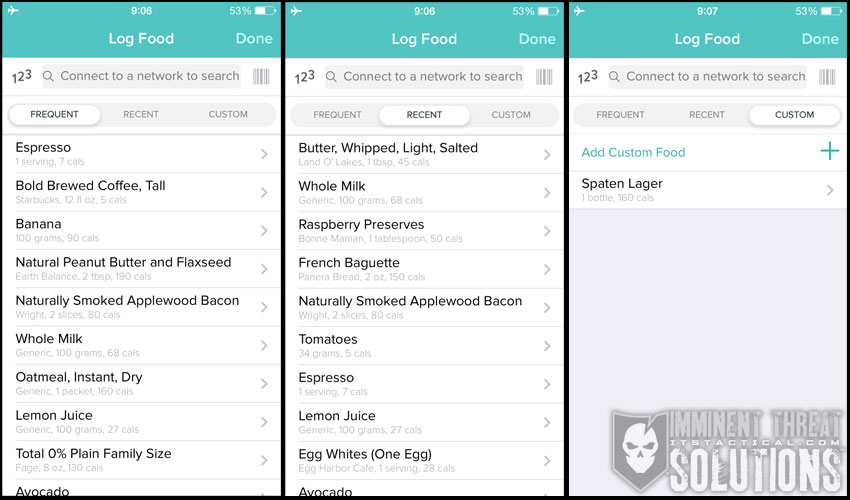 It would be great if there was some kind of magical tooth implant that could register the food you consumed and give you a break down of the calories you're consuming, but until technology catches up, all we're left with is more technologically advanced ways of manually tracking it.
I'd attempted to use an Online resource called Fitday.com many years ago to try and track my food, but gave up after all the work it took to input everything on a daily basis. It may be better now, but I've really found Fitbit to be a much easier way to track it, namely because everything is right there in one app. I'm already going there to log other things and check progress, so it makes it a bit easier to deal with the constant logging.
I've tried a food journal before, but I find I don't do a good job keeping up with that either. Let's face it, keeping track of what you eat is insanely hard. You'd have to eat the same thing day after day for it to be easy and who wants to do that. Then there's going out to eat at a restaurant, even with how good food databases are these days, like the one Fitbit uses, it still takes someone manually making the initial entry and doing the hard work of finding out the calories in a particular restaurant's dish.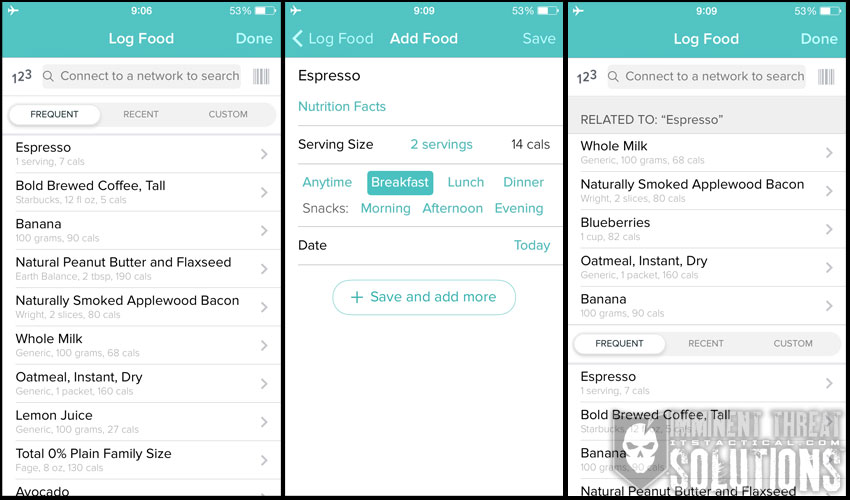 What's nice about the Fitbit interface for this is that after awhile of logging food, it starts to learn to group certain foods together and additionally provides a frequent and recent entry category. For example, I've been making an unmasculine european coffee at home recently. It has two shots of espresso and frothed milk. On my entry to input this, I go to my frequent section, click espresso (which already has the quantity of 2 shots saved from previous entries) and then click "save and add more." This brings up a "related to" option that displays the milk I need to log too. It also has other items I frequently eat for breakfast, making those easier to log too.
What all this means is that it's actually made it easier and more enjoyable to track what I eat. It's still a pain though and I'd be lying if I said it wasn't. There's also that whole "going out to eat" thing and wondering how I'll input the specifics after I get back home. I'd love to say we eat at home all the time, which we do quite often, but we do enjoy getting out too.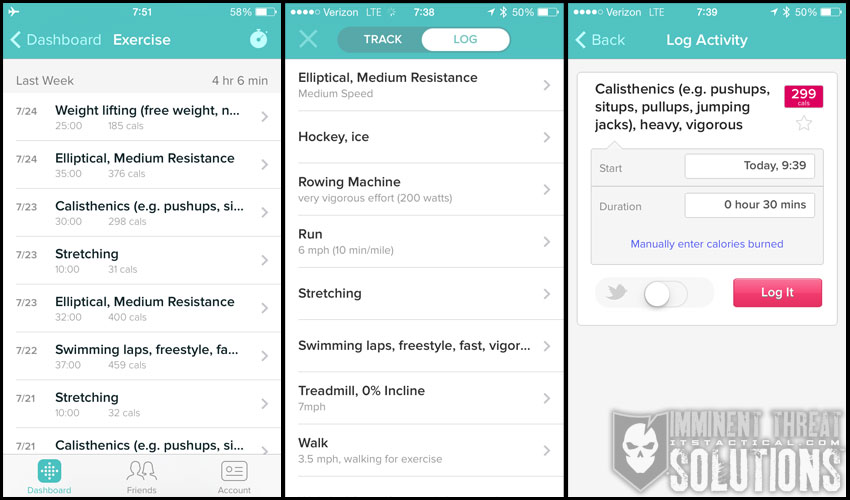 Exercise has been interesting to track and relatively easy with Fitbit. I'm not sure how accurate the options they have are when it comes to grouping PT (calisthenics) all together as a specific number of calories burned. Despite the instructions on the Flex stating not to swim with it, I have been. I'm swimming around 30-45 minutes a few times a week and I haven't noticed any issues with synching, charging, etc. The automatic log of active minutes never seems to be correct after swimming, but when I manually log the swim time, it adjusts accordingly.
Wrap-Up
Time will tell if devices like the Fitbit are a fad, or here to stay. I do feel like the last few years have seen the biggest advancements in fitness devices since tracking runs with GPS came around. I was an early adopter to that game and remember wearing a box bigger than the 1st generation iPod on my upper arm to track my runs. Needless to say, I'm glad that's not necessary anymore.
The Fitbit Flex represents an interesting change in the era of fitness we're living in. With all the devices on the market, you now have quite a bit of data available at your disposal to truly gauge fitness and performance. The Fitbit Flex is one of the most full-featured and easy to use devices I've come across thus far. With many more companies releasing trackable fitness devices and existing companies pushing technology further, I'm looking forward to seeing what the next few years hold.