Filter Water Easily with the Lightweight and Simple Sawyer Squeeze
Filter Water Easily with the Lightweight and Simple Sawyer Squeeze
A couple of years ago, I started looking for a water filter to use while hiking in the backcountry of Colorado. Before that time, I hadn't been on any trips that required me to filter or purify drinking water, so this was all very new to me.
Today, I want to share with you a piece of gear I've really enjoyed having on camping trips and feel confident recommending to you. To be blunt, the Sawyer Squeeze is a lightweight water filter that's extremely easy to use and weighs just ounces in your pack or even your pocket.
The only other filters I've seen in use have been pump versions and while a lot of them have proven to be reliable and seem to work well, I was searching for something simple and inexpensive. That's when I found the Squeeze.
Sawyer claims that their Squeeze Filter is the lightest and most versatile filtration system on the market. In the time I've gotten to use it, I feel that's an accurate description.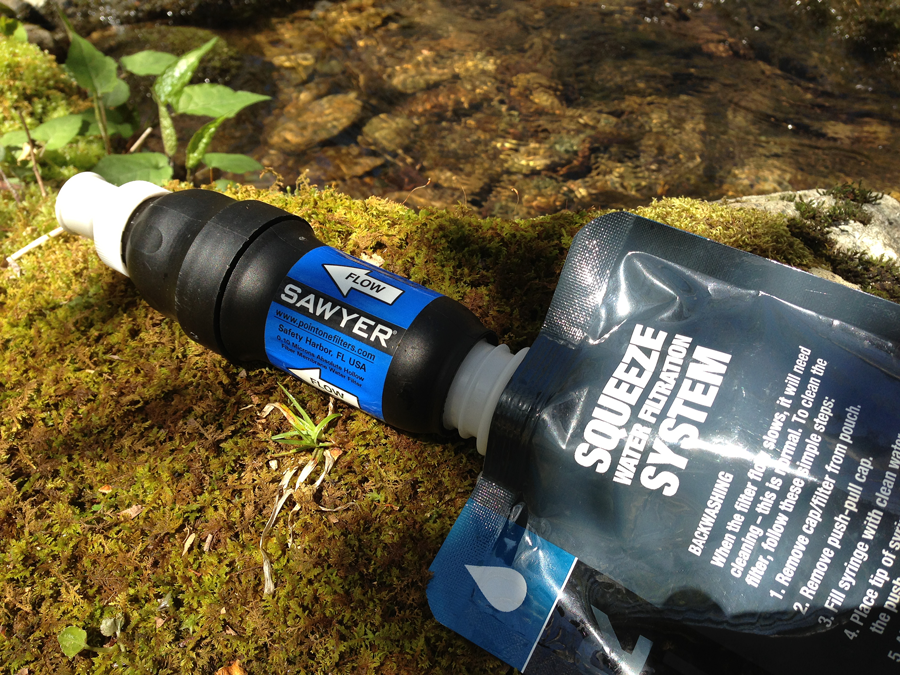 Specifications
The spec sheet on the Squeeze Filter is quite impressive. In addition to filtering out just about anything that will make you sick, it boasts a filter life of one million gallons.
"All Sawyer filters deliver 0.1 absolute micron biological filtration, removing 7 log (99.99999%) of all bacteria like Salmonella, E. coli, Vibrio cholerae and Salmonella typhi (which cause Cholera and Typhoid); and 6 log (99.9999%) of all protozoa such as Giardia and Cryptosporidium."
This particular model does not treat for viruses and if that's something you need, you should check out the Sawyer Point Zero Two Viral Water Purifier. It's a gravity system and works differently than the Squeeze but it seems to be the first portable filtration device to remove viruses mechanically.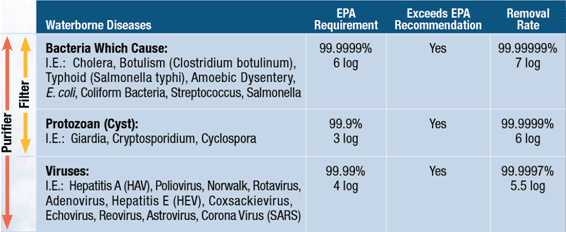 Chart © Sawyer Squeeze
For more information on the technology used and official testing, visit the Sawyer Filter Technology page.
What's Included
(3) Lightweight Durable Collapsible Pouches (0.5 L , 1 L, and 2 L pouch)
(1) Replaceable Pop Up Drinking Spout
(1) Sawyer 0.1 Absolute Micron Hollow Fiber Membrane Screw On/Off Water Filter
(1) Cleaning Syringe
Cleaning and Maintenance Instructions
How to Use
Fill the included pouch (or bottle) with water you want to filter.

Screw the filter onto your pouch (or bottle).
Squeeze water through the filter.
That's it!
If you ever feel the filter getting bogged down, it may be in need of a backwash. They include a syringe to do this but I've never had any issues personally.
Versatility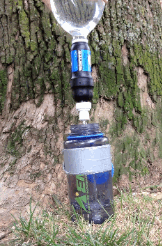 As mentioned, the Squeeze Filter works not only with the included pouches but with most plastic water and soda bottles as well. This is a great feature for those concerned about the water quality while on a trip, or if you lose the pouches that came with the kit.
I like to carry the 1 L bag wrapped around the filter and secured with a rubberband. It hardly takes up any space and weighs in at just over 4 ounces. Since I usually have a 3 L bladder and sometimes a Nalgene bottle, I can leave the Sawyer Squeeze bag empty until I need it.
The size of the filter and empty bags is so small that it can also fit into a cargo pocket. Throwing it in my backpack is never a question because it doesn't take up any real space or weight for the benefit it provides.
Real World Use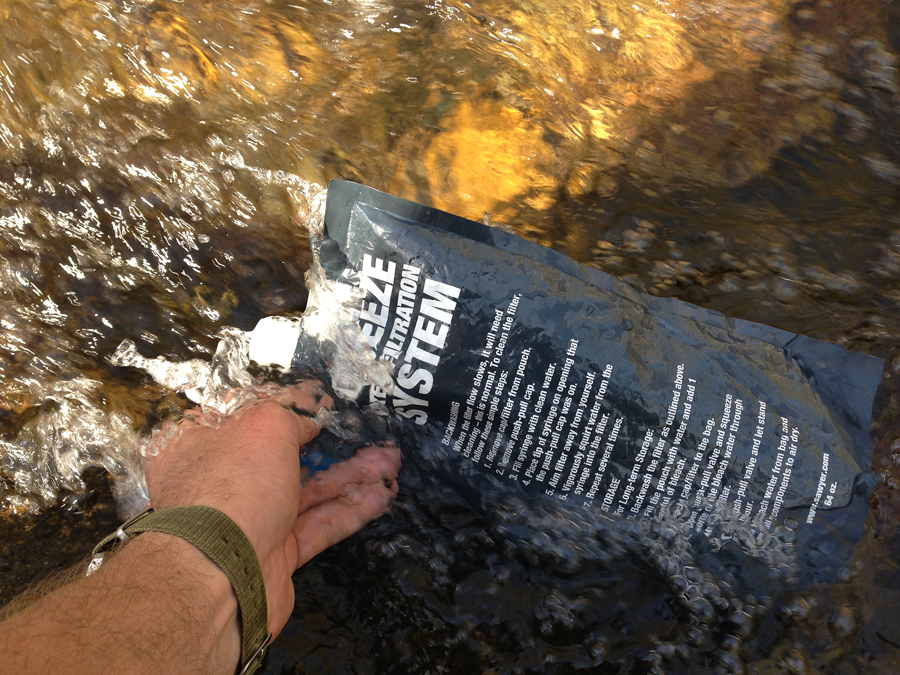 Filling up the bag is the most difficult part to using this kit. You really need some fast moving water such as a mini-waterfall, but if things are slow you'll find yourself getting creative with how you fill up the bag (or bottle) with water.
The actual operation of using the filter is easy but you have to be careful. I popped a hole in mine at the seam near the top because I was squeezing water out into a Nalgene bottle and forgotten to open the cap of the filter. Obviously a lot of pressure with nowhere to go will indeed find a way out. A little piece of duct tape worked as a solid field expedient patch and has held up since. It also appears that Sawyer has made new bags which are tougher and more durable but I haven't had an issue with mine otherwise.
While it does flow fairly well, it's not extremely fast and requires a good bit of squeezing to get water out. This isn't a problem for just one person but if you are filling up multiple bottles of other people in your hiking trip, it may get a little exhausting.
To give you an idea on how fast you can filter water, I squeezed [insanely] hard and filled up a one liter Liberty Bottle to the brim in 1 minute and 16 seconds. It was tiring and not really necessary to go that fast but it's possible.
Why I Like It
While I haven't tried dozens of different filter systems, I really don't think that I need to. The beauty of the Sawyer Squeeze is it's simplicity. It's also incredibly lightweight and works on a good number of devices (bags and pouches). When you compare it to other filter systems, it's also quite inexpensive.
I highly recommend the Sawyer Squeeze Filter System to anyone looking for a quality water filter that requires no setup or real know how and is looking to shave some weight from their kit.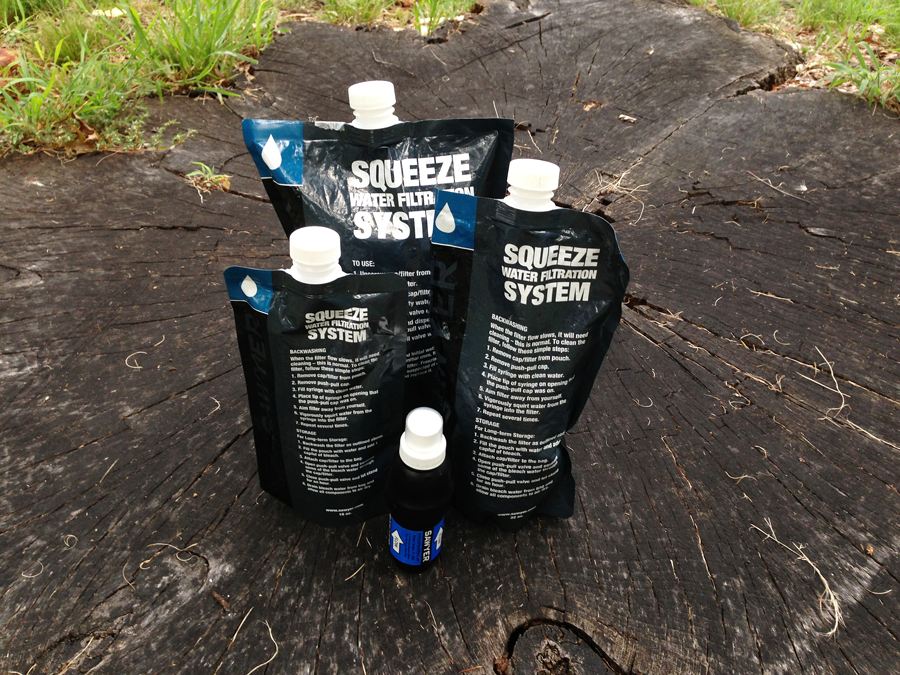 Where to Buy
You can purchase the Squeeze Filter System directly from Sawyer for $59.99 or a number of outdoor stores. Amazon currently has the kit as low as $37.81.