NEMO Obi 2P Tent Review: A Lightweight and Spacious Backpacking Tent Perfect for Couples
NEMO Obi 2P Tent Review: A Lightweight and Spacious Backpacking Tent Perfect for Couples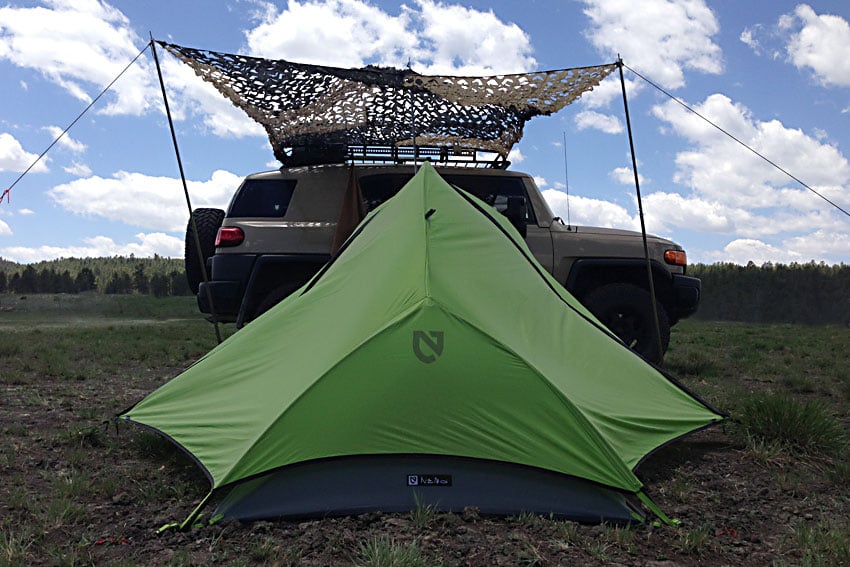 Lightweight and spacious? Does a tent that features both of these descriptors actually exist? It most certainly does and it's called the Obi 2P from NEMO. You have to love how much that sounds like a Star Wars character too.
I've been putting the NEMO Obi 2P through the ringer for the past year and today I'll be sharing my experience of using it while camping in quite a few places across the country.
Upfront Thoughts
Kelly and I had been looking for a backpacking tent that was not only lightweight enough for us to both carry (split up into pieces,) but also spacious enough to sleep both of us and still have the room to sit up and change clothes. As mentioned in my NEMO Gogo LE Review a few years back, I'd been trying to talk Kelly into getting the NEMO Obi 2P and we wound up having the opportunity to put one through its paces, thanks to NEMO.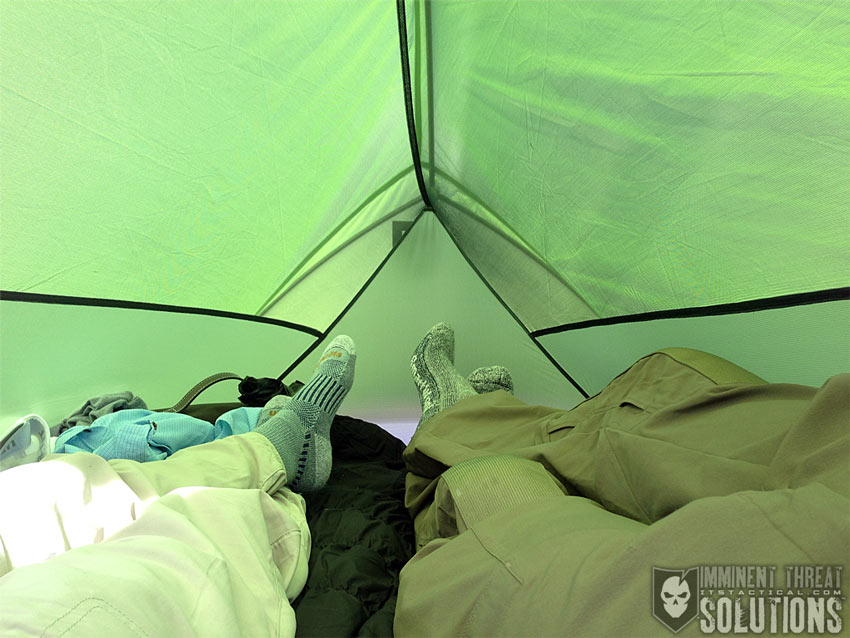 I'll first say that your mileage may vary when it comes to what you consider comfortable in terms of space. There are certainly limitations of space in the tradeoff for decreased weight and bulk, so just be aware of that if you're looking into the NEMO Obi 2P for yourself. I'll be talking more about overall size compared to Kelly and I too, later on.
Weight and Measurements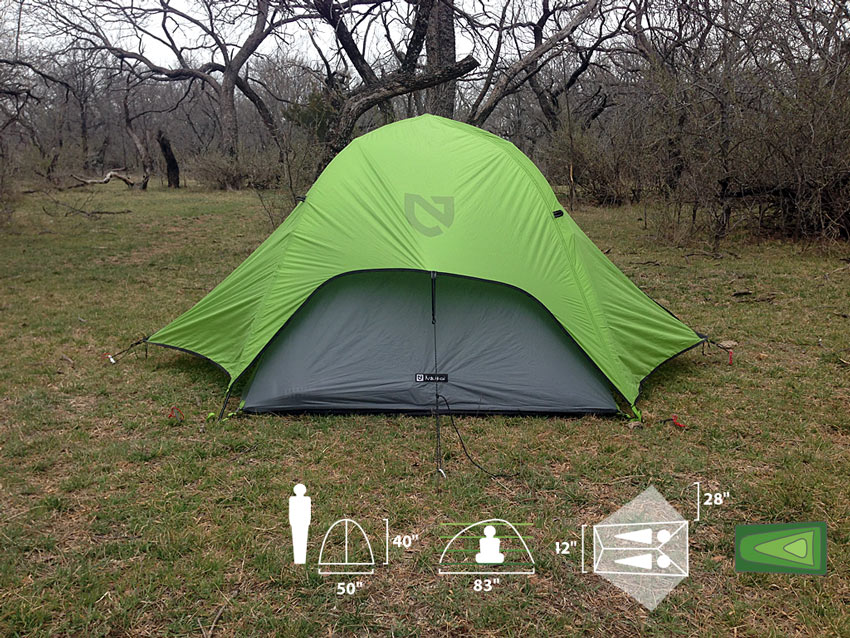 For a 4 lb. 2-Person Backpacking Tent that compresses to the size of a small pillow (8″ Long x 8″ Wide x 5″ Deep), I feel the Obi 2P is an exceptional option. The weight I provided includes the footprint (ground sheet) and poles, but the pole bag measures 20″ Long x 2″ Wide x 1″ Deep on its own.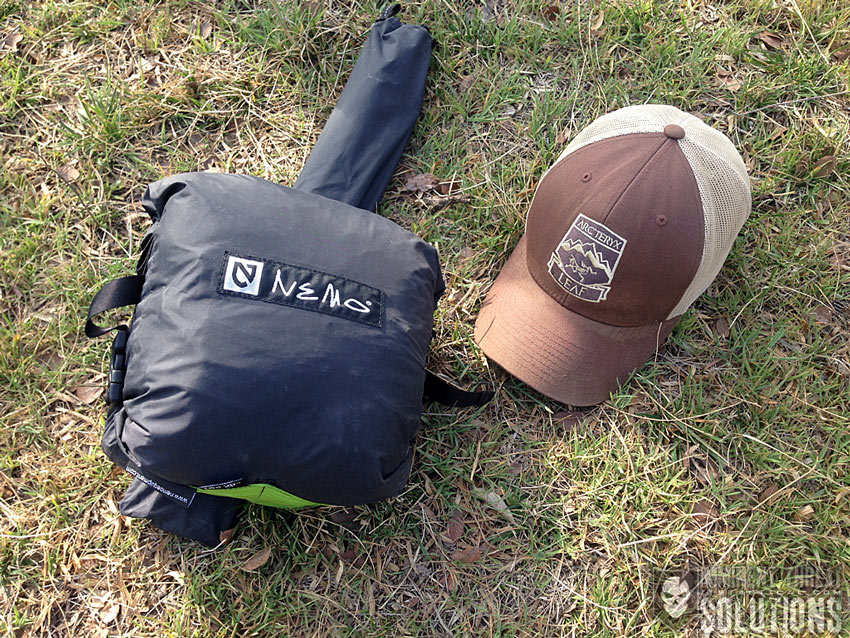 What's nice about the provided storage bags that come with the Obi 2P, is that they nicely split up the poles and tent so that each person can carry their fair share. The tent storage bag features a dry-bag style closure that helps keep the elements out. In the aforementioned configuration, the person with the tent body would be carrying 2 lbs. 6 oz. and the person with the poles, footprint (optional) and stakes would be at a weight of 1 lb. 10 oz. Not too bad at all!
The separate tent pole bag actually docks with the tent storage bag through an elastic loop on the rear of the tent bag. Additionally, it has a snap that gives it some positive retention.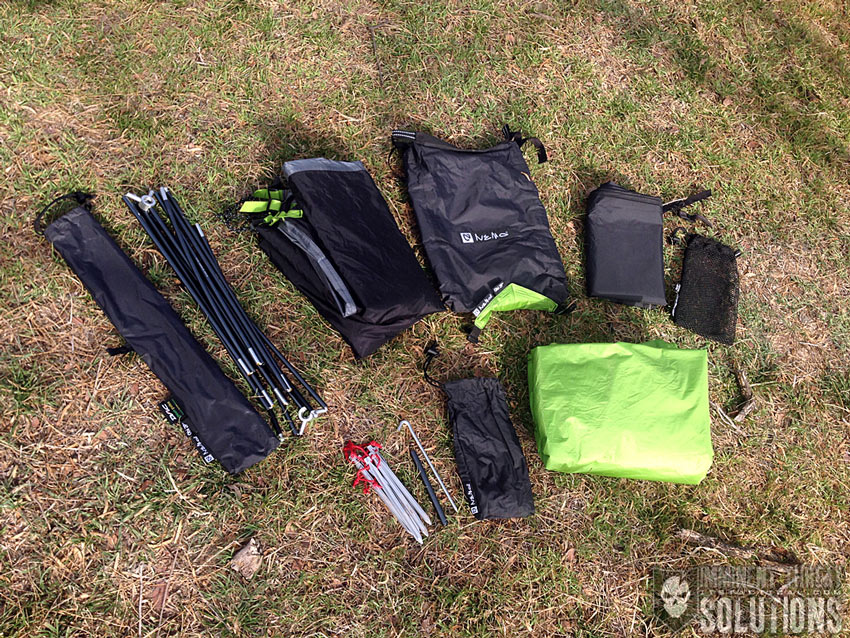 For the true Ultra-Lightweight Backpackers, there's plenty of ways to further trim weight with the Obi 2P. Just to illustrate a few options, the stuff sacks could be ditched and you could replace the stakes with smaller titanium stakes. NEMO states that just carrying the bare essentials to make a waterproof shelter would bring the weight to 3 lbs. even (tent body, poles and fly.) Taking just the fly, poles and footprint to make a lightweight tarp structure, would net you 2 lbs. 4 oz. in weight.
Capacity: 2P
Minimum Weight: 3 lbs, 0 oz / 1.4 kg
On the Fly Weight: 2 lbs, 4 oz / 1.0 kg
Trail Weight: 3 lbs, 10 oz / 1.6 kg
Floor Dimensions: 83 x 50 in / 211 x 127 cm
Floor Area: 27 sq ft / 2.5 sq m
Vestibule Area: 18 sq ft / 1.7 sq m
Interior Height: 40 in / 102 cm
Number of Doors: 2
Frame Description: 1 DAC 8.5 mm Featherlite® NSL
Packed Size: 7.5 x 6 in / 19 x 15 cm (17 in / 43 cm Pole Bag)
Vestibule Fabric: 20D PU Nylon Ripstop
Fly Fabric: 20D PU Nylon Ripstop
Canopy Fabric: No-see-um Mesh / 20D PU Nylon
Floor Fabric: 30D PU Nylon Ripstop
Color: Birch Leaf Green
Details and Setup
The first thing I'd like to mention about the overall Obi 2P system is the frame that makes it all possible. NEMO integrated a couple of innovations into the Obi 2P from a company called DAC, which provide the ability for an effortless setup and takedown of the tent.
The first integration from DAC is the use of 8.5mm Featherlight NSL Tent Poles, which in the configuration of the Obi 2P integrate with two DAC Sunflower Hubs to provide a thin and lightweight frame setup. The frame nearly looks seamless when assembled and uses internal shock cord in the poles to aid in quick assembly.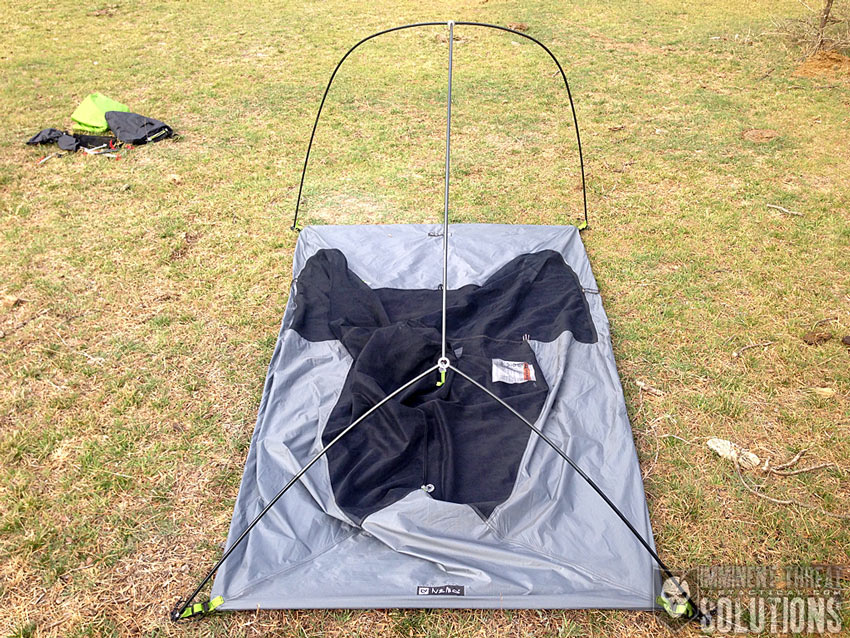 To attach each of the four ball-cap pole corners to the tent body, NEMO utilized the DAC "Jake's Foot" attachment system, which is essentially a ball and socket that creates a solid lock-up in each corner. This foot then gets staked out with the included cordage loop. Another awesome feature to the Jake's Foot is the integration it has with clips sewn into the optional footprint.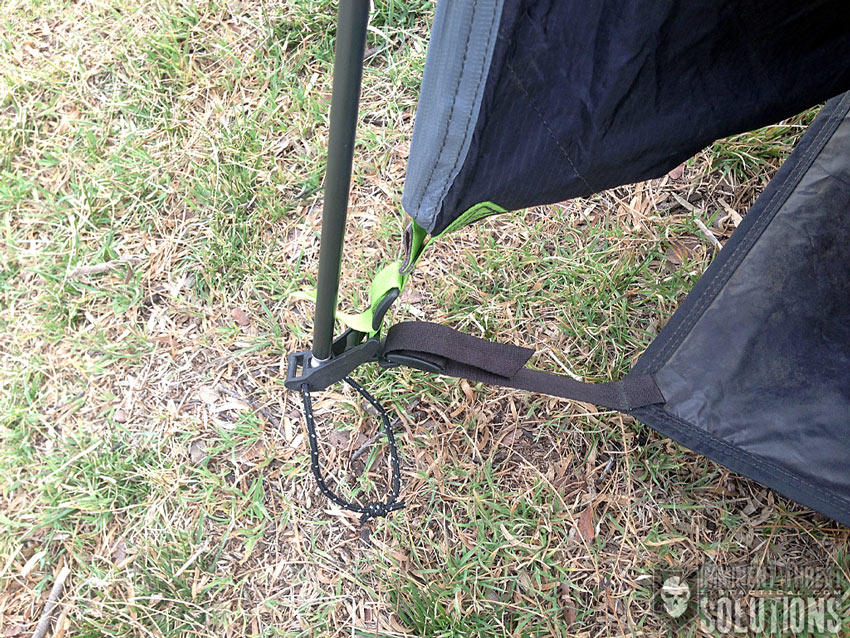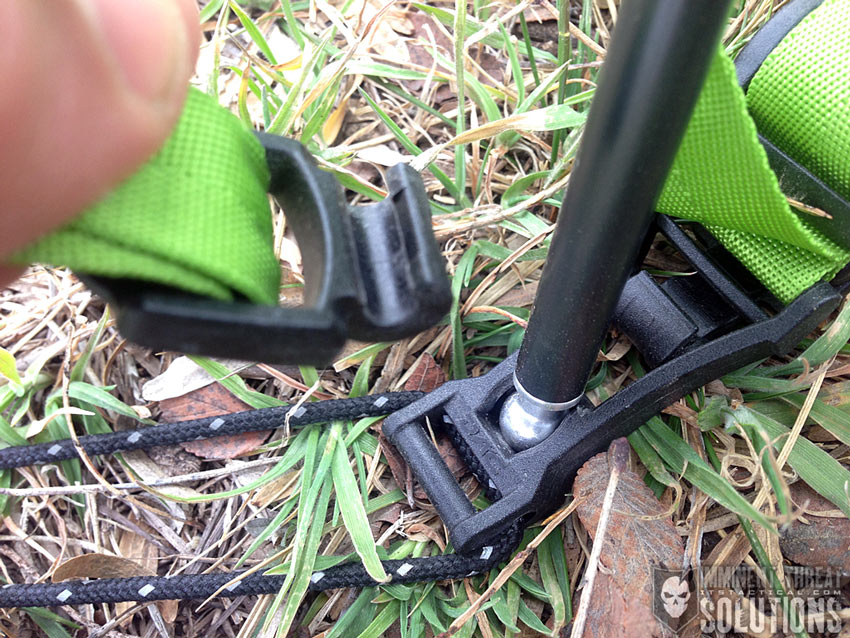 NEMO has made it super simple to not only attach a footprint, but to adjust each corner with a webbing strip. This gives you the ability to make the Obi 2P sized footprint taught if desired. To throw one more feature into the mix, the Jake's Foot also has a spot for each of the four corners of the tent fly to clip in and again features an adjustable webbing strip for making the fly taught. The Jake's Foot is a fantastically modular design that I can't speak highly enough of.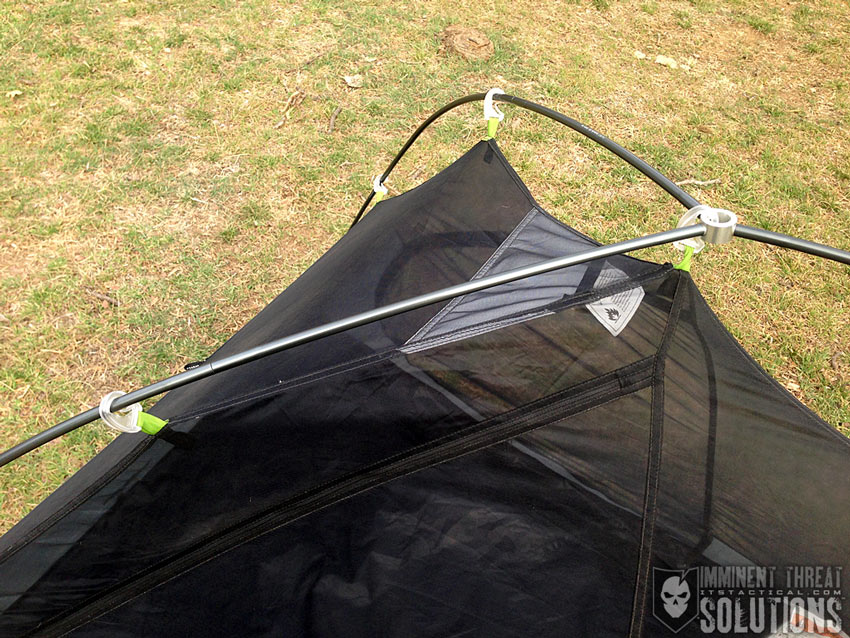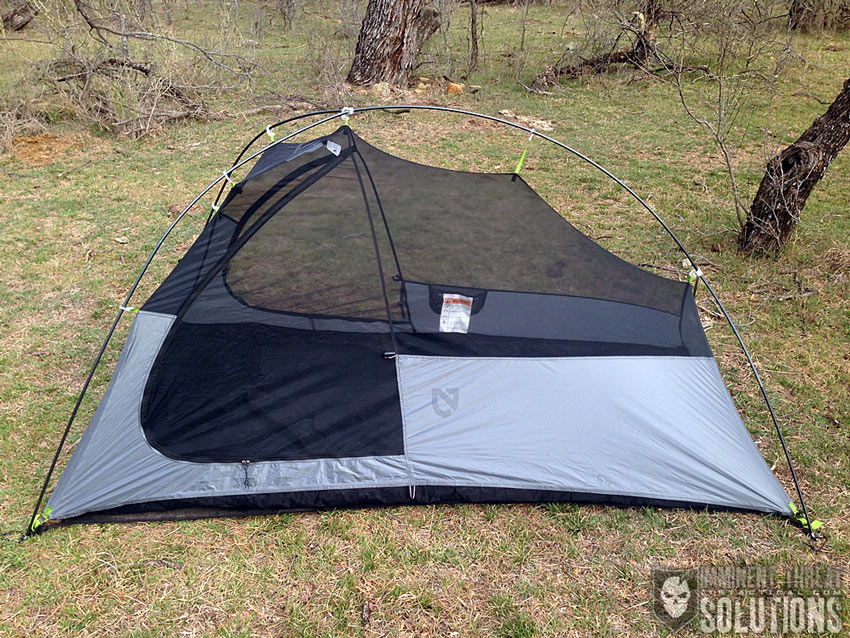 Before adding the fly though, you'll need to clip on a few Twist Clips, which are another DAC invention. These make it easy to attach and remove the sewn attachment points to the frame system with a simple snap in and twist-off.
Tent Fly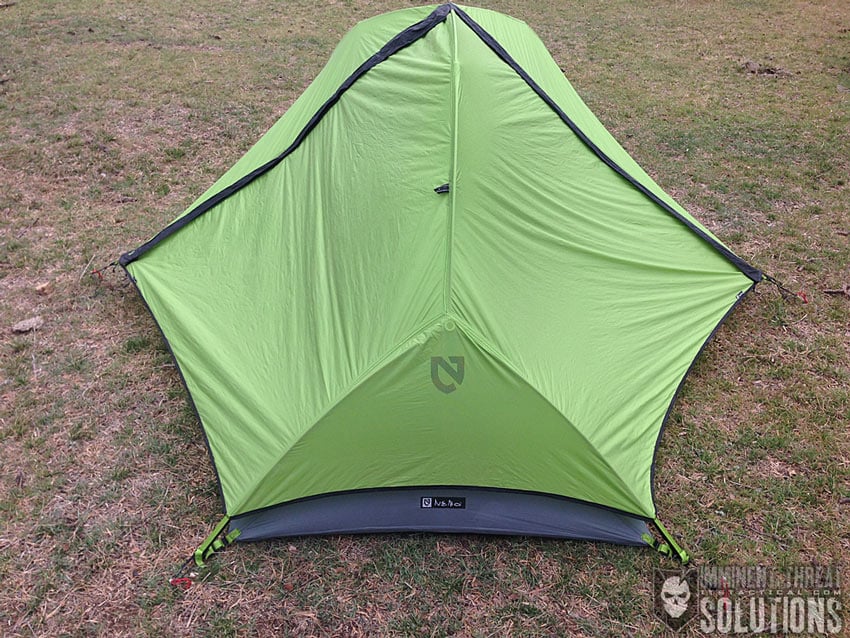 It can be a bit confusing at first to find the correct orientation of the tent fly, but after you associate the big logo with the front of the tent, it makes it easier on successive setups. The Obi 2P comes with six stakes, which are the minimal number of stakes needed to completely stake out the tent. This gives you four stakes for each of the corners and another stake for each vestibule.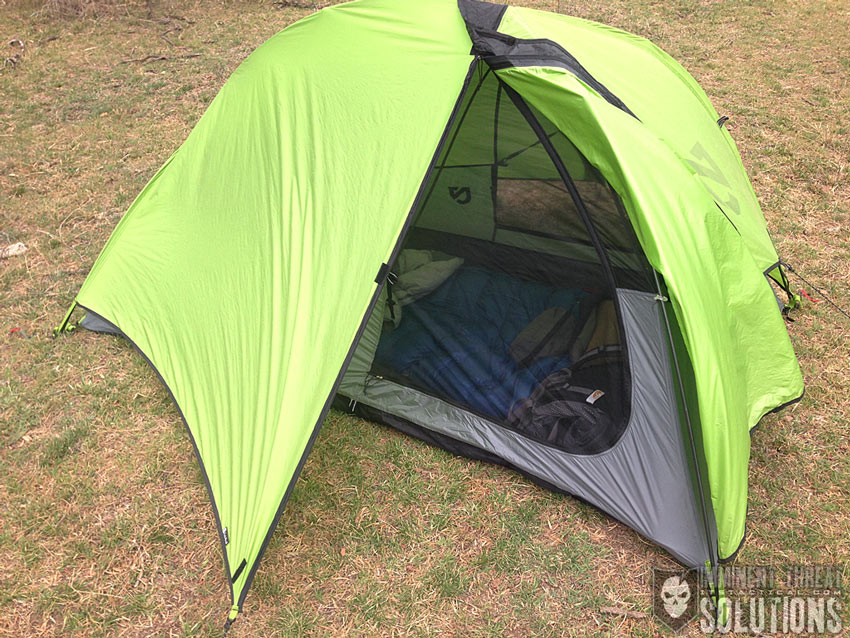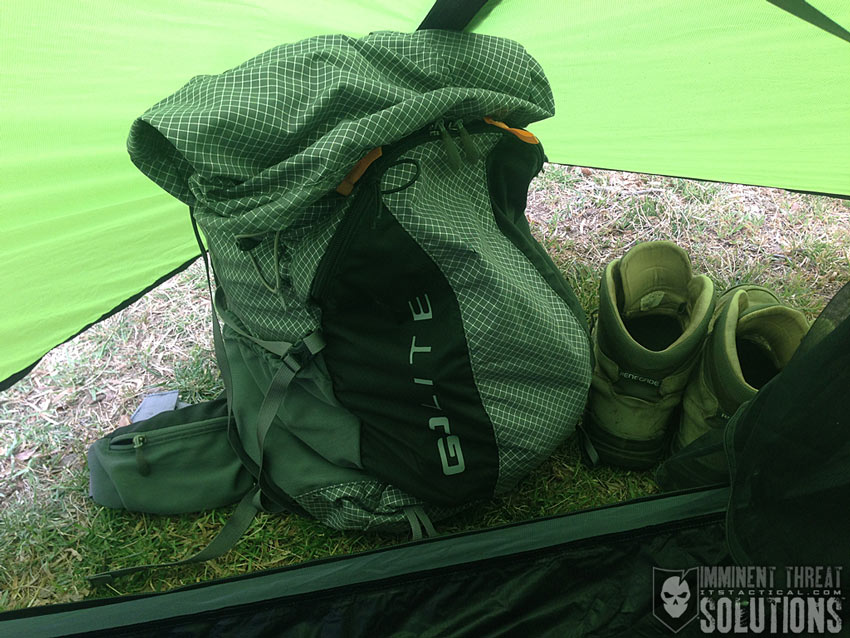 One of my favorite features is the two large vestibules that are created when adding the additional stake to each side. It provides plenty of room for a good sized pack and a pair of boots in each side vestibule. There's also separate side entrances/doors which are another nice feature.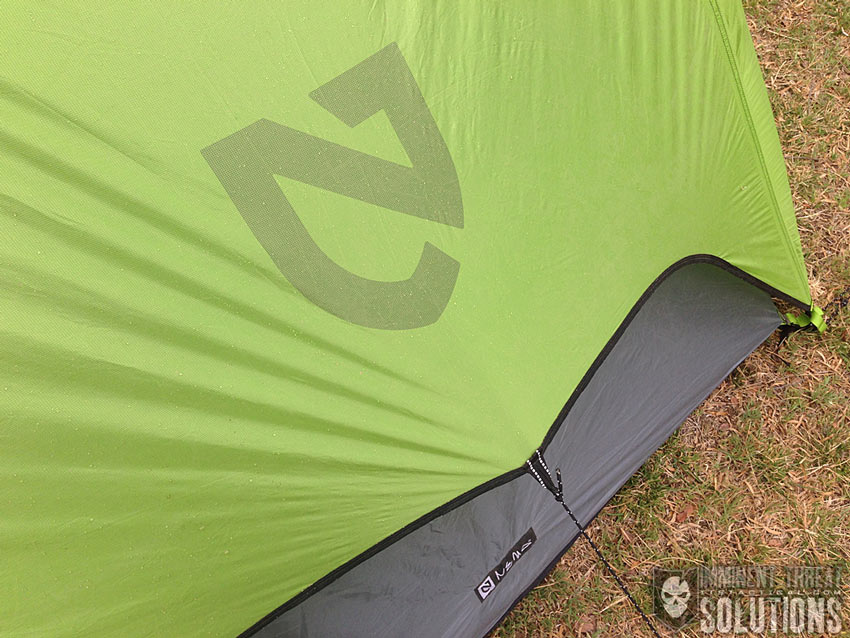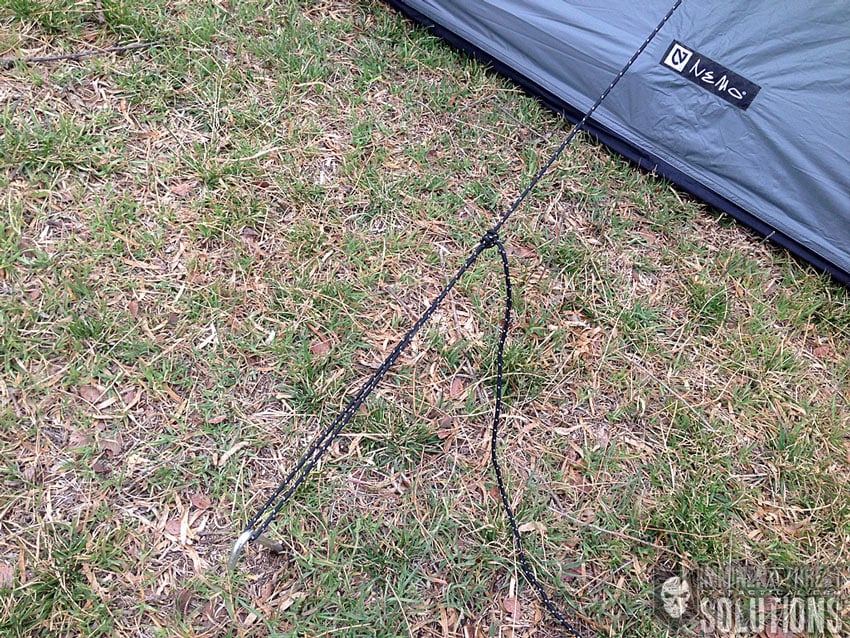 There's a total of four extra guy-out loops sewn on the fly of the Obi 2P and two extra guylines included. I've only found myself using one of these extra guylines and an extra stake (self-provided) to help the fly at the front of the tent. I feel adding this here helps out with airflow inside the tent as well. I utilized a Taut-Line Hitch to secure this guyline and it's actually what I recommend for all guylines.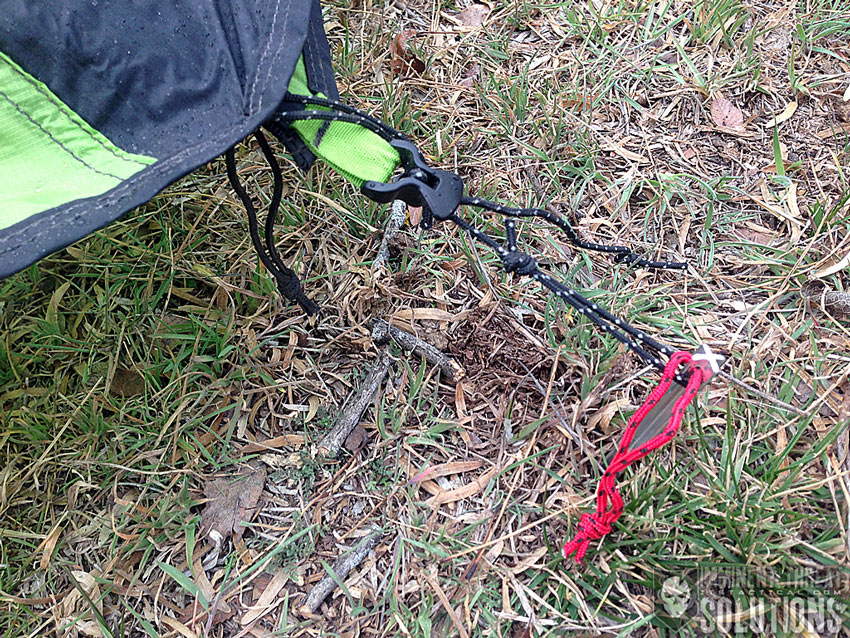 The taut-line hitch is the one knot I use more than any other I know, seconded by the Bowline. I'll get on a soap box here for a minute and say that there's no good substitute for a well tied taut-line hitch. All those devices on the market (there's tons of them) that attempt to "do it for you" are nonsense and unnecessary. I would have rather seen instructions included in the Obi 2P for tying a taut-line hitch instead of the provided adjusters on each vestibule stake-out point, but I digress.
Usage and Comfort
As mentioned Kelly and I have used this tent quite a bit and I've also been in some nasty weather with it. Our usage started at the 2013 Overland Expo near Flagstaff, AZ where we camped in some of the worst wind we'd ever experienced. The tent blocked the wind amazingly well, but the dust wound up coming through the No-See-Um Mesh and gave us a nice "coating" inside the tent. This was of course a worst case scenario with being in a windy and dusty location, but still something I wanted to mention.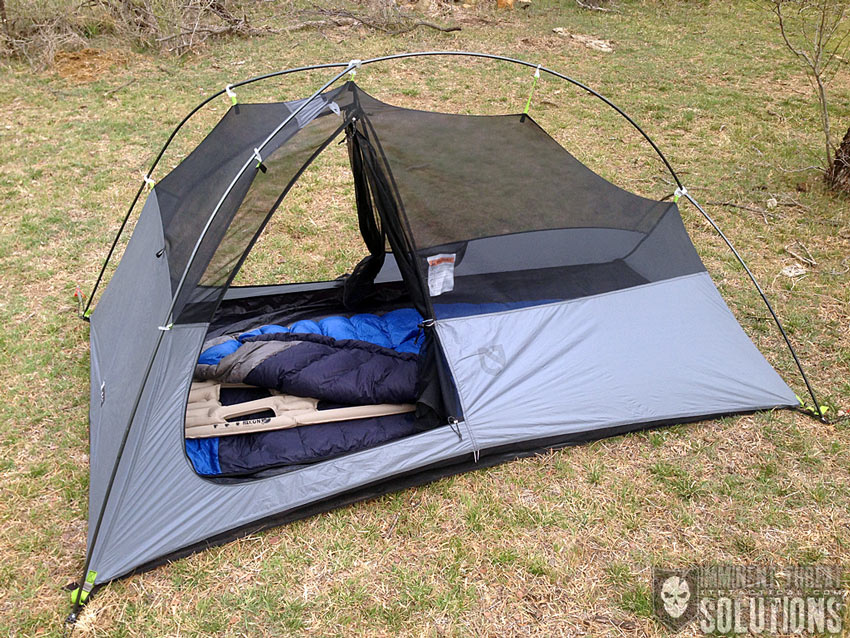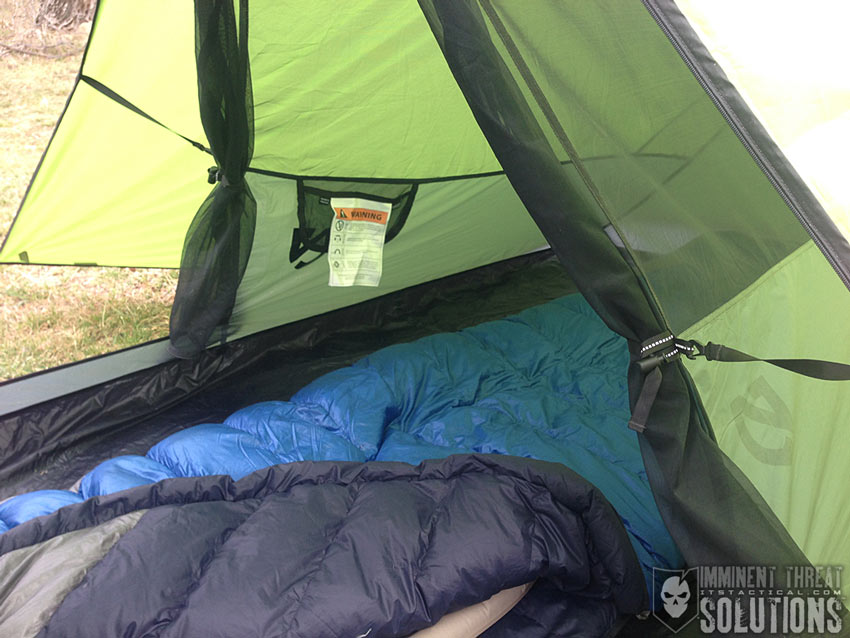 I've yet to have that happen again in any other location I've been with this tent, but I feel the open-air nature of the vestibules can be a double-edged sword. It can allow fine dust through in abnormal wind conditions, but I feel that design also takes the credit for helping the interior of the tent stay condensation free for the most part.
I also liked the subtle details on the interior of the Obi 2P, like the mesh interior pocket and the Light Pocket. There's also a loop on the ceiling to hang a headlamp or other light from.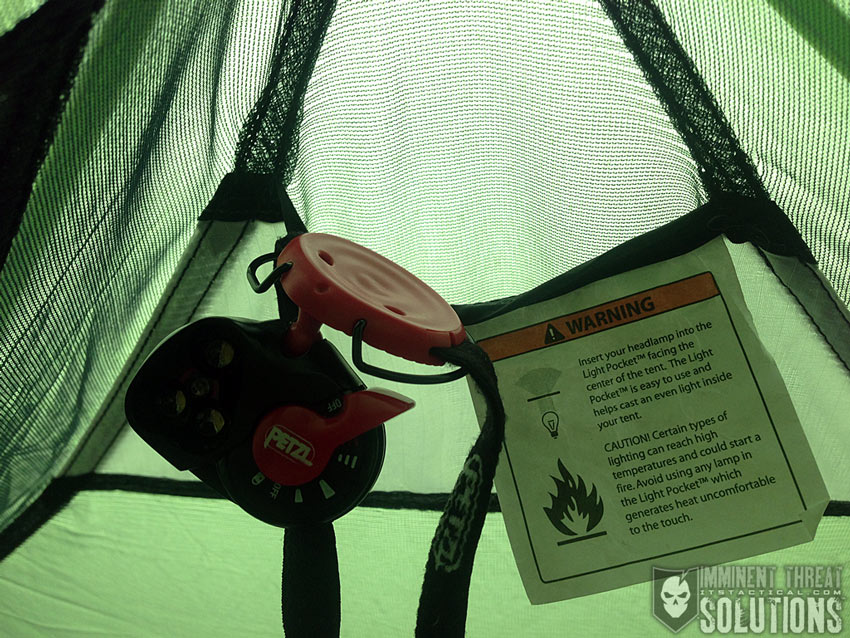 Being 5′ 10″ and weighing 185, it was fairly easy for Kelly, who comes in at 5′ 1″ and 100 lbs., to fit next to me. I won't speculate on what others may feel about this space, other than to say we fit pretty comfortably with a bit of room to spare. Just make sure to check the dimensions provided above.
Overall we've been very happy with the NEMO Obi 2P and I wouldn't hesitate to recommend it, based on the information I've discussed here. While the Obi 2P is made overseas, it comes with a lifetime manufacturer's warranty and was designed in the USA.
Where to Get It