NEMO Gogo LE: A Lightweight Inflatable Tent for Your Next Backpacking Trip
NEMO Gogo LE: A Lightweight Inflatable Tent for Your Next Backpacking Trip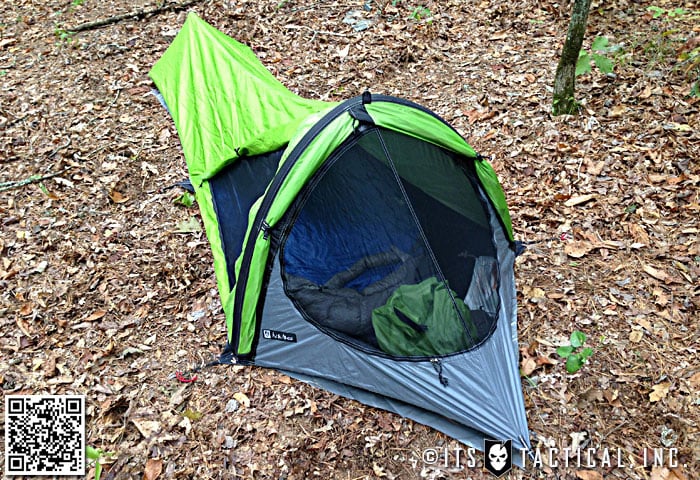 Inflatable tent? Yep, you definitely read that right. I've had the pleasure of thoroughly putting the NEMO Gogo LE though a number of multi-day backpacking trips over the last 14 months and I'll be sharing my thoughts in this comprehensive review today.
The NEMO Gogo LE has been an extremely reliable and durable lightweight backpacking tent that I've really grown to love (with a few additional enhancements I've made along the way.) This review is an honest assessment of both the positives and negatives I've found with the Gogo LE. I've tried to illustrate my points with detailed photos throughout the article. Let's get right into it!
Lightweight?
I'd like to provide a bit of a background into NEMO's categories for their tents, as well as some notes on backpacking weight classifications. Some terms that get thrown around in backpacking are lightweight (LW – pack weight under 25 lbs.), ultralight (UL – pack weight under 15 lbs.), super-ultralight (SUL – pack weight under 10 lbs.) and extreme-ultralight (XUL – pack weight under 5 lbs.).
These weights can be debatable depending on who you talk to, but I've provided this info as a guideline. It's also partly based on Brian Green's excellent ongoing Lightweight Backpacking series on ITS Tactical. Check it out if you're interested in learning more about lightweight backpacking!
NEMO groups their tents into quite a few categories, but the ones that apply the most here are Backpacking, Ultralight Backpacking and Featherweight Backpacking. It can be a bit confusing if you're purely following those categories as you'll see a "featherweight" single-person tent that weighs close to three pounds.
The Gogo LE fits into NEMO's "1 Person Adventure" category and comes in at 2 lbs. 9 oz. packed out. They also offer the Gogo Elite, which comes in at 1 lb. 11 oz. packed out and is essentially the same as the Gogo LE without the side door and 6″ less length overall.
These weights can be a bit deceiving though, so allow me to explain. The Gogo LE came with 5 tent stakes, but to fully set it up, you'll need an additional three tent stakes, an optional ground sheet (not carried at NEMO) and a stick to prop up the foot end. The waterproof stuff sack that comes with the Gogo LE is nice, but weighs 3.5 oz. alone.
The configuration I carry the Gogo LE in, with the extra stakes, ground sheet, pump and a bungee (1 oz.) rather than the stuff sack, comes in at 2 lbs. 11.8 ounces. I cut my ground sheet from a larger piece of Eureka Floor Saver material and it weighs 5.4 ounces by itself. If you do the math, you can see that 2 lbs. 6.4 oz. is what my weight came out to by removing the stuff sack and before adding the ground sheet.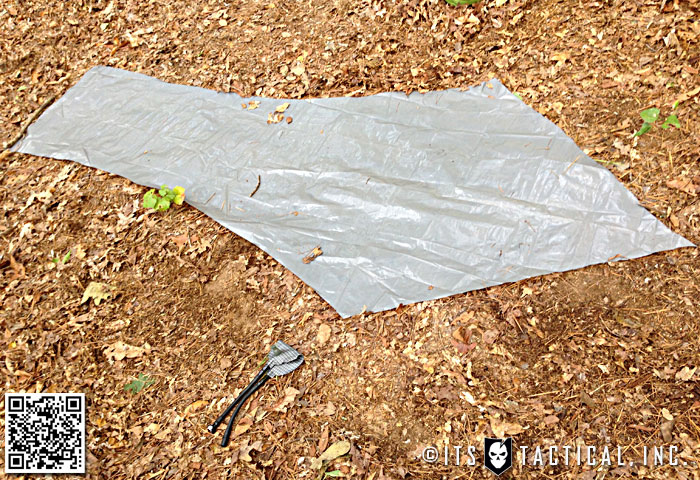 Just a note on the removal of the waterproof stuff sack, I already carry a lightweight waterproof stuff sack in my pack and the tent just gets placed inside this. I've also used a white trash compactor bag, but the 1.9 oz. Sea-to-Summit Ultra-Sil Nano Dry Sack I have is actually lighter weight than the 2.4 oz. Husky trash compactor bag. By the way, I'm not an advocate of waterproof backpack covers and like to waterproof the actual contents rather than the pack. Those things never completely cover/waterproof the pack anyway. Besides, do you really care if certain things like a compass get wet?
Stake Out
As mentioned previously, the NEMO Gogo LE comes with the minimum amount of tent stakes to set it up. I've found through trial and error, that having those extra three stakes makes my backpacking experience more enjoyable. The minimalists out there will probably say you could always carve your own from sticks, but I'd rather carry them.

The spots where the missing stakes go are at the mid-points of each long side and a third at the foot-end guy line. The mid-point of each side has a place for those stakes already, with a loop of bungee and a plastic ring. I really like the bungee here, as when these points are properly staked, it allows some flex for those that toss and turn during the night (like me.) The addition of these stake out points also keeps the sides taught and prevents the subtle sagging that bothered me until I added the extra stakes.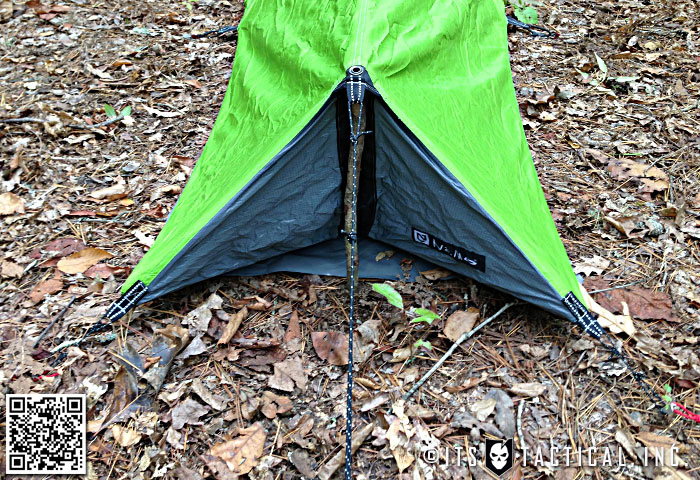 At the foot end, it's very easy for your improvised stick to fall over without the third stake to attach to the provided guy line. Before adding this stake I was either tying the guy line around a tree, fashioning my own stake, or going without. This is how I learned how easy it is to knock over the stick. You'll see in the photos exactly what I mean about the improvised stake being necessary. Without this the foot-end would collapse.
The last thing I did was to tie taut-line hitches at every guy line, there's quite a few of them. This enabled me to really tweak each individual line to properly adjust the overall tightness of the Gogo LE. I feel this last part is really important and totally worth the time. The taut-line hitch is the one knot I use more than any other I know. Seconded by the Bowline. The front two tie down points on the tent (zippered flap and main tent tie down) feature an adjuster on each of the lines that functions like a taut-line hitch.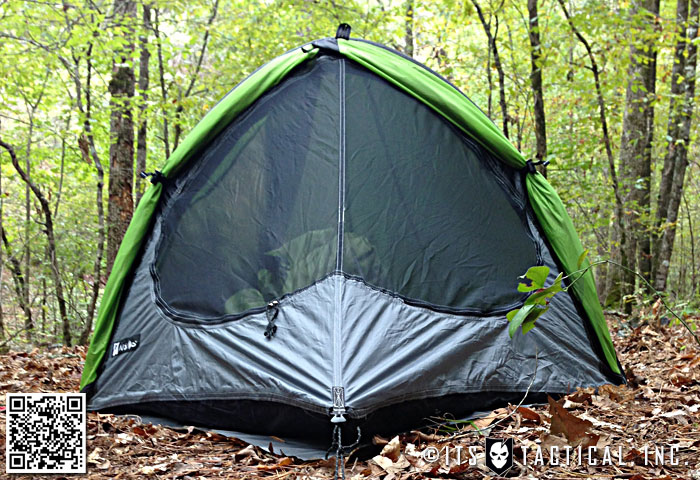 I'll get on a soap box here for a minute and say that there's no good substitute for a well tied taut-line hitch. All those devices on the market (there's tons of them) that attempt to "do it for you" are nonsense and unnecessary. I would have rather seen instructions included in the Gogo LE for tying a taut-line hitch. I used the provided adjusters to simply hold one side of the line and tied my own taut-line hitch to the other.
I don't know how much this is actually true, but it seemed that when everything was properly staked down with the extra stakes and the addition of taut-line hitches, it seems to resist condensation build up overnight much better, even when all the flaps were fully closed.
Inflation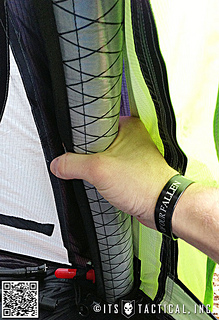 Something I've never seen in a tent before the NEMO Gogo LE, is the use of an inflatable beam. With the included Integrated Pump, the 2″ diameter Airbeam that runs right over your head as you sleep, can be inflated and eliminates the need for any poles.
I think it's a fantastic concept and one I admittedly first discounted, due to the questions that formed in my mind. "What if it leaks?" "What if it gets punctured while in my pack?" I quickly let those questions go after a few uses. The Airbeam is incredibly strong and I haven't noticed any loss of inflation overnight or even after a few days of it being set up. The material used to protect the beam is seemingly puncture resistant and I'd be surprised if it ever did get punctured. It hasn't happened yet (knock on wood!)
The Airbeam is actually two parts, the X-Ply fabric that encloses it and the actual bladder. A spare bladder is available for ten bucks if you're nervous about leaving home without an extra. A spare only weighs 1.6 ounces too. Personally, I'm content with the small repair kit that's included if something ever happened. It can fix a rip in the tent or patch the bladder in a pinch.

To inflate the beam, all you have to do is dock in the female-side quick disconnect fitting of the Integrated Pump with the male end fitting, located at the base of the tube. Ensuring the moisture-release valve is closed, simply blow into the other end. This will inflate the chamber that you'll now squeeze to force the air into the tube. This combination movement is quite easy once you get the hang of it and is MUCH easier than simply blowing into an air valve like a pool floatie. I have pondered that if NEMO found a way to not need the pump it would shave off some weight. I've actually wanted to try hacking the pump to exclude the chamber and see how hard it is to inflate the tube without it.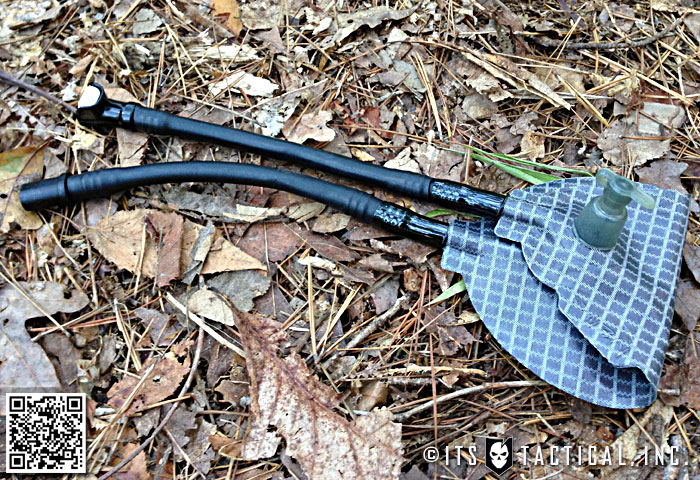 NEMO offers a few different types of pumps for their other Airbeam tents too. The Integrated Pump (2.4 oz.) that comes with the Gogo LE isn't the lightest option they make, that's the Ultralight Integrated Pump, with shortened tubing and lighter weldable fabric. It's 39.95 to upgrade to it and boasts a 50% weight savings.
Deflating the tent is also the fastest I've ever seen for doing so. By simply placing a dummy-corded cover onto the quick-disconnect fitting the air immediately flows out within seconds. It's that easy!
Measurements and Comfort
Since we've already gone over the weight on the Gogo LE, let's take a look at the measurements. I'll say first that I wouldn't change a thing on the measurements, I think they're perfect for a person of my size and even much bigger. I'm 5'10 / 185 lbs. and it's got plenty of spare room at foot, width and head. That's even with my pack and boots stored in the nose. This is why I said earlier that I like the side door on the LE version of the Gogo. It allows me to enter/exit without disturbing my pack inside the nose. However, I do like the option come morning time to open the nose and stand up to put on my boots on. Stepping into them one at a time without having to hunch over out the side door is more comfortable. Take what you can from that.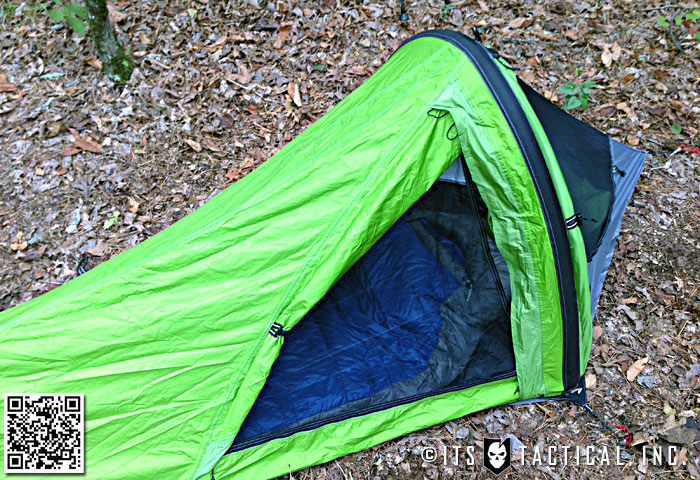 I'll also mention that while there's plenty of room, I'm hard pressed at my size to change a pair of pants inside of the tent. I've done it, but it's certainly not fun and I can only imagine what my tent looked like from the outside during the process!
While we're on the subject of the side door, I'd like to voice a complaint. While I'm not sure if this has been fixed yet, the flap over the side door zipper gets stuck in the zipper track almost every time I zipped it open or closed. I have to hold the flap while zipping it to keep it out of the track. This sticking has also happened to me while I'm in the tent. Trying to open the side door in the morning irritates me when I have to reach my hand to the outside to pull the flap out of the way to finish opening the door. Hopefully this is a non-issue now and has been addressed.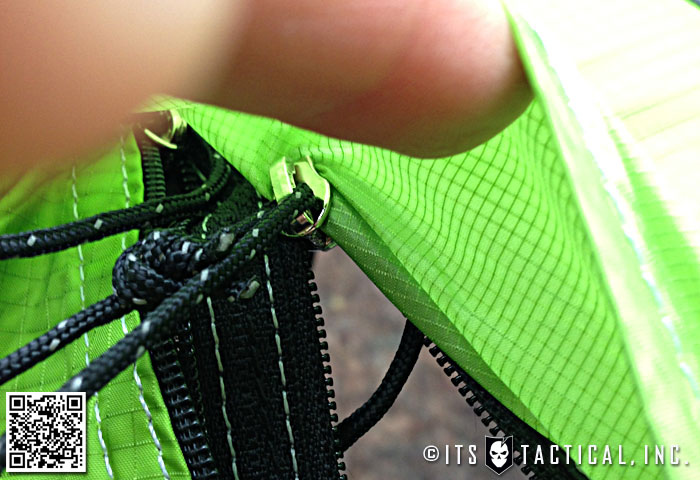 The overall length from head to toe on the Gogo LE is 114″ and the width at its widest point is 41″. The height at the peak of the Airbeam is 27″ and the width at the end of the foot is 24″. The tent shell fabric is 40D OSMO, a high-tenacity polyester ripstop. NEMO states that OSMO remains breathable across a broad range of humidities, is naturally UV-resistant, doesn't sag when wet, highly durable, chemical-resistant and abrasion-resistant. I definitely haven't found anything contrary to this and agree that is does seem to sag less than other tent fabrics I've seen. I haven't been in a torrential down-pour with the Gogo LE yet, but the rain I have been in has simply beaded up and rolled down.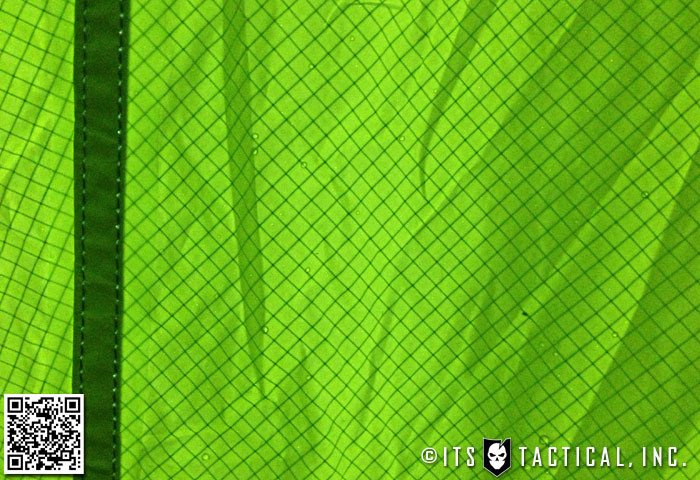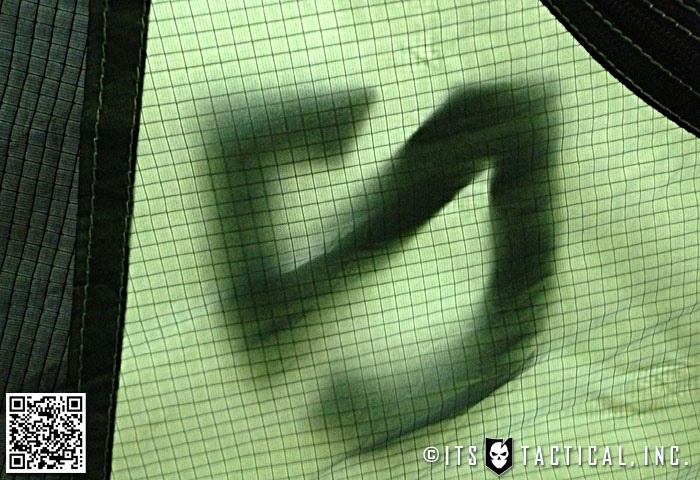 20D PU Nylon is featured on the Fly/Vestibule and 30D PU Nylon is stitched on as the floor fabric. From the description of the 30D floor fabric, it would seem there's no need for a ground sheet, but I won't be giving mine up anytime soon. I like the added protection it affords the bottom of the tent and I don't want to spend the morning letting the floor dry before rolling up the tent. I'd rather roll the tent up, stuff it in my bag and wait on the ground cloth to dry off before shaking it out and rolling it up. Personal preference.
Bemis seam tape is also used on all NEMO tents to provide a uniform waterproof barrier to the stitching on the inside of the tent. The nose of the tent features a small pocket and there's a clip above your head on the Airbeam that's perfect for clipping a watch onto so you can hear your alarm in the morning.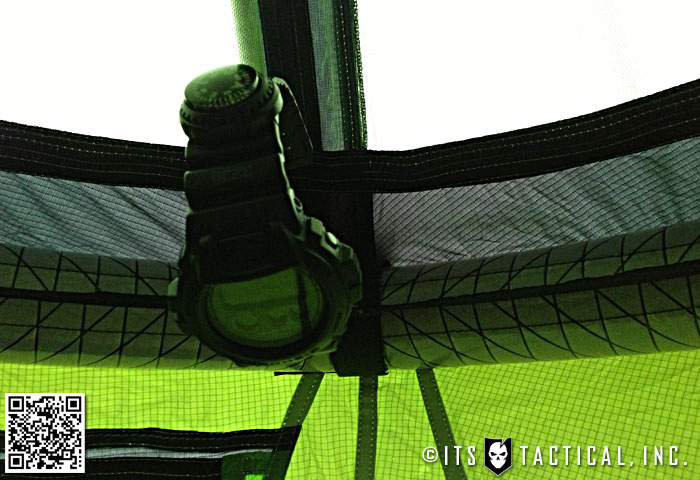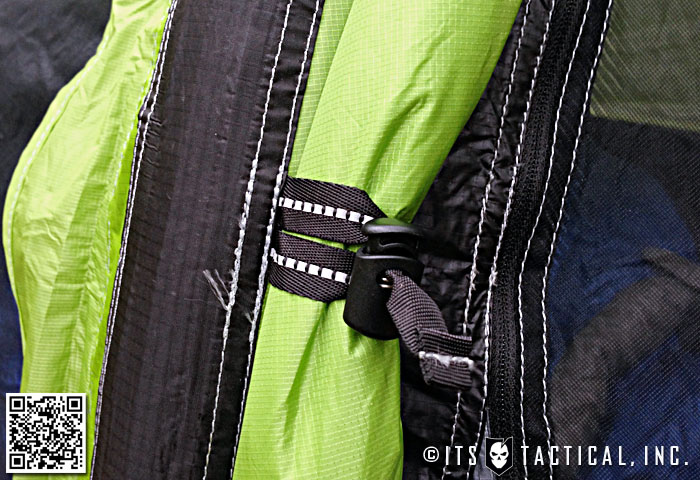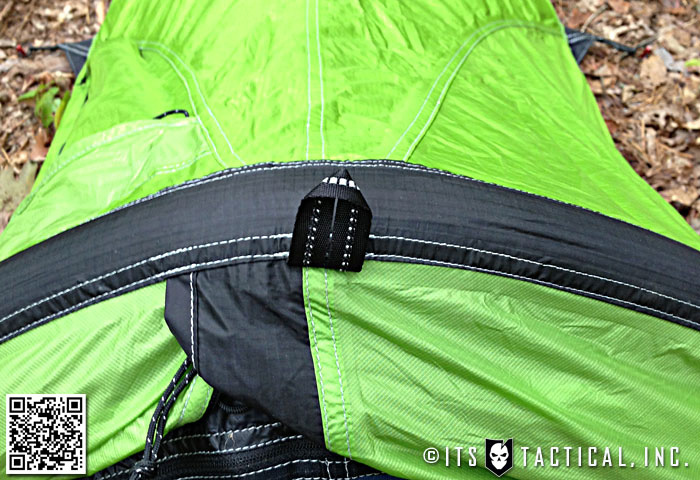 A last detail I really like is the addition of reflective zipper-pull cordage, guy lines and stake out loops. It definitely helps to find your tent in the middle of the night after nature calls. There's also a top loop, which i suspect is for tying up the top of the tent to a tree limb in the unlikely event the Airbeam failed.
Final Notes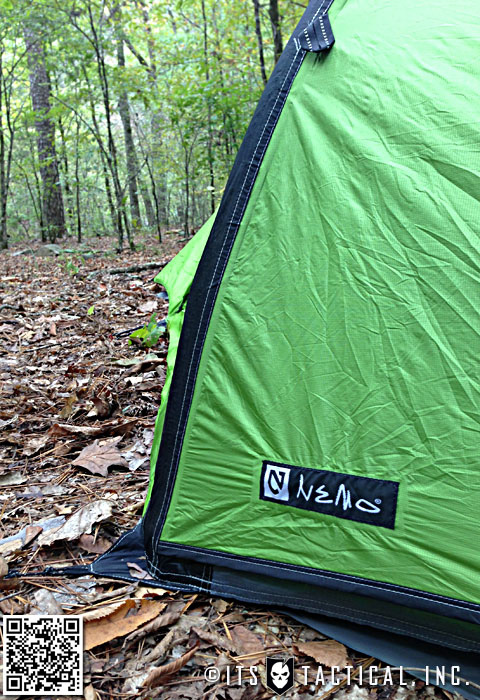 I've owned and used about half a dozen bivy-like tents in all my camping/backpacking experience and while some have had more space and some have had more features, if you're looking to save weight and retain functionality, you'll be hard pressed to find a better value than the NEMO Gogo LE. The small issues I've had aside, I'd highly recommend it to anyone. I just hope that the zipper sticking issue has already been taken care of.
I think I've also got Kelly convinced to downsize our family camping tent to a NEMO OBI 2P, which is a two-person tent that weighs just 3 lbs. and is capable of being backpacked. While it doesn't have a screened in porch like our current family camping tent, our son is old enough now to camp in his own tent and there's just no reason to keep using a larger tent. Plus, it makes me feel more manly sleeping in a smaller tent. Ironic, isn't it?
I'd like to thank NEMO and Tactical Distributors for allowing me the time to thoroughly test out the Gogo LE and provide my feedback here to everyone. If you have any additional questions, please feel free to leave them in the comments below and I'll do my best to get them answered for you.
Photo Gallery