Give Wind the Slip with the First Spear Wind Cheater
Give Wind the Slip with the First Spear Wind Cheater
I'm fairly picky when it comes to outdoor gear, so I always try to gather as much info as possible before purchasing new items. That includes looking for any long-time reviews, meaning reviews where the reviewer actually wore in for a specific length of time. It was difficult for me to find any of these for the First Spear Wind Cheater, so I decided to get the jacket myself and write one up. Here it is, grab your coffee and enjoy!
First Spear Wind Cheater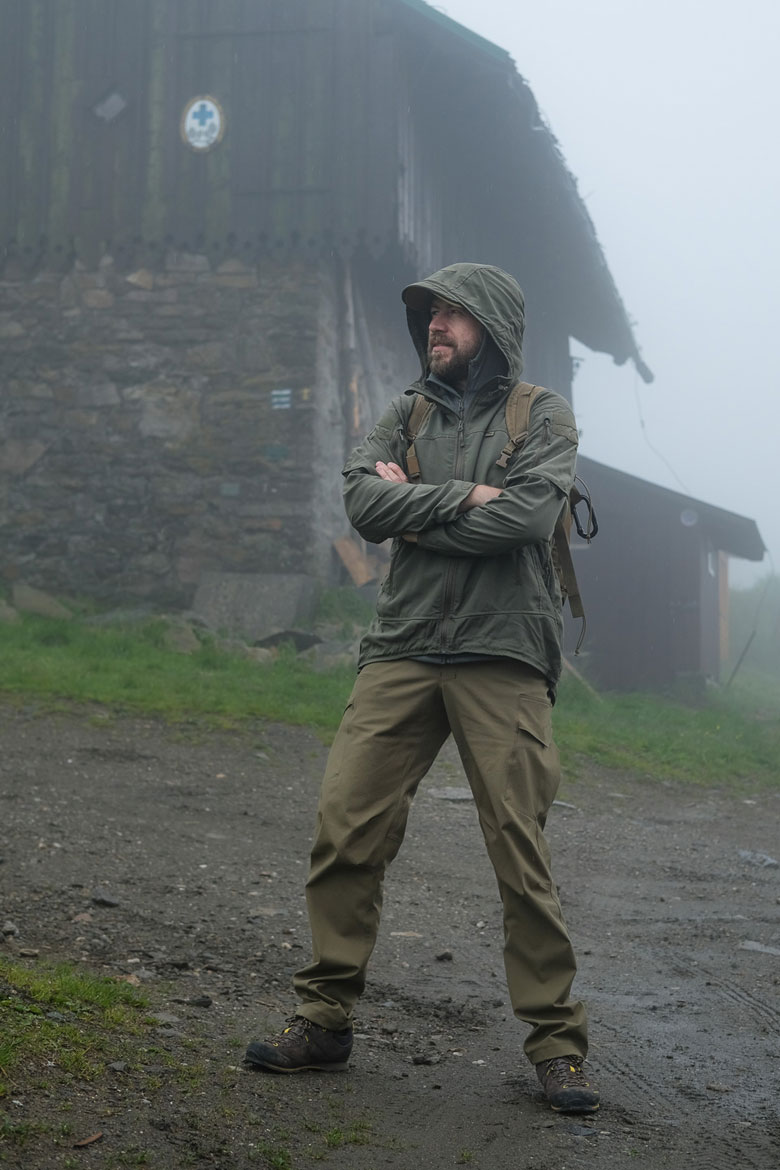 Technically speaking, the First Spear Wind Cheater is a wind-resistant and very breathable soft shell. However, it's very different from other soft shells available on the market today. The most noticeable difference is the fabric, the Wind Cheater is made of a special blend of brushed-cordura nylon material called Ambush, which is surprisingly soft and super silent. It's also extremely tough and as the name suggests, completely stops wind. It's also made in the USA, yeah! But as they say, the devil is in the details, so here are my thoughts after four solid months of hard use in the great outdoors.
Manufacturing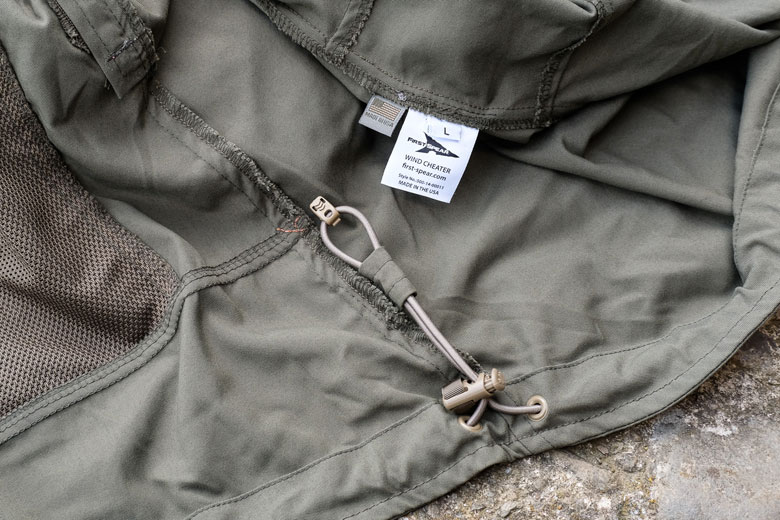 The Wind Cheater is solid, no doubt about it! Stitching is perfect in each and every aspect and even doubled in crucial areas. Shock cord (used for adjustments/compression) is also premium quality and so is all the corresponding hardware. The cord locks are also fixed to the jacket with nylon webbing, which really helps.
I can't see any sign of wear in my jacket.
Vertical loops redirect the adjustable shock cord to the top of the jacket, so there is no risk that your sidearm (or knife) could catch on it during rapid deployment. All zippers are finished with First Spear pulls and are all equipped with a 'garage' to prevent them from catching on stuff.
Hypalon reinforced wrist velcro-backed straps make adjustment quick and easy. It's very satisfying to see this level of attention to detail on an outdoor/combat garment.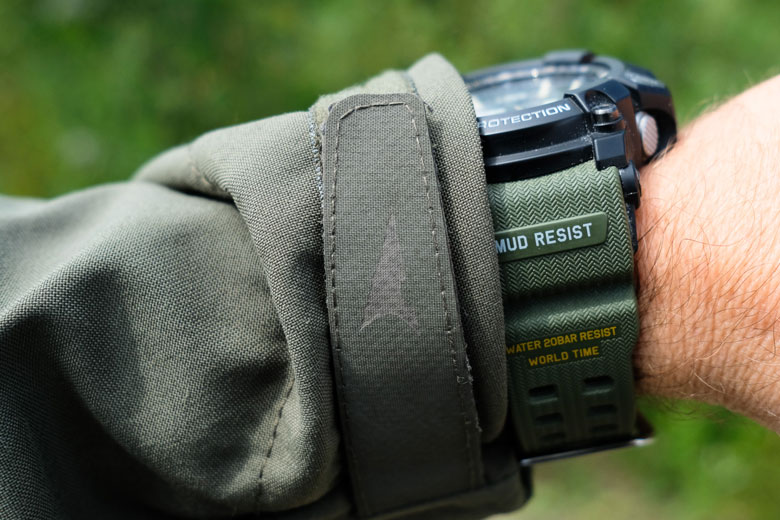 I can't speak specifically on the long-term durability of the 'Ambush' material, but after spring and summer season usage in Poland, I can't see any sign of wear in my jacket. I mean absolutely any wear in the slightest. That combined with Cordura's reputation, translates into potential years of use before I'd need to do any repair to my Wind Cheater. Just to also mention it, after over four months all the zippers and velcro on sleeves, wrists and hood work just as well as they did on day one. No wear there either.
Almost a Soft Shell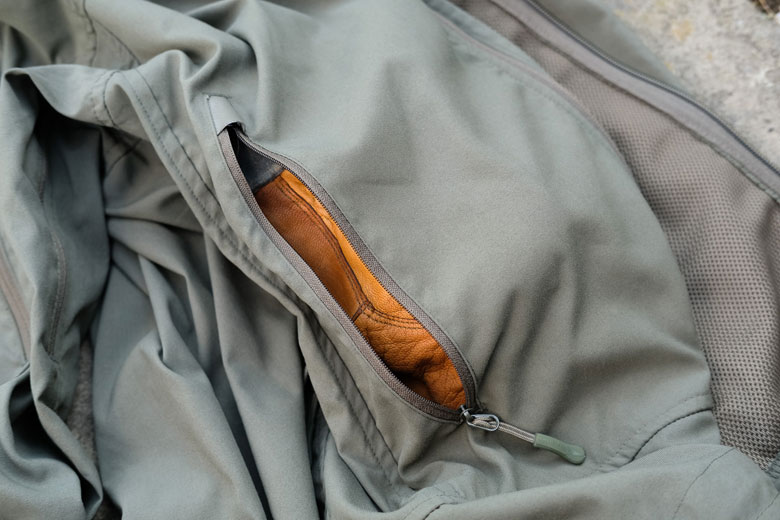 Another point that separates the Wind Cheater from a technical soft shell is in the pockets! Contrary to the usual one or two flat-pockets you'll find four very spacious pockets on the First Spear jacket. The side pockets are equipped with long zippers, lined with mesh in the inside and positioned high enough for easy use when the hip-belt of your backpack is worn. These pockets go well into the inside of the jacket and provide impressive storage space. I was able to stuff a side pocket with pair of Hestra outdoor gloves, a Chris Reeve fixed blade and a Fuji X30 camera. Again, this was all stored in one pocket.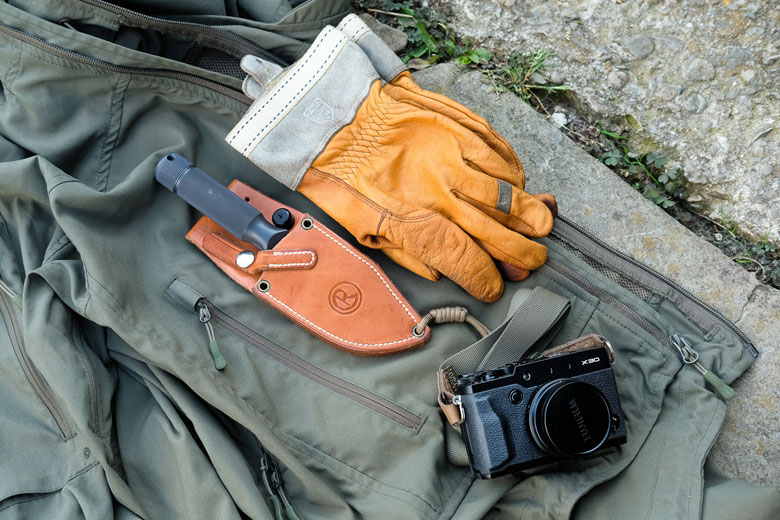 The other pocket could be used for couple of 1911 magazines, etc. Sure, it's not the most comfortable way to carry all that gear, but if you had to it is possible. The biceps pockets are a bit different, for obvious reasons these represent a 'sewn on the outside' form in order not to eat up space inside the sleeves. They're seriously spacious and big enough for wallet, full-size map, First Spear hat, energy bars, headlamp, etc. Sound bulky? Well, that obviously depends how much you need to store in there.
It's also reasonably packable…
As you can see, the jacket still keeps a reasonably trim fit with empty pockets, which was not an easy task for their designer. I really like the FS Logo loop panels on the sleeves, and I find it to be a welcome change to standard rectangular loop panels.
Overcoming Weak Points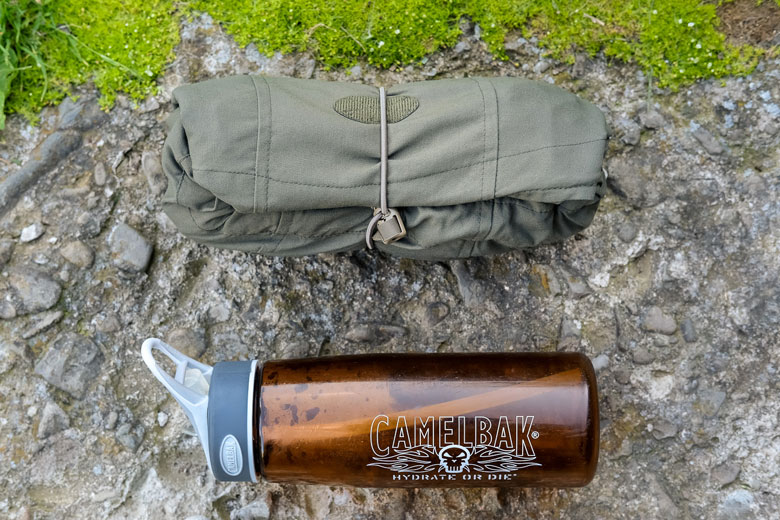 In my opinion, the weakest points of many 'tactical jackets' are weight and packability. The Wind Cheater in the large size I have weighs 20 oz. and is only 1.5 oz heavier than other top-tier technical lightweight-mountaineering soft shells. The Wind Cheater is not a hyper-ultralight shell, but it wasn't designed to be. For the added functionality and bombproof durability you get in return that 1.5 oz is nothing, it's less than a Snickers bar. It's also reasonably packable and rolls down to a size that's not much bigger than my 25 oz. Camelbak bottle. It can also be stored comfortably flat under the 'Gear Trap' transport tail of my PDW SHADO Pack.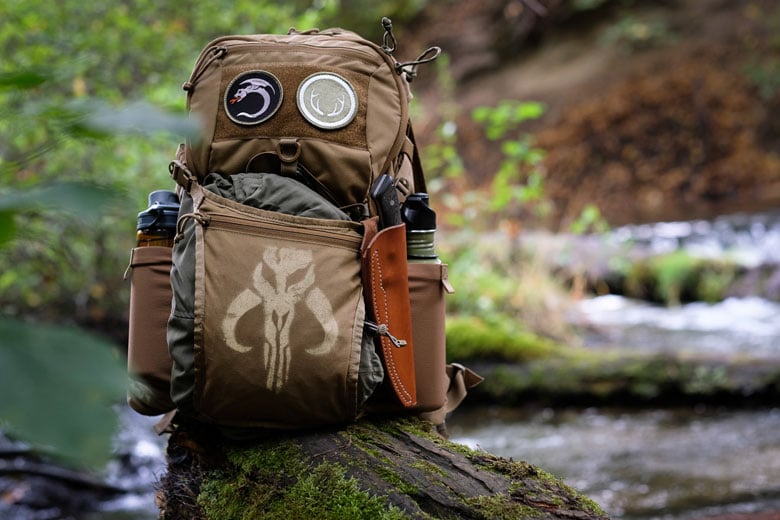 Fit and Finish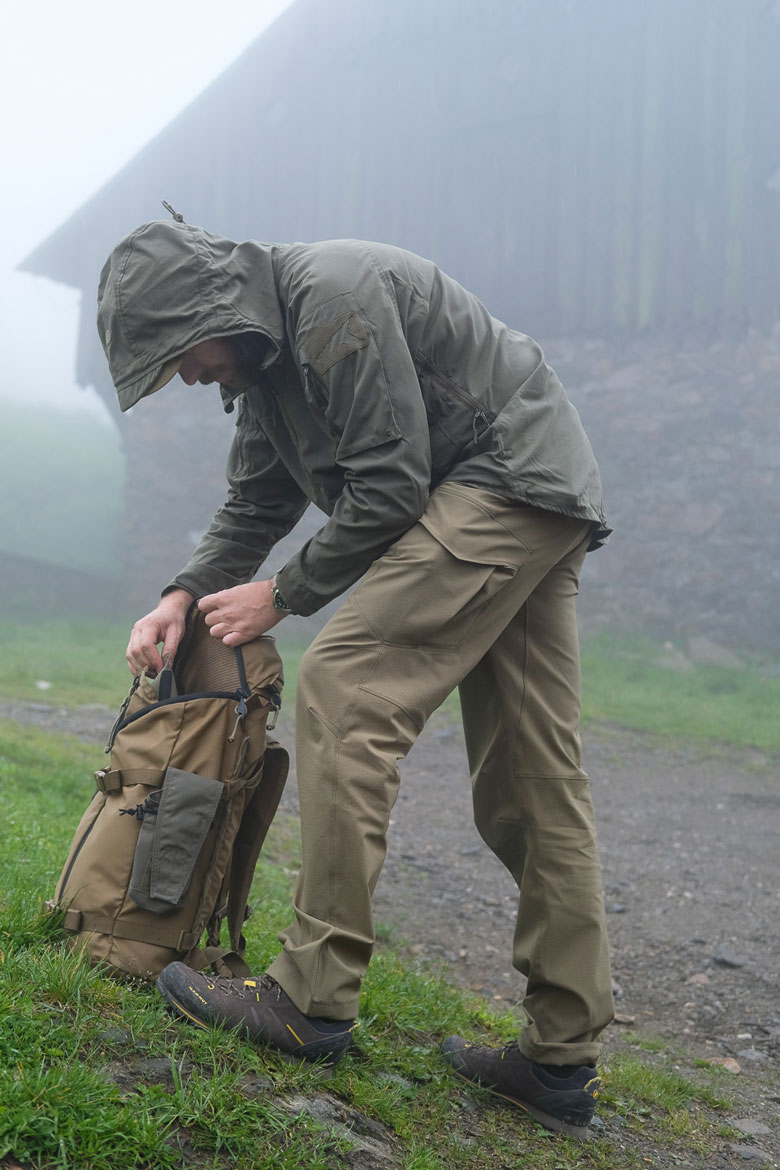 Proper fit is always a tricky part of shell design. If it's too loose, it's simply uncomfortable when just worn with a t-shirt. If it's too trim, you'd be hard pressed to wear an insulation layer underneath and no chance to use it for CCW weapon carry without printing. Good news, First Spear managed to get it right and as you can see, it fits me both with First Spear Merino Hoodie under it for insulation (BTW, what a fantastic piece of mid-layer clothing the hoodie is) and fits me with the thicker First Spear Woobie as well.
For reference, if you look at the photo of me with the Wind Cheater on over a t-shirt it looks like the size large is tailor-made for me. I'm a little over 6'1″ and roughly 185 lbs. It fits very true to size and that includes both the sleeves (finally sleeves that are long enough!) and the tail, which perfectly covers my 'lower back' on colder days and works great with a pack's lumbar pads. The fully-adjustable and helmet-compatible hood is a must on a jacket like this, so it's no surprise to find those features on the Wind Cheater. The reinforced brim on the hood effectively sheds rain as well.
Usage Notes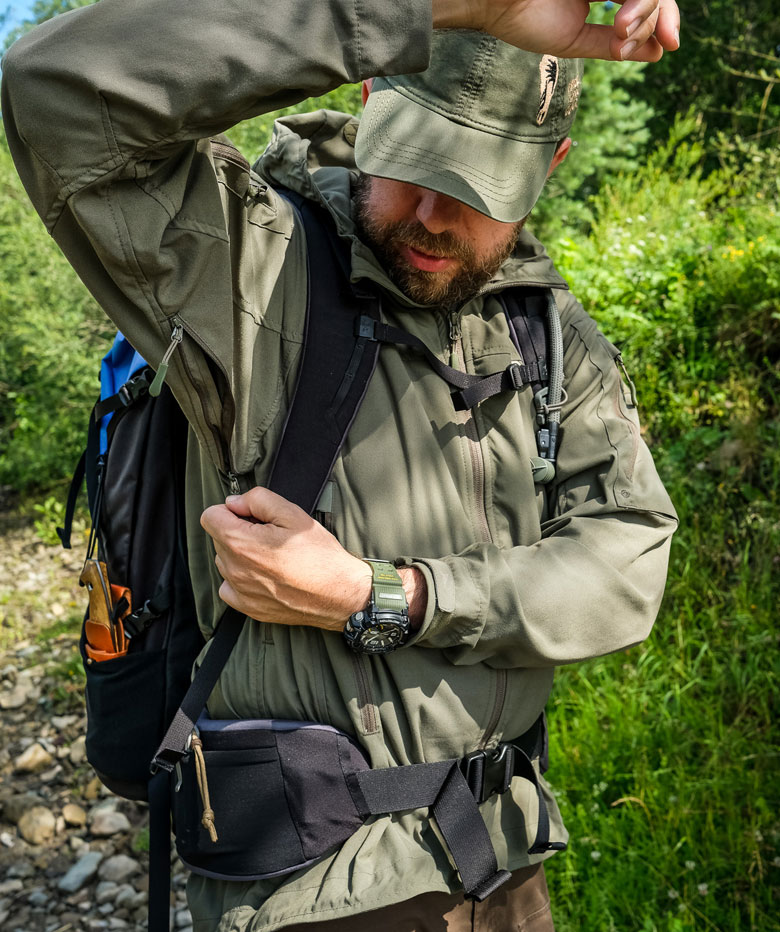 I've used the Wind Cheater during three seasons now, with the exception of snow in winter. I've used in both mountain environments and in dense forest environments. The conditions included light rain, cold morning fog and strong wind. I've also used it with a small daypack on my back, a mid-sized 50+ liters hiking pack and without pack at all. During all this I've realized that it's named Wind Cheater for a reason and it works great as a wind-breaking barrier and protecting your body from strong wind. It also doesn't have that 'cold surface' feel, which is a drawback of many other unlined soft shells.
The First Spear Wind Cheater really gets the job done
The Wind Cheater is also good as an outer layer in cold fog and even light rain thanks to its DWR treatment. However, for anything more than occasional light rain you'd need a true rain jacket, otherwise rain drops will eventually penetrate and soak the jacket, compromising the breathability. The good news is that when wet, it dries exceptionally fast and breathes extremely well. If the breathability of Ambush Cordura isn't enough, you can always open the pit-zips to let the heat out.
Overall I like my Wind Cheater a lot and I can see it as my soft shell of choice for most outdoor activities, excluding technical climbing where I prefer a technical trim fit and no external arm pockets. Other than that, the First Spear Wind Cheater makes an exceptionally functional soft shell with just enough of the 'tactical flavor' to be both cool and socially acceptable, even in the heart of Manhattan (I wore a Mantee Grey colored Wind Cheater during a recent trip to New York). So as a wrap-up, the First Spear Wind Cheater really gets the job done in both the outdoors and in the city.
Editor's Note: Piotr Ma is an avid outdoorsman, adventurer, mountaineer and certified open sea sailor. As an enthusiast of quality gear, he's always seeking the most un-compromised and best performing gear available worldwide. He's also known as an edged tools specialist. Piotr was introduced to his adventurous lifestyle when he was 10 by his father, a certified sailor and alpine-style climber. Now he continues his family tradition and shows his kids how to live a full life in the great outdoors; teaching them survival skills, shooting and archery. These days, he gladly shares his 30+ years of outdoor experience with people around the globe from his current location: Poland, European Union.