Why the Squadron Smock from FirstSpear is a Great Update to a Classic Garment
Why the Squadron Smock from FirstSpear is a Great Update to a Classic Garment
The classic military smock originated in the early 1940's, during WWII. It was a hooded combat garment worn by the SAS, Scout Commando squads and other elite English troops to protect soldiers from cold and windy conditions on battlefields across the world. Today, I'll be reviewing an update to this classic garment from FirstSpear, called the Squadron Smock.
Traditionally, a smock is an oversized jacket (which allows it to fit over a combat uniform) and is usually equipped with multiple pockets for storage of the all-necessary gear. There are pockets for ammo, grenades, first aid kits, knives, documents, maps, compasses, personal items and more. Think of it like a light insulated military hardshell with a lot of pockets. For the last 70 years, nothing has changed with the traditionally baggy, long and quite heavy smocks. However, FirstSpear's Squadron Smock is an improved update to a great old design.
Design of the Squadron Smock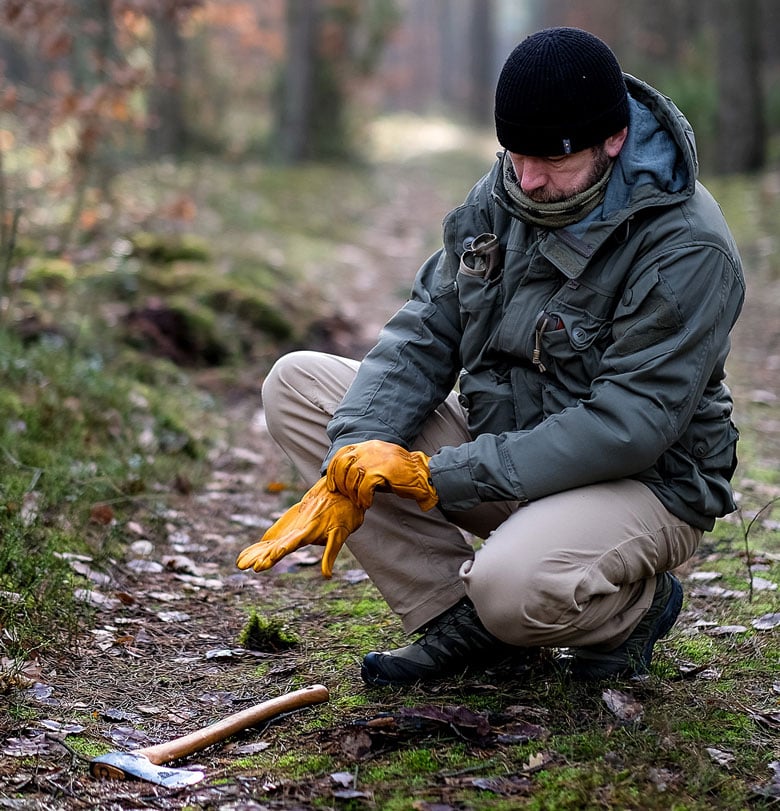 When FirstSpear designed their modern smock, they just took all the good features of the classic and remastered the overall concept to comply with today's battlefield and outdoor scenes; with respect to modern garment technology. The smock shown in the photos is a second generation of the Squadron Smock, so it's a bit refined with an ACM MID 400 merino wool blend in critical areas instead of just regular fleece like the Gen 1. It also features a brushed nylon breathable outer material made by CORDURA in the US.
Pockets and hell of a lot of them
First off, the Squadron Smock isn't as long and baggy as other smocks on the market. Yes, it has a relaxed fit when compared to technical apparel, but it's nowhere near as loose as a classic smock. Thanks to its shorter profile, (especially in the sides and front) it allows for unrestricted access to pant pockets or a concealed carry weapon on or inside your belt.
Speaking of concealment, the Squadron Smock can easily conceal a full-size 1911 or any other similar sized handgun in a proper holster. The smock is designed to be worn over another layer, not next to skin, so with that in mind it seems to be quite true to size. I normally wear a size Large and the Squadron Smock in Large fits me well, as you can see in the photos. For reference, I'm 6'1 and 185 lbs.
Pockets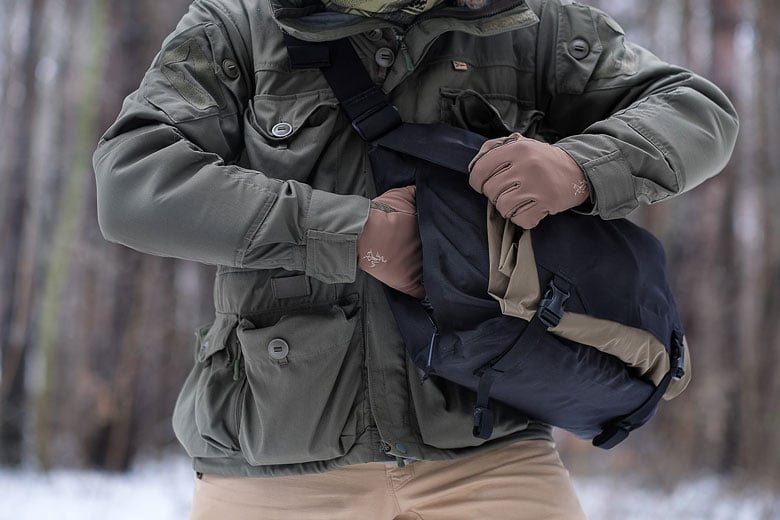 Close your eyes and think about a smock, what do you see? That's right, pockets and hell of a lot of them! All of them with mandatory big bold buttons, of course. It's true that pockets define a smock and FirstSpear's version is no different. I found a total of 18 pockets in my smock. (I'm still not convinced I was able to count them all either!)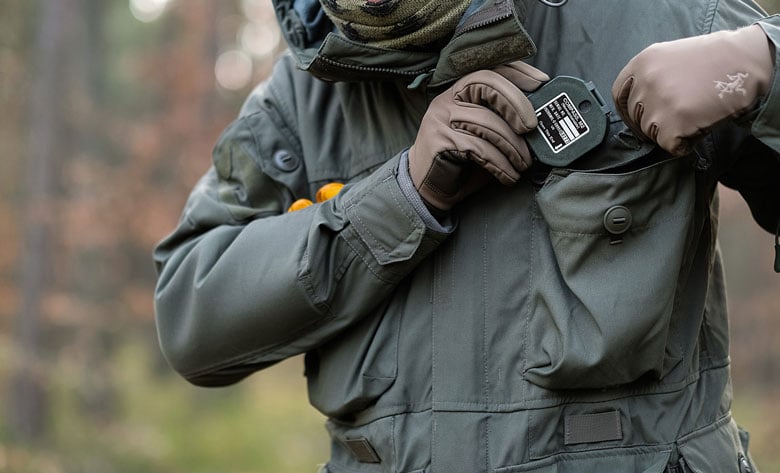 Most smock pockets feature oversized slotted button closures for a number of reasons. Buttons are completely silent, easy to open even with gloves on, very reliable under any conditions (dirt, mud, severe cold) and easy to repair in the field if broken. So it made sense for FirstSpear to keep it old school.
Additionally, the Squadron Smock features a zippered pass-through, which is a gate to the inside pockets. This makes accessing the inside pockets possible without unzipping the jacket. All of the smock's pockets are generously sized, but not ridiculously so. Additionally, all of the pockets are reinforced in the corners with additional self-locking stitchings. Last but not least, the hand warmer pockets are lined with merino wool, which is a nice touch!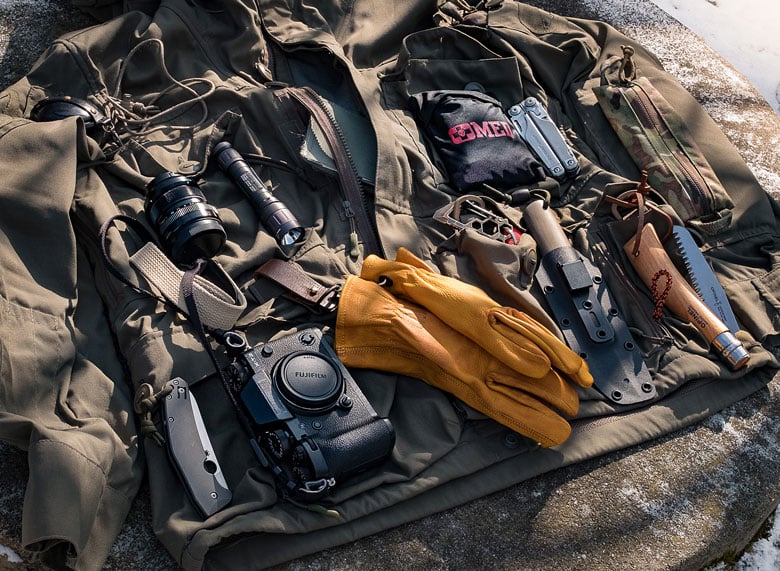 Here's a short list of all the pockets discovered so far:
(2) Bicep pockets with FS-logo shaped loop (for ID patches)
(2) External Napoleon pockets (with zipper closure)
(2) Internal Napoleon pockets (with zipper closure)
(2) Wool-lined hand warmer pockets (with zipper closure)
(3) Internal mesh pockets
(2) Cargo chest pockets
(4) Cargo waist pockets
(1) Extra long back cargo pocket
A picture says 1000 words, so just check the photo above for a quick sample of what can be carried in the Squadron Smock.
The Hood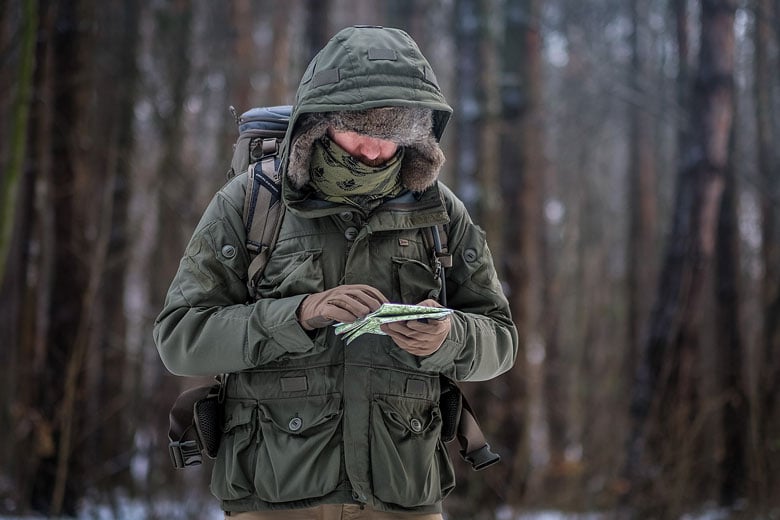 With any smock, an oversized hood is a must. The Squadron Smock is easily helmet compatible, so as you can see, a big fur trapper's hat fits under it no problem. The hood is adjustable and also fully lined with merino wool for added protection from cold and wind. The built-in brim stiffener is a great thing and prevents the hood from collapsing on your eyes. In fact, visibility from under the hood is the best I've ever seen. All in all, the Squadron Smock's hood is quite an advanced design that's optimized for outdoor use in any conditions.
Full Access
The main zipper of the Squadron Smock is bi-directional for rapid access to your belt and a weapon, rappel loop, radio, etc. It's also backed up with big buttons on the front. The relaxed fit can be easily optimized to your body shape and what you wear under the smock.
It's great for combat, but also awesome for general outdoor use
Drawstring adjustments in the waist and on the bottom can make it quite snug if desired. Hook and loop adjustable cuffs come as a standard feature and I can't imagine a jacket like this without them. The bottom line is that whatever you do, the Squadron Smock lets you move comfortably, fast and unrestricted, with easy access to all the stuff you carry in and underneath it.
Camouflage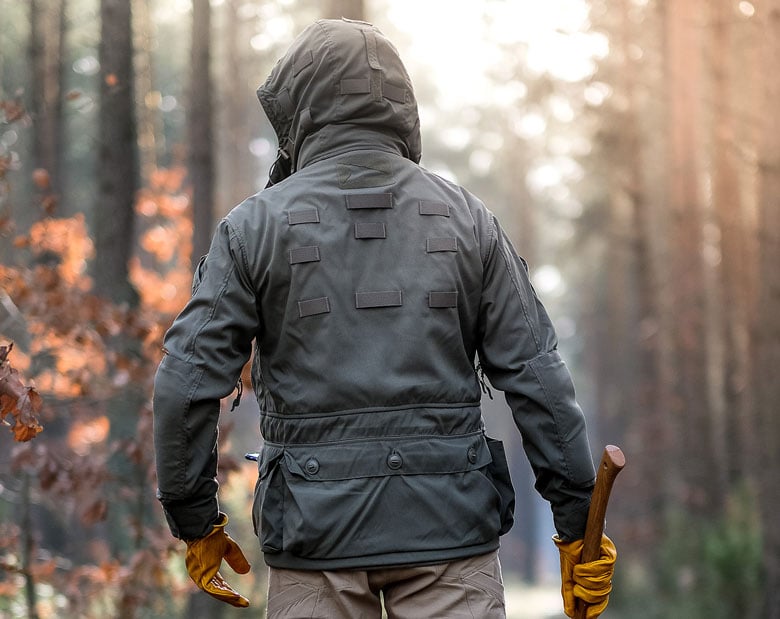 As you might have noticed in the photos, webbing loops are sewn here and there on the Squadron Smock, especially on the hood and shoulder areas. You've probably already guessed, but these are lashing points for camouflage netting or foliage that's laying around. I actually used the two front loops as glove attachment points, which is just further proof of the multi-mission nature of the smock. It's great for combat, but also awesome for general outdoor use.
Reality Matters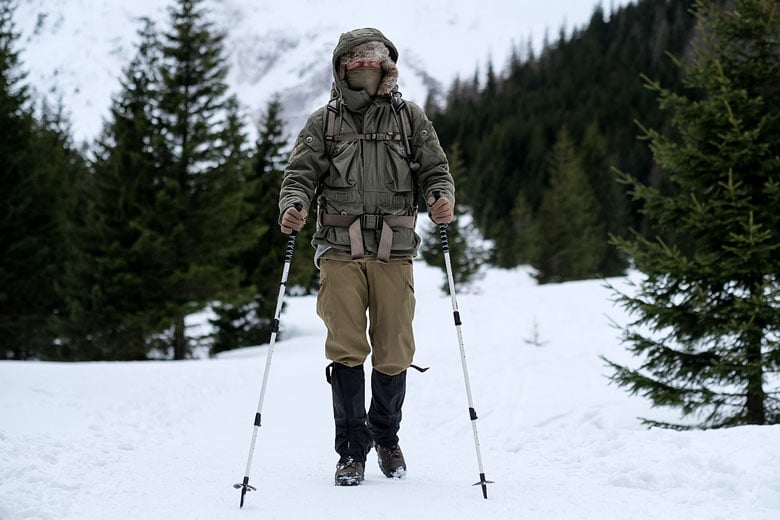 I've used my Squadron Smock for more than three months now and so far it's not just holding up well, but it looks exactly like it did on day one! There's no doubt that the quality of materials and craftsmanship is premium. It's 100% made in the USA with all the materials coming from America as well. It's tough without being stiff, windproof and sheds rain quickly thanks to DWR surface finish.
In snow, no matter how heavy, I had no problem with the Squadron Smock as an outer layer. It was roomy enough to wear a substantial insulation layer underneath. (FirstSpear's Woobie combined with the Arc'teryx LEAF Atom LT.) I walked multiple miles with my smock in a heavy bushy woodland area and even did some mountaineering outings in ice and rock. I haven't had any rips whatsoever. In real world use (city, forest and mountains) it should serve me many years without excessive wear.
Hot or Not?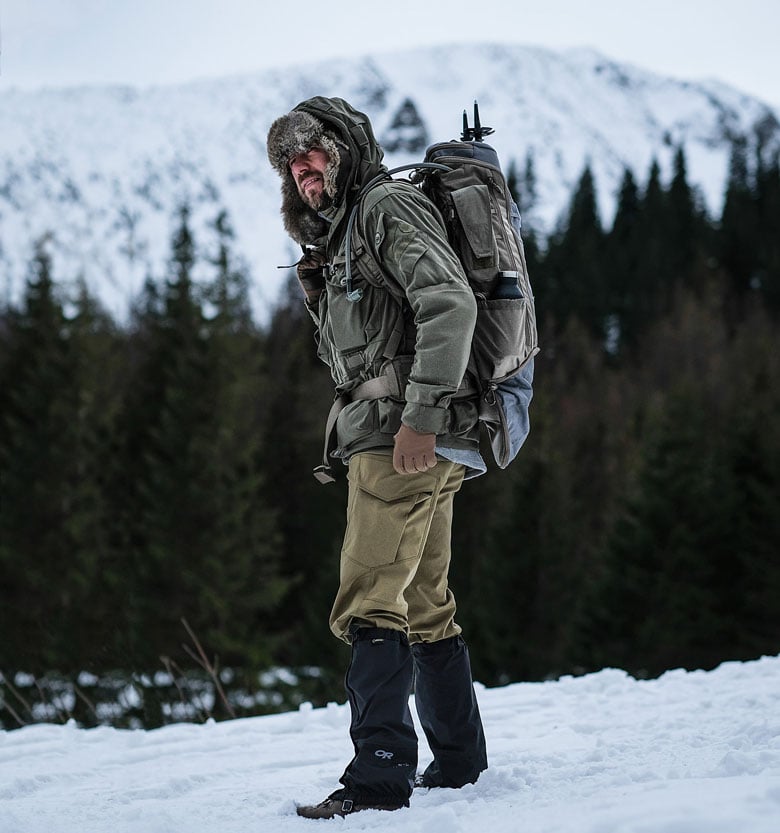 By definition, the Squadron Smock is a 3-season jacket. The additional merino wool layer in the hood and shoulder areas make it warmer than just a shell in critical areas and enhances wicking properties in the torso. However, if you live in areas like the Northern part of Canada or Scandinavia, it could be used as an universal jacket throughout the whole year. Even here in Poland I experience freezing cold nights at end of August and even snow in September in the mountains. On these occasions, the Squadron Smock would come in handy for sure. The smock's outer fabric is very breathable and there are generous pit-zips for venting your excessive heat rapidly during intense activity.
Pack compatibility is always an important point to me and the Squadron Smock works great with a variety of packs. I tried it with a lightweight daypack, but also with an Eberlestock rifleback (with 20+ lbs of metal and glass inside). As long as you don't overpack that long bottom pocket, it should work well as a hiking jacket. Also, I'd keep the side pockets moderately stuffed to help a waist belt support your hips. Of course, the whole idea of a smock is to substitute a small pack, so you can hike to the hut or shelter with your pack on, reload your essentials into the smock and continue on without a pack.
Does it Even Pack, Bro?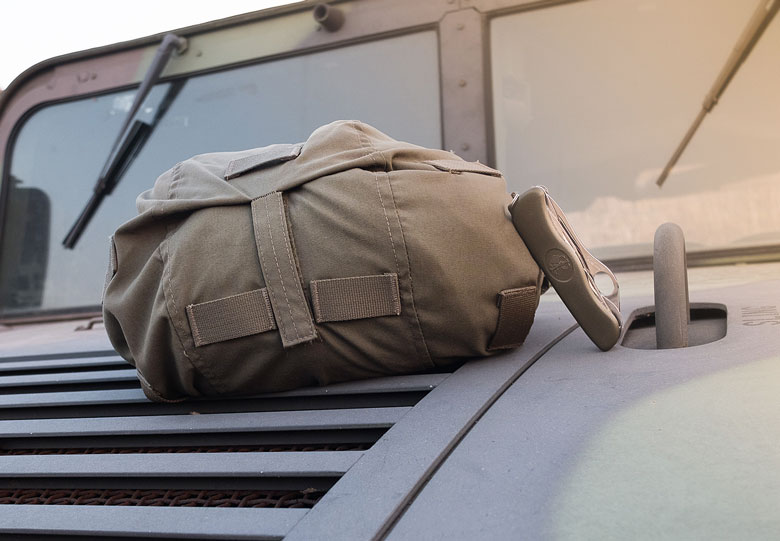 Tough nylon fabric backed with merino wool can't be overly packable, right? Surprisingly, the Squadron Smock is much more packable than you'd think! As you can see in the photo above, the smock can be quite nicely rolled and compressed inside the hood, making a compact and stowable package. I compared the overall packed size of the smock to the Victorinox GAK and in my opinion, it's not bad at all!
Conclusion
Overall I like my Squadron Smock very much. It's an awesome jacket for anything that fits into the "tactical adventure" category. So while not a climber's dream (and not designed to be) it's definitely a great 3-season jacket for hunters, shooters, bushcrafters or adventurers who'd like to own a piece of military heritage in a state-of-the-art modern package.
While the smock isn't cheap, (MSRP $499) it's one of the coolest jackets I've ever owned. Just remember, this jacket can turn people's heads, so it's not the best choice for an undercover agent or blending in while scouting a location in a city. However, it is way cool and does the job it was designed for like no other smock I've seen (and I've seen quite a few!)
Editor's Note: Piotr Ma is an avid outdoorsman, adventurer, mountaineer and certified open sea sailor. As an enthusiast of quality gear, he's always seeking the most un-compromised and best-performing gear available worldwide. He's also known as an edged tools specialist. Piotr was introduced to his adventurous lifestyle when he was 10 by his father, a certified sailor and alpine-style climber. Now he continues his family tradition and shows his kids how to live a full life in the great outdoors; teaching them survival skills, shooting and archery. These days, he gladly shares his 30+ years of outdoor experience with people around the globe from his current location: Poland, European Union.