Boot Sock Showdown: SmartWool, Darn Tough Vermont and 5.11
Boot Sock Showdown: SmartWool, Darn Tough Vermont and 5.11
Over the last eight months I've been in and out of three different pairs of socks; SmartWool Heavy Crew Trecking, Darn Tough Vermont Boot Socks and 5.11 Level 1 Socks.
I've got both positives and negatives for each pair of socks represented here, but first let's talk socks in general and why you should care about quality.
Protecting your feet is nothing to take lightly and the right pair of socks makes all the difference. You depend on your feet to not only support your body and whatever weight is attached to it, but to also get you to where you need to be.
Selecting the Right Pair of Socks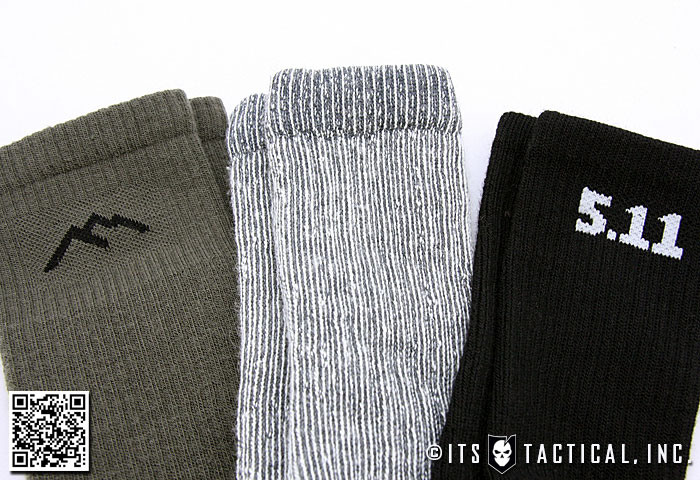 Nothing ruins a hike, ruck or run faster than bad socks. Well, maybe boot that don't fit would ruin it faster, but that's for another article. The goal of wearing socks that perform and fit will is not only to make your feet comfortable, but also to reduce the potential for blisters.
Blisters are the number one cause of a bad day under a ruck and are formed from repeated friction to your feet coupled with heat and moisture from sweaty feet. Moisture + Friction + Heat = Blisters. I'm sure you don't need me to explain this to you, as you're an anomaly if you've never been blessed with blisters.
While improperly fitting boots are commonly to blame, selecting the right pair of socks is just as important. You want to stay away from 100% cotton socks, which just absorb moisture. synthetics and synthetic blends will wick away moisture and help take one of the three blister causing variables out of the equation.
You also want socks that fit! In the Navy I was issued those crappy one-size-fits-most Wool Dive Socks that are just about useless. In BUD/s you're constantly wet and those things bunched up big time and the ends of my feet, even when we weren't running with wet boots. Bunched up socks are a sure way to spawn blisters, so again, get socks that fit.
These socks reflected below were all worn with the same pair of boots, Magnum Spider 8.1 Desert HPi Boots (review coming soon!) and used in everything from daily wear to multi-day hikes in the same pair of socks.
SmartWool Heavy Crew Trecking Socks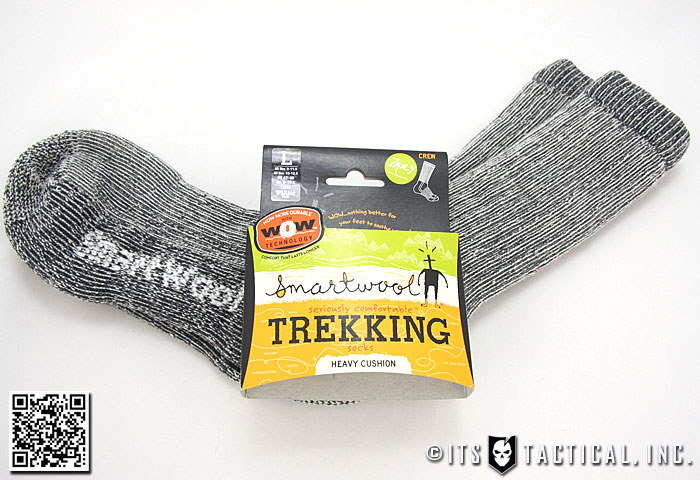 I've had multiple pairs of SmartWool socks over the years and they're definitely a comfortable sock, especially these SmartWool Heavy Crew Trecking socks. Made up of 80% Wool, 19% Nylon and 1% Elastic, they truly don't feel like traditional wool socks.
I don't know about you, but for me, traditional wool socks get shaped and stiff. By shaped I mean that they almost get pressed into a shape from repeated wear and can make it tough to take them on and off. I didn't get this at all with the pair of SmartWool socks and with 80% wool I fully expected to.
What I did get was bunching though. Despite the built in flat-knit side panel that's supposed to prevent bunching, these things crept down to my toes. It wasn't massive, like Dive Socks do, but it did happen. I really attribute this to how soft these are inside. Don't get me wrong, I love soft socks just as much as anyone, but I think the softness is what enabled them to slide while my feet were drier.
They were truly the most comfortable socks out of the three reviewed here and I didn't get any blisters, despite the sock creep. There were some slight hot spots at the bunched points, but I attribute some of the blister prevention to the reinforced sole and heel woven in. I also attribute not getting blisters to my feet. I mention this just to say that tougher feet prevent blisters better, so if you're training for an event wearing boots, don't wait until the event to start wearing them!
The SmartWool socks also repelled odor well, I didn't notice any overly obnoxious odor coming from my feet after wearing these.
Made in the USA from imported yarn
Darn Tough Vermont Boot Socks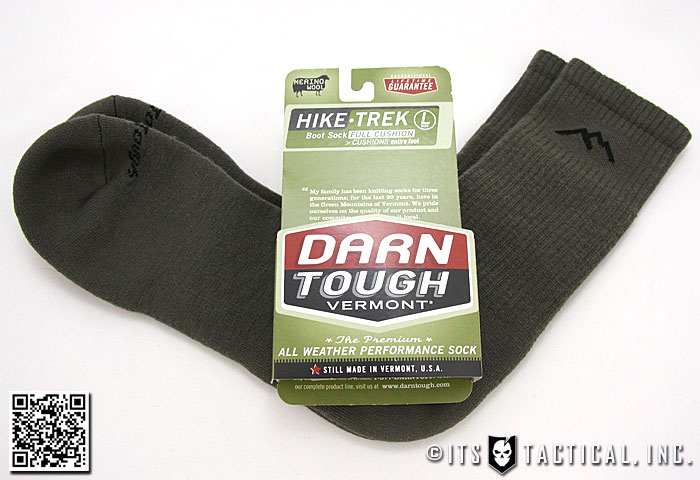 I had very high hopes from the Darn Tough Vermont Boot Socks as I'd heard good things about them, but had never worn a pair. They certainly didn't disappoint! Made up of 69% Merino Wool, 27% Nylon and 4% Lycra Spandex, these surprisingly had more of a traditional wool sock feel than the 11% higher wool content SmartWool socks did.
Not necessarily a bad thing by any means, but there is a slight bit of the shaping that I mentioned earlier with these socks. I did find that they stayed put on my feet, which I feel was helped by the mid-foot support that creates a tighter band all the way around the arch area. Darn Tough Vermont also mentions that they use fine gauge knitting for more stitches per inch and a hugging fit.
The heel didn't feel reinforced on these socks, but the package states that the heel, toe and foot bottom use 4-ply reinforcing nylon. My feet did remain blister free and hot spot free as well. No issues with odor either.
100% USA Made – Berry Amendment Compliant
5.11 Level 1 Socks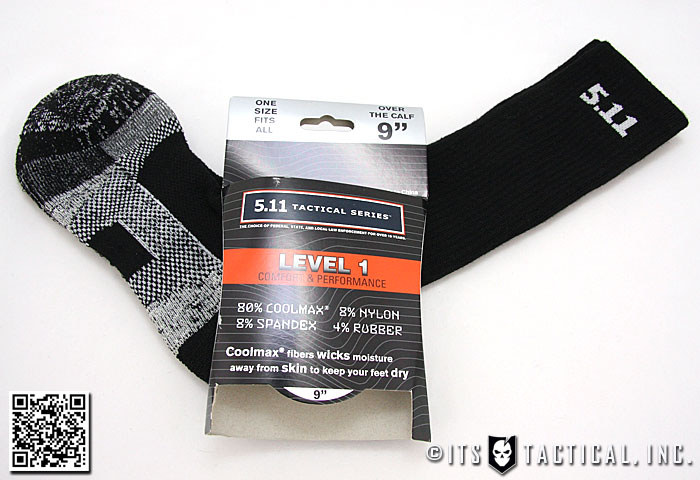 The first thing that I noticed about the 5.11 Level 1 socks were how long they were, I guess I didn't notice that I had the 9″ "over the calf" socks, rather than the 6″ socks. They should be called "over the knee" socks though, as that's where the "one size fits all" socks came to on me. I mention this just to mention it, not to take away from the review of these, as 5.11 makes a 6″ version as well. The 9″ just isn't for me.
Made up of 80% Coolmax, 8% Nylon, 8% Spandex and 4% Rubber, the 5.11 Level 1 socks are fairly comfortable, yet sparse in some areas. I've never worn a pair of Coolmax socks before, but I feel like they actually retained moisture more than the two pairs of mostly wool socks above. Coolmax is the Dupont trademark for polyester and not something I feel competes well with wool based socks.
I actually did get blisters on the back of one of my heels from wearing these socks. I attribute this to the heel area on these not being reinforced like the arch and bottom of the foot is (shown by the white stitching on the socks). There wasn't any issue with bunching on these at all, but I did feel like they had some stink to them unlike the other socks, especially after wearing them a second day. Coolmax isn't as naturally stink resistant as wool is.
Made in China
Inherently Anti-Microbial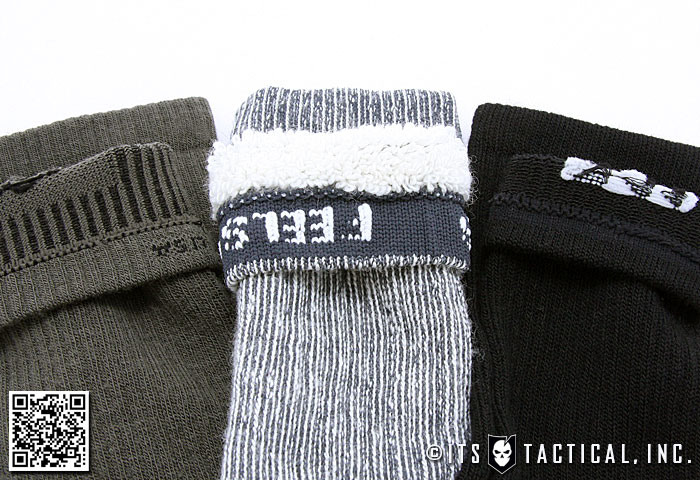 Here's a fun fact: Using wool is a natural way to inhibit mildew, as wool fibers naturally prevent moisture from being held in. As bacteria is attracted to smooth positively charged fibers like synthetics, it's subsequently detracted from the neutrally charged rough fibers of wool.
I personally like wool socks better when it comes to hiking or anytime I'm wearing boots. Both the SmartWool Heavy Crew Trecking Socks and Darn Tough Vermont Boot Socks are good buys, but I'd have to declare the Darn Tough Vermont Boot Socks to be the winner in my testing. While neither are 100% perfect, the bunching of the SmartWool is a turnoff. Comfortable yes, but not what I'd choose on multi-day excursions.
Keep in mind that everyone's feet are different and this review should only serve as a guideline. Socks, like many other clothing items can be a personal preference and what works the best for the way you were built. Hopefully this helped you learn a bit more about some other options for socks out there. Just trust me when I say not to go out and buy Wool Dive Socks!
Do you have a favorite pair of socks? If so, which ones do you like the best and why?