Combat Flip Flops are The Bomb: Comfortable, Stylish and Supportive
Combat Flip Flops are The Bomb: Comfortable, Stylish and Supportive
Each year when the weather begins to warm up, I pull my flip flops out of hybernation. Keeping my feet uncovered helps keep my body temperature regulated throughout the hot summer months, plus I simply like being bare foot. It reminds me of being a kid.
No matter what style of shoe I wear these days, I keep a few things in mind; comfort, back support and traction. I've grown tired of trying to keep up with trends that leave my feet and often times my back, feeling achy. Life's too short to walk around in pain just to look good. So, when I find shoes that look good and my body still feels great after wearing them all day, I feel like my investment was worthwhile.
In the past, I've made the mistake of buying designer sandals as I tried to be trendy. When the designer choices left me wanting, I went to the other end of the continuum and bought super cheap sandals thinking they were all really the same. Most of the flip flops I've bought prior to this year have ended up gathering dust in my closet because they simply weren't comfortable or supportive. One pair had such slick soles that my feet slid right out from under me and I fell on my butt twice in public.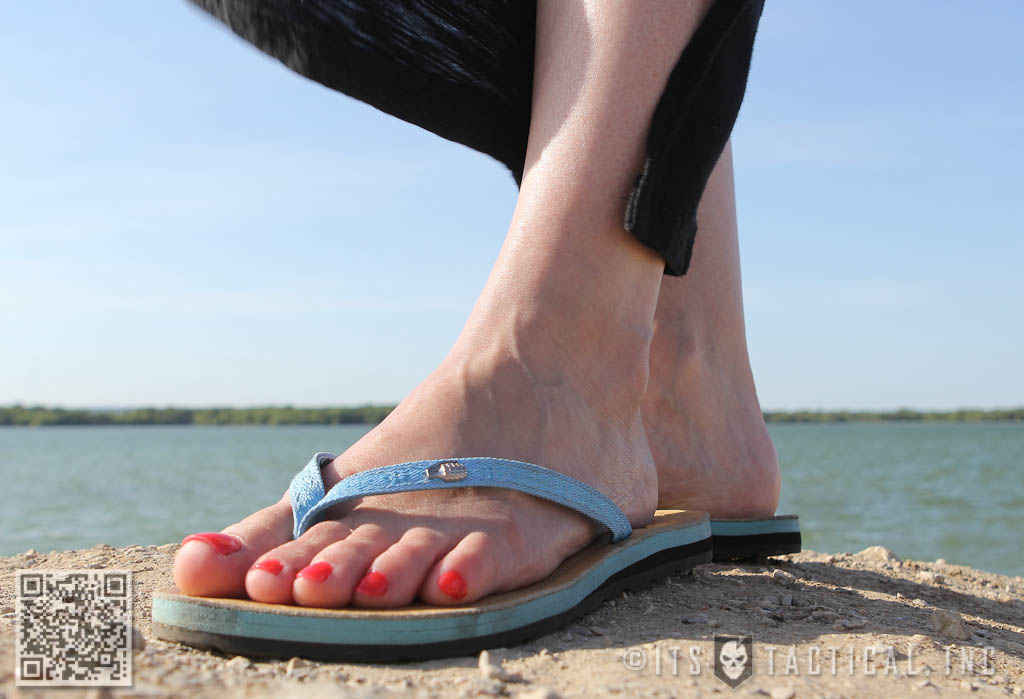 Back in March I purchased my first pair of Combat Flip Flops after Bryan tested out a pair. I really liked the mission statement of the company and Bryan raved about how the sandals felt on his feet. He and I are both pretty hard on our shoes, so I figured if the Combat Flip Flops were working for him they might just work for me, too.
Message Behind the Brand
In case you're not familiar yet with Combat Flip Flops, it's important to point out what this company stands for. American soldiers who spent numerous deployments in Afghanistan saw first hand the need for jobs and commerce as a way for Afghans to provide a sustainable way of life for their families.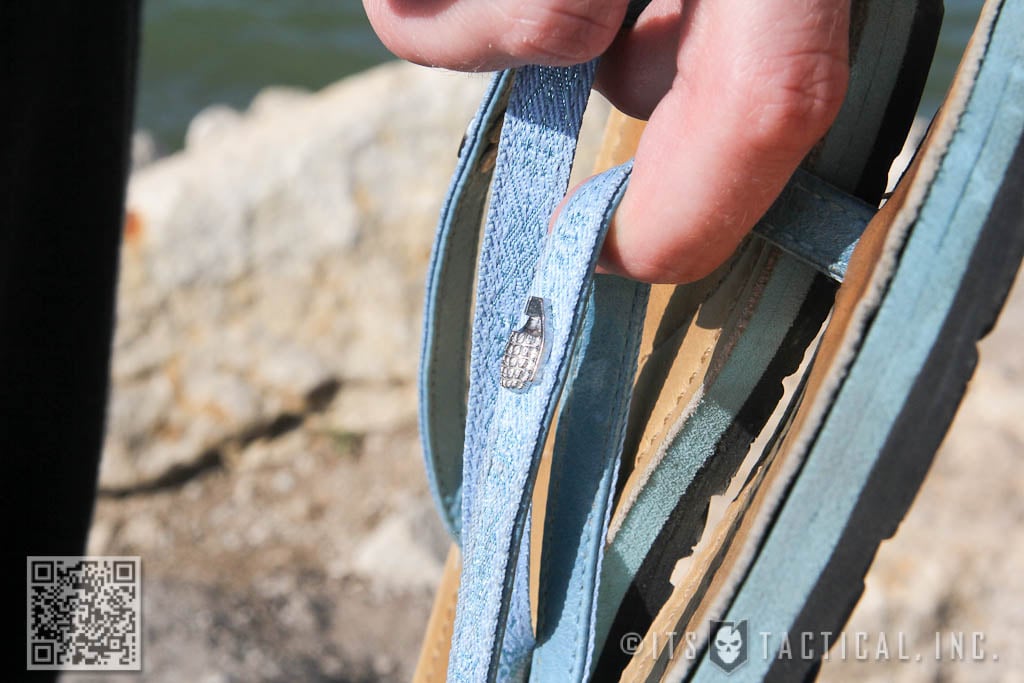 Due to the rapid changes in leadership and political climate in Afghanistan, the factory where Lee, Andy and Griff opened Combat Flip Flops had to be closed and production moved to the United States. All Combat Flip Flops are currently manufactured in Issaquah, Washington. The founders continue to provide work not only to Americans in their current factory, but also plan to reopen a manufacturing facility in Afghanistan when they're able to provide customers with both American and Afghan made products.
The Options
I picked out the Bombshell Light sandals with bright blue straps, a chrome grenade charm and a golden tan foot bed. Combat Flip Flops also offers the Bombshell Dark with black straps and a black foot bed and ladies looking for a little more bling may prefer the Lady Tuck Tuck, which features shiny silver straps and a deep red foot bed. The tread on the bottom of all their flops sport a repeating poppy design as a reminder of the prevalence of poppies in the Afghan region.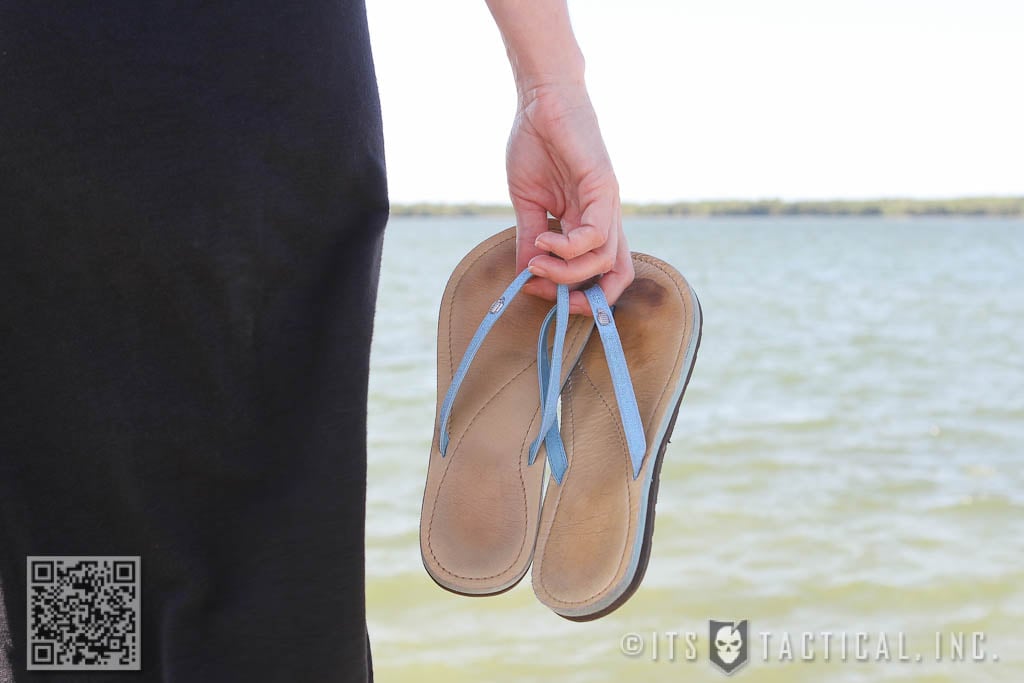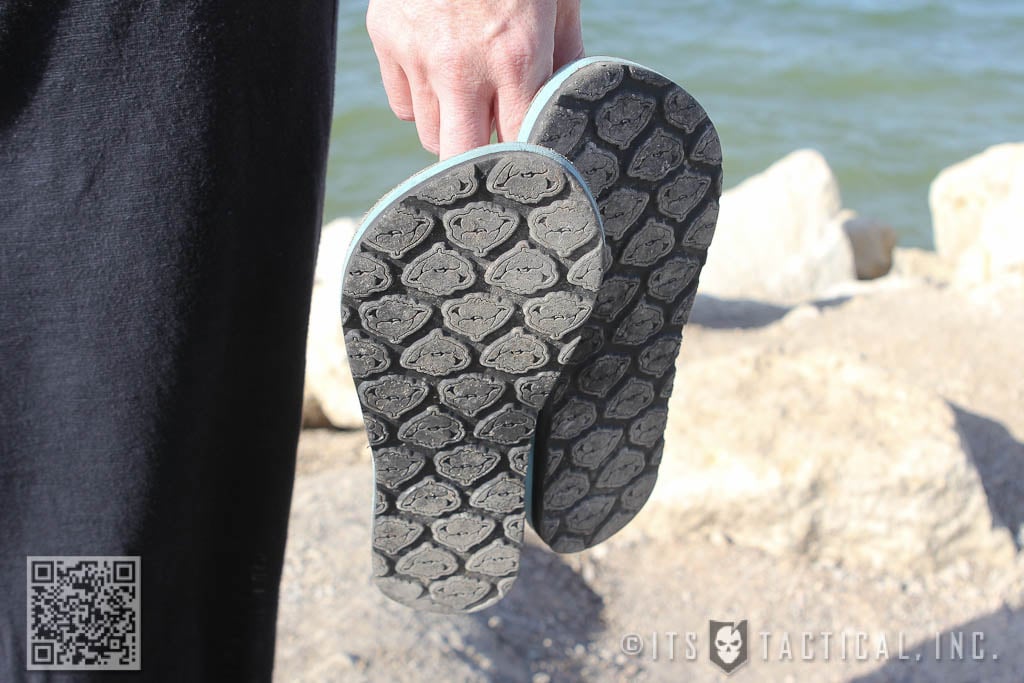 I was excited to see that they Combat Flip Flops carried size 5's since a lot of manufacturers skip right to size 6. All of their Ladies' flops are available in whole sizes from 5 up to 10 and are priced at $65.00.
Flopping Around Town
I'm not kidding when I say that these sandals felt awesome from the first time I wore them. There was a very brief moment that the piece of leather between my first two toes felt a bit odd as my winter feet got used to wearing flops again, but after those first few minutes I've never noticed the leather piece again.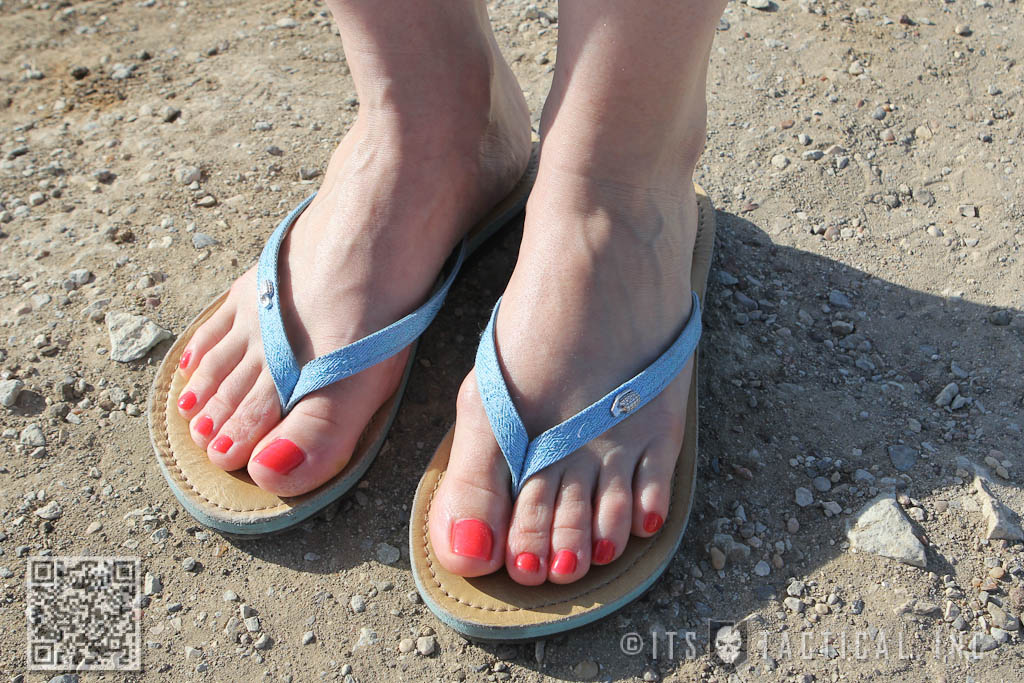 Recently, I wore my Bombshell Lights to a small town we were visiting that had lots of places to walk to, opting not to rent a car to get around. We literally walked a total of about five miles on concrete one afternoon and I wore my Bombshells the entire time. Not once did my feet ache, nor did my lower back show any signs of fatigue. That's the first time I've ever walked that far and not felt it in the rest of my body when I got back home.
These sandals have also been holding up really well. I've managed to stain them a bit near the toes from puddles and sweat, but other than that they're aging nicely. They've literally become my daily shoe this summer. If you're looking for a stylish, lightweight sandal that offers excellent support and stability then go no further than to CombatFlipFlops.com.