Let There Be Light: Why Streamlight's Protac Series Lights are Ready Made for EDC
Let There Be Light: Why Streamlight's Protac Series Lights are Ready Made for EDC
When it comes to EDC, I try to ensure that what I'm carrying covers the bare essentials of what I'll need, without any additional unnecessary gear. Over the years, I've been fine tuning and until recently, felt that what I had on me was everything I could need. However, after hearing about and reading through Bryan's AAR of the Telluric Group Night Vision Operator Course, I knew that I needed to add in a flashlight to my EDC.
I'd experimented with carrying a flashlight daily in the past, but ended up not being able to find a light that fit the criteria I wanted. I'm not a fan of lights with multiple output modes that require you to cycle through using the tail cap. While having a strobe light and low power mode might be nice for some people, I find more often than not that I activate these functions accidentally as I'm trying to get to the high power mode. This is a no-go for me, as in an emergency situation, the last thing I want to do is mess with different light modes.
After he returned from the Telluric Group class, Bryan showed me the Streamlight Protac 2L he picked up and I was really impressed with some of the features. After digging into the Protac series, I ultimately settled on the Protac 1L-1AA for reasons I'll get into below.
The Streamlight Protac 1L-1AA

The main features I was looking for in an EDC light was durability, an LED light with a bright output and a single mode tail cap. The 1L-1AA fit these requirements and after a short wait on Amazon, I had it in hand ready to go. Streamlight has recently added a feature to their lights that eliminates my struggle with accidentally activating the wrong mode.
Streamlight's Ten-Tap programming allows the user to designate a single mode to use every time the tail cap is pressed. By default, the lights come with High Power, Low Power and Strobe modes that are alternated through using the tail cap. However, by following the included instructions, you can tap the tail cap ten times and select your desired constant mode.
Construction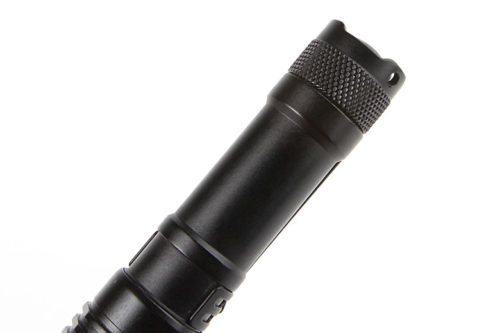 Overall, the 1L-1AA feels rock solid with no rough edges or tooling marks and the whole light weighs in at only 2.5 ounces. The only moving section of the light is the removable tail cap, where you access the battery. This cap has a nice knurling to it and the inside features an O-ring to keep out water, dust and other debris. The push button on the tail cap is fairly flush with the edges, which I find helps to prevent any accidental light discharge.
The standout feature of the 1L-1AA is the "Dual Fuel" ability, allowing the light to accept both CR-123 and AA batteries. This was the biggest deciding factor in my purchase and I was really drawn to the ability to use both type of batteries.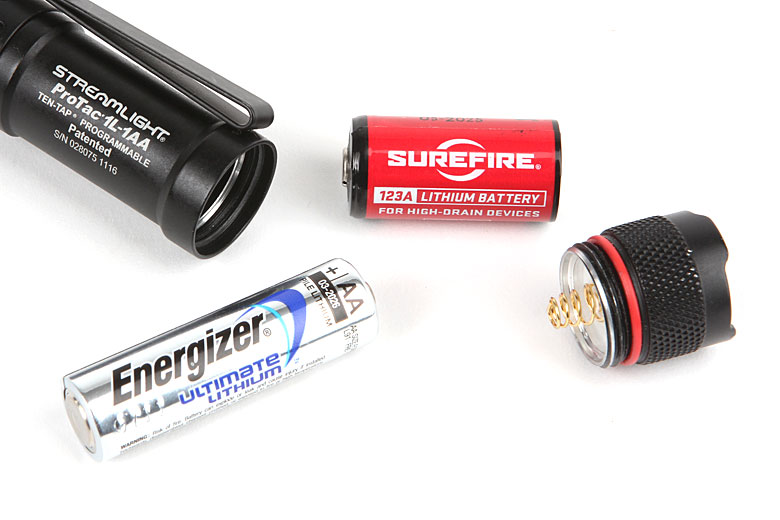 With the 123, the light puts out a high of 350 lumens for 1.5 hours. Switching to a lithium AA will increase the run time to 4.25 but decrease the lumen high to 150. While I definitely favor the CR123 for daily use, it's comforting to know that I could switch to AA's if I had to.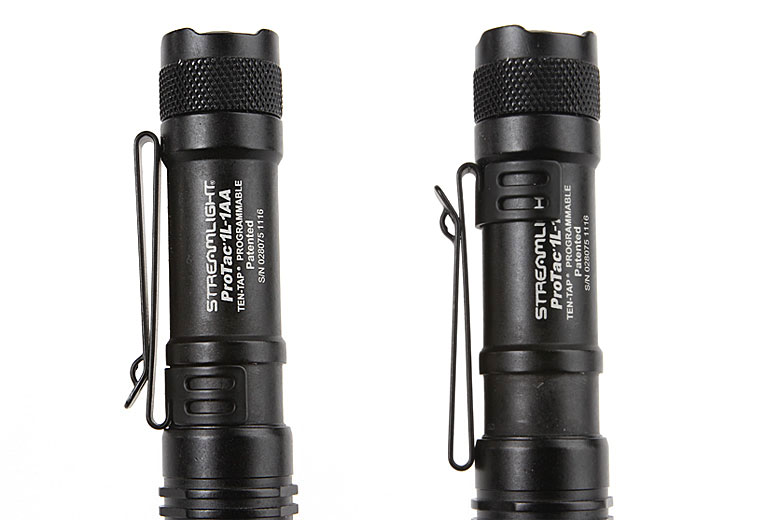 The 1L-1AA also features a reversible pocket clip that allows you to carry the light in a pocket at different heights. While this is a clip-on piece, I've never had an issue with it coming off the light. Though if that's something that worries you, you could always tape the clip on as a backup.
Daily Use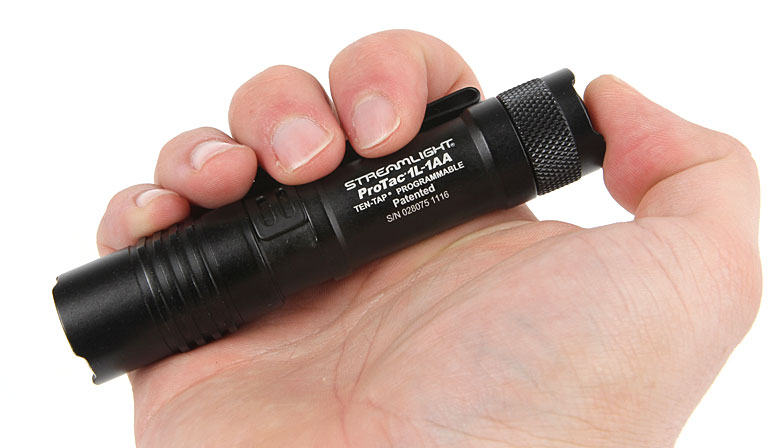 Due to its light weight and small form factor, many times I'll forget that I'm even carrying this light on me. After carrying it daily for a couple months now, I'm amazed at how often I reach for it. I'm no longer struggling to activate the small light on my phone to search for something I dropped behind a cabinet and I can easily blast the runaway object with 350 lumens.
I haven't run into a defensive scenario with the light, but the high output makes me confident in its ability to identify and disorient threats in a low-light situation. The small size also allows it to be easily manipulated with one hand in the event I need to use it with a firearm.
Overall, I'm extremely happy with the Streamlight Protac 1L-1AA and it's been a valuable addition to my EDC. The light's price was low enough that I don't mind the loss risk of carrying it on a daily basis and its construction doesn't make it feel cheap.