Explore the Backcountry with the Hill People Gear Connor Pack
Explore the Backcountry with the Hill People Gear Connor Pack
I've had such a great experience with the two Hill People Gear packs I own, (Qui-Ya & Umlindi) that I used a recent vist to the USA to pick up a smaller pack from them. The Connor Pack is smaller than both of my previous packs, but it still features their legendary harness system. Today I'll be offering my thoughts on why this pack is perfect for your next backcountry exploration!
Meet the Maker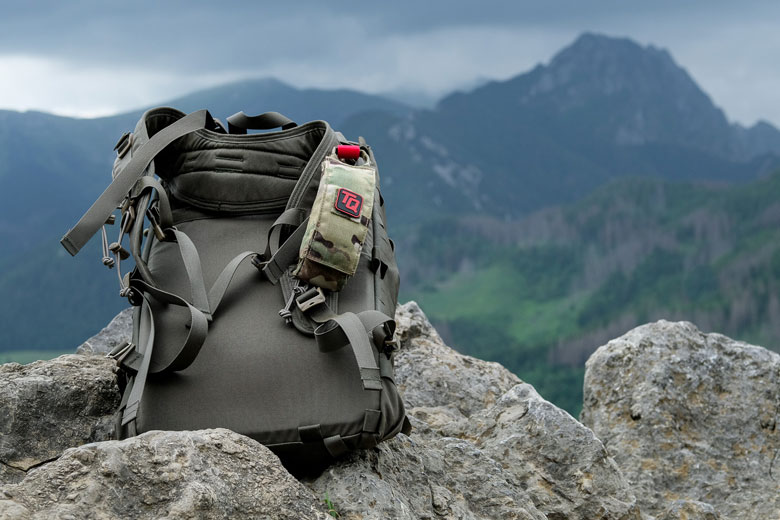 Hill People Gear is a family-owned company based in Colorado, operated by avid outdoorsmen Scot and Evan Hill. They're both to-the-bone outdoorsmen, trappers and backpackers, who also educate people about the wilderness and mountaineering during their events. Finally, they transfer all that experience into unique outdoor products, including their iconic Kit Bags (which kicked off the company) and of course their backpacks.
They offer a whole range of packs, starting from small daypacks and going up to huge expedition monsters. The actual manufacturing process is outsourced to another professional company, FirstSpear, based in Missouri. This means all Hill People Gear is designed and manufactured in the United States and is all fully Berry Compliant.
The Connor Pack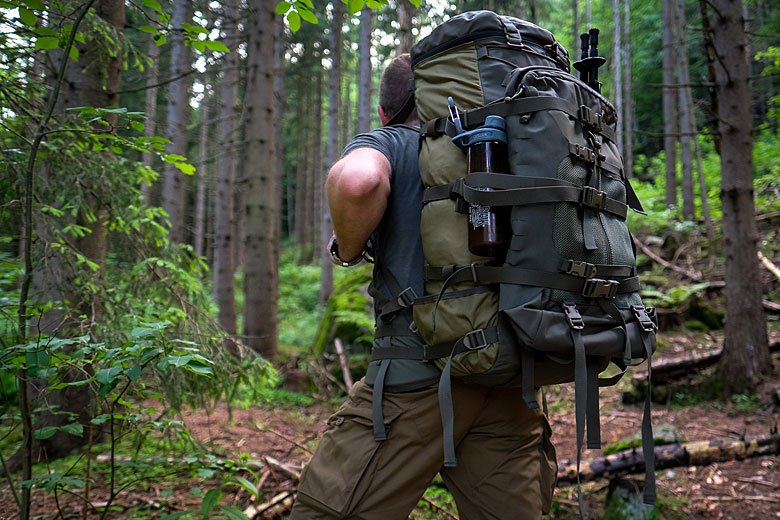 The Connor Pack is a classic daypack with a "shoulders only" style of carry, which means there's no hip belt of any kind. The harness is a classic Hill People Gear design and it's much different than a traditional two-strap system. It utilizes a single 2″ wide harness that not only supports the pack on the shoulders but even between the shoulder blades as well.
The system is all interchangeable
It's not padded, but thanks to the enormously large contact area, it follows the shoulders and torso perfectly, making it even softer to carry than standard padded 2-strap systems. It really works well! The main benefit is much better weight distribution, simple construction and lower weight compared to a traditional system. The secondary advantage is less obvious though. When folded down, it takes up almost no space, as the unpadded harness stays totally flat to the pack.
You can easily use the Connor Pack as an add-on pocket on a bigger pack (like shown attached to the qui-Ya above) and then use it later as a summiting pack. Alternatively, you could purchase just the sack (without the Pack Kit), use it as a pocket and on a summiting day just move the harness from your larger Hill People Gear pack to the Connor Pack. The system is all interchangeable and that helps save weight. The shoulder harness is equipped with a sternum strap, webbing straps and two pairs of bungee loops with toggles. This allows you to easily attach items to your harness like hats, bottles, energy gels, knives, radios, IFAKs or the ITS TourniQuick® Pouch shown in the photos.
Looking Inside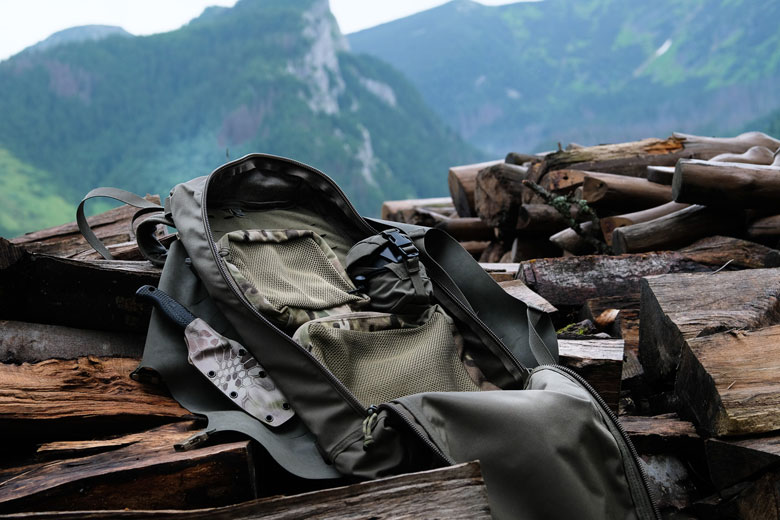 Inside the Connor Pack, you'll just find one big compartment with a clamshell opening. The back panel is fully lined with loop material and laser-cut PALS webbing, so you can attach virtually any pouch inside. I tried the hook-backed LBX mesh pouches and they worked great.
Additionally, MOLLE compatible pouches like Crye Precision's Frag pouch, (which is great for carrying small FujiFilm lenses) can be easily attached inside the Connor Pack. You could even hang a hydration bladder inside using the PALS webbing, but for this kind of a flat pack my preference is some sort of a water flask (or two). No matter what you're using though, the interior of the Connor Pack is easy to customize!
Moving Outside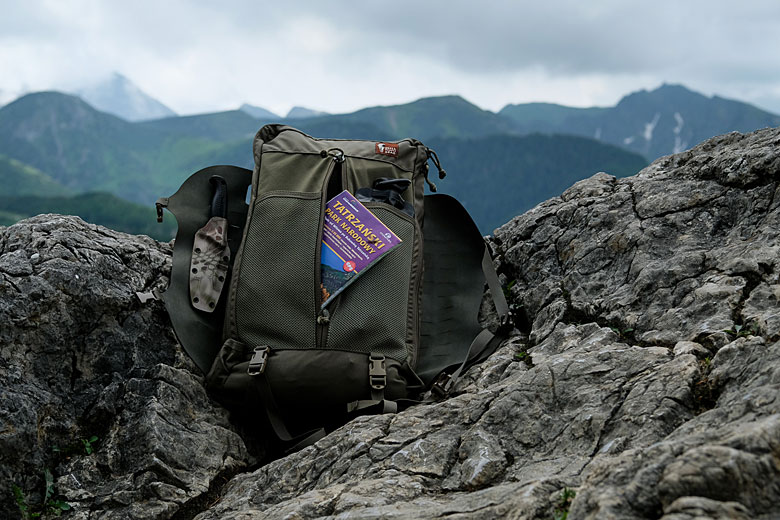 The most interesting part of the Connor Pack is actually the outside. It features flaps, wings or whatever you'd like to call them. No matter what name you give them, they're a genius feature, which makes the usability level of the Connor Pack almost limitless! These flaps are made with virtually indestructible Hypalon and include two rows of laser cut PALS webbing and a pair of small pockets at the bottom of the pack.
You can attach gear to these flaps inside and out. The flaps keep your stuff secure and compression straps make adjustment easy. I used them to attach gear or pockets on the outside, but also conceal items on the inside. (A knife is a good candidate for this type of carry). I also used the system for hiking poles, outdoor gloves, a small drysack, canteen pocket and much more.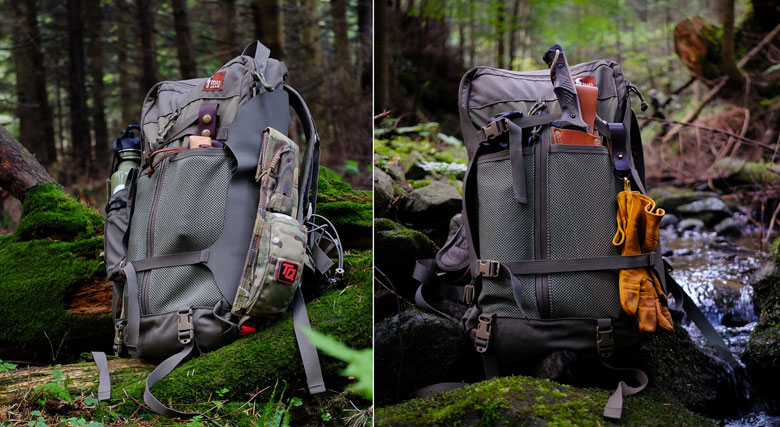 The Connor also features several pockets, one of which is a central flat full-sized zipper pocket made of stretchy material. This is great for a map, documents, headlamp, compass, energy gels or other small items. It also features two long mesh pockets opened from the top, which I used mostly for hydration. Both a classic Klean Kanteen and the ITS Vapur Bottle fit in there perfectly. However, you can carry other items in these pockets, like a fixed blade knife. I was able to fit a Chris Reeve Impofu, which is almost like a machete in size and the sheath could be secured with the top compression strap.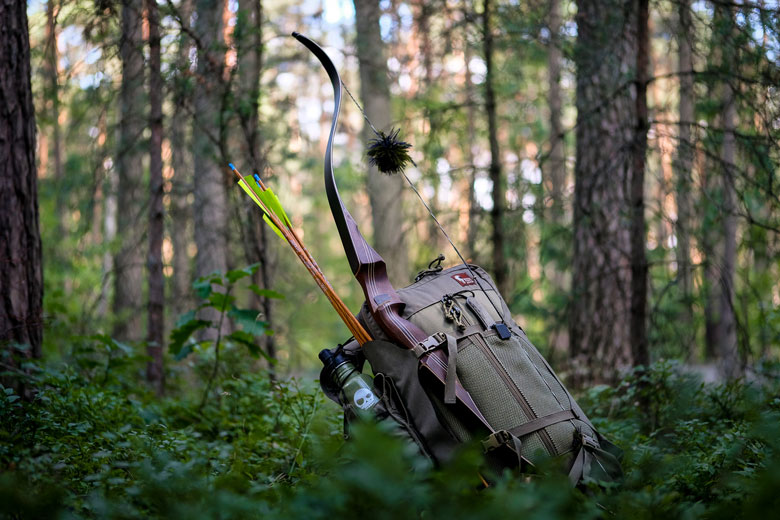 With the Connor Pack's outside attachment strap/flap system, scalability and mission-specific configuration are almost endless. You could even attach another small daypack or drysack to the back of the Connor Pack to double the volume and it would be still fine to carry thanks to the flat silhouette of the pack itself. Plus there's a pair of long bottom straps, which are great for sleeping pads and tarps.
I sweat anyway so it isn't that big of a deal
You can even use the Connor Pack to carry a bow and arrows (as pictured above) for a lightweight hunting scenario, or just for some stump shooting fun during a day-hike. In my opinion, it's never a bad idea to polish your bow shooting skills on a weekend outing in the forest.
My other two Hill People Gear packs use the same system as the Connor Pack and I've found that it feels natural and extremely comfortable on my shoulders. Of course, the flat back means that ventilation is very limited, but that's very typical of alpine daypacks these days. In colder weather and with proper clothing layers, it's not an issue at all. In the summer heat, I sweat anyway so it isn't that big of a deal.
Size Matters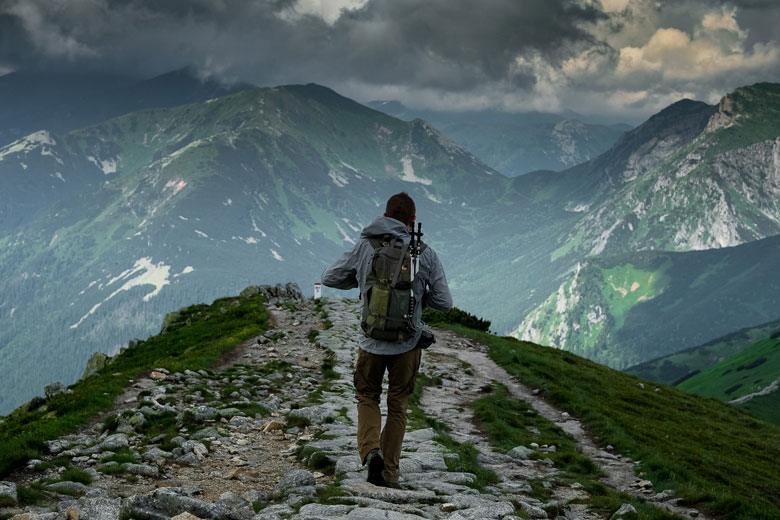 If you purchase the Connor Pack as a full system, you get also a polycarbonate frame sheet with a single aluminum stay, which can be adjusted to the shape of your spine and lumbar area. Of course, you can also use the Connor Pack without the frame sheet if you're wanting to go lightweight. I think the moderate extra weight of the frame sheet is absolutely worth it on a long day hike. You can also use the frame sheet pocket to store flat items like maps. Just make sure they're weatherproof, or at least sweatproof.
Overall I really like the size and comfort of this pack for a total load up to about 25 lbs. I didn't have a chance to carry more in my Connor Pack (which could be done with an extra stuff-sack attached) but it's the same carry system I have in my Umlindi. I've used that as a 3-day pack to carry a sleeping pad and bag attached, with a total weight of about 35-40 lbs. With this system, it was no problem at all and I'm just referencing their shoulder harness, not even the full harness as found on the monstrous qui-Ya.
Solid Construction
As with any Hill People Gear pack made with CORDURA® material, the construction is pretty much weather resistant, but not fully sealed and waterproof. In a light to moderate rain you don't need to worry about leaks, but in a serious downpour, it will let some moisture in. So if the weather forecast says rainy day, I'd recommend a pack cover, which takes up almost no space and makes your life easier. As a rule of thumb, if you need a tough hardshell to protect yourself against water coming from the sky, your pack would benefit from a rain cover too.
Final Notes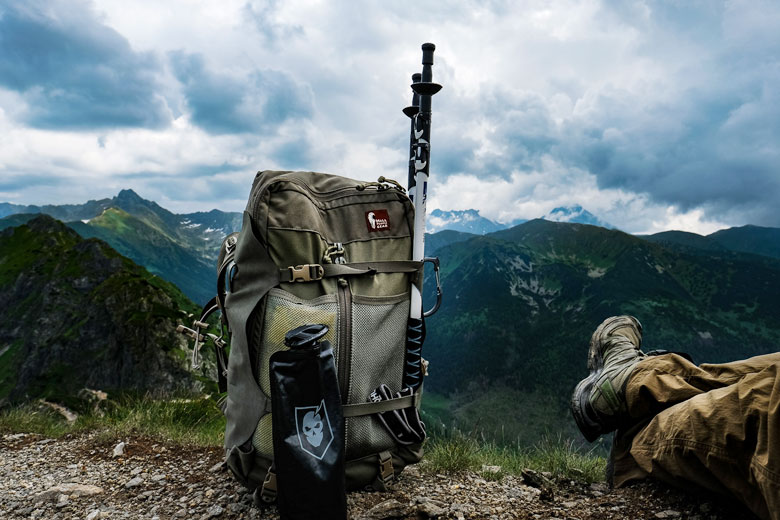 I've been hiking with Connor Pack in the forest, highland areas and alpine mountains quite extensively this year. It's a very capable daypack that can be configured to just about any type of hiking or scrambling. It's not an EDC pack though, that's for sure. However for wilderness and adventures in the outdoors, especially if you're not an ultralight backpacking freak, it's one of the top choices you can make.
The Connor Pack stays close to the body, doesn't change the center of gravity (which is great for any mountaineering activities), doesn't protrude to the sides and doesn't snag on stuff, even with the side pockets and buckles. It fits many roles and is a joy to use, not to mention it looks cool! Think of it as of a personal day-hiking companion, that can be adapted to virtually any terrain and scenario.
Last but not least, thanks to the shape of the Connor Pack, it's easy to attach as an external "pocket" on a larger expedition hauler backpack and can be used later as a summit pack. This is exactly what I did in June when exploring the Tatra Mountains. The Connor Pack is built like a tank, made from scratch in the USA and at about $200 for a complete package, it's also reasonably priced for what it is. I'm not saying it's cheap, but you do really get what you pay for.
Editor's Note: Piotr Ma is an avid outdoorsman, adventurer, mountaineer and certified open sea sailor. As an enthusiast of quality gear, he's always seeking the most un-compromised and best performing gear available worldwide. He's also known as an edged tools specialist. Piotr was introduced to his adventurous lifestyle when he was 10 by his father, a certified sailor and alpine-style climber. Now he continues his family tradition and shows his kids how to live a full life in the great outdoors; teaching them survival skills, shooting and archery. These days, he gladly shares his 30+ years of outdoor experience with people around the globe from his current location: Poland, European Union.