Carbon Fiber or Micarta? The Battle Between Two Chris Reeve Inkosis
Carbon Fiber or Micarta? The Battle Between Two Chris Reeve Inkosis
Let me start by saying that this won't be your run of the mill review. It all started this summer, when I got my Inkosi Insingo with Micarta inlays from Chris Reeve Knives. I'd been wanting one really bad, so when Blade Show 2017 opened its doors, I immediately went to the CRK booth and purchased this knife.
It was the first time that the Inkosi was offered with Micarta inlays and I was extremely happy, up until KnifeArt unveiled the Carbon Fiber Inkosi Insingo. Even though I'd just picked up the Micarta version, I had to have this new Carbon Fiber one. So what started off as a review of the Inkosi Insingo, ended up as a "battle" between the heavily outdoor-oriented Micarta version and the lightweight high tech EDC variant with the Carbon Fiber scales. Of course, "battle" is a bit of an exaggeration here, but in this piece, I'll attempt to determine which one would be "The One," if I could only choose a single version.
An Intro to the Inkosi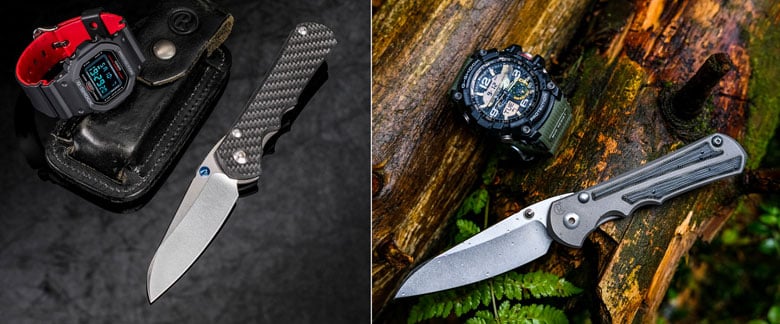 The Inkosi is essentially an updated version of Chris Reeve's legendary Sebenza, on steroids. (Some also refer to it as a tactical version). The hefty blade (.140 stock) is 3.6″ long and by default, is equipped with an ambidextrous thumb stud for opening. The blade is supported with ventilated bronze washers, in addition to a thick stainless pivot.
All of that is locked between two thick slabs of Titanium (or Ti & Carbon Fiber in the lightweight version). The lock itself is a modified Ti framelock, topped with an oversized, strong ceramic ball to provide smooth, silent and very reliable operation. Overall, these knives feature a small number of parts and the manufacturing by Chris Reeve is top notch. Sounds pretty good, doesn't it? Let me tell you, these are fantastic knives.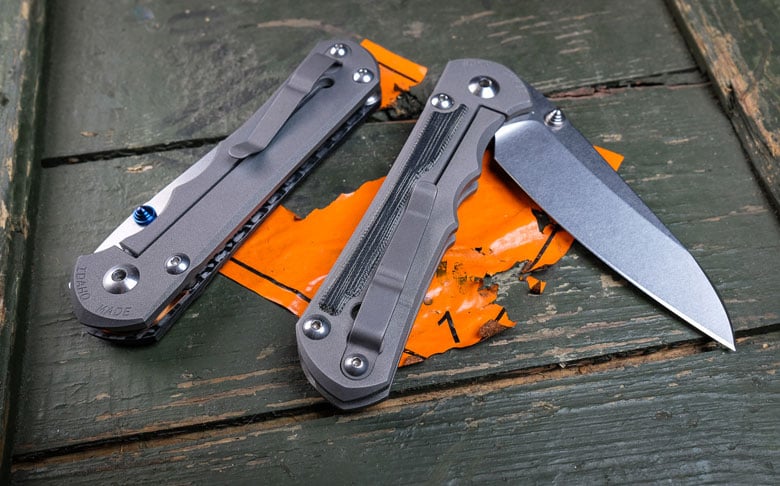 The term "Insingo" refers to the modified Warncliff blade shape, which takes the best aspects of the Japanese Santoku and a classic clip point to make a modern blend of a slicer and a strong, but well piercing point. The Insingo blade is great for all kinds of utility uses; camp kitchens, food processing on cutting boards, slicing, cutting and scraping.
It's all just so easy, thanks to the lowered cutting edge and long, shallow belly. Additionally, the point is fairly sharp, thanks to the well-defined swedge. Which isn't sharpened per se, but is "almost sharp." (Keep this in mind if double-edged blades are a big no-no in your area).
Using the Micarta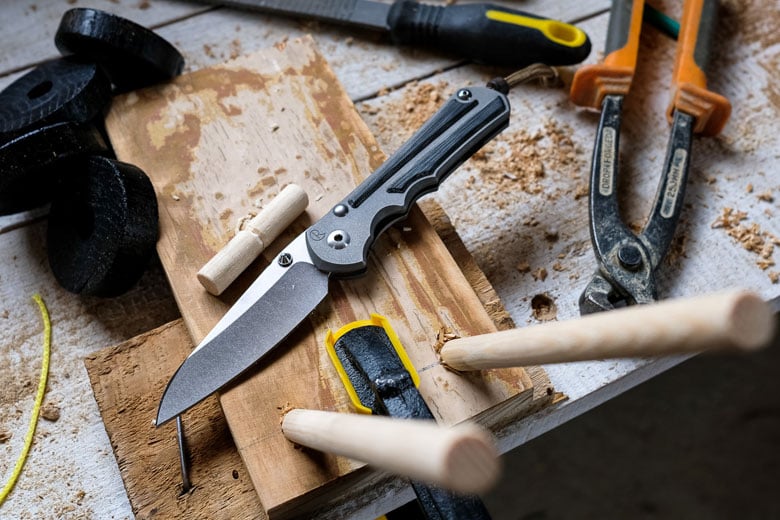 I used the Insingo extensively for almost six months before writing this review. It was with me in the high Tatra mountains, in the forest during my family vacation and many weekend trips and adventures. I used it for everything from cutting, to carving and even whittling. Let me tell you, that S35VN steel really performs!
Sure, some might say that it's not as high tech and new as it was a couple years ago, but S35VN still performs wonderfully. It's rustproof, shock resistant, doesn't roll or chip easily and you can sharpen it in the field without much trouble (even on an improvised stone sharpener if needed). Good luck trying that without a diamond rod with something like M4 or M390. So for a summer trip in the mountains, S35VN (or even S30V) would still be my choice due to its great cutting performance, combined with easy edge maintenance.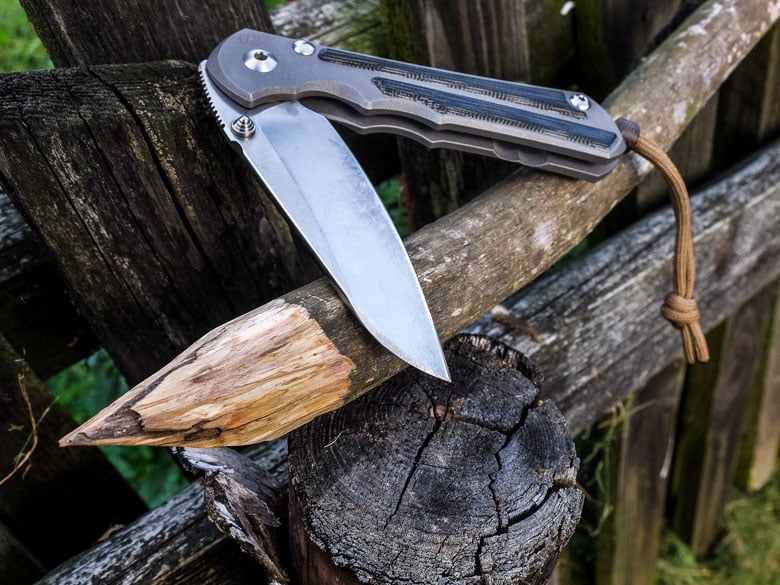 Another advantage of the Insingo blade versus a clip point is firestarting. It's surprisingly easy to get healthy sparks out of a ferrocerium rod using that sharp swedge! I wasn't aware of that when selecting the Insingo blade for field use, but it's a welcome feature!
I know I put pressure on the lock using it that way, but my experience shows the lock on the Inkosi to be extremely reliable and very solid. The locking ball integrated within the frame locks the blade smoothly, silently and dead in the center of the blade. It also hasn't moved even a hair from day one of owning it.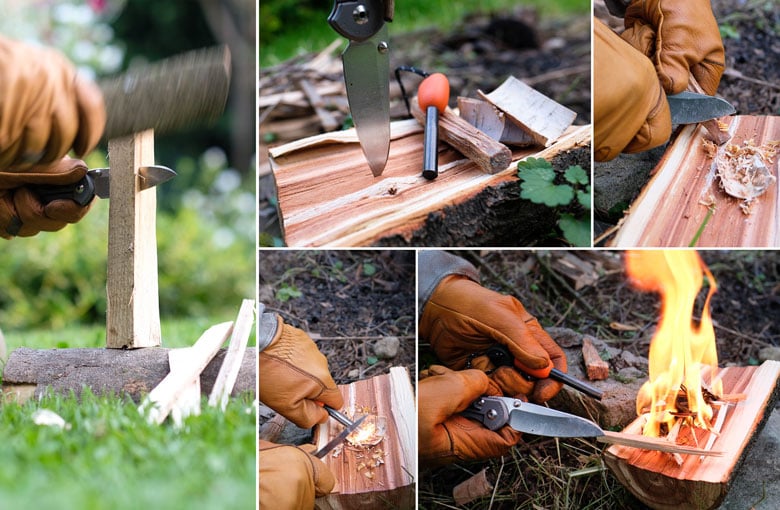 Now things get more complicated (or simple, depending on your point of view) when we take the Micarata inlay into consideration. Micarta adds some thickness and weight to the Inkosi, but provides a more secure grip (especially when wet). I used my Micarta inlayed Reeve for almost everything, including food preparation, cutting and whittling, even chopping and batoning wood to start a fire.
Yes, I know batoning isn't considered a healthy activity for a folder, but I really wanted to test it to the bone. So I went full monty and just batoned the knife like I would with any of my fixed blades. The good news is that it passed the test with flying colors! All in all, the Micarta seems to be a logical choice for outdoor activities, especially when a bit more bulk isn't really an issue and a secure grip is everything.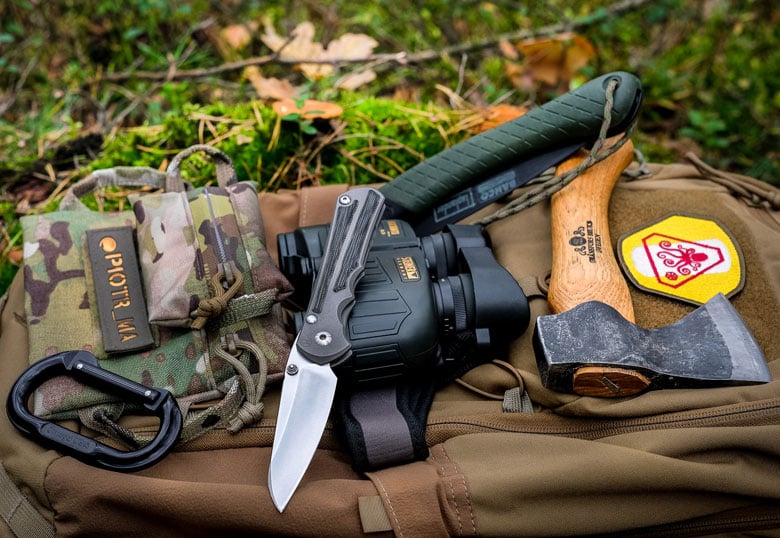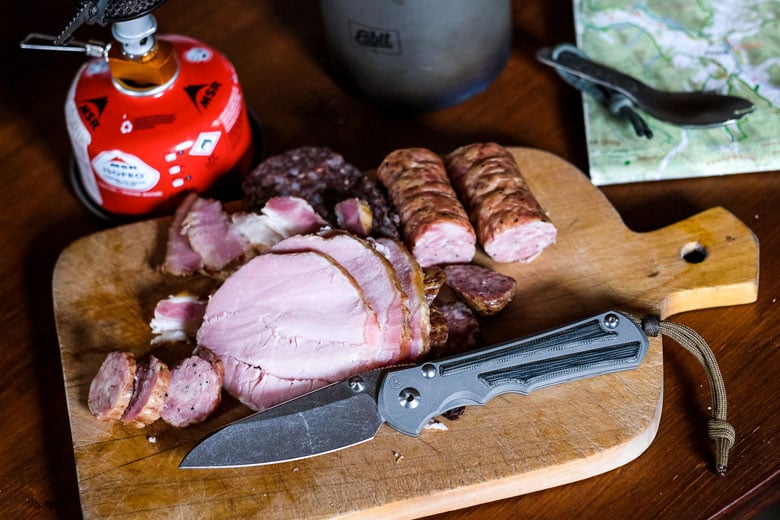 Enter the Carbon Fiber
Of course vacations can't last forever and soon, I found myself back in the city, living my usual office life. Suddenly the bulk of the Micarta, which was very welcome in the field, became a nuisance in my everyday life. However, life sometimes brings nice surprises and it was around this time that KnifeArt announced the Inkosi Insingo in an exclusive, limited edition with a Carbon Fiber front scale instead of Titanium! So it was not only as strong as the original Inkosi, but was also considerably lighter than the full Ti version, not to mention the Micarta one! Could this be the ultimate folding knife? I decided to find out!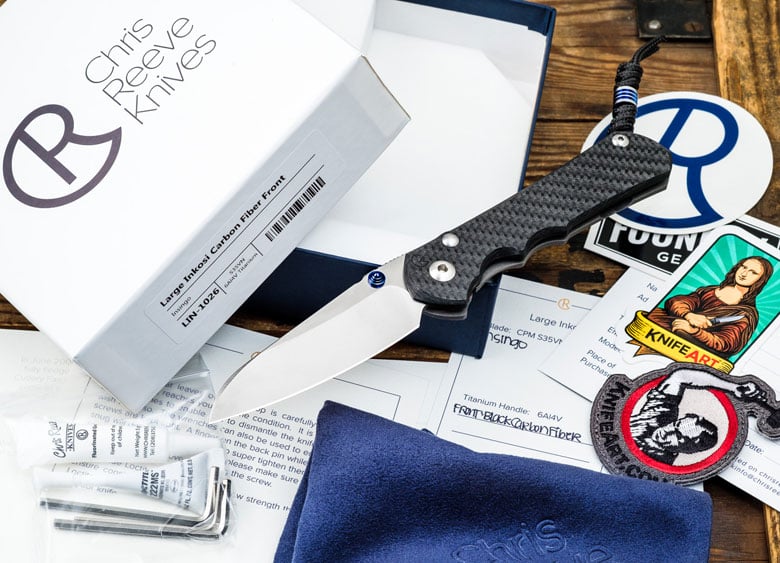 For EDC and urban life, the Carbon Fiber option is the way to go. It's slim, slick, looks great and almost disappears in the pocket due to its weight. The CRK trademark blue thumb stud is a very nice touch too. What about actual hard use though? I ventured back into the forest for another weekend adventure to test out this new knife! As you can see from the photo below, I tested it with some light chopping, whittling oak and removing bark from dead birch and I was absolutely delighted.
Of course, the blade cuts just as well as the Micarta variant, but to my surprise the grip security isn't actually that much different in actual use. The sculpted finger grooves, combined with the hefty handle really give the essential grip for most cutting jobs. The only difference I noticed was when the handle was wet, so for prolonged use in a hot and humid summer forest, or for hunting/game processing, the Micarta version would be better. However, for occasional outdoor use, the grip difference is almost non-existent.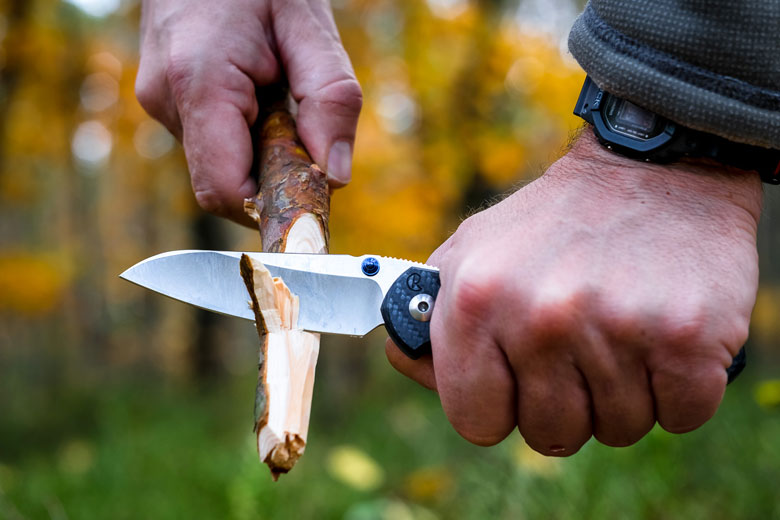 I also tested the blade's performance on my standard testing medium, 3/4 inch hemp rope. Push cuts were clean and easy and after about three dozen cuts I stopped, as there was no noticeable difference in sharpness. Of course, the high tech steels of today could (and would) perform better, but as I said before, I'm leaning towards the compromise between the edge holding, impact resistance and ease of sharpening in the field.
After all, S35VN is a proven steel, used by a number of reputable manufacturers and many top custom makers (including my favorite maker and good friend, Bill Harsey). It's so much better than standard steels like VG10 or 440C and it's fully rustproof. Not to mention, it cuts wood and rope crazy well.
The Cost of Quality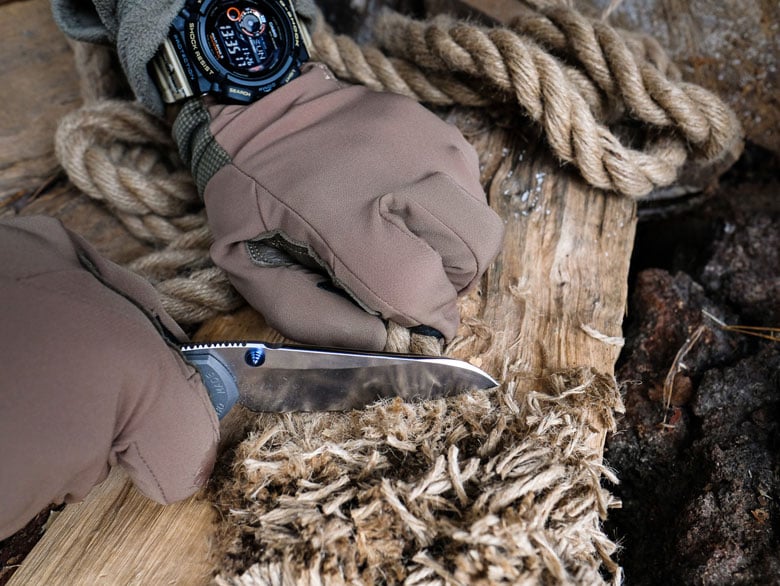 Excited so far? Ok good, it's time to talk about money. Chris Reeve's knives ain't cheap! The large Inkosi starts at $445 for the standard version, but what you get is a Rolex of the knife world. You'd be hard pressed to find a company that offers manufacturing quality on par with CRK. They've won the Blade Show Quality Award multiple times for a reason.
The quality of Chris Reeve Knives is undeniable; they're the pinnacle of what's available in the cutlery industry today. They're also backed with a lifetime warranty. So what you get is perfection and I mean perfection. If you've never owned a Chris Reeve knife, take my word on it, it will change your point of view on quality forever. Just like Rolex, knives from CRK also keep a very good resale value!
As the phrase goes, buy once and cry once when purchasing good quality gear. The Inkosi, just like other knives from CRK, is a knife that can be passed down through generations. In fact, even after 15 years, my old CRK Sebenza is just as good as she was at the moment of purchase and it will surely end up in my son's pocket one day.
Conclusion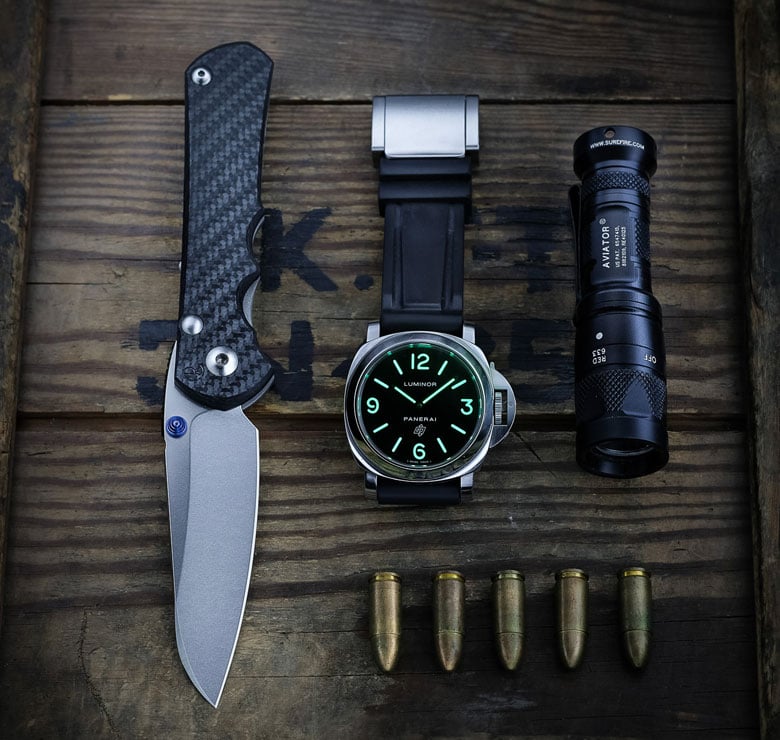 Time for the verdict! Which one is takes the cake? Well, there's no easy answer. Especially because the price varies so greatly between both ($485 for the Carbon Fiber and $545 for the Micarta). For everyday use, there's no doubt the Carbon Fiber version shines, but for outdoor adventures, there are slight advantages to the Micarta version.
So what would be my choice if I were only allowed to have one? Well, as 75% of my time is spent in an urban environment and my experience with outdoor use of the Carbon Fiber Inkosi is very positive, I'd be leaning towards KnifeArt's Carbon variant as "The One." However, there's no going wrong with the heftier Micarta version. Additionally, let's not forget about the Plain Jane standard Titanium version, which might be the way to go for a lower price at $445. No matter what you choose though, you won't be disappointed. You'll be delighted with versatility and quality of your knife.
Editor's Note: Piotr Ma is an avid outdoorsman, adventurer, mountaineer and certified open sea sailor. As an enthusiast of quality gear, he's always seeking the most un-compromised and best performing gear available worldwide. He's also known as an edged tools specialist. Piotr was introduced to his adventurous lifestyle when he was 10 by his father, a certified sailor and alpine-style climber. Now he continues his family tradition and shows his kids how to live a full life in the great outdoors; teaching them survival skills, shooting and archery. These days, he gladly shares his 30+ years of outdoor experience with people around the globe from his current location: Poland, European Union.