Source Hydration Systems and LBT Hydration Pouches, a Winning Combo
Source Hydration Systems and LBT Hydration Pouches, a Winning Combo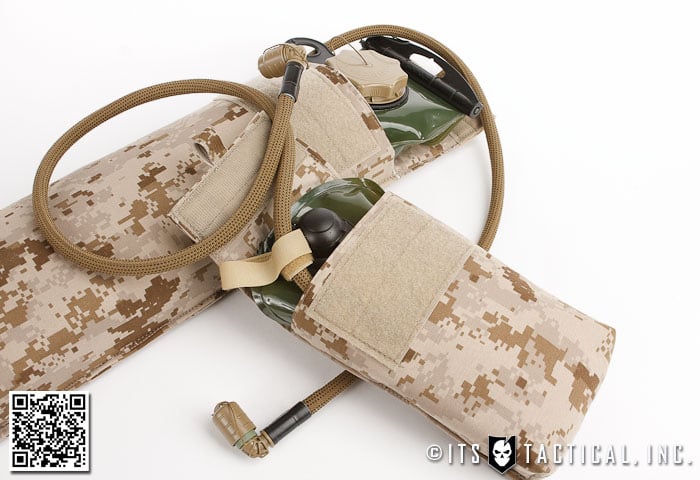 Today we'll be taking a look at Source Hydration Systems, which I feel to be the leading hydration bladders on the market today. I'll also show you some killer pouch offerings by London Bridge Trading to complement them.
Until I finally found a easy "source" through Tactical Distributors to purchase Source Military products about a year ago, I discounted them due to being hard to find. Once getting my hands on them, I quickly wished I'd done the extra leg work back then to get them!
Source Military Hydration Systems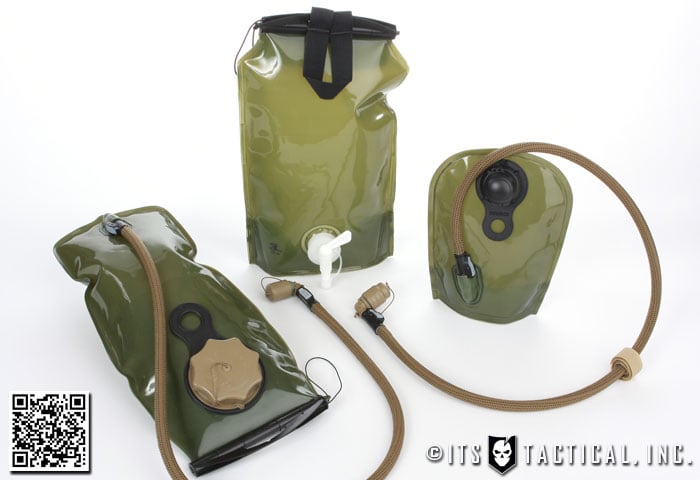 Source Vagabond Systems is an Israeli-based company that provides many hydration products for the Military, Tactical and Outdoor communities. Their products used to be solely for the Israeli Army but have now found their way into military units worldwide.
My experience with hydration bladders dates back to some of the first CamelBak bladders in the mid 90s and I've always been unsatisfied with some part of all hydration bladders, despite trying quite a few products from Blackhawk Hydrastorm, Camelbak and Platypus. My biggest complaint has always been with the drinking tube and how with all the aforementioned bladders, it's merely shoved on a flared end piece that's molded into the bladder. This is a recipe for disaster.
The problem with this is that if that tube gets pulled or works loose, the water leaks out like a sieve. It's happened to me numerous times, in particular with two CamelBak bladders I own. It was the last occurrence of this that caused me to purchase Source Hydration products. During a multi-day outing I had my tube work free of a CamelBak bladder leaking about 70 oz. of water into the bottom of my pack. I didn't realize it until the guy behind me mentioned the water dripping out the bottom of my pack. I wound up having to dry out the bladder, duct tape the tube and continue to use it.
Something else on hydration bladders is that I've never found a bite valve I really cared for. I've liked some features on a few, like the shut-off valve that CamelBak bite valves integrate, but nothing has ever stood out to me as a perfect system. I'm also sure many of you have also experienced the notorious bad taste of hydration bladders as well, that's always been something I just figured I had to deal with…
Features
Source offers what I feel to be the best Hydration System Bladder on the market today, the numerous features they've packed in truly set them apart from any other offering. What I'll be reviewing today is a Kangaroo 1L, WXP 3L w/ Helix Valve, UTA universal tap adapter and a K-9 Widepac Bladder that Combat Medical Systems is including in their K-9 Handler Mission Pack.
Before I talk about the specifics of each individual item, I'd like to go over some of the features I've mentioned that sets Source apart in the industry.
Quick Connect Hose Fitting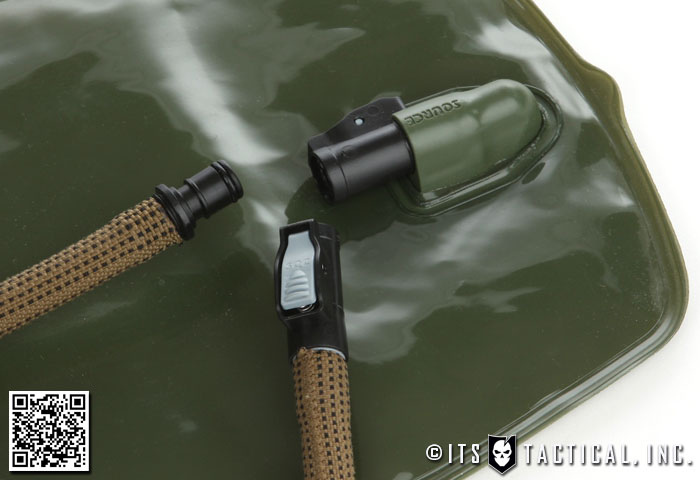 As mentioned above my largest hangup with bladders is the way the hose is connected. Source has developed their QMT system to not only alleviate the common leakage problem, but to also integrate a quick disconnect feature of the hose from the bladder by simply depressing a lever. What's great about the QMT is that the hose can be disconnected while water is still in the bladder with no leaking!
The QMT has a built in shut-off mechanism that prevents water from leaking out when the tube is disconnected. This quick disconnect feature is located on both sides of their tubes as well, which allows their bite valves to quick disconnect as well with the same shut-off mechanism. This also allows the quick attachment of accessories like the UTA which I'll go over below.
Widepac Wide Opening Access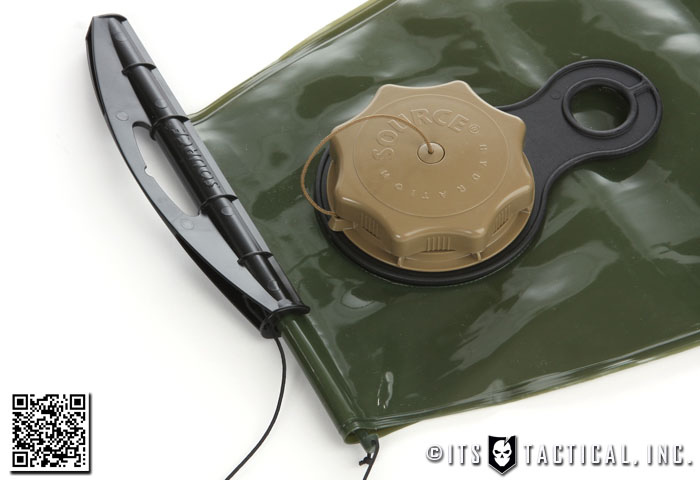 Something I really like on both the WXP and K-9 Widepac Bladder is the ability to slide open a large closure and gain wide access to the interior of the bladder. This allows for easy filling, adding ice and cleaning. One of my hangups with bladders has always been needing a long brush to get down threaded cap opening to clean them.
The smaller Kangaroo doesn't feature this Widepac opening, so that's something to consider if this type of access is import to you.
Angled Bite Valve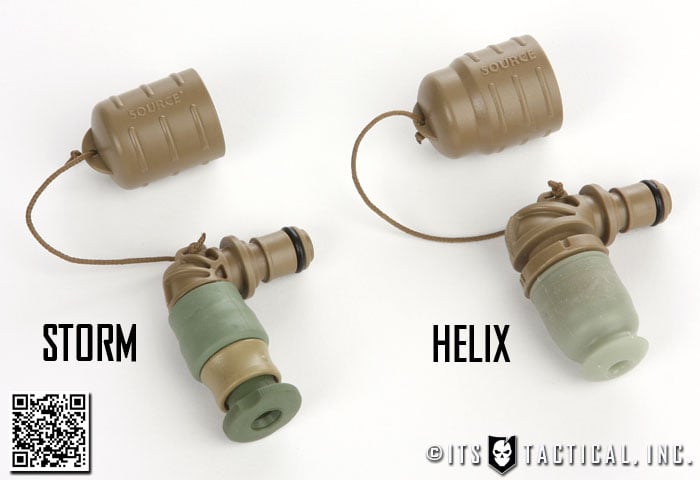 Something simple yet highly effective that Source did was angle the bite valve 90 degrees and enable it to rotate 360 degrees. This ensures the perfect orientation to your mouth is always available and also allows the overall length of the tube to be shorter.
Source makes the Helix Bite Valve and also the Storm Bite Valve. I'm a big fan of the Helix, which is the newer variation. The Storm leaves much to be desired, as I've found the simple pull-out design to let the water flow is prone to leaking. The Helix solves this issue nicely with a twist motion to lock off the valve and a simple soft bite that will not release water until you bite down, even under pressure.
Another great feature on the bite valves is the dummy corded protective cover that nicely snaps on to keep the valve protected and free of dirt and dust.
Filler Caps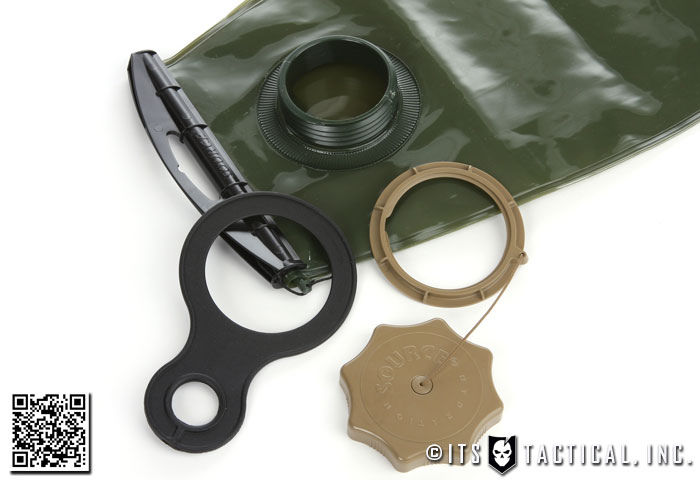 Something cool that I've only recently discovered is that the filler cap on the WXP bladders is the same thread size as a Nalgene. What this means is that not only can you interchange the caps (if you had to), but you can utilize the Nalgene adapter that water filtration systems include to fill your Source reservoir.
The filler cap is also very easy to use and features a dummy cord lanyard to prevent loss. The secondary ring to which the dummy cord is attached tightens the cap down to the integrated threads in the bladder and acts as retention for the black spyglass shaped filler handle.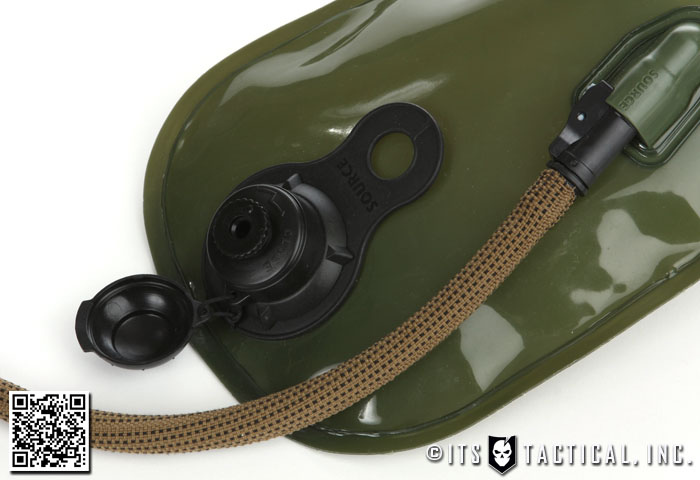 While the Kangaroo also features the filler handle, its filler cap is quite different. As the Kangaroo does double duty as both a standalone canteen (by disconnecting the tube) or a small bladder, it has a sports bottle like pop-up lid that can also be twisted in the down position to secure it from popping up. It also has a pop-off cap that's dummy corded.
This pop-up unit is then threaded on the integrated bladder threads to secure it. Beneath this is a secondary ring much like the WXP that acts as retention for the filler handle. My only suggestion would be to add extra dummy cord between the secondary ring and pop-up filler cap to prevent accidental loss.
Free System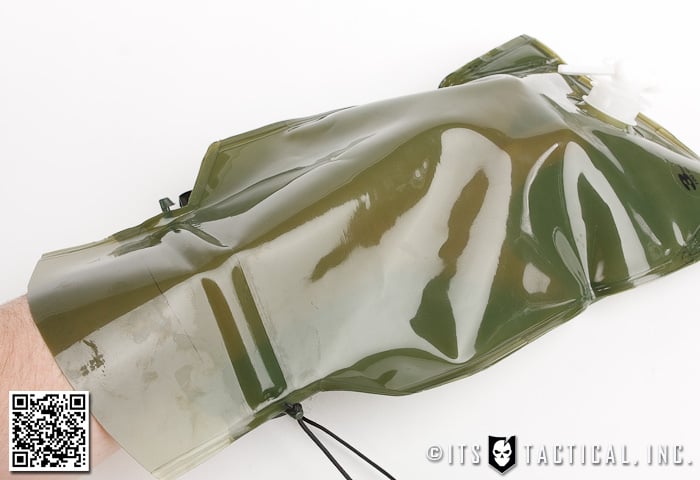 A few of the last features to note is Source's Taste-Free, Bacteria-Free and Care-Free system. These descriptors definitely ring true, as I've found Source to be the one bladder that I don't have any taste issues with whatsoever. Their "Glass-Like" liner technology along with antimicrobial technology is what they credit for no plastic flavor and the blocking of bacterial growth for the life of the system.
Source states that these technologies also eliminate the need for cleaning for days, weeks and even months of use. I've found this to be entirely accurate and have actually never cleaned these in the off and on use over the past year. I constantly cleaned my other bladders, thinking that one day I'd clean the bad taste out of them. That unfortunately wasn't the case.
I still remove leftover water from the bladders and try to put something in them so that they can dry out all the way. This is usually a piece of a plastic hanger I have that works good for this purpose.
Tube Cover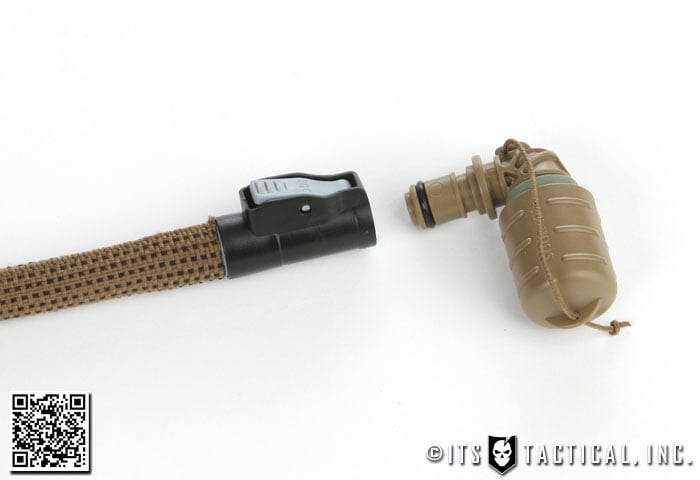 I really like the integrated tube cover on the WXP and Kangaroo, which insulates the tube and blocks UV light. This helps water stay cooler and prevents bacteria from growing in the tube due to UV light exposure. It's very well made with a strong weave pattern that's never frayed or slipped off the tube. The glue that's used to secure it to the valve end and the QD end is holding well.
When I bought the Kangaroo and WXP I also purchased an extra tube, but it's been sitting in the package for the last year. At the rate these tubes are holding up, I don't think I'll ever need it! Having different color options on the tube is also nice, I purchased mine in IRR Coyote, but they're also available in IRR Foliage, Black and Olive. (Kangaroo only available in IRR Coyote and IRR Foliage).
The IRR (Infra-red Reflective) coating has a specific reflective wavelength to blend in with natural coloration in the infra-red spectrum, reducing visibility to night vision devices.
Systems Overview
While many of the features of the three systems listed below have already been noted, I'd still like mention some individual notes on each one and better describe them.
WXP 3L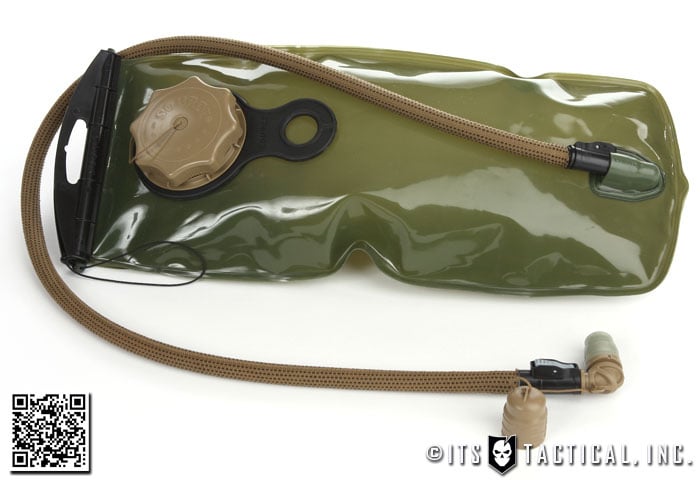 This system has definitely become all that I'll ever need in a 100 oz. hydration system. I still feel that 100 oz. is a perfect amount of water for most outdoor activities and trips to the range where I use a pack. It also tucks away quite nicely in my Triple Aught Design FastPack EDC.
To give it an honest critique, it is slightly larger than other 100 oz. bladders I've owned, but not by much. What seems to make it a bit more bulky is the Widepac access slider bar. While I wouldn't change the functionality for anything, the rigid plastic bar means that it can't contort in a way that other bladders can. This isn't necessarily an issue at all, just something to note.
Kangaroo 1L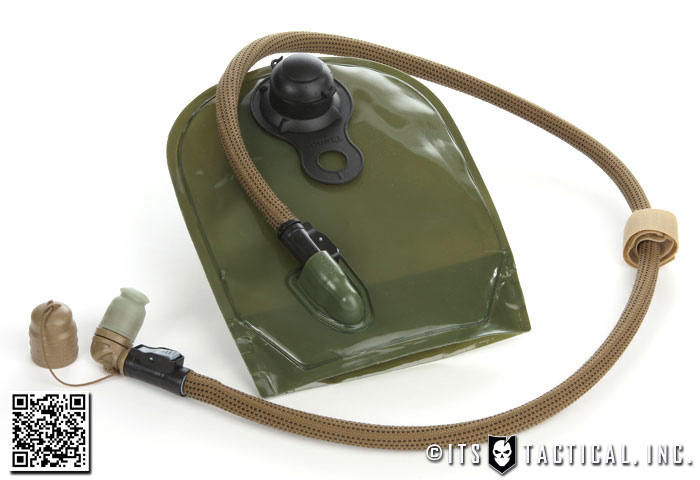 I was skeptical when I ordered the Kangaroo if it would find a place in my outdoor use, but it certainly has. It's use as a standard canteen without the tube is where I really like it. It holds the same amount of water as a Nalgene, but folds flat when empty rather than taking up space like a Nalgene does.
It's also great on the back of a chest rig for use with the tube, as larger bladders can be cumbersome to wear when weight is a constraint or prolonged riding in vehicles.
K-9 Widepac Bladder 3L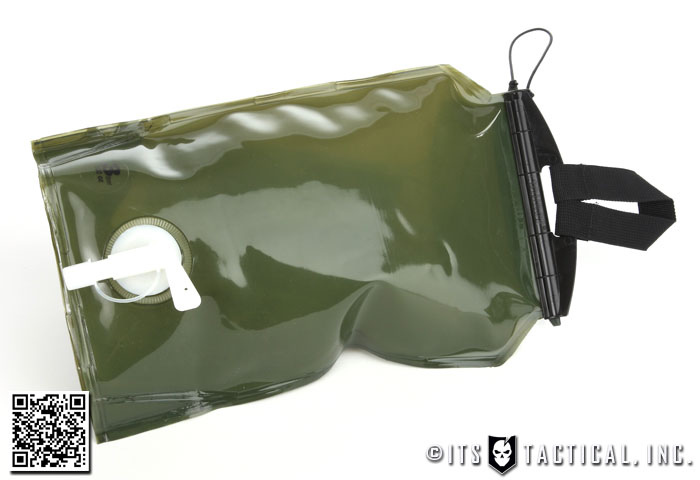 While the K-9 Widepack Bladder isn't a regular product for Source, I still really wanted to highlight it in this article in the hopes that it will be someday.
I truly think it has a great purpose for outdoor enthusiasts as well as military and law enforcement use of dogs. I know when I'm out hiking with my dog, a common issue is bringing water along for him too.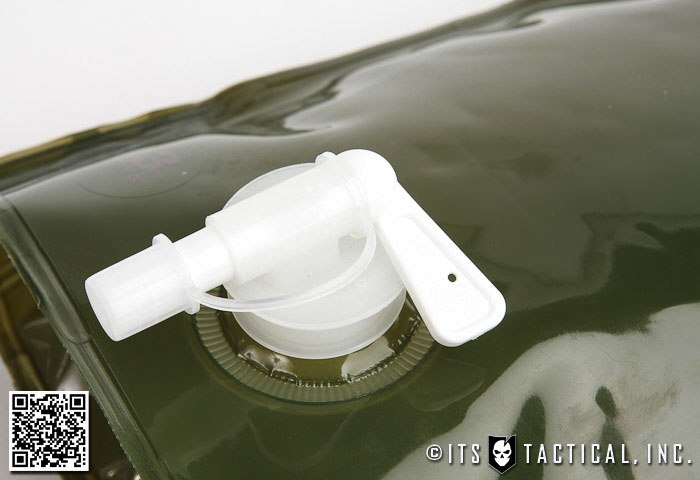 The K-9 Bladder features a spigot that makes pouring water into a pop-up bowl a breeze. I simply grab the bladder by the integrated handle, remove it from my pack and twist the spigot to fill up the bowl. Before I either had to carry a collapsible (and bulky) Nalgene bladder or squeeze out water from my own hydration system for him. Having a dedicated K-9 bladder is truly awesome.
I was able to check out a bladder from the Combat Medical Systems K-9 Handler Mission Pack and can't say enough good things about it! The one small critique I have is that while I've never experienced any leakage while carrying this bladder, the on/off spigot could potentially get turned by Mr. Murphy.
Universal Tap Adaptor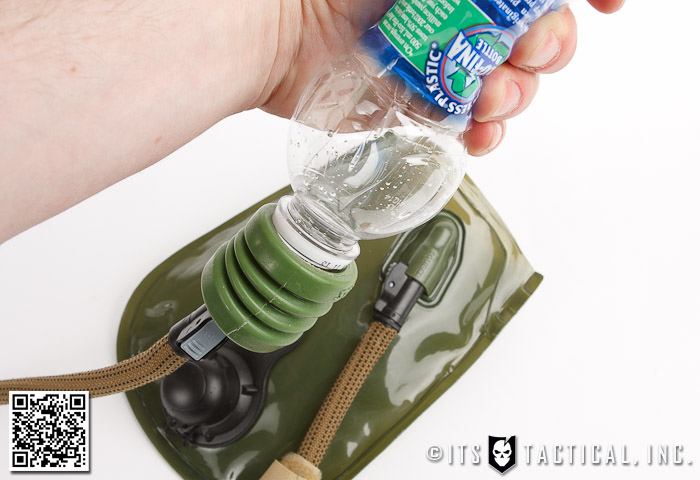 One last accessory to mention is the UTA. This accessory is mandatory if you ask me, as it takes an already stellar system and makes it that much more versatile. The UTA enables you to disconnect the angled bite valve from any of Source's systems, dock in the UTA, and fill the bladder directly through the tube from a hose, sink, or even a water bottle!
What's great about this is that you can now refill your hydration system without having to remove your pack for refills, truly helping you stay on the move! There's also a MOLLE compatible pouch for the UTA that comes in Coyote, ACU and MultiCam.
London Bridge Insulated Hydration Bladder Pouches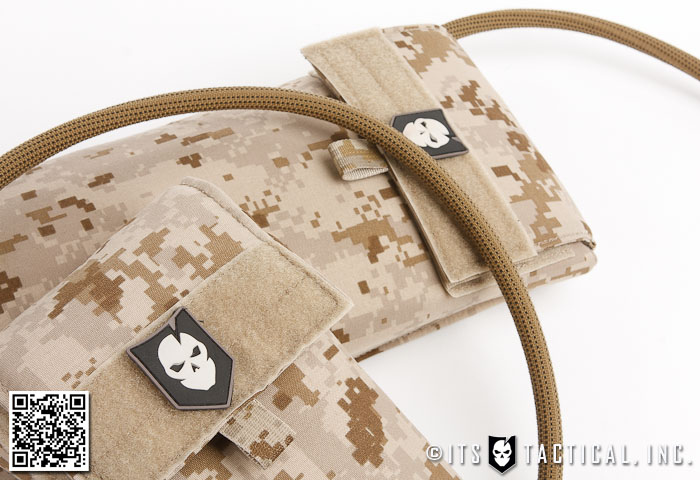 A killer combo for Source Hydration Systems, is the 6142 series pouch offerings from London Bridge Trading. Utilizing the same reflective insulation used in NASA space suits, these pouches help keep the cold in and the heat out.
The interior of each pouch is lined with this thermal insulation and I've definitely noticed that my water stays cooler in these 500D Cordura pouches. London Bridge makes five different size pouches ranging from 27 to 100 ounces. The 6142A weighs 5.5 ounces and fits the Source Kangaroo 1L. The 6142E weighs 9.6 oz. and fits the WXP 3L.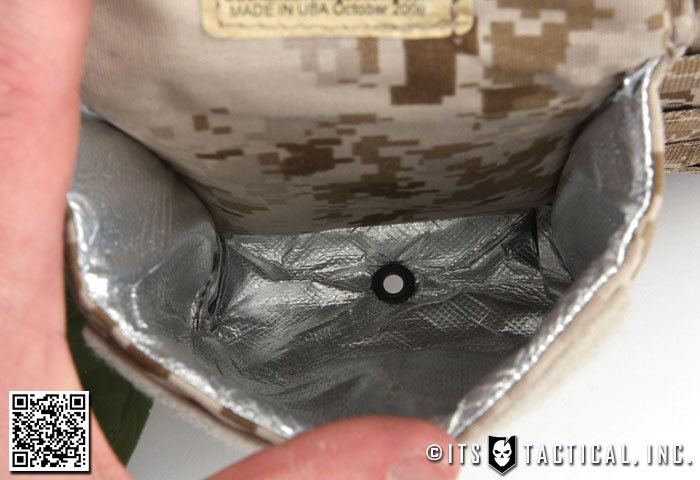 On the flap of these bladder pouches you'll find a 2″ loop velcro panel for affixing identifiers and patches, along with a sewn pull tab.
On the larger pouches, the interior features a 1.5″ velcro closure webbing loop for routing through the slider bar of the hydration bladders, ensuring it doesn't fall to the bottom of the pouch.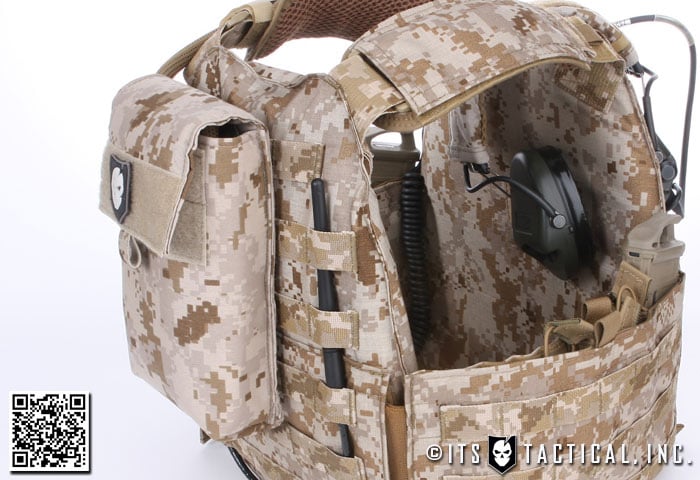 I've found that the larger pouch is prone to the insulation getting rubbed by the WXP 3L when the Widepac access slider bar moves past it. You can see in the photos below that a few parts of the material hve been torn away by this through repeated use. It's not compromising the overall effectiveness of the insulation, but it's something to note.
Also something to note is that these pouches are three columns of PALS wide and built for centering on the back of MOLLE compatible carriers that have an odd number of PALS columns, as opposed to an even number found on many rigs.
Photos and Video Review