Super Light and Super Tough: Why the Arc'teryx Alpha FL 30 May Be the Perfect Pack
Super Light and Super Tough: Why the Arc'teryx Alpha FL 30 May Be the Perfect Pack
"Simplicity is the ultimate sophistication," is something you may have heard before. It's definitely a quote that applies to the Arc'teryx Alpha FL 30 Pack that I'll be discussing today. This pack is like the Glock of the daypack world, containing everything you need and nothing you don't.
My relationship with the FL 30 began about a year ago and it's been with me on outings in almost every condition since, including full sun, all types of rain and even severe blizzards in the High Tatra mountains. The following isn't so much a review of the pack, but a diary of the adventures it's been on with me.
Construction and Durability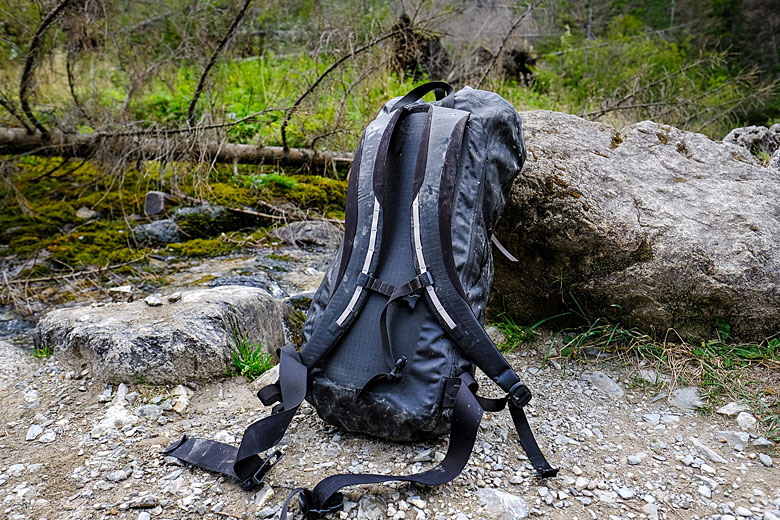 The overall construction of the FL 30 is relatively simple. It's a 25 liter black sack with a 5 liter dark grey extender and a draw-cord, roll-top closure. (The 30 in the name highlights the pack's max combined volume of 30 liters.)
The back of the pack is padded with a type of closed-cell thin laminated foam, which gives it some structure. The pack features a simple harness, with foam-padded and adjustable shoulder straps, as well as a sternum strap and hip-belt stabilizing strap.
This is a very well-built pack
Additionally, the hip-belt strap features gear loops, which are perfect for hanging things like climbing gear. The exterior of the pack features one small pocket, a bungee cord net, gear pegs, a climbing rope keeper and two grab handles.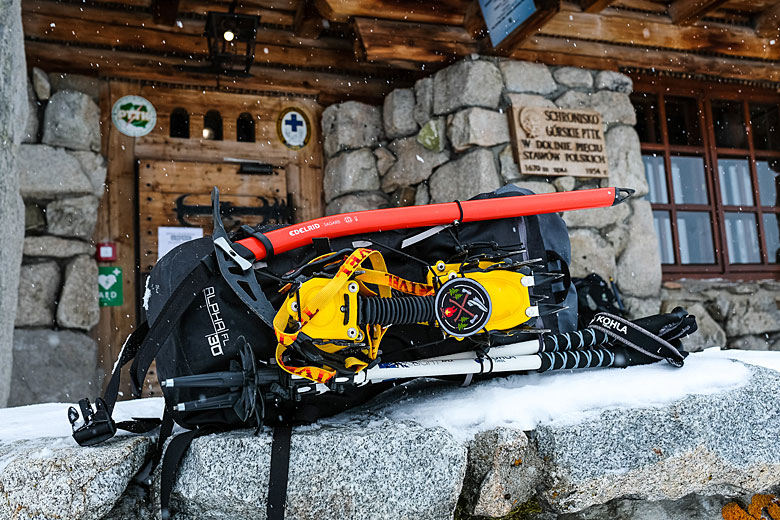 The simplicity of the FL 30 is actually the beauty of it. It's super light, super tough and super wearable. It weighs just 20 ounces, which is great when you consider the toughness of this pack. The material used is an advanced laminated nylon with strong rip-stop structure, so toughness is guaranteed.
All seams, stitching and crucial areas are reinforced and laminated with sealing tape on the inside. This is a very well-built pack. It actually features the same construction as the new Arc'teryx LEAF Courier Bag, which is (as the name implies) Law Enforcement & Armed Forces rated.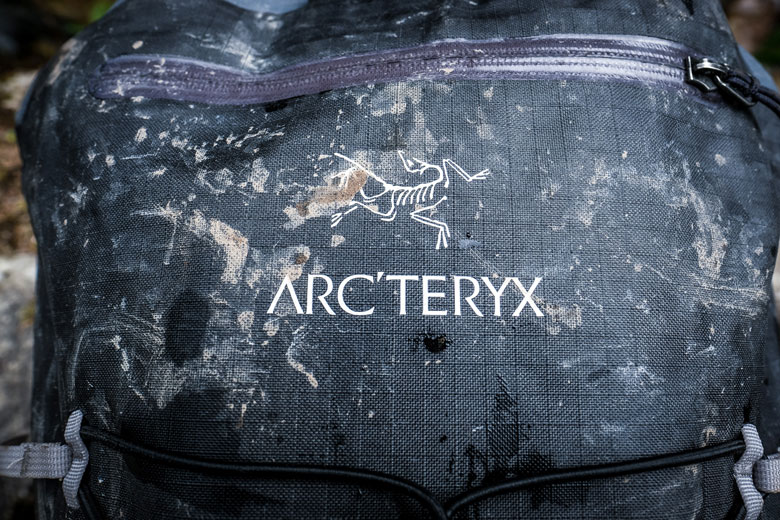 The conditions I was using the FL 30 in were a backpack's worst nightmare. Despite this, the pack was structurally untouched, apart from the dirt it picked up. I drug the pack for hours through the cramped rocky caves of alpine mountains, while water poured from stalactites.
Occasionally, I crawled through muddy water ponds, using the waist strap as a leash to drag the pack along. So the dirt it gathered was well deserved and I have to say I kind of like it.
Closure System and Pocket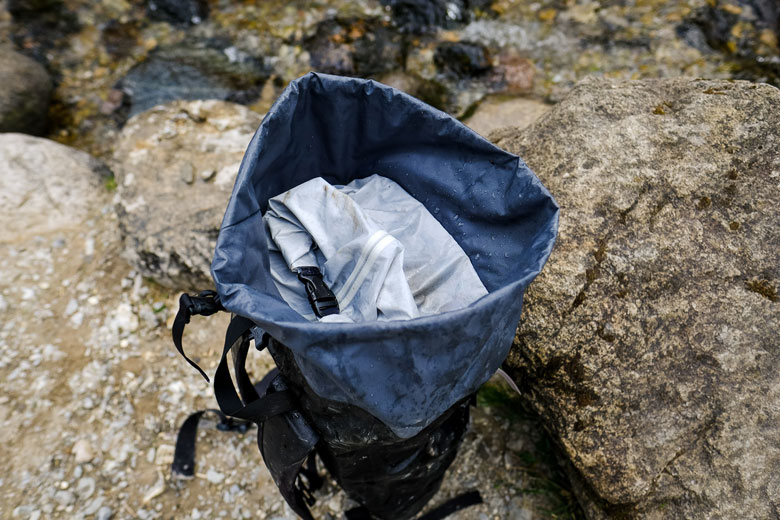 The 3-way closure system of the FL 30 is a great idea and it's just as tough as the rest of the pack. In most cases, you'll stuff all your gear inside the sack and draw the cord with the spring-loaded toggle. I'd call this the Level 1 closure. For Level 2, you can utilize the rope keeper with a buckle at the top, included for fastening your climbing rope to the top of the pack.
Lastly, the most secure method (Level 3) involves rolling down the thin ash-grey nylon collar, closing the snap and utilizing both the draw-cord and rope keeper. This method allow the contents of the pack to stay completely dry and protected.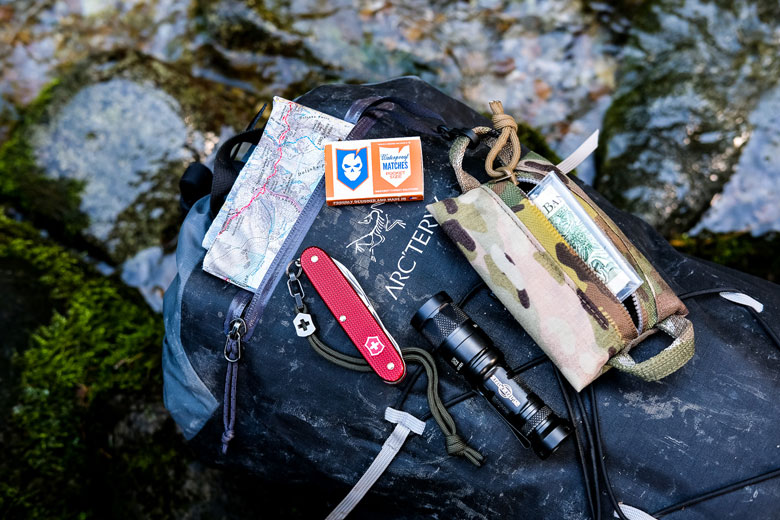 The front pocket of the FL 30 is laminated and closed with an aqua-guard zipper. While it's not submersible, it's lightweight and still offers great weather protection against any rain or snow. It's rather small (slightly below A5 size), but it's enough for a map, small knife, headlamp or other small items like the ITS Waterproof Matches or ITS Mini Zip Bag. Additionally, you'll find an integral keeper inside, which is great for things like car keys.
Ventilation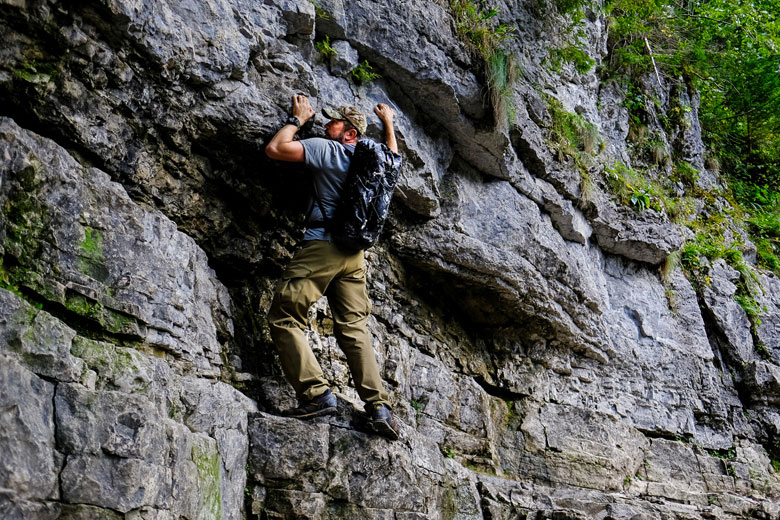 During summer and fall I used the FL 30 frequently when scrambling in rocky terrain. The pack wears much better than I thought it would, despite the lack of a classic mesh back panel. The straps are great and thanks to the laminated structured of the back panel, the whole pack holds its shape and keeps some space between the pack and the middle of your back. This allows some ventilation when wearing the pack.
This is a light and fast climbing pack, so don't expect miracles when it comes to ventilation. That being said, usually ultralight packs lack any structure and simply stick to your back like a wet, shapeless rag.
Bungee Net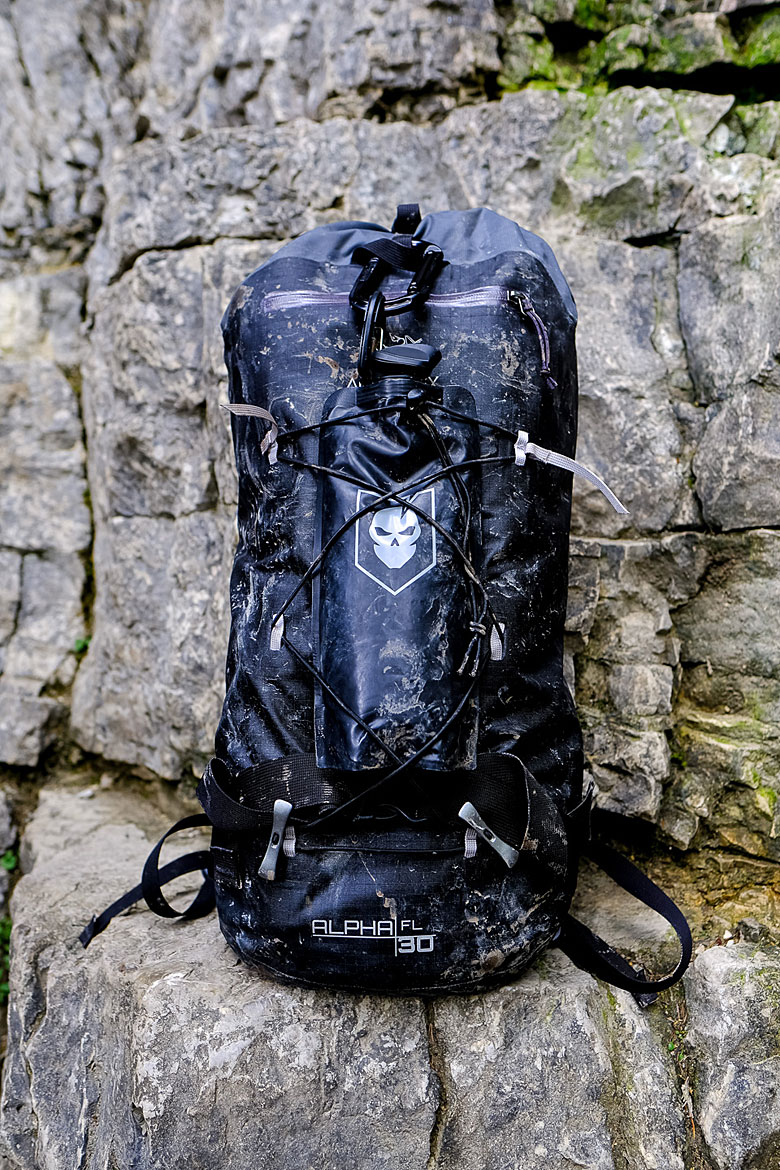 That bungee net of the FL 30 is great and makes life so much easier! I've used it for everything from keeping a jacket secured to keeping my ITS Vapur Bottle close at hand! While the pack doesn't have an interior section for a hydration bladder, you could use the bungee to attach a small exterior hydration system, securing it with the bungee. I prefer to keep a small soft bottle like the Vapur on the outside and a larger one stored inside, closer to my back. You need a lot of water when mountaineering during the summer, especially if you have kids with you.
Winter Use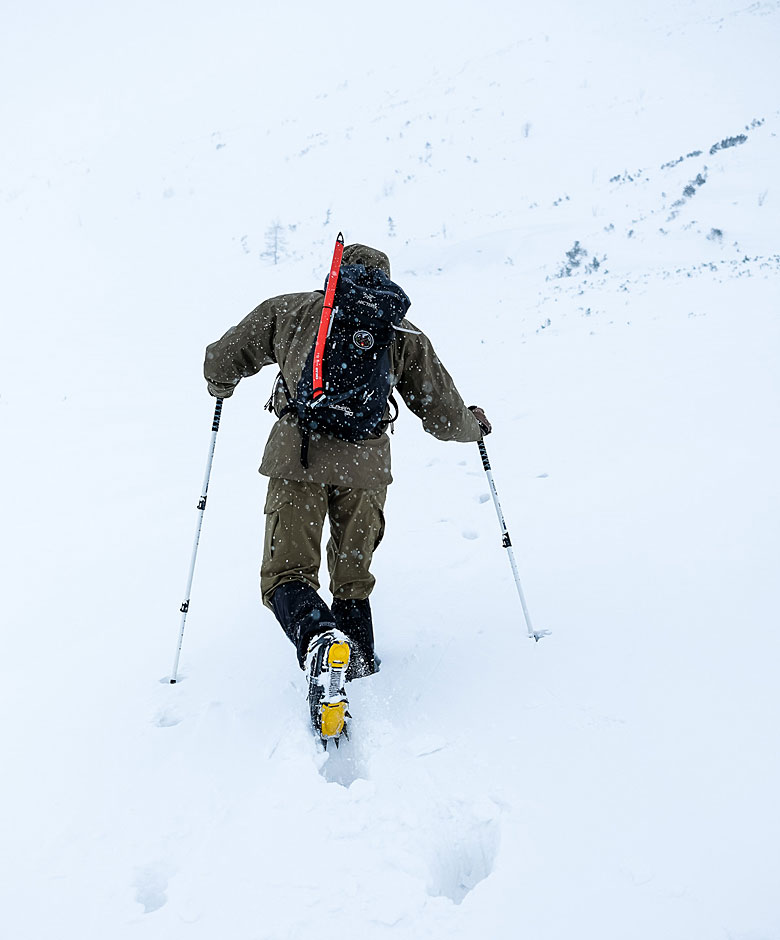 The FL 30 is equally as awesome (or even better) as a snow and ice mountaineering pack. You can store all your soft gear inside (including an insulated bottle) and keep your ice tools on the outside. Just ensure your gear is compatible with peg-keepers (or make some small bungee loops to keep stuff in place). Another great thing is that the pack is fully operational when wearing gloves. This includes opening, closing, attaching and detaching gear.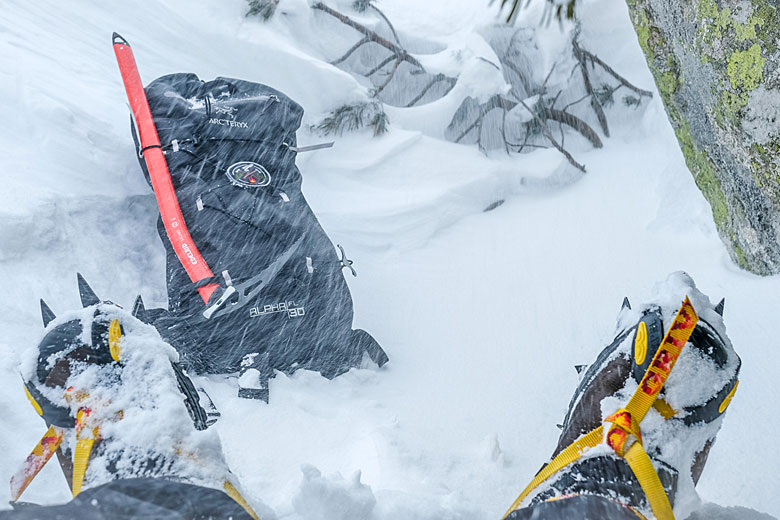 When wearing the FL 30 with winter layers, you can actually forget it's there. The thin insulation and wicking layers provide all the cushioning you need for such a small pack. The protection the pack offers makes it perfect for these conditions, as mountains can throw everything at you. I'm betting a climber wearing this pack would give up earlier than the pack itself; at least I certainly would. I love this pack for winter day hikes and short one day climbs, as it seems tailor made for these activities.
Capacity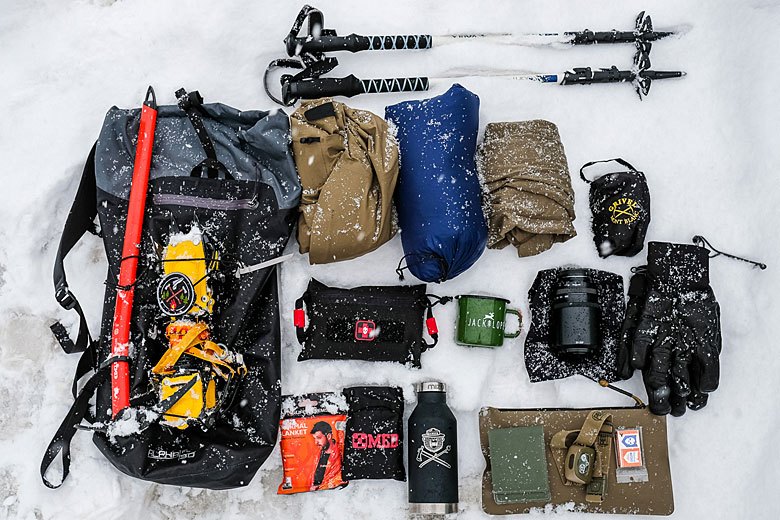 Is the FL 30 big enough? Well, if you don't need the kitchen sink on your next day hike into the Rocky Mountains, it should be just fine! The photo above shows all the gear I was able to pack in for a day trip. After that, there was still some space left for food!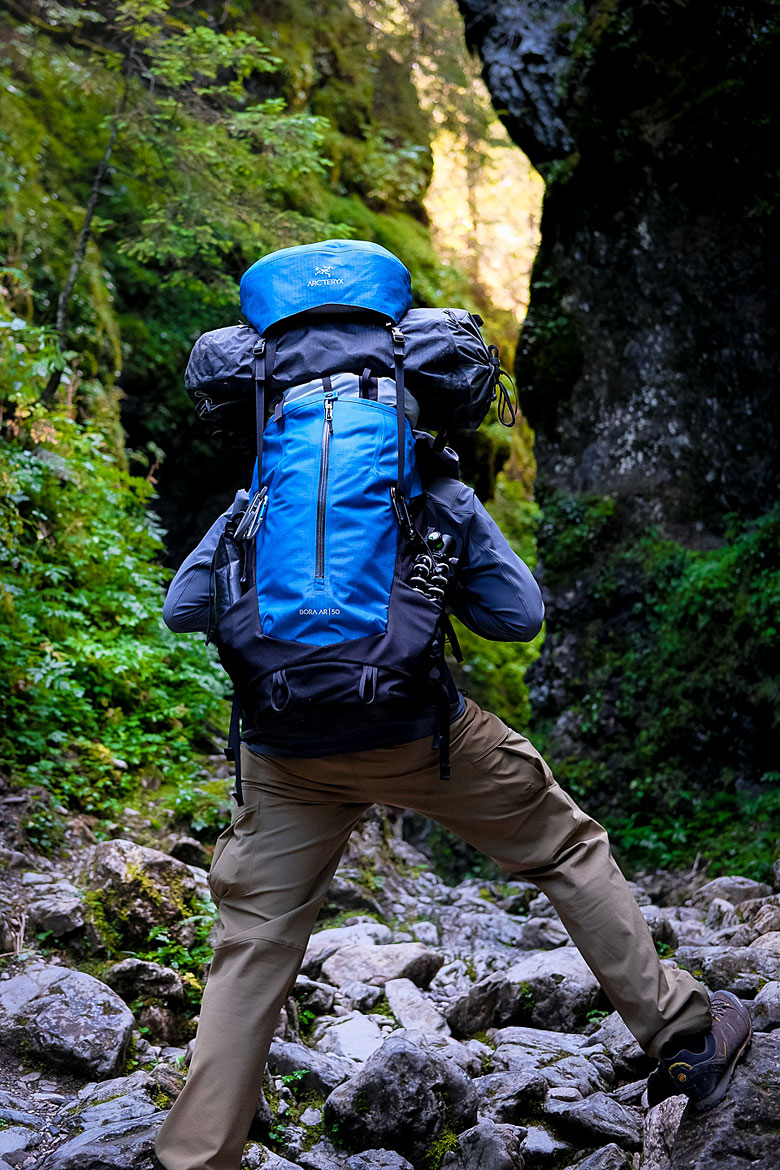 Another great thing about the FL 30 is that you can easily roll it up and stuff it inside your expedition pack when approaching a basecamp. Alternatively, you can fill it with some gear and use it as a gear bag attached to your main hauling pack. In fact, that's just how I used it with my Bora AR pack last summer. It works perfectly and adds 25-30 liters to the capacity of a main pack.
Conclusion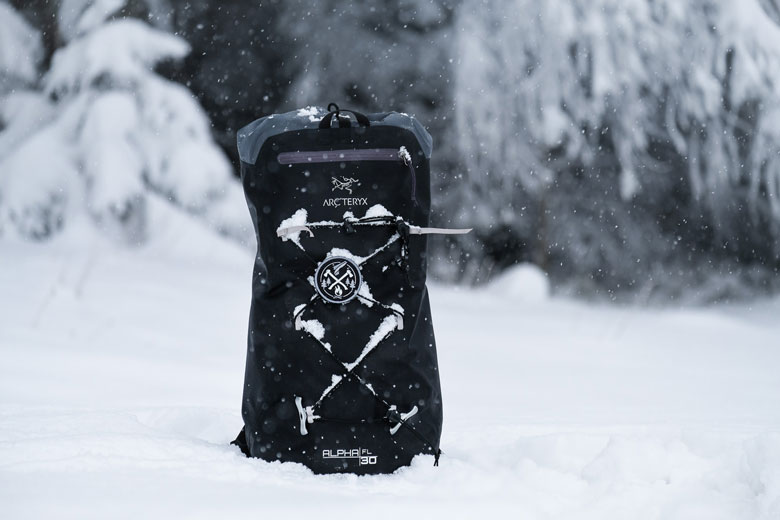 Honestly, the FL 30 is a true gem in Arcteryx's lineup. It usually costs about $220 and for just $40 more, you can get its bigger brother the FL 45. For that money you get a super light and super tough pack, built not just up to Arcteryx's standard, but their LEAF gear standard! So you can use it, abuse it and then clean it up and repeat. I had this pack when scrambling, caving (and I'm talking about crawling through long dark caves, not illuminated tourist attractions), hiking, snow climbing and more. I've also used it in all kinds of rain and severe blizzards while mountaineering. Now, after a rough cleaning (using the trusty garden hose) it looks brand spanking new. I have no doubt this is one of very few packs that will stay with me for many years.
The FL 30 has been available in stores for about 4 years now, so it's in production but isn't a new model. As it could be be discontinued any day, now is a great time to pick one up. Who knows if the next version would be as versatile, tough or cost the same? I purchased this pack with my own hard earned money and to me, it's worth every penny.
Editor's Note: Piotr Ma is an avid outdoorsman, adventurer, mountaineer and certified open sea sailor. As an enthusiast of quality gear, he's always seeking the most un-compromised and best-performing gear available worldwide. He's also known as an edged tools specialist. Piotr was introduced to his adventurous lifestyle when he was 10 by his father, a certified sailor and alpine-style climber. Now he continues his family tradition and shows his kids how to live a full life in the great outdoors; teaching them survival skills, shooting and archery. These days, he gladly shares his 30+ years of outdoor experience with people around the globe from his current location: Poland, European Union.