Live By the Blade: Blending in with the Arc'teryx Blade 20 Pack
Live By the Blade: Blending in with the Arc'teryx Blade 20 Pack
Over the last few years, I've used several different bags for every day carry; each with its own unique features, strengths and weaknesses. I've carried everything from sling packs, to messenger bags, to full three-day packs and I've learned a lot of great lessons in between.
Today, I'll be discussing how my journey to find a lightweight bag that would blend into my surroundings led me to the Arc'teryx Blade 20 and why this bag won't be replaced by another anytime soon. 
My Daily Requirements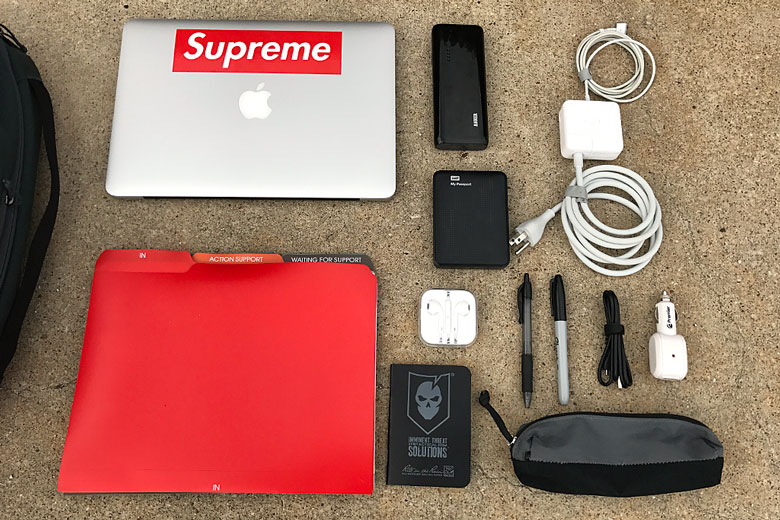 Many people are quick to think working at ITS involves a large amount of field operations and hot extracts. However, in reality, it's very much an office setting and the daily requirements for things to carry consist of more office supplies than range gear. Though this isn't to say that we don't step out into the world for gear testing and location shooting from time to time.
Because of this environment, I find myself needing to carry what I'd call "office supplies, with a little extra." When in doubt, I'm more likely to over-prepare than under-prepare and I like to have standard EDC items like a laptop, charger, pens and notepads alongside things like a trauma kit, change of socks and basic survival gear.
I'm a big believer in Leveling Up Your EDC, as we've talked about in the past on ITS. Each piece of my on-body EDC helps me during daily tasks and the items in my work bag offer a supplement to what I carry on my person. In addition, my bag offers me the tools I may need to get to another level of my EDC, like a vehicle bag or home bag.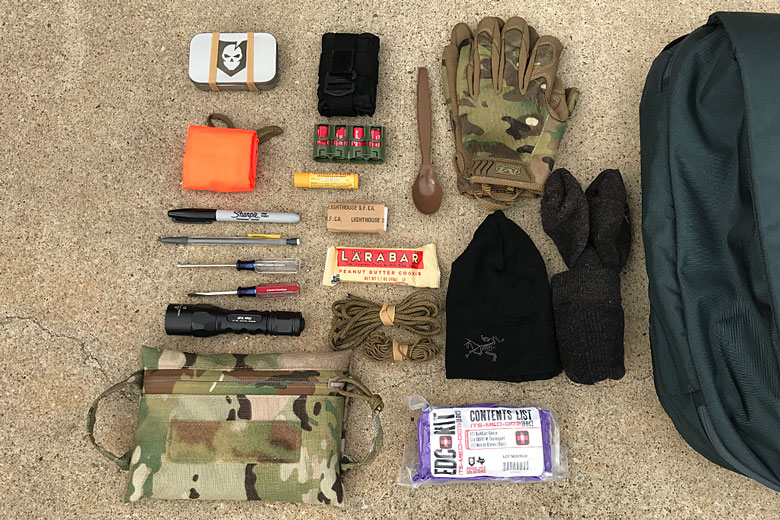 For the majority of the last few years, I've carried some form of messenger bag, convinced that it was not only more business appropriate, but more low profile. (More on this later.) As a serial over-packer, I quickly found my messenger bags weighed down with a ton of gear and equipment.
Not only did I find myself not using a majority of the items in my bag on a daily basis, the weight of the bag began to be an issue. Even when only carrying it short distances from home, the car, or to the office, I noticed my carrying shoulder starting to ache a bit more than the other.
I set out to find a bag that would carry my essential items and nothing more. I also wanted it to blend in and not attract attention or alert anyone to its contents. This brought me to looking into "low profile" bags in an effort to "be the Grey Man."
The Grey Man Phenomenon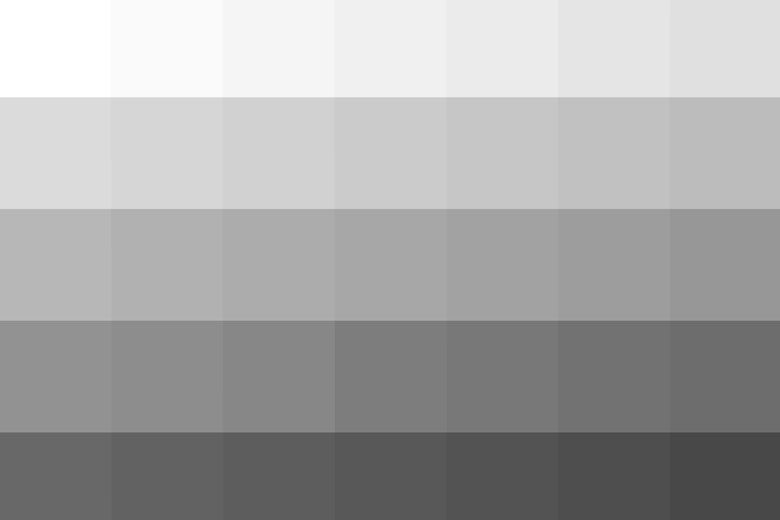 In the last few years, we've seen a rise in mentions of "being the grey man," meaning blending in with your surroundings. Everywhere you look, you can find products to help you carry the tactical gear you need, all while blending in and keeping a low profile. While many of these products are a step in the right direction, their exposed loop and MOLLE webbing, strips away most of the "blending in."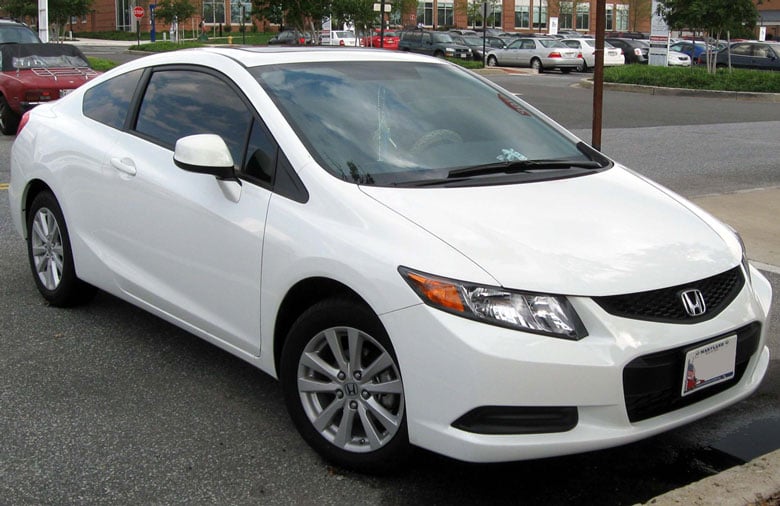 I think of it like this, let's say you were moving into a new neighborhood and your goal was protect yourself and your family, while also blending in without attracting attention. You're in the market for a new vehicle and you notice that every neighbor around you drives a Honda Civic. In order to truly blend in, would you buy a car like a Civic, or would you buy a lifted all-terrain vehicle, complete with a winch, light bar and Zombie Eradication sticker?
Obviously, this is a gross oversimplification of the situation, but I think about it every time I see someone marketing a new "low profile" three-day pack made with CORDURA®, MOLLE, loop and quick detach buckles. The fact is, in order to blend in you need to match your surroundings so you don't draw attention. What I wanted to find was a pack that could blend in amongst the other Honda Civics.
Enter the Blade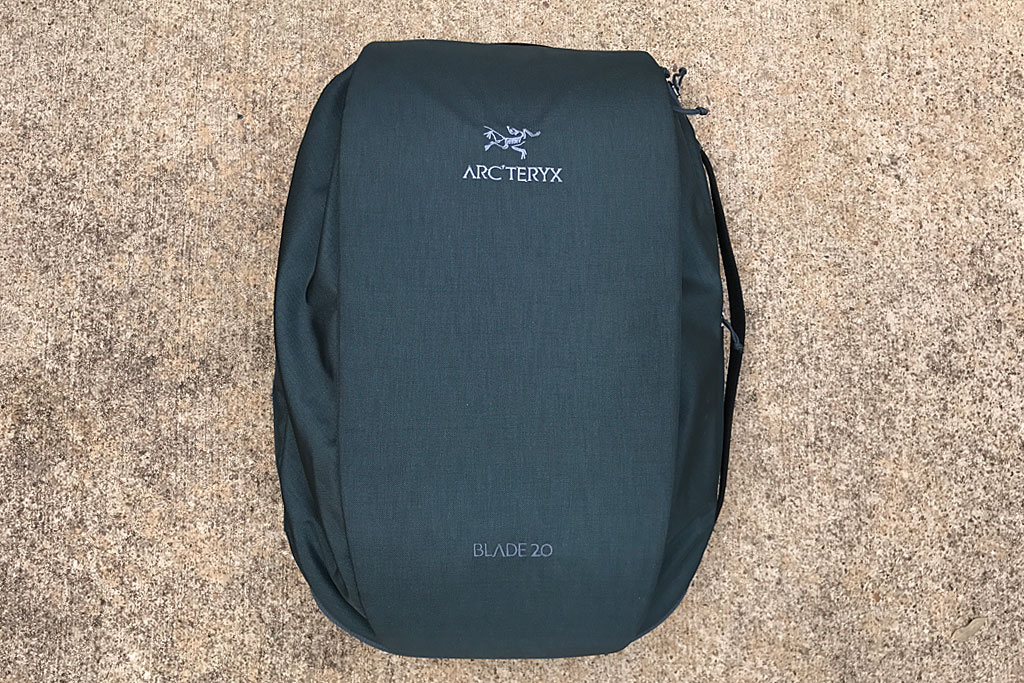 One day on a trip to my local REI, I noticed a bag being toted by a "crunchy granola" type. It was a thin-profile backpack bearing the familiar Arc'teryx logo. The logo actually caught me off guard because at a distance, this pack looked more like a college kid's backpack than any of the products I'd seen from Arc'teryx in the past.
As I inched closer to the pack, I noticed the conveniently placed "Blade 20" printed on the bottom and a quick Google search brought up the pack on Amazon. A glance at the main features of the pack told me that this might be the answer to my search. At around $150, I decided to take the plunge and see if this would help solve some of my EDC problems. The pack is also available in a 6 liter and 28 liter version and I decided the middle 20L option would probably be my best bet.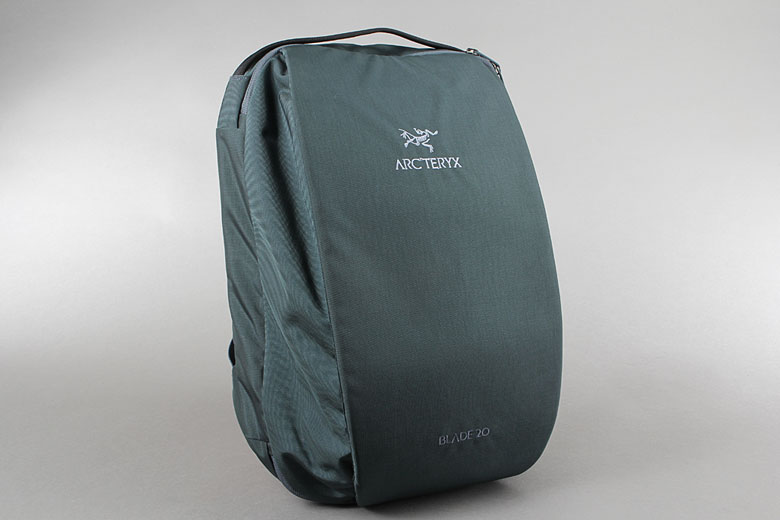 While I really enjoyed the stark black colorway they offered for the Blade, I decided on their Nightshade color as I thought it would blend even better. As you can probably tell by the photos, this color ranges from a dark bluish green to a greenish grey, depending on the lighting conditions. It's a nice subtle color that doesn't stand out.
After a couple days, the bag arrived at my doorstep and I began to move my gear from my current bag to the Blade. The first thing I noticed was the Blade was more of a hybrid between a backpack and a messenger bag than just a standard backpack. Most backpacks are top loading and this always created issues for me when carrying things like a laptop and my Getting Things Done folders. (Side note: if you're not familiar with the Getting Things Done methodology, I strongly recommend you check out this article.)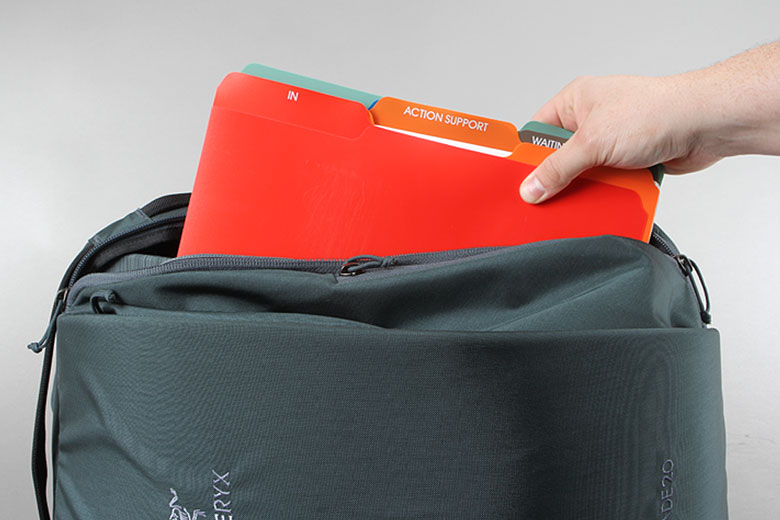 The Blade was designed to be loaded from the side like a messenger bag, but the straps allow it to be carried like a backpack. This does wonders for the comfort of carrying gear and the padded shoulder straps are extremely comfortable and distribute the weight between both shoulders, rather than one.
The bag features two main compartments and a couple smaller stash-type pockets. The blend of open space and organizational compartments was perfect for me. Something I always try to account for in my packs is leaving enough room to carry an unknown object, like a rain jacket or other bulky item. The Blade handles things like this with ease and the semi-rigid front panel keeps the shape of the pack and prevents sagging when not fully loaded.
The Main Compartment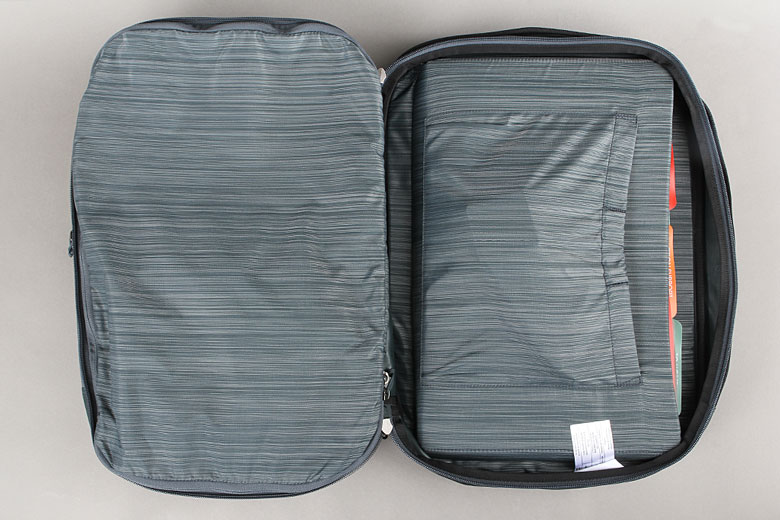 The largest compartment of the Blade completely clamshells open, a feature I don't use often but appreciate. The padded laptop section in this compartment measures around 16 inches wide by 1.5 inches deep, meaning it can carry a fairly large laptop. While my 13" MacBook Pro doesn't fit snugly, I appreciate the extra depth to store my GTD folders alongside the laptop.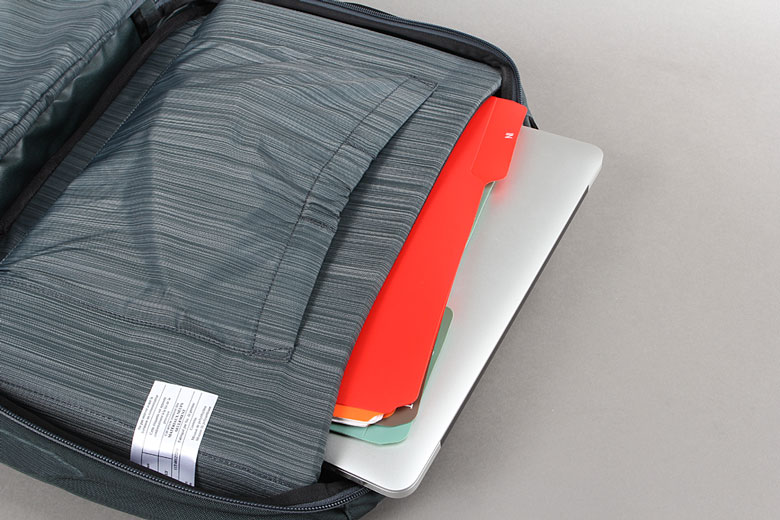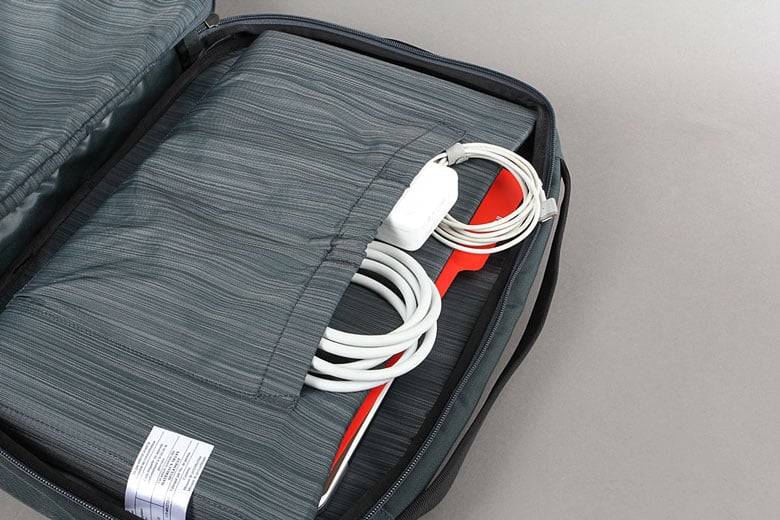 A smaller elastic pocket sewn onto the front of the laptop section offers a great place to keep your laptop's charger or other cords. Also in this compartment is the access to the bag's removable frame sheet. I haven't removed mine as I find it helps keep the bag's shape, but I do like that I could remove it if I wanted to.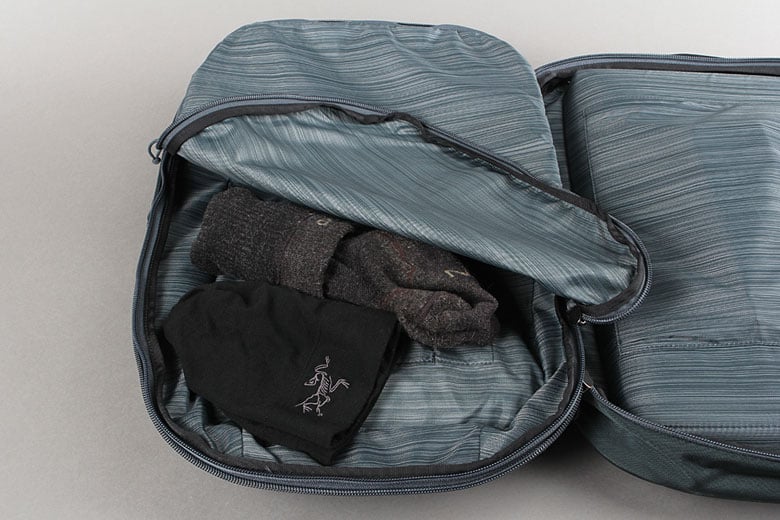 In the same compartment on the opposite side, a small zipper connected to a lightweight nylon material unzips to reveal what Arc'teryx designed as a garment section of the bag. In addition to being a fairly discreet section, this area works great for storing things like a pair of gloves, socks and a wool hat. This section would also be perfect for storing a change of clothes for a quick overnight trip.
The Secondary Compartment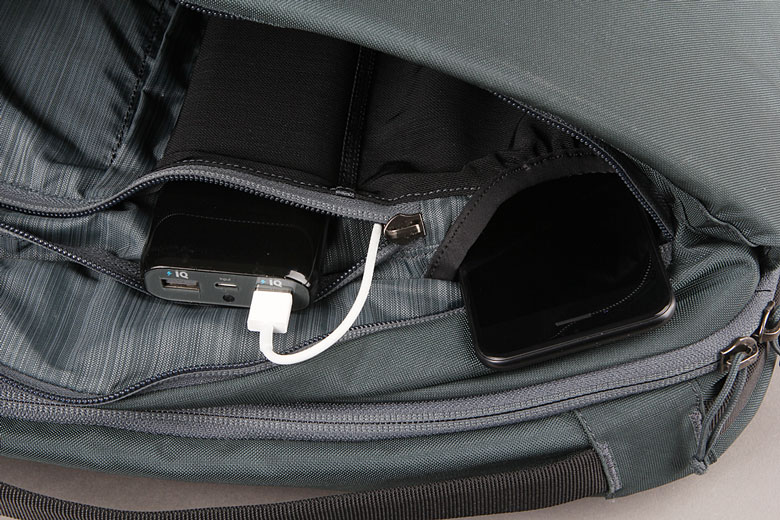 The secondary pocket is one of my favorite features of the Blade, unzipping on only on side of the bag to reveal a roomy section with some built-in organization. Three pockets have been sewn in with two of them featuring an elastic mesh material.
I've found these sections are perfect for storing things like a power bank and other electronic devices. In fact, one of the features Arc'teryx lists is the pass-through section at the top of the mesh pockets, allowing a charging cable to run from a power bank to a device like a cell phone. The cutout at the top of the last pocket also allows you to run headphones out of the top of the pack so you can listen to audio while charging your phone.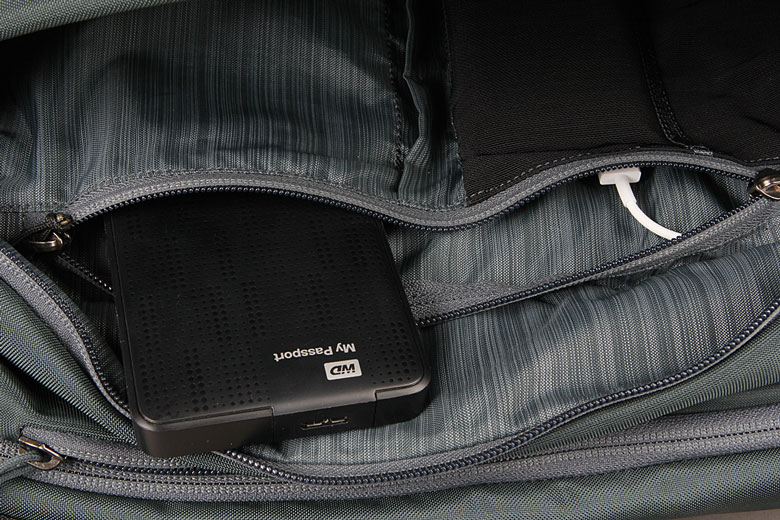 The third pocket in this section is made from the same lightweight nylon as the garment section and offers enough room to store something like an external hard drive or notebook. In addition to the built-in pockets, this section offers a good amount of open space and I've found it to be deceptively large, working well for a light rain-layer or something similar.
The Side Pockets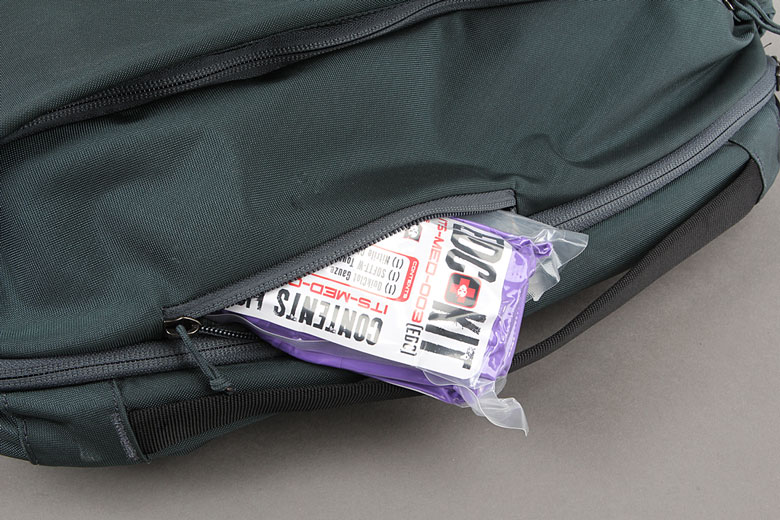 The Blade features two additional pockets for storing small items you made need quick access to. The first side pocket sits between the two main compartments and I've found it's perfect for our vacuum sealed EDC Trauma Kit. I like this because I can quickly access the kit without having to dig through any additional compartments.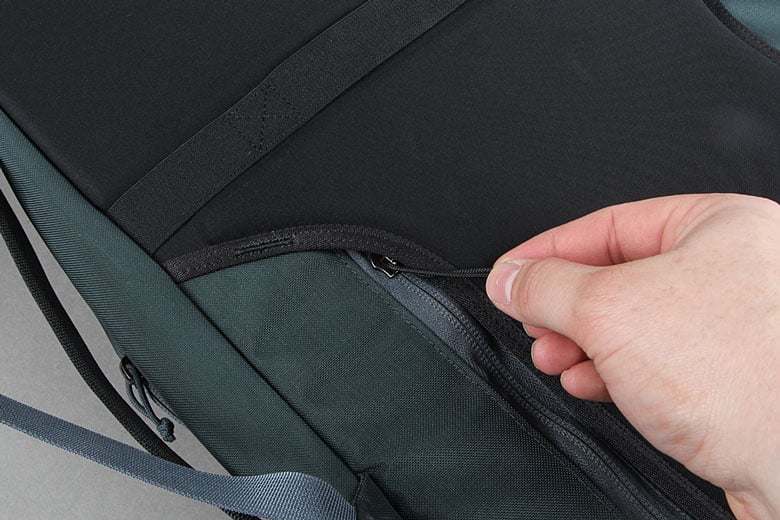 The last pocket is the bag's most discreet and is perfect for cash or documents you may need quick access to, while keeping them hidden from pickpockets. Located on the back of the pack, the zipper for this pocket conveniently stows under the back padding, making it almost impossible to spot as a pocket when it's on your back.
Unique Features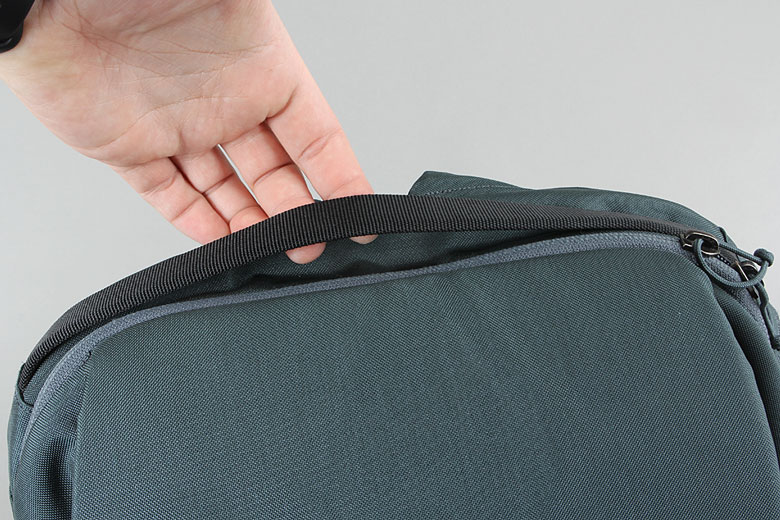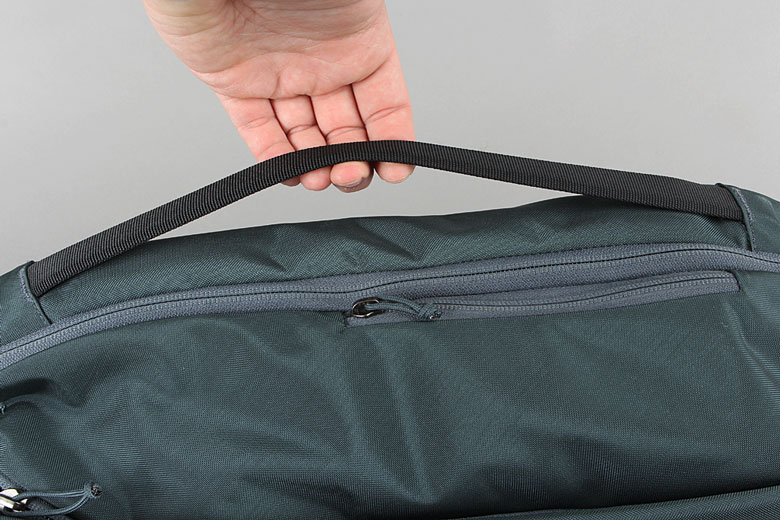 The Blade's organization and materials make it an awesome choice, but some additional features Arc'teryx has added to the outside make it even better. There are two carry handles, located on the top and side of the pack, making it easy to carry vertically or horizontally.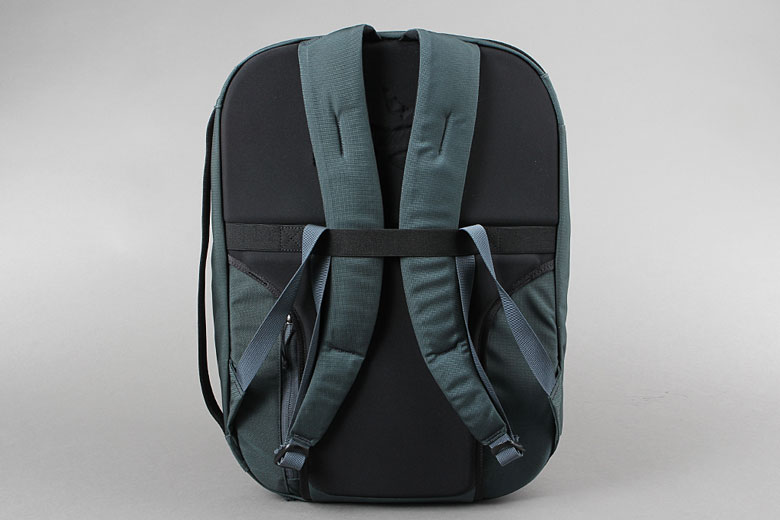 While I didn't originally like how close the handles were to the bag, I quickly adjusted to them and now appreciate how much they keep the bag's profile down. In addition to these carry handles, Arc'teryx has added an elastic strap to the back of the pack, designed for stowing the straps and allowing you to carry the bag much like a briefcase. I don't really use them for carrying the bag like this, but I do stow them in the strap when placing the bag under a seat or in a place where I need it to be as small as possible.
The side-loading nature of the bag also makes it great for access when you're wearing the pack. By taking off one of the shoulders straps, you can sling the pack around to your front and access your items with ease.
Final Notes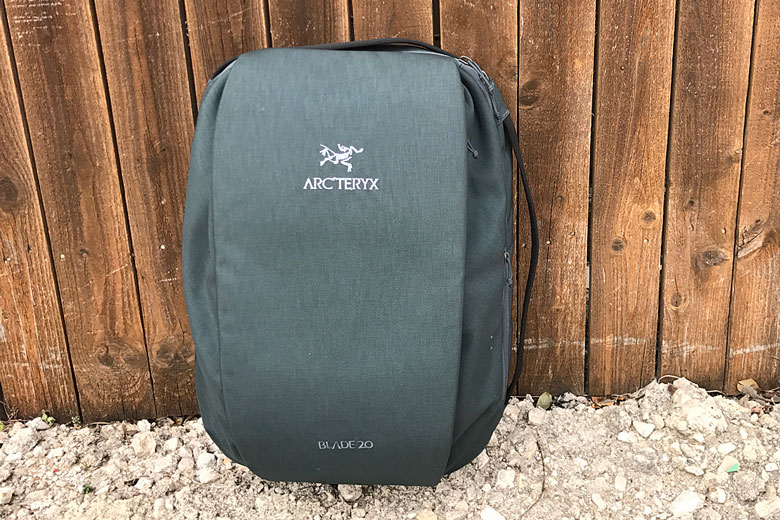 For someone needing to carry 72 hours worth of rations and a fighting loadout, the Blade 20 most likely isn't your best bet. However, if you're like me and want to carry a standard office-type loadout with some additional pieces of equipment, this pack may be just what you're looking for.
Arc'teryx is well known for their quality and in the year that I've been using this pack, it's held up flawlessly and I've had zero construction issues. When carrying it at airports and other public locations, I've also never been approached about it like I have about my other bags. While Arc'teryx may not appreciate that this pack isn't snapping necks as people try to ogle it, I appreciate how well it blends in with the other "Honda Civic" packs I see out in the real world.
Overall, the comfort, features and sleek design make this pack an absolute winner for me for every day carry and I don't see this bag being dethroned anytime soon. If you've got questions about this pack or any information in this article, feel free to leave a comment below!