Triple Aught Design's FAST Pack EDC: The Pack for Your Next Adventure
Triple Aught Design's FAST Pack EDC: The Pack for Your Next Adventure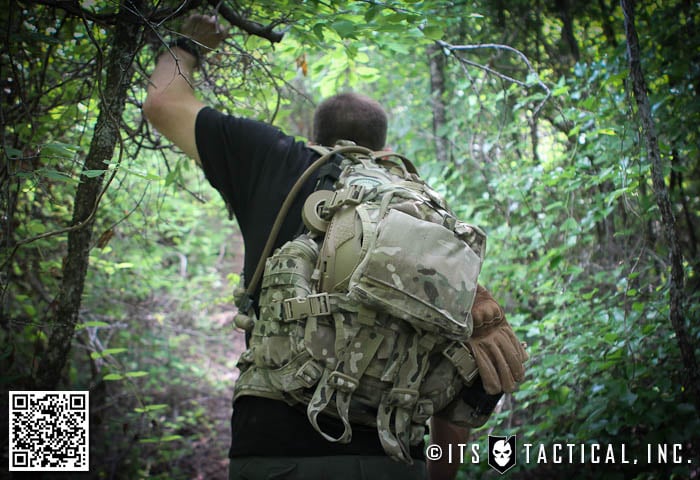 I've been fortunate to have had the chance to seriously beat up Triple Aught Design's newest edition of their FAST Pack EDC and am here to say that it's performed nothing short of extraordinary.
In this review, I'll highlight the features, functionality and even compare it to a previous version of their FAST Pack EDC that I've owned for many years. The FAST Pack EDC has been my go-to pack and with the upgrades, TAD has managed to make a great pack even better!
That's not to say you're only going to read a 100% positive review here, while I love the pack, I still feel there's room to improve. One of these improvements was something I didn't realize until after a 33 mile / 18 hour one-day hump during the Carry The Load event I participated in.
FAST Pack EDC
Triple Aught Design built the FAST Pack EDC with not only a high-capacity day pack in mind, but one that borrows features found more in mountaineering packs, such as the ergonomics and even ice axe loops. The FAST Pack EDC also features the modularity of tactical packs, utilizing PALS webbing throughout the exterior and allowing you endless possibilities for expansion with MOLLE-compatible pockets and accessories.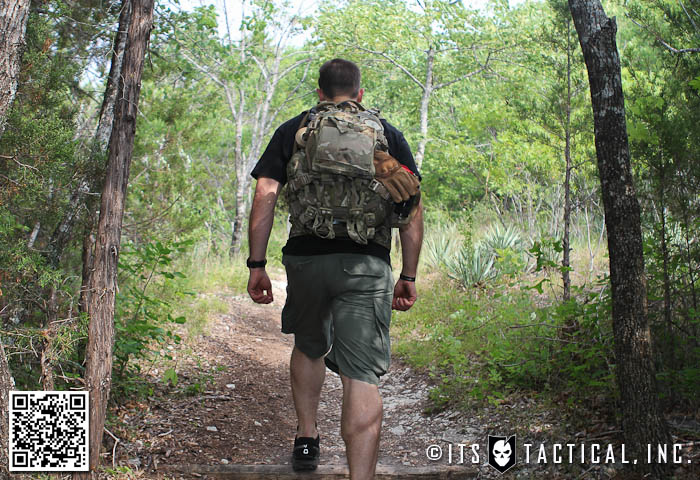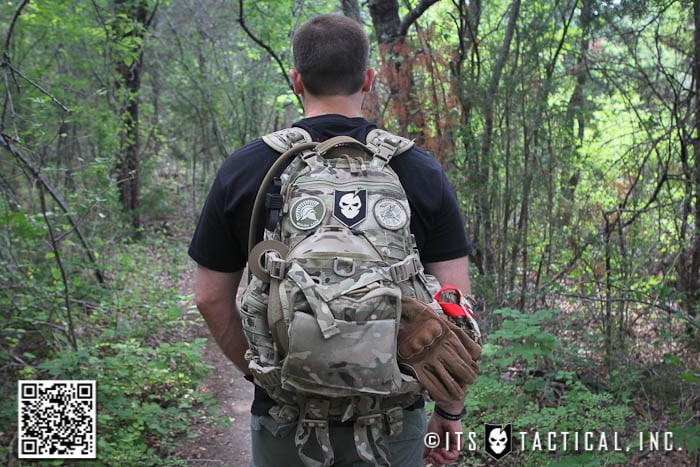 Sewn out of 1000 Denier Invista Cordura fabric right here in America, the FAST Pack EDC is virtually bombproof. The MultiCam version shown in this review also utilizes MultiCam loop Velcro and Murdock Jacquard MultiCam webbing that outshines the printed MultiCam webbing. A fantastic upgrade over previous FAST Pack EDC's is the use of Hypalon at stress points and areas prone to wear.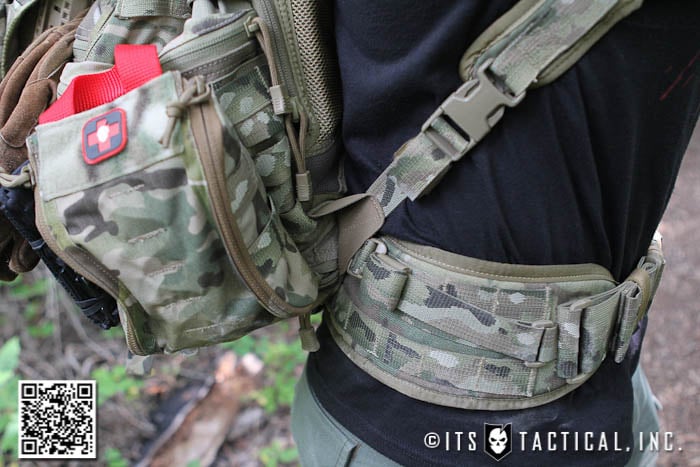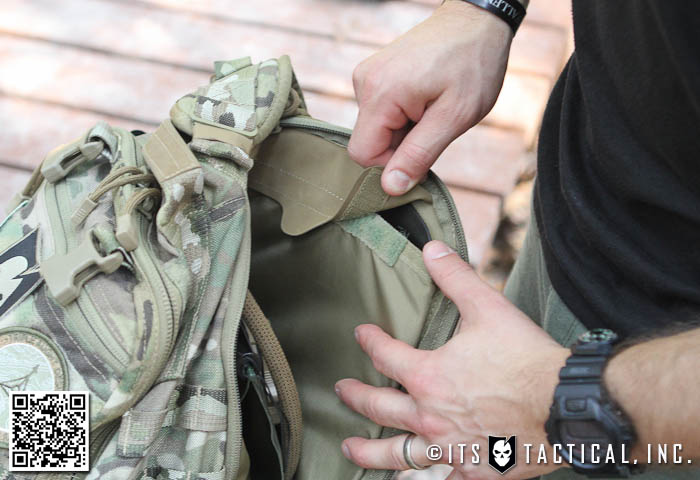 Hypalon is the material used in Zodiac boats for abrasion resistance and all around ruggedness. The areas it's located at on the EDC are on the bottom-most attachment for the shoulder straps, top carry handle, hydration port, waistbelt pad and framesheet pocket.
As an aside, I say day pack throughout this article, but the FAST Pack EDC is 1800 cubic inches and more like a 3-day pack in size. I'm just shortening it to day pack. The 3-day packs I'm commonly familiar with are right around 2000 cubic inches, so the FAST Pack EDC is just under that. It also measures 12″ wide x 22″ tall x 7″ deep and weighs 72 ounces empty.
Video Review
Transporter Tail and Flashlight Cave
Unique to the FAST Pack EDC are the Transporter Tail and Flashlight Cave. The Transporter Tail is by far is my favorite feature of the pack, although I don't get as much of a chance to use it as I'd like, considering it's not every day that I need to carry a long gun on my back. Joking aside, the transporter tail truly does enable you to carry oversize objects that would normally be awkward to facilitate with a day pack, such as helmets, skis, snowboards and even fishing poles.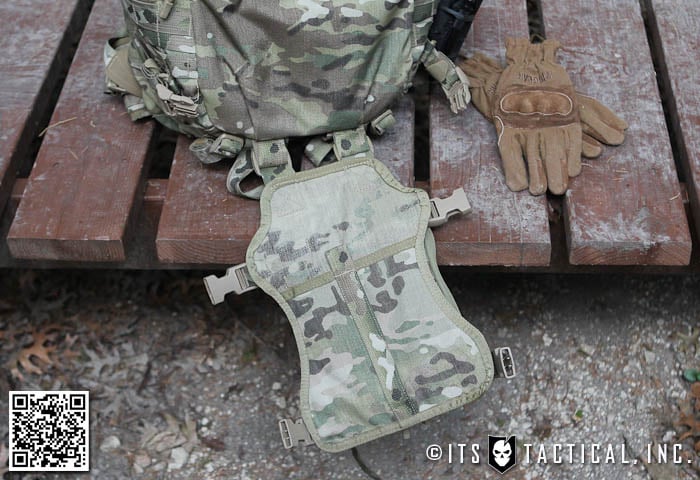 TAD describes this feature as "what happens when you take a beaver tail and apply the versatility, modularity and sophistication of tactical gear to it." By simply unbuckling the four Auto-Lok buckles, the tail drops down and exposes an internal pocket to set the buttstock of a rifle (or other items) into. By then re-buckling the straps you can securely hold the objects in place.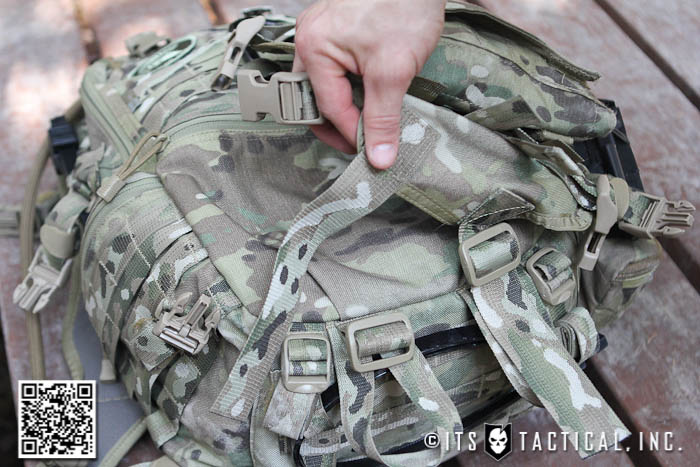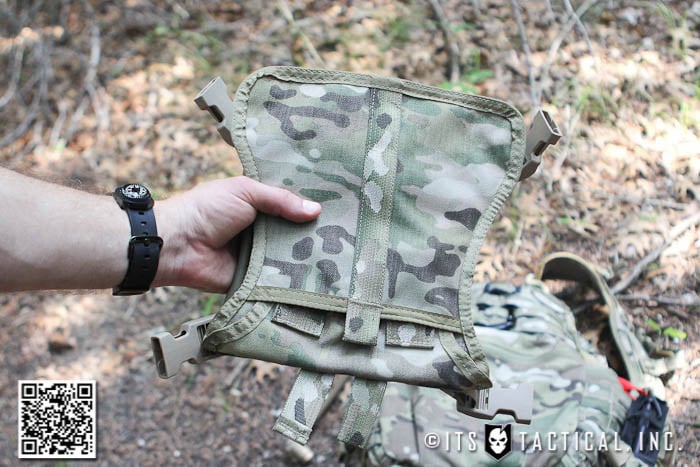 One major upgrade from the old FAST Pack EDC I have is that you can now completely remove the Transporter Tail. This was a much needed upgrade and one that's made something interesting possible.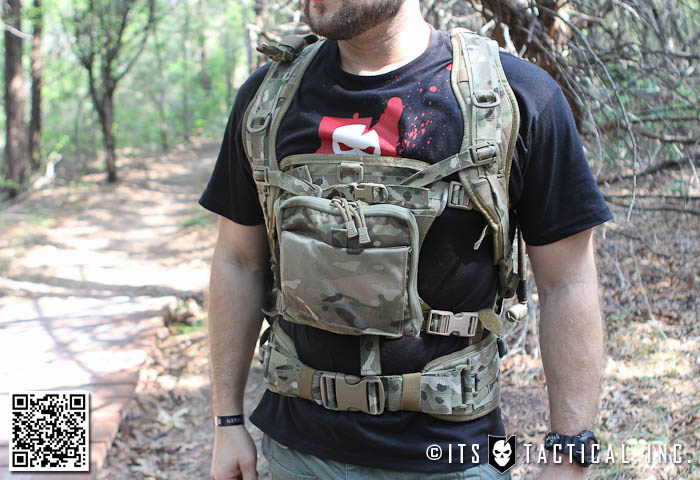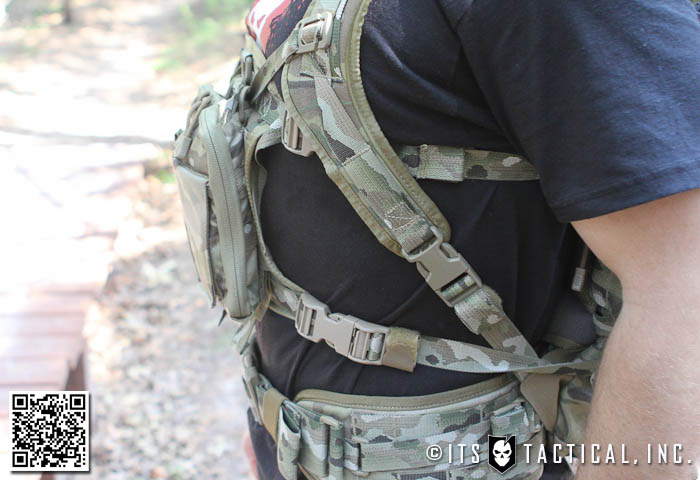 While it takes some reconfiguration and you lose the ability to strap down oversize items, you can turn the Transporter Tail into a makeshift chest rig by moving the side-release buckles around. As the exterior is MOLLE-compatible, you could realistically put anything from the OP1 admin pouch (shown below,) to rifle mag pouches.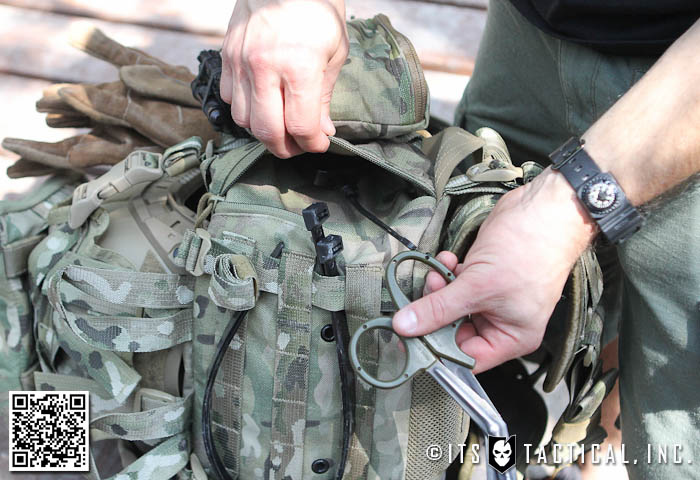 The Flashlight Cave is also a unique feature of the FAST Pack EDC and one I've highlighted before in an article on creating a Hasty Webbing Harness. In that article I showed how the cave on the EDC is perfect for quick access to the webbing harness if needed. While originally designed as a pocket for quick-access to a flashlight, the Flashlight Cave is quite versatile and can hold any small EDC item you might desire.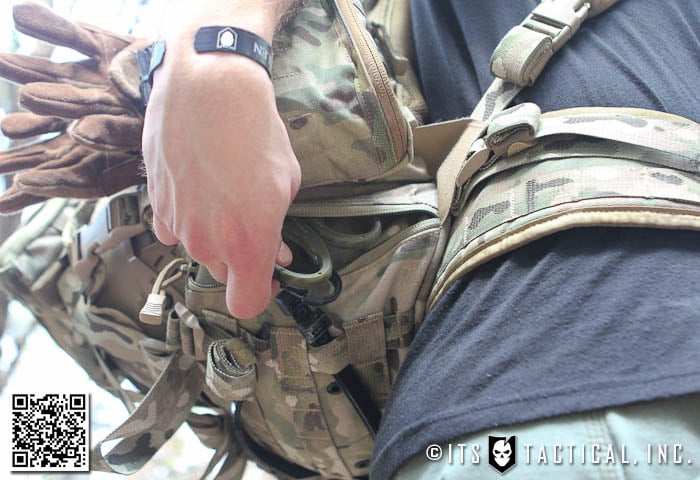 It's located on the bottom right-hand side of the pack as you're wearing it, enabling you to access it with the pack on and retrieve what's inside. There's also a small loop of webbing and a D-ring inside, allowing you to hook on a retractor so that there's no chance you'll drop the object you're retrieving.
Pockets and Features
The FAST Pack EDC is certainly chocked full of pockets, externally featuring a 10″ wide x 10″ deep zippered admin pocket with internal organizational/accessory compartments, dual zippered side accessory pockets measuring around 8″ wide x 8″ deep and another 10.5″ wide x 8″ deep external zippered pocket behind the Transporter Tail. It's important to note that all the external zippers on the FAST Pack EDC are reverse zippers, which better help dirt and debris stay out of your pockets.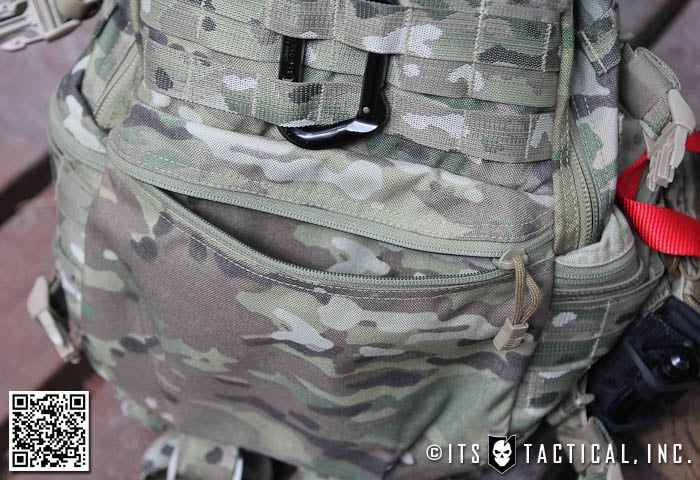 On the backside of the pack, there's a large zippered compartment for a hydration bladder that also contains the pocket for the removable HDPE frame sheet (with removable T6061 aluminum stay.) The hydration bladder pocket also features two types of hangers to accommodate different brands of bladders. There's a webbing loop for the Camelbak type of bladder that has an internal hook and a snap hook that's perfect for Source bladders, which are my preference.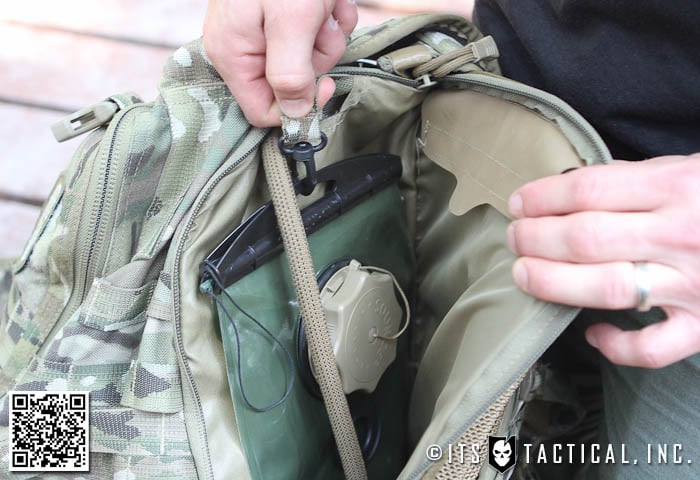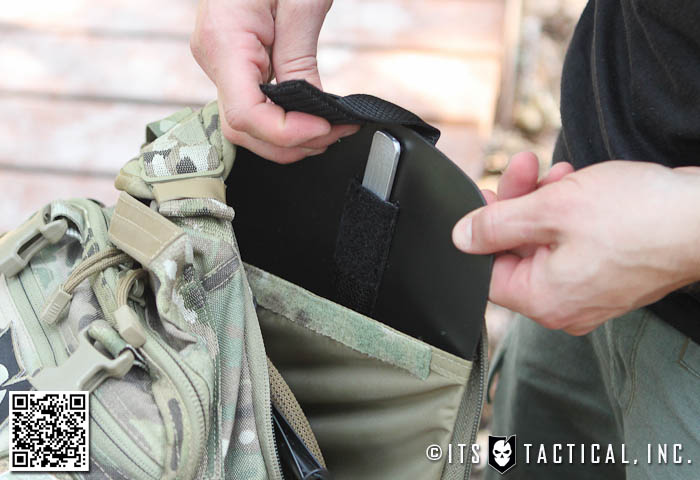 One thing I feel is a downside of the FAST Pack EDC is that the main zippered opening to the pack's interior doesn't fully clamshell open, it's more of a 3/4 zip. This isn't really a problem unless you're having difficulty digging for something deep in the depths of the pack or spreading it out to pack it. I also see this as a benefit in some situations as there's no chance your pack could accidentally clamshell open on you and dump all your contents into the dirt.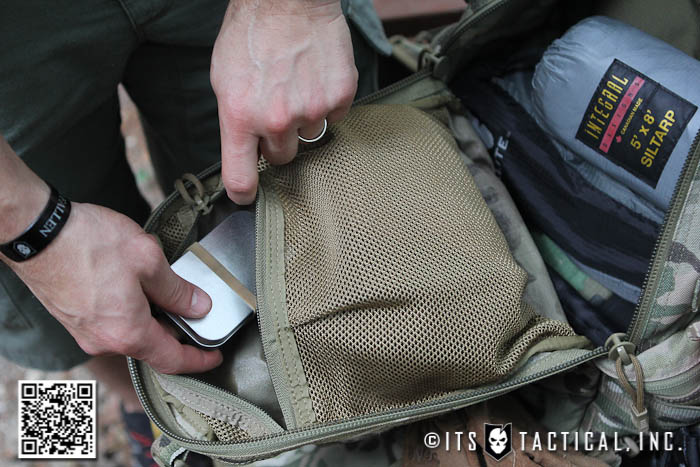 I also understand why it's only a 3/4 zip, as making it a full zip might interfere with the functionality of the side zippered pockets and the Flashlight Cave on the right-hand side. All that said, It would be nice to clamshell the pack open to pack it.
Throughout the front and sides of the FAST Pack EDC, you'll find both 1″ webbing creating PALS channels and also 2″ webbing creating channels. While the 1″ channels are standard for PALS webbing and MOLLE-compatability, the 2″ channels are specifically designed to better hold TAD's pouches that utilize their velcro tabs like the BC4 battery case pouch.
The bottom of the FAST Pack EDC features additional six columns by five rows for mounting even more pouches. There are also two compression straps perfect for holding a sleeping pad or sleeping bag. You'll also spot the two drainage grommets that allow the main pack compartment to drain if water does find its way in. Just in front of these are the two 1″ webbing ice axe loops for carrying ice axes or any other tools you see fit.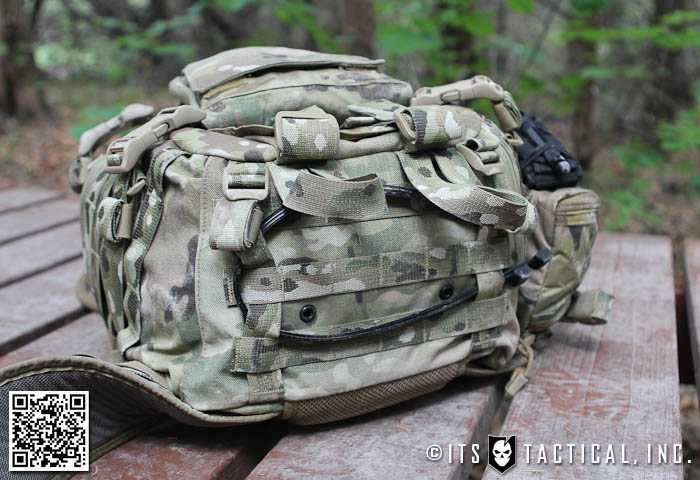 OP1 Admin Pouch
The OP1 should really be renamed to the mother of all organizational pouches! Shown mounted to the Transporter Tail in this review, the OP1 can literally store every admin accessory you might need. With internal 1″ and 2″ elastic slots, pockets, zippers, flaps and clamshell accessibility, the OP1 is certainly beyond versatile.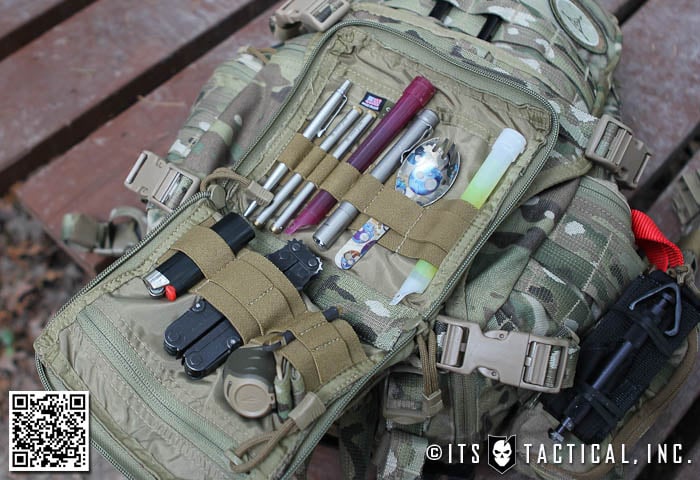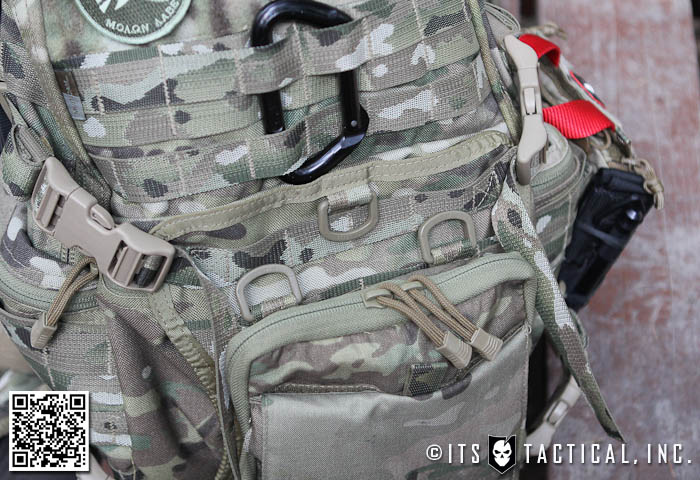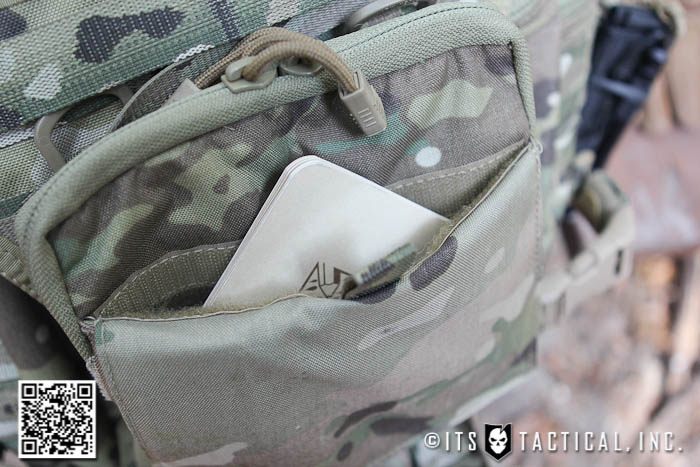 This was one of the accessories I purchased for my original FAST Pack EDC and have really come to appreciate the kind of organization it affords. Especially for someone like me who's anal retentive when it comes to organization, just ask my employees.
Carrying the Load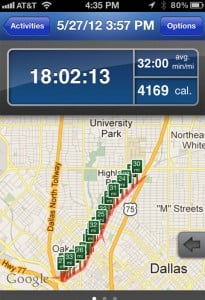 Before I get into the specific wear notes on the FAST Pack EDC, I'd like to explain what I've put the pack through in the six months or so I've had it.
While not only using it to transport daily items to and from work everyday, I've hiked multiple trails spanning at least 30 miles, gone on two weighted runs with 20-30 lbs. and completed an 18-hour Carry The Load event where I walked 33 miles on a trail in Dallas for 18 hours with 35 lbs. and two flags.
Well, one flag for the first few hours Kelly was with me and then both after I walked thru the night and into the next day proudly carrying old glory and the U.S. Navy flag.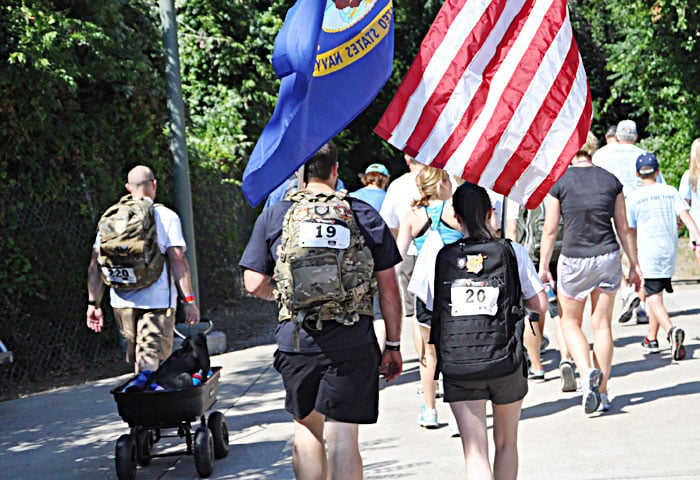 Comfort and Wearability
To again highlight the modularity of the pack, the first thing I'd like to mention in terms of comfort and wearability is the 2″ webbing waistbelt. The adjustment feature of the waistbelt and the fact that TAD has provided elastic keepers to retain the tails is a huge plus in my book. To adjust the waistbelt you simply pull the tails straight out, which pulls them in the direction needed to tighten the 2″ buckle by way of the routing hardware.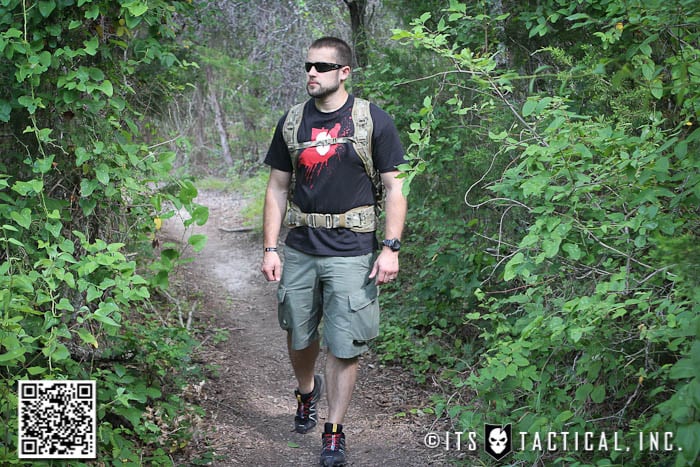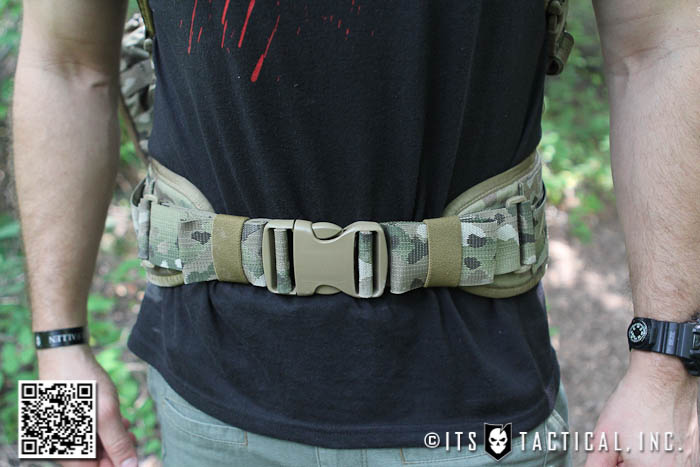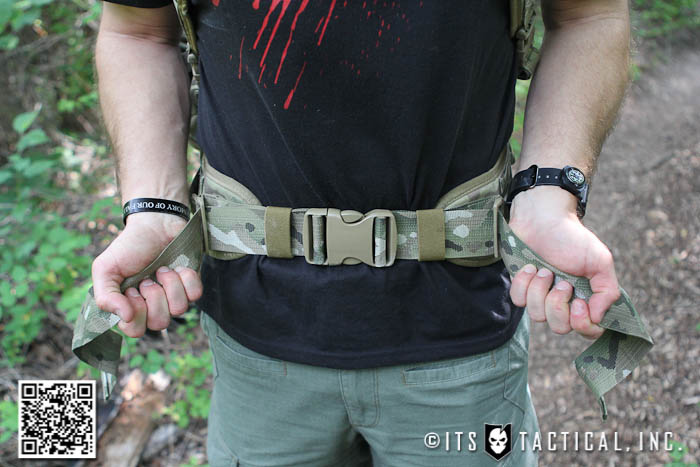 There are also 1″ adjustment straps that help pull the load into your waist on each side of the waistbelt. However, these have to be undone to use the next feature of the waistbelt. By undoing those side adjustment straps and breaking the Velcro that helps keep the waistbelt in place, it can be completely removed and utilized as a MOLLE-compatible battle belt! How cool is that? Check out the video above for details on the waistbelt removal.
What I'd love to see in a future generation is the ability to dock the pack back onto the battle belt if needed without having to take it off and feed it back through the cave in the pack. Perhaps that's wishful thinking on my part and might not even be a necessary or achievable feature, but I can see it being beneficial from the aspect of ditching a pack and retaining the battle belt with your first line gear still attached.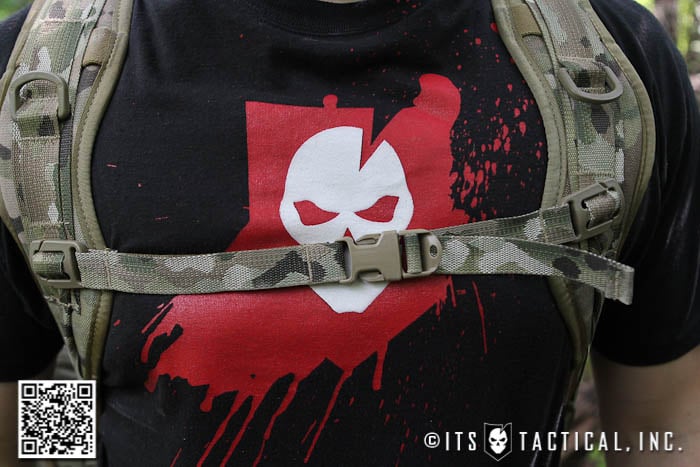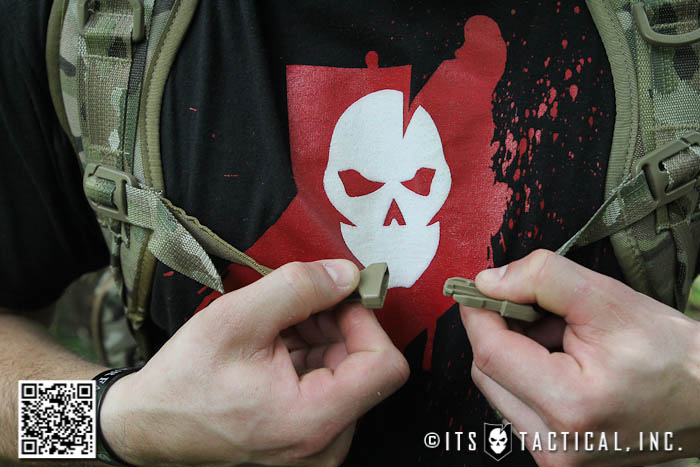 Up from the waistbelt are the shoulder straps and as mentioned earlier, the base of each strap is reinforced by hypalon for added durability. Each of the contoured shoulder straps are completely removable if necessary and also feature a 1″ ITW side release buckle for quick disconnect. The straps also feature a 3/4″ sternum strap with a slide release buckle and the ability to mount in various positions on a 1″ webbing strip running up each strap.
These channels are also great for clipping and routing anything necessary, including a hydration tube. They also each feature a D-ring for accessories too. Each of the 1″ webbing strips that's sewn in channels on the shoulder straps terminates into a 1″ male side release buckle and connects to its female counterpart on the front of the pack. These are designed to be load lifting straps to further pull the load into your back.
While I love that these load lifting straps are integrated into the FAST Pack EDC, they can be a pain to unclip each time you need to get into the pack. They definitely work as advertised, but I find myself leaving them undone.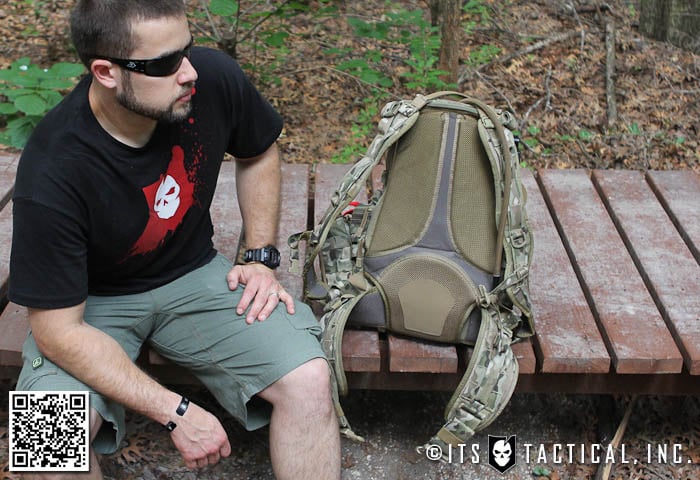 A couple of quick notes regarding the sternum strap and shoulder straps. The sternum strap uses an elastic section to increase the flexibility you have in the chest while wearing it.  I've found on that both on this pack and my previous FAST Pack EDC, that the elastic wears out quickly. This has long been my complaint with elastic for retention in pouches, etc. it just wears out too quickly. It's not a huge deal, but I wanted to mention it.
On the shoulder straps, I feel that for common everyday wear with a light load the padding in the shoulder straps is perfect, but the 18 hour Carry The Load event I participated in while carrying weight, left a bit to be desired in the shoulder padding area. It's a tough call though, as I really like the profile of the current shoulder straps and if they were any more bulky it might play counter to what makes this a great all-around pack.
The shoulder straps also feature a wicking-like material on the backside that helps with airflow. This same material is used on the inside of the waistbelt and the side of the pack against your back. In that same area on your back, this is also supplemented with spacer mesh and aerated closed cell foam padding for shock protection, comfort and ventilation. It certainly works as advertised too.
Notes
One last thing to mention from my wear notes are that during the long weighted carry with the pack, I wore PT shorts and had an issue with a swatch of hypalon on the back waist area rubbing a hot spot. I haven't noticed this issue wearing shorts or pants with a belt, but for some reason the edge of the lower swatch of hypalon rubbed me the wrong way; literally. Perhaps if it extended further down on the bottom it wouldn't have been an issue, but I feel it's worth mentioning.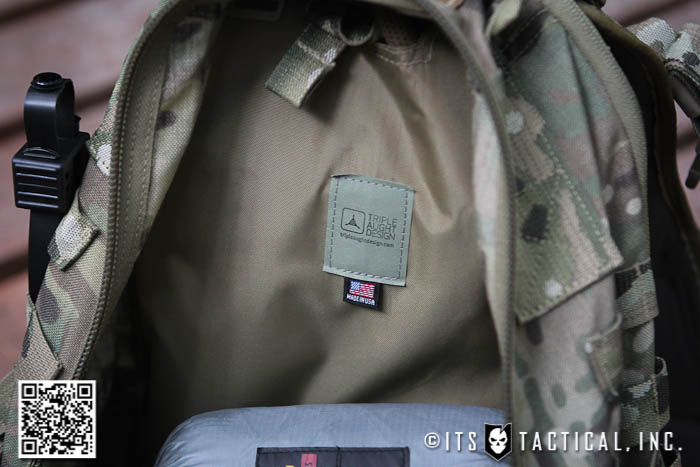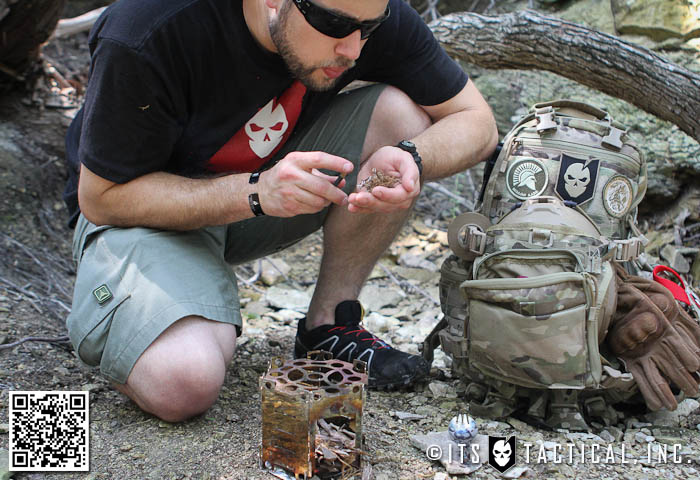 In all I'm very impressed with the quality of the FAST Pack EDC, it's come a long way since the previous model I purchased and my feeling is that it's only going to continue to improve. Triple Aught Design's focus on functionality, modularity and ruggedness set the FAST Pack EDC well apart from the competition in the 3-day pack arena. The versatility of the Transporter Tail is a unique feature that only serves to increase its value in any terrain and objective, hopefully even more so in the future as a field-expedient chest rig!
Check out all the specs on the FAST Pack EDC here on TAD's Website, where you'll find them in Black, Coyote Khaki, Foliage Green and MultiCam as shown here.